An Unforgettable Itinerary For Yosemite National Park (1, 2 & 3 Days)
By Jessie Festa. This article on things to do in Yosemite contains affiliate links to trusted partners!
Looking for an unforgettable itinerary for Yosemite National Park?
Then you're in the right place!
Located in California's Sierra Nevada Mountains, Yosemite National Park features 1,169 square miles of gorgeous peaks, towering sequoias, deep valleys, lush meadows, and giant waterfalls.
Recently, I was fortunate enough to spend 3 days in Yosemite and had an incredible time. Not only did I see gorgeous scenery and do some of the best hikes I've ever done, but I learned a lot about how to best explore the park — which I'll share in the guide below!
Specifically, you'll find suggestions for:
A Yosemite 1 day itinerary
A Yosemite 2 day itinerary
A Yosemite 3 day itinerary
Ways to maximize your Yosemite National Park experience
Important logistical information to consider
And more!
By the end, you'll have your entire trip mapped out, whether you're doing a Yosemite weekend trip, heading there for the day, extending your stay, or adding the park to a California road trip itinerary!
Quick tip: Need help planning your national park trip? Fellow blogger and outdoor adventure expert Alex on the Map offers custom national park trip itinerary planning. Click here to learn more about her services!
What Type Of Hiker Are You? [Free Quiz]
But first, before we dive into our Yosemite trip plan, I want to share a free personality quiz I think you'll love:
Discover your hiking persona in this fun and short hiker personality quiz, which also shares trail suggestions based on your results.
Once you've grabbed the quiz, let's create your perfect Yosemite 3 day itinerary, with options for a 2 day Yosemite itinerary and a 1 day Yosemite itinerary if you're short on time. Of course, you can mix and match each day based on your unique interests.
Get excited, as visiting the park is one of the top California travel experiences — especially as it's home to some of the best hiking trails in the world!
Getting To Yosemite National Park
Yosemite National Park is located in California. It's very common for travelers flying into the state to rent a car from San Francisco or Sacramento and drive to the park as part of a road trip. You can also fly into the Fresno/Yosemite International Airport, which is about an hour and 20 minutes to Yosemite's South Entrance.
Having your own vehicle is recommended, as it gives you flexibility when it comes to creating your itinerary for Yosemite and allows you to explore on your own time.
If you'd prefer to take public transportation, you can opt for:
Bus: Yosemite Area Regional Transportation System (YARTS) bus.
Train: Amtrak doesn't go directly to Yosemite National Park, but you can connect your train journey with the bus.
Getting Around Yosemite National Park
Renting A Car For Yosemite National Park
Yosemite National Park is huge, and you'll definitely want a car to explore the many trails and sites.
If you need to rent a car, I highly recommend using Discover Cars to quickly compare your rental options.
Their comparison tool does the homework for you, so there's no need to have 10+ tabs up trying to figure out which company is the most affordable. Actually, you can save up to 70% using their tool!
Yosemite National Park Shuttle & Buses
Another way to get around the park is via the free Yosemite Valley Shuttle System as well as the Yosemite Area Regional Transportation System (YARTS) bus system (for a fee). You can click here for more information from the National Park Service on the shuttle lines and when each is operating.
Best Time To Visit Yosemite National Park
When it comes to visiting Yosemite National Park, each season brings a completely different experience.
Winter. While Yosemite is absolutely beautiful in the winter, it's important to note that some sections of the park like Tioga Road are closed and, depending on the month, many of the waterfalls won't be flowing and trails may be icy.
Spring. In my opinion, this is the best time to visit! This is when the park feels most alive with waterfalls at their most powerful and lovely flowers in bloom.
Summer. Summer is also a popular time to visit, though note that toward the end of summer many of the waterfalls dry up.
Fall. Yosemite is lovely in fall; however, during this time the weather is unpredictable, areas of the park may be closed (like Tioga Road), and waterfalls may be dried up or low.
In short, try to visit in spring or early summer if possible.
Yosemite National Park Map
Before visiting, it's recommended to print out a map of Yosemite National Park. This is one of my top solo hiking tips, though it's also important if you're in a group.
You can click here to do that.
Note: You'll get a paper Yosemite sights map when entering the park (shown below) and there are maps posted everywhere for you to easily take a photo of with your phone.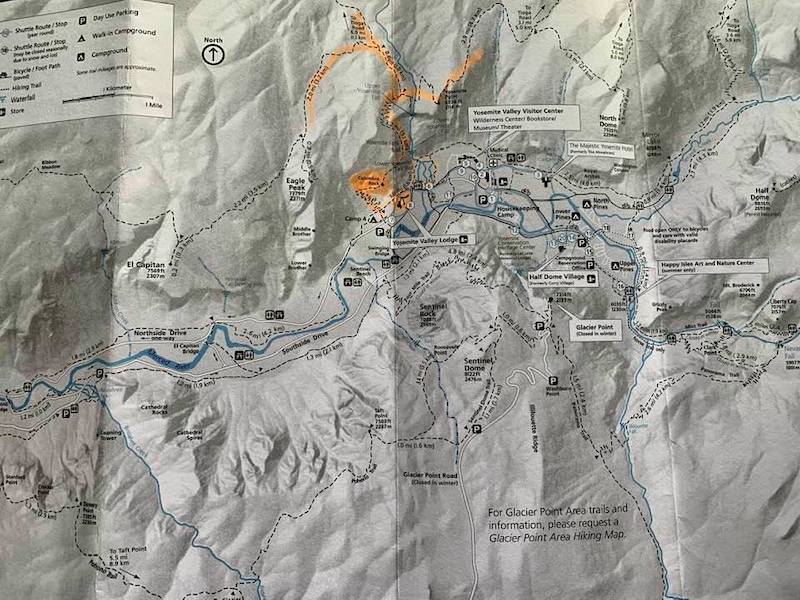 An Important Consideration When Planning Your Itinerary For Yosemite
One of the biggest mistakes visitors to Yosemite National Park make is not realizing how enormous it is. The park encompasses 1,169 square miles — meaning that driving from one section of the park to another can take hours!
That is why it is vital to plan out your itinerary for Yosemite ahead of time.
Most first-time visitors to the park spend the majority of their time exploring the many things to do in Yosemite Valley and Mariposa Grove near the South Entrance, which is what we'll mainly be focusing on below, particularly in the 1 day in Yosemite and 2 days in Yosemite suggestions.
That being said, if you have the time to drive to other sections of the park — like Tuolumne Meadows, one of the Sierra Nevada region's largest high elevation meadows (about 2 hours from the South Entrance), and Tioga Pass, a stunning mountain pass in California's Sierra Nevadas (about 2.5 hours from the South Entrance) — it can be worth it.
We'll get more into this below as we go over the many unique things to do in Yosemite.
Now, because things are so spread out you'll really want to choose your accommodation wisely. This brings us to our next section:
Best Places To Stay At Yosemite
In my opinion, the closer you stay to Yosemite National Park, the better.
Actually, my husband Andy and I made the mistake of booking an Airbnb that was about 45 minutes away from the South Entrance of Yosemite. While we liked the rental itself, it added a lot to the drive times.
If possible, you might consider even staying in the park at campsites or hotels like:
The above are my recommendations for the itineraries below, though note there are other accommodation options in the park.
Moreover, there are places to stay right outside the park entrance, like Tenaya at Yosemite, which has a pool and a spa, too.
Click here for a full list of hotels near Yosemite!
Prefer self-contained stays?
Click here to view unique local rentals!
You can also peruse the map below. It's set to El Portal, one of the closest towns to Yosemite National Park, but you can easily change the destination based on where you'd like to stay.
Logistics For Yosemite (Entrance Fees, Permits & More)
As you're planning your Yosemite National Park itinerary it's important to not just map out things to do, but to also understand the steps necessary to enter the park, including:
Yosemite National Park fee: $35/vehicle (valid for seven days)
Entrances: Yosemite National Park features five entrances:
Hetch Hetchy Entrance
Big Oak Flat Entrance
Arch Rock Entrance
South Entrance
Tioga Pass Entrance
Discount Passes: You can purchase a Yosemite Annual Pass for $70 or an America the Beautiful—National Parks and Federal Recreational Lands Annual Pass for $80. The latter is great if you plan to visit multiple national parks within a year.
Permits:
A wilderness permit is needed for backpacking and overnight hiking
A permit is required to hike Half Dome
Food/Drink: There are a number of places to buy food within Yosemite National Park, from quick grab-and-go spots to pizzerias and grills to nicer restaurants like the Ahwahnee Dining Room.
Gas: There are two gas stations within Yosemite National Park in Wawona and at Crane Flat.
Yosemite Closures: Check the the Yosemite National Park website for updates on any trail or facility closures. You can view current conditions here.
On that note, let's map out your perfect itinerary for Yosemite!
Yosemite 1 Day Itinerary
Best Yosemite entrance: South Entrance
Let's kick things off with ideas for how to spend one day in Yosemite.
Because you're short on time, it's important to maximize it and get some of the absolute best views and Yosemite sights in.
We'll start the morning with some scenic spots and easy trails and then spend the afternoon hiking one of most beautiful trails in the park.
Wawona Tunnel + Tunnel View
Have your camera ready for this one, as you'll drive through the 4,233-foot-long Wawona Tunnel — the longest highway tunnel in California and one of the top attractions in Yosemite National Park!
As you exit and darkness turns to light, you'll be gifted with an incredible view of El Capitan, Half Dome, and Bridalveil Fall.
Pro tip: Recording yourself going through the tunnel and then emerging makes for a really neat video!
You can even pull over to the side at the Tunnel View Overlook to really take in the greatness of the park's breaktaking granite monoliths.
Do A Few Of The Best Easy Hikes In Yosemite
While the afternoon trail is moderate with some uphill climbs, there are a number of easy and scenic trails in the Yosemite Valley you can do beforehand that won't wear you out, like:
Bridalveil Fall. This 0.5-mile paved out-and-back trail takes about 20 minutes to hike and brings you to the base of Bridalveil Waterfall.
Bonus: It's one of the top easy hikes in Yosemite and is only about a 4-minute drive from Tunnel View. You'll likely get wet from the mist in spring and early summer. Note that this trail can be icy in winter.
Lower Yosemite Fall. This 1.1-mile trail takes about 30 minutes and offers incredible views of the Upper and Lower Yosemite Falls. The best time to hike this is in spring and early summer when the falls are at their strongest. In fact, these falls often dry up in late summer and early fall.
Cook's Meadow Loop. Located near to the Lower Yosemite Fall trail, this is a 1-mile loop trail that takes about 30 minutes to hike. In that time, you'll be rewarded with views of Half Dome, Glacier Point, and the Royal Arches.
Mirrow Lake/Meadow. This hike is the farthest from Tunnel View, though it still only takes about 18 minutes to reach the trailhead by car. You have a few different options for hiking this trail, including trekking round-trip to the lake, which takes about an hour, or doing 5-mile loop around the lake in about 2 hours.
This hike is highly recommended as it's a great place to spot wildlife as well as see the mountains reflected on the water in winter and spring when it's not dried up (which it can be in summer). It's truly one of the best easy day hikes in Yosemite!
Stop At Sentinel Beach
Did you know you can spend time at the beach in Yosemite National Park?
Sentinel Beach is just a 10-minute drive from Tunnel View. Here you'll find a sandy beach on the Merced River where there are loads of activities to enjoy — like swimming, rafting, and heading to the Swinging Bridge next door for views of the Three Brothers, El Capitan, Columbia Rock, and more!
Peruse The Ansel Adams Gallery
Looking for a unique souvenir to take home from your Yosemite trip or want to immerse yourself in a photography experience?
The Ansel Adams Gallery is named after photographer and conservationist Ansel Adams and is where you can buy original photographs, books, and other keepsakes. The gallery also puts on rotating exhibits, workshops, and photo walks.
Bonus:
The gallery is located right near the Valley Visitor Center if you need to get questions answered or want to more information about the park.
This moderate hike will undoubtedly become one of the major highlights of your Yosemite itinerary. You can choose to just hike to Sentinel Dome, which is about 1.1 miles one-way, or you can continue on to Glacier Point for another 1.4 miles — which I highly recommend!
The trailhead is at the Sentinel Dome Parking Area on Glacier Point Road, a bit outside of the Yosemite Valley.
For the first section, you'll hike a woodland path to Sentinel Dome. There is a quick uphill climb to get to the top of the dome, where you are rewarded with true 360-degree views showcasing Half Dome, El Capitan, Yosemite Falls, North Dome, Basket Dome, and more!
Give yourself at least 30 minutes to walk around the top of the dome and photograph the views before heading down and continuing on to Glacier Point.
This trail is downhill — though remember that means it's uphill on the way back. You'll be immersed in woodland, with Half Dome popping out to say hello every so often.
And when you reach Glacier Point you'll have a front row view of Half Dome's beauty. Not only that, but you'll take in a panoramic vista that also features Mount Florence, Vernal Falls, Liberty Cap, Nevada Falls, Mount Clark, and Mount Starr King.
Pro tip:
The official Glacier Point and its adjoining parking lot will likely be swarmed with Yosemite visitors.
However, if you stop where the Glacier Point trail brings you out of the woods and the final view appears, you'll see rocky ledges and outcroppings with nobody on them where you can enjoy the scenery in solitude.
Actually, instead of explaining this gorgeous hike, check out its beauty firsthand in my Sentinel Dome to Glacier Point hiking video:
See The Sunset On Sentinel Dome
Since you have to hike back anwyay, you might as well time it so that you can see the sunset from the top of Sentinel Dome.
If you thought the view was stunning before, get excited to see the granite mountains and impressive rock formations of Yosemite National Park washed in a palette of orange, yellow, pink, and purple.
Yosemite 2 Day Itinerary
Best Yosemite entrance: South Entrance
Okay, now let's chat about what to add on for a Yosemite 2 day itinerary.
I hope you got a good night's rest, because today we'll be focusing on one of Yosemite's most challenging yet scenic hikes!
Yes, your calves will hate you for this one, but it will be so worth it for the amazing views that will be a highlight of your 2 day Yosemite itinerary.
I mean, not only do you see two stunning waterfalls and then climb to the top of them, but you also take in some of the most jaw-dropping views in all of Yosemite.
The hike can be broken up into four sections:
Trailhead to Vernal Falls Footbridge. This is a little less than a mile from the trailhead. It's paved and is quite steep in some sections, though you'll see some pretty mountain views and rock walls along the way. Moreover, from the footbridge you get a nice view of Vernal Falls.
Footbridge to Vernal Falls. Here the trail gets even more challenging as you hike up 650 stairs via "Nature's Giant Staircase". It's worth it though for the beautiful views of Vernal Falls along the way, not to mention the vista from above the falls.
Vernal Falls to Nevada Falls. Expect more uphill climbs but even better views! A few visual highlights include Emerald Pool and stunning views of Liberty Cap, a prominent granite dome that towers over the north side of Nevada Falls.
Once you reach the falls — which have an elevation of 5,971 feet — you'll get even more epic vistas! Cross the Merced River over a footbridge that straddles Nevada Falls for an incredible panorama out over Yosemite Valley.
Return via the John Muir Trail. While some hikers return down the way they came, I recommend doing this as a Nevada Fall Loop and taking the John Muir Trail back down to the Vernal Falls Bridge. While it's longer at 4 miles (vs about 2.5 miles if you go back the way you came), it's way easier on your knees.
Plus, you get what is, in my opinion, the best view of the entire hike with Nevada Falls, Liberty Cap, and the back of Half Dome to one side, and trees sloping down into Yosemite Valley and being swallowed up by the curving lines of Yosemite's many granite peaks and rock formations on the other.
Trust me when I say no 2 day Yosemite itinerary would be complete without taking in this vista!
Finally, to help you truly see why this should be a part of your itinerary for Yosemite, here is a video I made of the hike. At the very end, you'll see the amazing view from the John Muir Trail I just mentioned, too!
Now, if you're looking for something less strenuous, you can hike to Vernal Fall Footbridge and stop there for a nice view of Vernal Falls.
That being said, if you can muster up the energy to at least go up the 650 steps to Vernal Falls itself you'll have even better views.
Sunset At Tunnel View
While you saw Tunnel View when you came into Yosemite National Park yesterday, you can get a different perspective of this jaw-dropping view by stopping here at sunset.
Pro tip:
Bring a mini tripod so you can set your phone up to take a timelapse. This can make for a really stunning video as the sky quickly changes from blue to yellow to orange to pink to red to purple.
Yosemite 3 Day Itinerary
If you have 3 days in Yosemite, I have a few different suggestions for you to work with.
Of course, you can continue exploring Yosemite Valley; however, if you'd like to change up the scenery and experience I highly recommend driving over to Tuolumne Meadows and/or Tioga Road. Tuolumne Meadows is actually on Tioga Road, and is about a 30-minute drive from the famous Tioga Pass.
You won't regret adding these places to your itinerary for Yosemite National Park!
Option #1: Explore More Amazing Yosemite Valley Hikes & Bike Trails
Best Yosemite entrance: South Entrance
There are still some great hikes to explore in the Yosemite Valley, listed below. Note that these are almost all strenuous aside for Mariposa Grove, so if you'd like something easy scroll back up to the Yosemite 1 Day Itinerary option and choose one or a few from that list.
Columbia Rock via the Upper Yosemite Falls Trail. This strenuous but short hike is 2 miles round-trip, but you'll gain an elevation of 1,000 feet. From Columbia Rock, enjoy a panoramic view of the Yosemite Valley, Half Dome, Upper Yosemite Falls, Sentinel Rock, and Eagle Peak (which looks a bit similar to El Capitan) from 5,031 feet.
Upper Yosemite Fall. This also includes Columbia Rock, as you'll simply continue hiking up, which leads to a 6-to-8-hour hike in total. The highlight of this 7.2-mile trail is summiting North America's tallest waterfall at 2,425 feet above the Valley floor.
Half Dome. Possibly the most epic hike in Yosemite — though note it's very strenuous at 14-to-16 miles round-trip with an elevation gain of 4,800 feet! You'll actually do the Mist Trail or John Muir Trail (your choice!) to Nevada Falls and then continue on. From the top, enjoy incredible panoramic views of Yosemite Valley and the High Sierra.
Because the dome is super steep you'll need cables to assist you, which are typically up from late May to early October. Note that a permit is required to hike Half Dome.
Mariposa Grove trails. While not in Yosemite Valley, Mariposa Grove is right near the South Entrance of the park so you'll pass it on the way in. Here you'll find numerous trails of varying difficulties that take you through California's famous giant sequoia trees.
Yosemite Valley bike trails. There is a free Yosemite Bike Share program that allows you to explore the Yosemite Valley by bike. While I wouldn't recommend doing this over a hike, if you've done a bunch of trails and want to change up your activity doing the bike rental can be a fun option.
Option #2: Explore The Beauty Of The Tuolumne Meadows Area
Best Yosemite entrance: Tioga Pass Entrance
Tuolumne Meadows is a wide open subalpine meadow surrounded by Yosemite's famous Sierra Nevada peaks and granite domes. Tuolumne is also a high-elevation meadow — sitting at 8,600 feet — and it features the beautiful winding Tuolumne River.
There are a number of things to do in and around Tuolumne Meadows, like:
Learn about flora and fauna at the Tuolumne Meadows Visitor Center. Located in a small cabin, you can peruse exhibits on wildlife, plants, and geology.
Take in the view from Olmsted Point. There is almost no effort required to take in vistas of Clouds Rest, Half Dome, and Tenaya Lake from Olmstead Point, which is just 0.25 easy miles from the trailhead.
Go swimming. Tuolumne River and Tenaya Lake are great spots for swimming while taking in beautiful views.
Go hiking. Tuolumne Meadows is home to some great day hikes, like:
Soda Springs / Parsons Lodge. This easy hike is 1.5 miles round-trip and features some really neat highlights — like seeing a naturally carbonated cold spring as well as the historic Soda Springs Cabin built around 1889.
Lembert Dome. This moderately strenuous 4-mile-round-trip hike offers incredible views of Tuolumne Meadows, the Cathedral Range, and surrounding peaks from the top of Lembert Dome.
Elizabeth Lake. This moderate 4.8-mile-round-trip hike showcases peaceful forests and a beautiful lake view.
Option #3: Explore The Beauty Of Tioga Road
Best Yosemite entrance: Tioga Pass Entrance
If you're wondering what to do in Yosemite beyond the popular tourist experiences, Tioga Road should definitely be on your radar — especially if you're exploring Yosemite in 3 days.
First of all, it's Yosemite's highest road, stretching for 47 miles between Crane Flat and Tioga Pass and reaching over 10,000 feet above sea level at its highest point. Tuolumne Meadows is actully between Crane Flat and Tioga Pass, so you can technically visit the meadow, too.
Moreover, it's remote and less-visited than Yosemite Valley, making it extra special — not to mention there are more hikes here than anywhere else in the park.
A few ways to spend your time here include:
Drive Tioga Road over Tioga Pass. The Tioga Pass is a stunning mountain pass in California's Sierra Nevadas that should absolutely be included in your 3 day Yosemite itinerary. In fact, it's the highest mountain pass in California and is the eastern entrance to Yosemite National Park. You'll find many places to pull over and take photos.
Note that the Tioga Pass is not always open, particularly closer to winter when a lot of snow has fallen, so check the Yosemite website before visiting.
See giant sequoia trees at Tuolumne Grove. While a smaller area than the sequoias at Mariposa Grove near Yosemite National Park's South Entrance, this grove is more peaceful as there are less people and no cars allowed.
Hike the trails near Tioga Pass. There are a number of trails that begin at or near Tioga Pass, like:
May Lake and Mount Hoffmann. Hike an easy 2.5 miles round-trip to May Lake or a strenuous 6 miles round-trip to climb Mount Hoffman. While May Lake is beautiful, you really up the stunning factor when summiting Mount Hoffman thanks to stunning views over Half Dome and Clouds Rest.
Gaylor Lakes Trail. This moderate 2-mile trail begins at Tioga Pass and showcases gorgeous High Sierra views before taking you to Middle Gaylor Lake.
Want even more stunning Yosemite scenery? You can choose to continue on to Upper Gaylor Lake – Great Sierra Mine – Granite Lakes which is about 4.5 miles round-trip with about 1,500 feet in elevation gain.
Mount Dana. This strenuous high altitude hike takes you up Yosemite's second-highest peak at 13,057 feet. While only about 6 miles round-trip, your calves will feel the burn and it'll likely take you about 5-to-6 hours.
Still, the pain is worth it for the views of Dana Lake, Mono Lake, Tioga Lake, Saddlebag Lake, and Mount Lyell — the highest peak in Yosemite National Park at 13,114 feet.
North Dome. This moderate-strenuous hike begins at the Porcupine Creek Trailhead on Tioga Road and takes you for 10.4 miles round-trip up North Dome for amazing views of Half Dome and the Yosemite Valley.
Clouds Rest. If you want incredible 360-degree views, this strenuous 14.5-mile round-trip hike takes you to the 9,926-foot summit of Clouds Rest.
Here's why you need to add this hike to your Yosemite National Park trip itinerary:
Along with seeing jaw-dropping vistas of Yosemite landmarks like Tenaya Lake, Half Dome, Mount Hoffman, Sentinel Dome, and North Dome, you can also see Hawaii and Nebraska on a clear day!
Yosemite National Park Tips
Here are a few important pieces of advice. Honestly, most of these are true for all national parks.
-Know that you're on Indigenous land. The Southern Sierra Miwuk Nation were the original inhabitants of the land that Yosemite National Park resides on, but were displaced and/or forced to relocate.
Along with educating yourself on the history and culture of this Indigenous tribe, consider making a donation to causes and charities that directly support them. Moreover, where possible hire Indigenous guides and purchase from Indigenous-owned businesses.
-Know which Yosemite National Park entrance is best. When booking your Yosemite National Park accommodation, do your research to make sure you're staying near your desired entrance gate. The park is massive and it can take you hours to drive to a particular trailhead if you're not staying in the right location.
-Keep wildlife wild. Do not feed, pet, or get too close to wildlife. If they become too used to humans they may become aggressive, and sadly may eventually need to be put down.
-Drive slowly. Make sure you're going at or below the speed limit to avoid hitting animals. According to Yosemite National Park's website, over 400 bears have been hit by cars since 1995. Don't become a part of that statistic.
–Know the best time to visit Yosemite National Park. If possible, visit between May and September — though note that in summer the waterfalls may be dried up, so you might want to avoid July and August.
–Understand what to wear when you go hiking. Items like moisture-wicking clothing, sunglasses, and a hat can help keep you safe and comfortable.
-Stay on marked hiking trails. Going off-trail can cause trail erosion.
Not-To-Miss Yosemite National Park Hikes
If you're looking to explore some of the incredible hikes in Yosemite, don't miss:
Easy Yosemite Hikes
Lower Yosemite Fall
Mirror Lake
Wawona Meadow Loop
Soda Springs/Parsons Lodge
John Muir Trail through Lyell Canyon
Moderate Yosemite Hikes
Sentinel Dome Trail to Glacier Point
Vernal Fall Footbridge
Valley Floor Loop
Swining Bridge Loop
Taft Point
Elizabeth Lake
Lukens Lake
Difficult Yosemite Hikes
Top of Vernal Fall via the Mist Trail
Top of Nevada Fall via the Mist Trail
Top of Upper Yosemite Fall
Four Mile Trail To Glacier Point
Lembert Dome
North Dome
Yosemite Point
Yosemite Park Tours
Looking to explore Yosemite and its surroundings with a guide? Here are a few highly-rated experiences:
Click here for a full list of Yosemite National Park tours.
Yosemite National Park Travel Insurance
When visiting Yosemite — or anywhere else in the world — it's wise to get travel insurance.
One of the best travel medical insurance for travelers is SafetyWing as they've got a large network and offer both short-term and long-term coverage — including coverage if you're traveling for months as well as limited coverage in your home country).
Additionally, SafetyWing is budget-friendly and offers $250,000 worth of coverage with just one low overall deductible of $250.
Click here to price out travel insurance for your trip in just a few clicks.
Top California Hikes
Looking to explore other California hiking trails? A few not-to-miss trails include:
Lost Horse Mine in Joshua Tree National Park
Hidden Valley Trail in Joshua Tree National Park
Ryan Mountain in Joshua Tree National Park
Mount Whitney in the Sierra Nevadas
The Lakes Trail in Sequoia National Park
One Day In Sequoia National Park: The Perfect Itinerary
James Irvine Trail to Fern Canyon in Prairie Creek Redwoods State Park
Sentinel Dome to Glacier Point in Yosemite National Park
Columbia Rock Trail in Yosemite National Park
One Day In Sequoia National Park: The Perfect Itinerary
What would you add to this itinerary for Yosemite National Park?
Enjoyed this Yosemite trip itinerary guide? Pin it for later!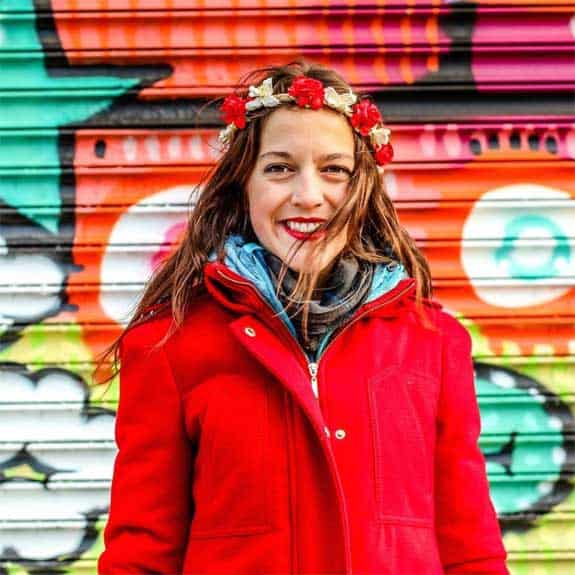 Hi, I'm Jessie on a journey!
I'm a conscious solo traveler on a mission to take you beyond the guidebook to inspire you to live your best life through travel. Come join me!
Want to live your best life through travel?
Subscribe for FREE access to my library of fun blogging worksheets and learn how to get paid to travel more!