How India Broke Me (And Why I'm Thankful For It)
This post is based on a tour I took with my friend and fellow blogger, Wandering Earl, who runs an awesome trip to India via his company Wandering Earl Tours. The itinerary was Delhi -> Varanasi -> Agra -> Jaipur -> Bundi -> Udaipur -> Goa.
As I wander through crowded streets, people shoving each other as rickshaws whiz by and cows do their business in my path, I can't help but think of all the people who come to India searching for inner peace.
I'm having enough trouble finding outer peace; incessantly honking horns and aggressive touts providing a headache-inducing soundtrack.
The pollution is so thick in Delhi I cough black, while some of the country's most sacred sites — like the Ganges River (Mother Ganga) — have been thoroughly abused (oddly enough through festivals and the Hindu belief that the Ganga is self cleaning).
Beggars are relentless, and your heart will break seeing small children being trained to beg and do tricks for the local mafias, while getting slapped across the face for not performing up to par.
Questioning My Travels
India made me thoroughly question why I travel. Not in an "ugh why am I doing this?!" way — though I'll admit there was that at times — but in a truly retrospective way.
What drives me to journey from home time and time again, leaving behind my family, boyfriend and friends for the unknown?
What was it that pulled me to a place like India, and am I truly staying modest?
It also made me question the way I travel and the perceptions I felt about where I was.
Was I wrong to feel lucky to live in America where toilet paper and clean drinking water are readily available?
Moreover, as a photographer, it can be hard to put down the camera, and I hoped that people realized that my intentions were purely to capture daily life as it was — the good and the bad — without any "poverty porn" aspirations.
I think back to some of my travel highlights over the years: surfing in Australia, agri-touring through Tuscany, skinny dipping off idyllic beaches with my boyfriend in France, sandboarding ancient dunes in Namibia.
These trips, despite having their own challenges, were relatively easy to enjoy. The beauty of each place was immediately apparent and finding fun, local experiences was simple.
You could wear your favorite sandals without worrying about stepping in fresh cow crap. Instead, my biggest worry was what wine to pair with dinner (vs whether two bites would leave me clinging to the toilet for a week).
Traveling Through India: The Why
I soon realized the reason I went traveling through India was really no different from the reason I travel to most places: to experience something different, to open my mind, to see reality in the flesh, and to grow as a person.
And India is certainly a place to do this. You will see, hear, feel, taste and smell things you've never sensed in your life, both perplexing and pleasing — construction workers using power tools without goggles or shoes on, healthy cardamom-laced chai teas, busy streets with no traffic rules, the silky smoothness of pure silk scarves, the powerful sounds of the sitar and tabla drums harmonizing in ways that your body can't help but react to.
Hey, isn't the reason we travel to open our minds and immerse ourselves in new things?
To do this, it's sometimes necessary to challenge ourselves: to force ourselves to experience the pains and joys of culture shock.
While I enjoyed having a comfortable and clean hotel to retreat to in India, I also found it rewarding to leave comfort behind and soak up the chaos and culture (Advil in my purse, of course).
But, sometimes, it was hard to truly open up to India.
Challenges In India
Delhi
I'm going to be frank; while I only spent a short time in Delhi, I did not find it very enjoyable.
First of all, it's often touted as the world's most polluted city, with streets so covered in trash and cow dung I couldn't see the ground.
Also, the air is so polluted I actually coughed black. Cue the fever and sinus infection.
With illness running through my body, I found delight in certain experiences — wandering the intricate and enormous Akshardham Temple Complex and savoring stuffed parathas at the historic Pt. Gaya Prasad Shivcharan from 1872; but in a place where simply crossing the road to buy a water bottle becomes a live game of Frogger (hint: you're the frog!), it was hard to muster up the courage to leave my hotel room.
Luckily, there are many great places for a solo trip from Delhi when you're ready to travel on!
Stuffed parathas at the historic Pt. Gaya Prasad Shivcharan from 1872
Varanasi
Varanasi delivered what many in my group described as "what I pictured India to be like." It's one of the world's oldest continuously inhabited cities and India's holiest city.
Varanasi is a must-visit to experience local traditions. Hindu pilgrims venture from all over India to wash away their sins in the Ganges River.
It's also where Hindus go to burn their dead — a practice you can witness in the open — and sprinkle the ashes into the Ganga to send them to heaven and help them avoid being reborn on earth.
Though not quite as crazy and cough-inducing as Delhi, Varanasi isn't without its challenges.
One main problem: the Ganges River has been so abused it's now almost 3,000 times more than the limit the World Health Organization deems safe.
People throw their trash and feces in the Ganges, while factories along the waterfront dump in their effluent. Those who can't afford to cremate their dead loved ones often dispose of their bodies in the river.
Walking along the waterfront with its many ghats (steps leading down to water) gave me an eerie feeling of true beauty in decay. Like many historic structures in India, the once-grand palaces and temples have been left to rot, their bright colors and ornate details showing faintly through cracks and dust.
Varanasi, like Delhi, is also a place where poverty is rampant.
Clothes just washed in the Ganges hung on drying lines. As saris and dhotis billowed in the breeze, I saw the faces of unbathed children begging for money (note: here's why it's unethical to give).
While walking through the city's pandemoniac main street I was hassled every three steps.
Drivers urged me into their rickshaws "for a good price" even when I was only walking five minutes, while shop owners followed me for longer than I was comfortable with to try to persuade me into perusing their wares.
Luckily, I found places where I could explore local culture without feeling like a walking dollar sign, such as Jolly Music House, which I visited after maybe sipping a bhang lassi, a legal cannabis-laced yogurt drink.
Cannabis is touted as a sacred plant in ancient Hindu texts, so trying this is actually a very local experience. Honestly, this experience easily turned into one of my craziest India travel stories from the whole trip.
The music emitted from the bells jingling on the Kathak dancer's ankles as she moved to to the sounds of the harmonium were almost visible in my possibly entranced state.
Agra
Agra, aside for the Taj Mahal, one of the world's most famous landmarks, brought me back to a disheartened state.
With all the money this grand marble structure brings in, it was heartbreaking to see the poverty and pollution surrounding it.
You'd think that some of the site's earnings would go to the community, or that there wouldn't be trash flooding the streets; but alas, that's not the case.
As I snuggled up into the stained sheets of my crusty hotel room, I yearned to escape my discomfort. For a coffee shop that felt warm, for a bed with clean blankets. I wasn't expecting to find Brooklyn in India, but I wanted something, anything, that made sense.
Finally Able To Breathe
Bundi
And finally, I reached Bundi, located in the state of Rajasthan (where you can have the ultimate Rajasthan itinerary).
Most visitors to India stick to the Golden Triangle — Delhi, Agra and Jaipur — never making it to this former royal town once thought to be the capital of the great Hadoti Kingdom.
Today, it sits surprisingly undiscovered by tourists.
There are still cows in the street and honking rickshaws in Bundi, but the laid-back vibe and friendly locals made me feel welcome. If you're traveling alone, this is a great spot for a solo India trip, too.
Yes, I realize "friendly locals" is a generalization; but going from Delhi, Varanasi, and Agra where I felt a lot of aggression to Bundi where people almost always smiled at me and stopped to chat was a drastic change that allowed me to come out of hiding for more than just an hour or two.
For the first time during my 3-week trip, I really wanted to leave my hotel room.
Here when sellers invite you into their shops, they do so cordially instead of insistingly, engaging you in real conversation. I was even invited into a local homestay to get all-natural henna (which I gladly do!).
While in other cities my iced coffee order would dispense anything from a chocolate milkshake to a pot of hot water, in Bundi I found the best caffeine creation of my life at Krishna's Chai.
His chai — which cost only 30 Rupees (~$0.45 USD) — was better than any $5 java or tea creation I've had in NYC.
Bonus:
It can be sipped in an inspiring mural adorned space. With each sip, all the soot and pollutants that had built up inside me melted away. I returned to this place so often that Krishna invited me to leave a little bit of myself on his art wall in blue paint.
Bundi also provided outdoor adventure mixed with history.
I hiked up the 14th century Taragarh Fort to take in a mixture of lake, hillside and town views. I sat at the top of Shiva Temple, a pensive monkey beside me, absorbing the breath-taking view. India can be really beautiful sometimes.
Udaipur
In India's quintessential romantic city, Udaipur, the beauty continues, though a bit more gowned in chaos than smaller Bundi.
Still in friendly Rajasthan, I couldn't help but wonder if the local's less aggressive nature was because it's less visited by foreigners than the Golden Triangle.
It's also almost void of trash on the streets, which showcase scenes of turreted palaces, waterfront mansions and manmade lakes with footbridges to explore both sides.
Along with enchanting beauty, it's here when I'm reminded of the importance of not forgetting populations, especially those with no voice.
My eye-opening experience came 15 minutes outside of Udaipur's main city at Animal Aid, who take in hurt street animals.
They're currently nursing about 500 dogs, cows, donkeys, pigs, turtles, and birds back to health, with a goal to eventually drop them off where they were picked up.
This being said, many animals have non-treatable injuries, like blindness or paralyzation, which means they remain onsite in the sanctuary.
It's amazing to think that many of these animals with curable ailments, like maggot-infested wounds and infections, would otherwise be left for dead. I spent my morning giving a little extra affection to these beautiful creatures, though long-term volunteers can assist by playing with, feeding, and bathing the animals, as well as assisting the medical team.
Say Om
Goa
My whirlwind trip ends in Goa in southwest India, where I was finally able to check in with myself mentally and physically.
Here I spent my mornings at Shiva Yoga Centre, working on my breathing and reflecting on my trip. India managed to rip me open and leave me vulnerable and scrambling, forcing me to find my place in the unknown.
It wasn't the type of trip where I easily enjoyed mountain vistas and fine wine; it was a trip where I wept, puked, was bedridden, was constantly shoved, felt misunderstood, felt uncomfortable, felt claustrophobic, and, ultimately, was strengthened.
I was glad for the second half of my trip, where I was able to breathe and find some inner peace. But I was also thankful for the more jarring first half.
Marcel Proust said, "The real voyage of discovery consists not in seeking new landscapes, but in having new eyes."
If my travels only consisted of beach vacations and wine region jaunts, I would be traveling with my eyes shut.
I fully admit that I, a well-seasoned traveler, was broken down by India.
I was pushed to my limits, but difficult encounters forced me to open my eyes to some of the world's hard truths. While life can be a beach, it certainly isn't always.
And when you visit a place that forces you to be immersed in it, all its beauty and chaos together, you need to be thankful for the eye-opening experience.
Best Places To Stay In India
Looking for India accommodation?
Click here for a list of India hotels!
Prefer self-contained stays?
Click here to check out unique local Airbnbs!
You can also use this map to search for local stays and experiences:
India Travel Video
Bonus:
Make sure to check out my India trip video:
Watch it above!
The video takes you on a journey through Delhi, Varanasi, Jaipur, Agra, Udaipur, Bundi and Goa.
Bonus India Travel Resources
Greatest Goa: Yoga, Dolphins & A Dose Of Clarity On Palolem Beach
A Disappointing Spice Farm Day Trip In Goa (And What To Do Instead)
9 Essential Travel Tips For Southern India
10 Reasons Why Kerala Should Be Your Next Trip
12 Northern India Experiences Beyond The Templates & Maj Mahal
Solo Trip From Delhi: 10 Amazing Places To Visit Near Delhi Alone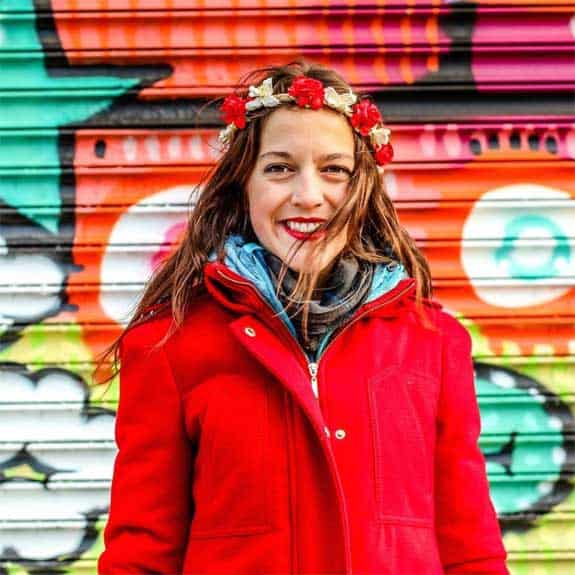 Hi, I'm Jessie on a journey!
I'm a conscious solo traveler on a mission to take you beyond the guidebook to inspire you to live your best life through travel. Come join me!
Want to live your best life through travel?
Subscribe for FREE access to my library of fun blogging worksheets and learn how to get paid to travel more!