How To Get High (Legally) In Varanasi, India
Curious about drinking bhang lassi when visiting Varanasi, India?
Then you're in the right place, as that is exactly what we'll be talking about in this article!
Originating in Punjab, India, the lassi— a drink consisting of yogurt, water, spices and sometimes fruits and other flavorings — is simply delicious.
India can get very hot and the food can be spicy, so these traditional drinks offered a tasty way to refresh from the afternoon heat throughout my three-week trip to India.
But nowhere did I enjoy the lassi as much as I did in Varanasi.
India Travel Video
Before we dive into India's lassi culture, make sure to check out my India trip video. It takes you on a journey through Delhi, Varanasi, Jaipur, Agra, Udaipur, Bundi, and Goa:
Lassi Culture In Varanasi
Funnily enough, Varanasi is not really known for being a "foodie" city.
Instead, this is the spiritual capital of India, with pilgrims coming from all over the country to bathe in the Ganges Rivers — or Mother Ganga — to rid themselves of their sins.
It's also where people come to die, literally.
Twenty-four hours a day, the bodies of the dead are attached to wood, sprinkled with ghee and incense, and burned.
Their ashes are then sprinkled into the Ganga in an effort to rescue their soul from the cycle of rebirth and instead send them to heaven.
The ritual is done right in the open on the burning ghat, and I myself witnessed it from a raised platform overhead.
For those who can't afford this ritual, the bodies are sometimes simply dumped into Mother Ganga.
Not exactly meal chatter, but getting back to the lassis…
Crazy Lassi Concoctions
My first taste of Varanasi's amazing lassis came while wandering through the main market in the Old City.
The winding narrow lanes were crowded and loud, not quite as chaotic as Old Delhi's, but definitely overwhelming.
Shop owners aggressively beckoned me into their stores, while cows trotted up the streets doing their business.
Motorbikes whizzed past me, honking as they drove through lanes that definitely should've been deemed too small for vehicles.
Who knows, maybe they were. In India there never seems to be any hard rules.
While I enjoyed the madness for the glimpse of local life it provided me, I was thankful to sneak away into a surprisingly empty lassi shop called Blue Lassi, open since 1925 and still in the same Yadav family.
Despite being a hole in the wall — quite literally, as you walk almost into a giant hole in the concrete wall and into a tiny room — this is one of the most famous lassi shops in all of India.
Their lassis feature no artificial additives and they use only seasonal ingredients.
They're also extra creamy and you can order yours in almost every flavor imaginable; coconut, chocolate, banana, papaya, strawberry, saffron, mango, cashew, pomegranate, apple, coffee, pistachio, blueberry, grape, guava, orange, pear, pineapple — not to mention combinations of all of the above!
Forward-Thinking History
Modern lassi shops tend to use a blender to whip theirs up, but not Blue Lassi.
Along with their historic recipes, they also use traditional methods, hand-macerating all fruits with a mortar and steel bowl.
Then they mix in homemade yogurt and some sugar and voilà; a tasty treat is born.
They also add some type of ingredient garnish on top, whether it be pomegranate seeds or banana slices.
The lassi is served in a large clay cup — the Indian government has recently introduced initiatives to curb plastic use.
This is desperately needed. Sadly India is drowning in garbage, and half of the world's 20 most polluted cities are in India.
But wait; I thought this post was about how to get high?
Yes, we're getting to that right now…
Honestly, this easily became one of the craziest stories of India from my entire trip!
The Bhang Lassi Can Get You High
Back to the lassis which, by the way, can also get you high.
The bhang lassi is a treat that's illegal in most places in India, though the holy city of Varanasi has a number of government-approved shops where it can be consumed.
Varanasi being a hub for bhang lassi makes more sense than one may think.
Interestingly, bhang (the leaves and flower heads of the cannabis plant) isn't just some excuse to get high, but also part of the culture, with the grinding and preparation of bhang being considered an art.
Bhang has been used by Indians since at least the 4th century BC.
In Hindu belief, it is associated with the powerful Lord Shiva, who's said to have brought it from the Himalayas for mankind to enjoy.
There's also another story, saying the intoxicant was discovered when gods and demons stirred the ocean in an attempt to find the nectar of life.
In terms of local Ayurvedic healing, cannabis is considered to have great medicinal value, especially for appetite and digestion.
Thinking of trying the bhang lassi for yourself?
One warning:
Proceed with caution!
These drinks are not for the faint of heart.
You can try this intoxicating — literally — treat at a shop with a very weird sign and no English name.
It's a tiny place with bright lights and just a few tables in the back.
You'll pay 50 Rupees (~$0.75 USD) and will be given a green drink with yogurt pulp mixed in.
While not as thick as the creations at Blue Lassi, the effects are certainly more lasting.
Traditional Indian Music With A Buzz
Now, I'm not saying I had bhang lassi, but if I did my head would have been buzzing when I went to see a traditional Indian music concert with a sitar, tabla and harmonium at Jolly Music House.
This space features a small theater with mismatched blankets set up on the floor for seating.
The sounds were enthralling.
The musicians moved as if they were dancing, their facial expressions telling the stories of their wordless songs.
Choreographed dance was also a component, as I learned about the beauty of the colliding worlds of mime, music, and movement in Kathak. This is a traditional Northern Indian dance style focused on storytelling, typically about ancient mythology, Krishna and childhood.
Each gesture and expression of the dancer had a meaning.
She danced to live tabla and harmonium music, hundreds of bells around her ankles accenting certain beats.
Her bare feet hit the ground hard in musical patterns, like tap shoes tapping out ball changes and barrel turns.
It's an intimate cultural experience that can certainly be heightened by the effects of the lassi drink, which is actually stronger than you can imagine (even if you get the light one!).
In fact, it's so strong one might almost see the musical notes emitting from the instruments, and the players' hands moving so fast they look like putty.
At points, you might actually feel like the music is inside of you (I mean this very literally; again the lassi).
The day was one of the favorites of my entire trip through India, equally delicious and eye-opening.
If it's your first time with the bhang lassi, I highly recommend drinking only half of it if you're planning to go to a performance afterward.
For a visual, one man who drank one full light bhang lassi got so freaked out during the show he basically tried to break down the door to escape the room and proceeded to pace outside for hours.
Whether you like your lassi laced with bhang or bananas, definitely try one while traveling through India!
Bhang Lassi Travel Storytime Video
Love video?
Watch below as I share the crazy story of trying bhang lassi in Varanasi, with some fun video edits to really help bring you into the experience.
Bhang Lassi Recipe
Since writing this article and posting the above video, many people have asked me for tips on making bhang.
I've never concocted it myself; however, if you're looking for an easy bhang recipe, the video below from The Bengal's Kitchen should help.
Interestingly, he also speaks about how the drink offers energy and refreshment, and how it is popular with certain festivals and events like Holi and Maha Shivratri.
If you want to drink bhang at home, here is your guide. I've also seen some other versions that use coconut milk (yum!):
India Travel Insurance
While you hope everything runs smoothly, sometimes travel just doesn't go according to plan.
This is why I recommend always purchasing travel insurance. The scary truth is it only takes one bad accident to lose everything — or be thankful you were covered.
Personally, I use SafetyWing, as they've got a large network, offer both short-term and long-term coverage (including limited coverage in your home country), are budget-friendly, and offer $250,000 worth of coverage with just one low overall deductible of $250.
Click my affiliate link here to price out travel insurance for your trip in just a few clicks.
Have you ever tried bhang lassi in Varanasi, India?
Logistics:

Stay: Kedareswar B&B. I really, really, really loved this place. Since you can't drive down the street they're on, the staff will meet you nearby and carry your bags to their accommodation. Throughout my stay everyone went above and beyond to make sure I was comfortable. Rooms are clean, there's a rooftop with Ganges River views, breakfast and Wi-Fi are included, and there's hot water.Price: Rooms start at 2200 Rupees (~$33 USD) per night.

Blue Lassi:D 36/190, Godowlia Rd, August Kundaas, Godowlia, Varanasi, Uttar Pradesh 221001. It's at the edge of the old city's main market. Open 9am to 10pm daily. Lassis cost about 40 Rupees (~$0.60 USD) for the traditional/plain flavors and about 60-80 Rupees (~$0.90 to $1.20 USD) for most flavors (saffron varieties are a bit pricier).

Bhang Lassi:The shop I went to — along with a few other government-sanctioned Bhang Lassi shops –was located at the intersection of Dashashwamedh Road and Jangambari Road. Simply walk away from the Ganges River up the main road splitting city from main ghat — it's right behind Dashashwamedh Ghat — and at the first main interaction it's on the left corner, across from the Ganges Grand Hotel. Price is ~60 Rupees (~$0.90 USD).

Jolly Music House:D- 34/4, Dashashwamedh,Near Baba Handicraft, Near Shudhir Sweets, Khalishpura, Bangali Tola, Varanasi, Uttar Pradesh 221001. Email them at jolly_v[email protected] to check the week's shows and ticket prices.

Tour Suggestions:

Currency:Indian rupee. As of October 2016 the exchange rate was about 66.91 Rupees = $1 USD.

Language:Hindi and English

Safety:

Clever Travel Companion Pickpocket-Proof Garments will come in handy when wandering India's many crowded markets and streets.
AVigilant Personal Alarmis essential for both home and away. Wear it as a a bracelet and, if you feel danger approaching, pull the pin to have it blare as loud as a firetruck. The idea is to scare off whoever is approaching.
Speakeasy Travel Supply Pickpocket-Proof Scarves feature hidden pockets to hide valuables and come in styles for every season.
Always carry your hotel's business card. India's streets aren't always labeled, so if you need to get back you can easily hand it to a took took driver.

Recommended Reading:
Have you tried bhang lassi in India?
Bonus North India Travel Resources:
Bonus Northern India Travel Resources:
Traveling Northern India: 12 Things To Do Beyond The Taj Mahal
Fun Things To Do in Bundi, India
India's Unique Karni Mata Temple Is Devoted To Worshipping Rats
Exploring The Culture Of Northern India Through Food
10 Unforgettable Solo Trips From Delhi, India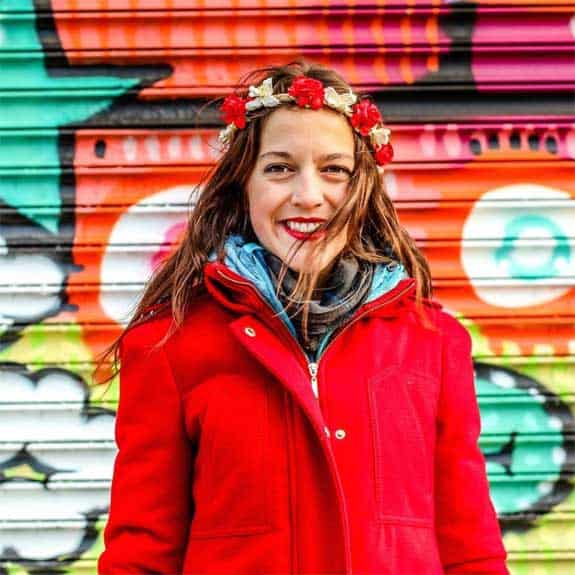 Hi, I'm Jessie on a journey!
I'm a conscious solo traveler on a mission to take you beyond the guidebook to inspire you to live your best life through travel. Come join me!
Want to live your best life through travel?
Subscribe for FREE access to my library of fun blogging worksheets and learn how to get paid to travel more!