Solo Trip From Delhi: 10 Amazing Places To Visit Near Delhi Alone
By Rachita Saxena. This post sharing ideas for taking a solo trip near Delhi is written by a local and contains affiliate links to trusted partners!
Planning a solo trip from Delhi and need ideas for places to go on your own?
Then you're in the right place!
Delhi – the capital city of India and my home city – offers many fun and interesting attractions for visitors. From ancient tombs to Mughal gardens to the Connaught Place financial hub, you'll find several culturally and historically rich places to visit in Delhi alone, not to mention there is delicious street food.
That being said, what I personally love about Delhi is how close it is to numerous famous landmarks in India. From the architecture of the Taj Mahal to the lush green hills of Himachal Pradesh, there are many great tourist spots easily accessible.
Excited to know more about these places and how you can reach them? Read on to discover how you can safely visit 10 unforgettable solo destinations near Delhi.
⏳ Short on time? Here are some quick tips for traveling a solo trip from Delhi, India:

✈️ Airport Transfer: Book here

🏨 Accommodation: This accommodation map showcases hotels and vacation rentals with pricing in the popular Old Delhi area, though you can easily change this to your preferred location

☔ Safety: While traveling solo in India, it's still smart to pack travel safety essentials. One top pick is the She's Birdie Personal Safety Alarm, which is TSA-approved and can help scare away potential attackers. Other recommendations include Clever Travel Companion Pickpocket-Proof Garments and Speakeasy Travel Supply Hidden Pocket Scarves.

🏥 Travel Insurance: SafetyWing

📞 Staying Connected: Airalo eSIM
Take A Solo Trip From Delhi With Confidence [Free Course]
But first, before we dive into top solo destinations around Delhi, I want to invite you to grab access to the free Savvy Solo Traveler ecourse, which can help you successfully plan your first solo travel experience!
The six-day ecourse is designed to help you feel confident about booking your solo trip and exploring the world alone.
Lessons include:
Common solo travel fears and how to overcome them
How to choose your perfect solo trip
How to tell loved ones you're hitting the road solo
Mentally preparing for your solo journey without losing your mind
Essential steps for staying safe on a solo trip
How to travel alone and take amazing solo selfies
Grab your seat in the course here!
Then keep reading to learn everything you need to know about solo travel near Delhi.
Map Of India
To help give you a lay of the land, the above India map shows you where Delhi is in comparison to other Indian cities.
Click here for an interactive version of the map and to see a bigger view of it.
Best Places To Visit Near Delhi Alone
One of the biggest solo female travel benefits is having ultimate freedom over your schedule. Luckily, there are loads of amazing things to do and see in India.
So on that note, let's dive into the best places to go for a solo trip from Delhi. If you're planning a trip to India, you absolutely will not want to miss any of these incredible destinations.
1. Rishikesh
One of the best places for a solo trip from Delhi is Rishikesh. In fact, this is one of the top solo female travel destinations in India and a great option for those traveling to Asia solo.
Located at the foothills of the Himalayas, Rishikesh is a small town that is famous for adventure activities and spirituality.
Also known as the yoga capital of India and the birthplace of yoga, Rishikesh is great for solo travelers looking for a peaceful destination to escape from the bustle of New Delhi. For a truly immersive yoga and meditation experience, consider spending a few weeks at one of the many ashrams here.
Additionally, sitting on the sacred Triveni Ghat is one of the best experiences for solo travelers. This ghat is a truly important place as it's where the three spiritual Ganges, Yamuna, and Saraswati Rivers converge.
Alternatively, if you like active travel adventures then you can participate in river rafting, rock climbing, mountain biking, bungee jumping, trekking, and more.
🚍 How to Reach Rishikesh: You can take a direct bus to reach Rishikesh in about six hours, making it a great option for a weekend getaway. Alternatively, you can take a train to Haridwar and then hire a cab or take a local bus to reach Rishikesh. 
🏨 Hotels in Rishikesh: Click here for a full list of local hotels.
📍Tours in Rishikesh:
➡️ Click here for a full list of Rishikesh tours.
2. Varanasi
One of the holiest places to visit in India, Varanasi is a top option for spiritual solo travelers — especially as it's one of the world's oldest continuously inhabited cities.
Varanasi is where you can learn about Indian culture and is another great destination for meditation. Here, you will come across Indians and foreigners praying at local temples, practicing yoga, attending meditation sessions at local ashrams, and sipping on cannabis-laced bhang lassis — the latter of which will very likely lead to some interesting India travel stories.
The best thing about visiting Varanasi is exploring the numerous ghats, which are flights of steps leading down to the Ganga River (aka the Ganges River). Don't miss out on the famous Ganga Aarti that is held here every evening, which involves beautiful and elaborate rituals and prayer ceremonies meant to honor the namesake river.
One of the most important ghats in Varanasi is the Burning Ghat. The wrapped bodies of deceased loved ones are carried through Varanasi's old town to this ghat, where they're unwrapped, sprinkled with clarified butter (ghee) and incense, and burned in the open.
Hindus believe that this ritual allows their souls to ascend into heaven instead of being reborn on earth. It's fascinating to observe and provides deep insight into the local culture and the spiritual importance of this city on the Ganga.
🚍 How to Reach Varanasi: Take a train or bus to Varanasi from Delhi. It will take you around 12-14 hours to reach Varanasi from Delhi.
🏨 Hotels in Varanasi: Click here for a full list of local hotels.
📍Tours in Varanasi:
➡️ Click here for a full list of Varanasi tours.
3. Jaipur
Looking to visit some heritage sites in India? Then, you should plan a solo trip from Delhi to Jaipur, especially as both cities are part of India's famous Golden Triangle which includes Delhi-Agra-Jaipur.
The capital of Rajasthan, Jaipur is also known as the Pink City because of the monuments that have been built there using red sandstone.
Famous for its rich heritage and culture, this city is filled with grand forts and several palaces of kings who once ruled the state.
Visitors can explore this heritage through a variety of historic tourist attractions like Jantar Mantar, a unique astronomical observation site dating back to the early 18th century; Amber Fort, a lavish 16th-century Maharaja's palace; Nahargarh Fort, the oldest Jaipur fort offering amazing views from its hilltop position; and Hawa Mahal (shown above), a historic pink palace showcasing a dizzying honeycomb design.
It is also safe for solo travelers and offers several options for shopping and delicious food.
In terms of shopping, a few recommendations include the Tripolia Bazaar, Chandpole Bazaar, and the Johari Bazaar, the latter of which is known for its for jewelry.
For food, Rawat Mishthan Bhandar is a tasty restaurant renowned for serving great pyaaz kachori, which is a typical Rajasthani snack featuring fried pastry filled with spicy onion filling. Trying this is a great way to explore local culture through north Indian food.
If you're in the mood for sweets then Laxmi Mishthan Bhandar is a must-stop, while Bapu Bazaar offers up great local food as well as shopping in one place.
🚍 How to Reach Jaipur: Tourists can take a train or bus or can hire a cab to reach Jaipur from Delhi. It takes around five-to-six hours from Delhi to reach this Rajasthan city by bus or train or four-to-five hours by car.
🏨 Hotels in Jaipur: Click here for a full list of local hotels.
📍Tours in Jaipur:
➡️ Click here for a full list of Jaipur tours.
4. Bharatpur
Bharatpur is another famous city in Rajasthan that is known for its Bharatpur Bird Sanctuary, one of the best local places to visit.
This national wetlands park is home to a wide range of rare and migratory birds that usually visit during the winter season. A few types of birds people love trying to spot here include the Siberian Crane, Sambar, Chital, Nilgai, and Boar.
A great destination for a solo trip from Delhi, this bird sanctuary is a UNESCO World Heritage site and attracts tourists from all over the world.
🚍 How to Reach Bharatpur: You can visit Bharatpur via train or bus from Delhi. It takes around three-to-four hours to reach Bharatpur via train and approximately six-to-seven hours via bus.
🏨 Hotels in Bharatpur: Click here for a full list of local hotels.
📍Tours in Bharatpur:
➡️ Click here for a full list of Bharatpur tours.
5. Kasauli
One of the best destinations for a solo trip in Himachal Pradesh — a popular state to explore while traveling northern India — is Kasauli, a small town surrounded by mountains.
All the buildings here have been built in a Victorian style, and its architectural beauty is one of the main reasons why Kasauli is so famous among tourists.
Another great thing about this Indian town is that it's filled with cedar and pine trees, creating a calm and peaceful environment.
A few places that every solo traveler should visit in Kasauli are the Mall Road for great shopping, Monkey Point to see monkeys as well as incredible views from a hilltop temple, and the Gilbert Trail for panoramic views while hiking.
🚍 How to Reach Kasauli: You'll find direct Volvo buses from Delhi to Kasauli. Another way to reach is to take a train from Delhi to Kalka and then hire a cab to Kasauli from Kalka. If you take a direct bus it will take you about six-to-seven hours. Alternatively, if you travel via train and cab it will take about eight-to-nine hours to reach Kasauli.
🏨 Hotels in Kasauli: Click here for a full list of local hotels.
📍Tours in Kasauli: Click here for a full list of local tours.
6. Agra
Known for beng home to the Taj Mahal, a UNESCO World Heritage Site, Agra is another great place for a solo trip from Delhi.
A perfect destination for history buffs and photography lovers, Agra offers numerous monuments to explore. Most of these monuments are from the Mughal Era and are beautifully constructed, offering a window into the past.
Traveling around Agra is pretty cheap and safe for solo travelers, as well, and you can easily spend two or three days exploring the food, culture, and tourist attractions in this city.
A few local attractions that you cannot miss out on in Agra are Mehtab Bagh, a stunning Mughal-built garden along the Yamuna River; Agra Fort, the main residence of the Mughal Dynasty emporers until 1638; Fatehpur Sikri, a complex of monuments and temples that was once the capital of the Mughal Empire; and, of course, the famous Taj Mahal.
By the way, here is a quick backstory on the Taj Mahal that you may not know:
First of all, this Mughal-designed building by emperor Shah Jahan has a love story attached as he built it for his deceased wife Mumtaz Mahal.
However, the site also holds a story of blood against blood, as Jahan's son imprisoned him to take over power, placing him in the Agra Fort where his only view was of his creation, the Taj Mahal, which he could only admire from a distance.
🚍 How to Reach Agra: There are several ways to reach Agra from Delhi. The cheapest option would be to take a direct train from Delhi to Agra. You can also get a bus or a private taxi which only takes about four to five hours, helping to make Agra one of the best places for a solo trip near Delhi.
🏨 Hotels in Agra: Click here for a full list of local hotels.
📍Tours in Agra:
➡️ Click here for a full list of Agra tours.
7. Manali
One of the most popular destinations in Himachal Pradesh for solo travelers, Manali offers a tranquil and safe environment.
Located in the Beas Valley, this Himalayan resort town is surrounded by gorgeous mountains and forests and offers stunning scenery for you to enjoy.
Along with the views, Manali is also known for adventure activities such as white water rafting, trekking, and skiing.
It attracts tourists from all over the world and is even the starting point for the famous route to Leh Ladakh. Leh is a high-altitude town within the stunning Ladakh region. It sits at 11,550 feet and offers pristine landscapes, Buddhist templates, billowing prayer flags, adventure activities, and Himalayan views.
Manali is truly one of the world's top destinations for solo female travelers!
🚍 How to Reach Manali: There are several Volvo buses that operate on the Delhi to Manali route daily, which takes about 13-14 hours.
🏨 Hotels in Manali: Click here for a full list of local hotels.
📍Tours in Manali:
➡️ Click here for a full list of Manali tours.
8. Bir
Another popular town to visit on a solo trip from Delhi is Bir, which is known for its beautiful mountain views. Additionally, it's touted as the best place to go paragliding for those traveling Asia.
A great destination for solo travelers looking for the perfect weekend trip, heading from Delhi to Bir means you can learn more about Tibetan culture here. This is because in Bir there are lots of monasteries where the visitors can spend time interacting with the monks and observe how they go about their day. One can also learn about their beliefs by talking to the resident monks here.
Most importantly, you have a lot of activities to indulge in like hand gliding, trekking, and even mountain biking, as Bir is home to some of the best cycling trails in the world.
🚍 How to Reach Bir: You can get a 12-hour Volvo bus directly from Delhi to Bir.
🏨 Hotels in Bir: Click here for a full list of local hotels.
📍Tours in Bir:
➡️ Click here for a full list of Bir tours.
9. Kasol
Embarking on a solo trip from Delhi to Kasol is an unforgettable experience, as the quaint town is the gateway to many amazing villages and trekking destinations.
Kasol is located in the Parvati Valley of Himachal Pradesh and is the perfect place for soul searchers and nature lovers.
With cheap accommodations, delicious food, and friendly people you can easily spend a few days here exploring what this town has to offer and even interacting with locals for a deeper cultural experience.
A few nearby attractions that shouldn't be missed include Kalga, a stunning high-altitude village surrounded by mountains; Pulga, home to some of the world's best hiking trails; Malana, an ancient village thought to be the oldest in India; and Manikaran, a sacred town known for its templates, hot springs, and natural beauty.
Moreover, a trek to Kheergana is a must for its stunning Parvati Valley and Himalayan Mountain views. Plus, once you reach Kheergana you can relax in the local hot springs.
🚍 How to Reach Kasol: You can take a Volvo bus from Delhi to Bhuntar and then hire a taxi to reach Kasol. A Volvo bus from Delhi to Bhuntar takes around 10 hours while a cab from Bhuntar to Kasaol takes around two-to-three hours.
🏨 Hotels in Kasol: Click here for a full list of local hotels.
📍Tours in Kasol:
➡️ Click here for a full list of Kasol tours.
10. Udaipur
A beautiful and fun-filled city in Rajasthan that can be visited on a solo trip from Delhi is Udaipur.
Capital of the Mewar Kingdom, this city offers several beautiful spots to visit and is also the perfect place to learn about the history of Rajputs, which are a community of warriors in India that are historically based in western India in places like Rajasthan and Gujarat.
Udaipur is also known as the City of Lakes because of the five lakes that surround it. If you are looking for some a scenic adventure, then head to Badi Lake for amazing views of the Aravalli Mountain Range.
Furthermore, don't miss visiting the Monsoon Palace at sunset — seen here. The palace is located on a hill and features a grand terrace overlooking Udaipur and its surrounding lakes and hills. You can also climb to the second floor of the now-dilapidated palace for an even higher view.
Apart from sightseeing, Udaipur offers a lot of fun activities for solo travelers like boating, sunset cruises, heritage tours, jungle safaris, and more.
🚍 How to Reach Udaipur: You can take a bus or train from Delhi to Udaipur to reach this Rajasthan destination. From Delhi, it takes 12 hours to reach Udaipur by train and 14-15 hours by bus.
🏨 Hotels in Udaipur: Click here for a full list of local hotels.
📍Tours in Udaipur:
➡️ Click here for a full list of Udaipur tours.
Solo Travel Tips For India
Now let's expand on these great places to explore from Delhi solo by going over some important solo travel tips to keep in mind when visiting India.
Plan your trip well. When you plan your solo trip to India, it is important to research each place — including safety (and if you need to pack any travel safety gear or be aware of any specific travel safety tips), how to reach your destination, and how to abide by local cultural norms. This way, you can be prepared for any surprises or unpleasant experiences.
However, keep an open mind as everyone's experience of traveling in India is different. Personally, I have traveled a lot in India for the past six years and have only had a couple of bad incidents on my solo trips. Most locals are friendly in India and go out of their way to make you feel comfortable.
Opt for homestays and public transportation. One of the best things about traveling in India is that it is quite cheap.
If you want a safe, comfortable, and inexpensive experience exploring India, then choose to stay in homestays run by the locals. Also, use public transport which is cheap and a great way to meet locals and learn more about the country.
Dress modestly. It's not uncommon for locals to start at foreigners, especially female foreigners. This is why it is important to dress modestly and cover as much as you can to avoid uncomfortable stares and interactions while traveling in India.
Avoid going to remote places alone in India at night. Like in many countries, crime does exist in India. Therefore, I recommend avoiding secluded locations at night alone or with people you don't know well. Sometimes, they might take you to a quiet corner to rob you or harass you, so remain vigilant at all times.
Respect local tradition. India is big on culture and tradition and follows a lot of practices quite strictly. This is why it is important to follow these traditions when you are visiting.
For instance, don't enter temples or churches without covering your knees and shoulders. This is just one example, so be sure to learn about the local traditions and don't mock them when you are in India.
Accommodation For Your Solo Trips Near Delhi
Looking to stay overnight during your solo trip near Delhi?
Click here for a full list of local hotels!
Note that the above and below accommodation links are set to Varanasi, though you can easily change the location to be where you're going.
Prefer self-contained stays?
Click here to check out unique local rentals!
You can also use this map to search for local stays:
Solo Trip Organizers In Delhi
If you're looking for solo travel groups in Delhi, there are many options.
First of all, if you join Meetup.com you'll find loads of solo travel groups in the city, like Delhi Solo Travellers and Delhi Travel Club.
Moreover, many tour operators offer incredible experiences in India while allowing you to connect with other travelers on a small-group tour, like Intrepid Travel. You can see their India tours here.
There is also a company called Tourism Of India that puts together itineraries for solo travelers.
These are just a few of many options.
India Travel Insurance
When visiting India — or anywhere else in the world — make sure to get travel insurance.
One of the best travel medical insurance for travelers is SafetyWing as they've got a large network and offer both short-term and long-term coverage — including coverage if you're traveling for months as well as limited coverage in your home country.
Additionally, SafetyWing is budget-friendly and offers $250,000 worth of coverage with just one low overall deductible of $250.
Click here to price out travel insurance for your trip in just a few clicks.
Bonus India Travel Resources
Greatest Goa: Yoga, Dolphins & A Dose Of Clarity On Palolem Beach
Exploring The Culture Of Northern India Through Food
A Disappointing Spice Farm Day Trip In Goa (And What To Do Instead)
9 Essential Travel Tips For Southern India
10 Reasons Why Kerala Should Be Your Next Trip
12 Northern India Experiences Beyond The Templates & Maj Mahal
What are your favorite places for a solo trip from Delhi?
About The Author
Rachita Saxena is a Delhi-based travel blogger from India who has been traveling full-time for three years now. She shares her travel stories on her blog MeanderWander and loves trying new foods and experiences in new destinations. When she isn't traveling, she loves reading about new places and planning future trips! You can follow her travels on Instagram, Facebook, Twitter, and Pinterest.
Enjoyed this guide to planning a solo trip in Delhi? Pin it for later!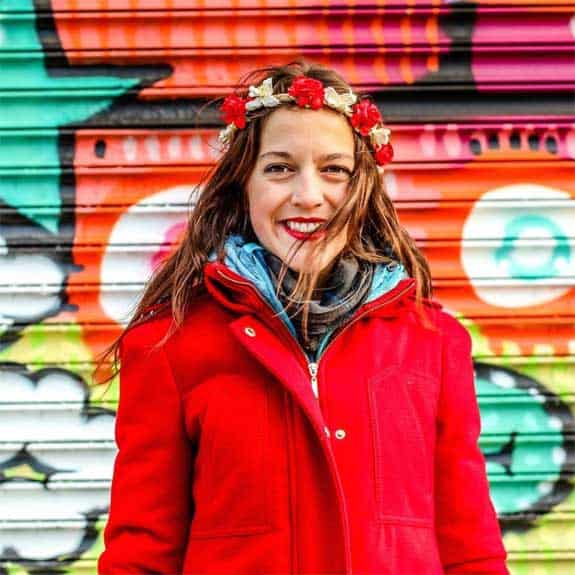 Hi, I'm Jessie on a journey!
I'm a conscious solo traveler on a mission to take you beyond the guidebook to inspire you to live your best life through travel. Come join me!
Want to live your best life through travel?
Subscribe for FREE access to my library of fun blogging worksheets and learn how to get paid to travel more!