Greatest Goa: Yoga, Dolphins & A Dose Of Clarity In Palolem Beach
"Breath equals life. 'Prana' is your life force, and 'yama' is the breath control. We can practice "Prāṇāyāma" to live a longer life by breathing less. Just look at the dog, who pants and has about 12 years on Earth. Then look at the turtle, who lives for hundreds of years."
I breathe deeply — something that's been truly hard for me to do during my three weeks in India — and hold, trying to take less but more fulfilling breaths.
Palelom Beach is just waking up, and in the distance from my yoga mat, I hear skippers preparing their boats for the day's tourist excursions.
While I'm a fan of creating your own yoga retreat at home, I also love yoga and wellness retreats as well as health & fitness travel in general.
I'm currently at the Shiva Yoga Centre, a calming space crafted by hand by covering wooden poles with a large tarp. It's much simpler than the studios I'd find back home in NYC and more rustic, with sand on my mat and insects buzzing about.
But I welcome this atmosphere with open arms, the relaxed pace, the knotty concoction of sand and salt in my hair, the air that doesn't make me cough.
I've enjoyed my time thus far traveling in India, don't get me wrong; but cities like Delhi, Varanasi, Agra and even the romantic Udaipur left me coughing from pollution and taking Advil for my headaches.
The rickshaw drivers that zoom up narrow streets like madmen trying to run you down, the cows blocking traffic and crapping where you walk, the locals, and their aggressive persistence when trying to sell you something, seeing children being forced to do contortion tricks to earn money for local begging mafias.
It's not easy to comprehend. And just when you think you've found a slice of understanding in a cafe with real chairs and windows, your iced coffee comes out as a chocolate shake and there's sugar in your omelet.
A Yoga Mat As My Base
I've loved and lamented the chaos and the challenges; India was a trip full of culture shock, self-growth and understanding. It tested my patience and understanding; it broke me, but in Goa I have the chance to really build myself back up.
And this yoga mat is just the place to start the self-construction.
My instructor, Swami Shivanand Ji, refines every pose, telling me why each bend of the arm and twist of the torso is beneficial and explaining the exceptional importance of Lotus Pose for achieving mental clarity.
"When the spine is straight you are more focused. Lotus pose makes your spine straight," he says while sitting in the perfect Lotus, thighs flat on the ground with no awkward butt cheeks lifting from side to side (that would be me).
I may not be the perfect yogi, but I'm starting to feel the clarity he speaks of.
From Sun Salutations To Sandy Sunrises
Morning yoga sessions eventually lead to a number of other activities and memorable stories of India, almost all of which focus on the beach.
My favorite time to be sitting on the sand is before and during sunrise, the only time I can really have it almost all to myself. Palolem Beach in South Goa is amazing, but it's also pretty popular.
During the day it's full of selfie-taking visitors, while at night restaurants set tables on the beach and play techno remixes of Tracey Chapman and Justin Bieber, a seemingly odd combo that goes well in Goa. 
There are some stars in the sky here so I enjoy the evening too (plus I may have slight Bieber Fever).
As I walk in flip flops down the beach, weaving in and out of grounded boats with a flashlight, I see Indian and foreign tourists sipping beers in the sand and toking up on some marijuana. It's 100% good vibes and all part of the Goa nightlife experience.
Wellness Through Food
At the intersection of Palolem Beach Road and Palolem Beach Main Road — the main strips of Palolem Beach's town — I find a restaurant that has come to be my second home, The Cafe Inn.
The menu features healthy options like salads and smoothies, as well as Mediterranean eats like homemade hummus with mushrooms and pita (so good!) and mezze platters.
Plus, they have an expansive coffee menu made with a real coffee maker (not easy to find in India), serving everything from flavored cappuccinos and Turkish coffees to blended lattes with banana and espresso.
There's also, sometimes, strong Wi-Fi and, when not, a solid 3G connection for me to set up my own personal hotspot using my local SIM Card.
Land & Sea Adventures
I love to come to Cafe Inn to journal and refuel after morning yoga before afternoon adventures, like a kayak excursion or a relaxing sunset cruise passing multiple islands shaped like butterflies with dolphins jumping out of the water and eagles soaring above.
I kid you not this is actually what I viewed with my own eyes.
You can also go for a dip at a secluded cove called Honeymoon Island, though note getting back into the boat can be a slippery obstacle.
It's not a vacation until a passing tourist boat snaps photos of your behind as you struggle to get back on a giant wooden ship!
I've been to many beach destinations before, but there's something about Palolem that makes me sleepless, play more, and care little (they can keep their butt photos!).
Maybe it's simply because I've been trapped in a bubble of culture shock for the past few weeks and it finally allows me to feel like myself again. Maybe it's because my mind is in a place of wellness here.
Or maybe it's simply because it's damn beautiful and rustically simple, with a touch of oddness at least in the mind of this New Yorker.
The myriad cows and dogs tanning themselves is just the beginning.
For instance, there seems to be a trend with Indian tourists where they like to reenact Baywatch scenes for photos, running through the waves in slow motion or swimming in place facing the beach with their bums breaking the surface.
At one point another group of about six men simultaneously drop their pants and stand there in their tighty whiteys.
Nobody shouts or runs into the water; they literally just stand.
I take in these scenes with amusement. It's like every darn thing in this town is trying to make me smile.
Palolem Beach Sunsets
Another activity I choose to enjoy each night is taking in the sunset, a bright yellow ball of fire that transforms into a deep blood red circle in the sky.
There's a place called Sunset Point right on the beach that everyone goes to, a lane of black rocks to sit on and meditate in its warm glow.
Even after it sets the waves feel nice on my skin, with a dip at dusk being perfectly feasible.
As you can probably tell, Goa ends up being one of my favorite stops on my India trip.
I say "one of" because you can't visit the country and only go to Goa.
As many locals and frequent visitors say, while Goa is geographically in India it's not quite the real Indian experience.
Go to Varanasi and learn about the burning of the bodies of their ashes into the Ganges River to ascend their souls into heaven; visit Agra and see the rightfully famed Taj Mahal; head to Udaipur to enjoy the turreted castles on the lake at sunset and grand City Palace.
And when it's all over, fly to Goa to gain back your sanity and get well again before heading home.
Bonus Goa, India Travel Resources
Wondering when to visit Goa? You may be interested to note that it's one of the best places to visit in monsoon in India!
A Disappointing Spice Farm Day Trip In Goa (And What To Do Instead)
9 Essential Travel Tips For Southern India
How India Broke Me (& Why I'm Thankful For It)
20 Best Destinations For Solo Female Travel In India
Logistics:

Stay: Brendon GuestHouse. In Palelom Beach you'll find rustic pastel-colored beach huts lining the sand, most very basic but still varying in amenities. I started my stay in a hut next door, Presley, that my 21 year-old self would have bit the bullet and dealt with, but 29-year-old me couldn't handle. Maybe I'm losing my edge; or maybe I just appreciate toilet paper more. Brendan GuestHouse was more expensive at 4,000 Rupees (~$60) vs ~$20 per night, but worth it for the comfort. My hut was about twice the size of my previous one and smelled of new wood, with amenities including air conditioning, a fan and a big bed with blindingly white sheets. Price: 4000 Rupees (~$60) per night.

Read: The Insider's Guide to Goa by Rachel of Hippie in Heels. A must read!

Food:

The Cafe Inn (mentioned above). Here you'll find loads of Western travelers hanging out with laptops or laughing over sandwiches and smoothies. Great coffee and they have cocktails like Frozen Margaritas and Long Island Iced Teas.
The German Bakery. This Nepali-run open-air eatery has a chill vibe in a jungle setting. While you can have Indian food, those craving the comforts of home will love the omelets, cereals, pancakes, fresh-baked pastries like apple strudel and chocolate bracket, and coffee made from an actual coffee machine. I decided to also have a culinary adventure and try the yak cheese imported from Nepal. It reminded me of muenster and tasted great on thick slabs of toasted bread.
Dropadi. Oh. My. Goodness…the seafood platter! You must order this and you must bring at least three hungry friends. An enormous silver platter is topped with the day's offerings, which for my group meant lobster, crab, garlic calamari, red snapper, tiger prawns, salad, rice and French fries. The best meal I had in India, hands down!

Activities:

Kayak: There are numerous people renting kayaks, though I recommend walking to St. Cruz Chapel near Brendon GuestHouse and asking for Ganesha. He and his team have been in operation for over 10 years, and they rent for 100 Rupees per hour. I liked Ganesha because he was young and super personable, remembering who I was my whole stay and inviting me for drinks with him and his friends.
Sunset Cruise: You will see these boats all over the beach (and will also have skippers coming up to you all day asking if you'd like a cruise). While walking the beach I was offered the trip for anywhere from 850 to 1200 Rupees (~$12.50-$17.60 USD), which if you have a group you'd split.
Mani/Pedi: Manicure is 500 Rupees ($7.30 USD) and a 1-hour Pedicure is 900 Rupees (~$13.20 USD) at the Bookstore (called Bookstore) next to Shiva Yoga Centre on the beach.
Walk to Patnem Beach / Silent Disco. If facing the water you'll walk left, and when you come to a massive rock wall with art on it that seems to block the path you'll actually continue through a bar that hosts a silent disco on Saturdays. I unfortunately was not there on a Saturday to attend, but I've been to silent discos in Brooklyn and love, love, love them (so go!).
Swim, paddle board, jet ski…all the typical water sports. There are small shops all over the beach selling floating tubes, swimmies, beach balls, frisbees, ping pong rackets and other beach toys for kids and adults. I bought a float tube for less than $2. Tip: The cheapest of these shops is in front of Presley Huts.
Shop. While shopping will be more expensive in Goa than elsewhere in India you can still find some cute stuff on the main drag. If you have Udaipur in your itinerary I recommend you save the shopping for there. It's a true treasure trove of local textiles, garments, marble work, leather-bound journals and more.
Day trip to the local Dudhsagar Waterfalls. A taxi to do this will be about 2000 Rupees (~$29 USD) round-trip, with entrance to the waterfalls being 500 Rupees ($7.35 USD).

Activities Not To Do: Sahakari Spice Farms. I was disappointed to find during my own visit to this commercial-feeling organic spice farm that they keep elephants onsite for rides and tourism entertainment. If you don't know the horrors of elephant tourism please read this post from Epicure & Culture and this post from d travels 'round.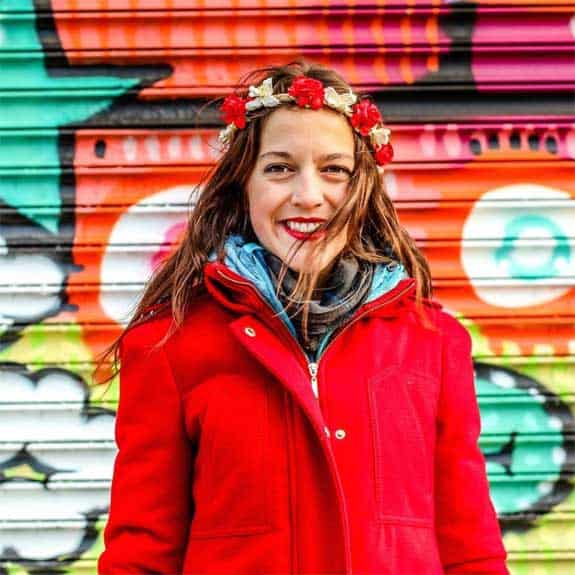 Hi, I'm Jessie on a journey!
I'm a conscious solo traveler on a mission to take you beyond the guidebook to inspire you to live your best life through travel. Come join me!
Want to live your best life through travel?
Subscribe for FREE access to my library of fun blogging worksheets and learn how to get paid to travel more!