Traveling Northern India: 12 Experiences Beyond The Temples & Taj Mahal
*This trip is based on my experience traveling with my good blogger buddy Wandering Earl of Wandering Earl Tours on his India excursion. Highly recommended!
I've recently returned from a 3-week trip traveling Northern India, beginning in Delhi and touring through Varanasi, Agra, Jaipur, Bundi and Udaipur.
I'll admit right off the bat it wasn't my easiest trip — throwing up curry and masala is never fun; however, it was the trip of a lifetime for many reasons beyond convenience.
If you're looking for something totally different from your Western reality, India certainly delivers.
If you're seeking a travel challenge that tests your limits and opens your mind, India certainly delivers. And if you're looking to explore ancient cities and traditions — both preserved and lying in ruins — India certainly delivers.
You don't need to only visit temples and the Taj Mahal to experience the best of India. Now I'm not saying you shouldn't see these Northern India attractions, but you probably already know about them.
Since I'm always trying to take you beyond the guidebook, I also wanted to seek out other experience options that may not have been on your radar.
So, here are 12 other places in Northern India that you should definitely visit.
Psst! Don't forget to pin this post for later:
India Travel Video
Before we dive into the list…
Check out my short video from my trip to India for an interactive view:
Watch it above!
Traveling Northern India: Unique Things To Do
1. Take A Delicious Stroll Down Paratha Lane
Delhi
No India travel guide would be complete without mentioning Delhi.
In Old Delhi's Chandni Chowk market you'll find a historic and delicious strip known as "Paratha Alley," Paratha is the baked-then-shallow-fried bread you see at many restaurants.
These family-owned eateries date back to the 1800s, and nothing has changed in their design.
We ate at Pt. Gaya Prasad, 10 of us plus our two drivers stuffed shoulder to shoulder in a booth, with plates of dipping sauces like spicy chili, potato and sweet banana being slid to us across the table.
The paratha here comes in an usual amount of filling options — lentil, potato, radish, lemon, carrot, mango and beyond — and when they're delivered they're piping hot, doughy disks that we quickly pass with our finger tips to the correct diner.
In the USA this would definitely be a health violation; in India such violations don't exist.
But hey, it's part of the culture.
2. Sip The Lassi Culture
Varanasi
You can have lassis (yogurt drinks) all over India — they originate from Punjab, and typically come in a sweet or salty variety.
That being said, Varanasi is where you can have a number of unique lassi experiences.
First head to Blue Lassi, open since 1925 and made without artificial additives. They use seasonal ingredients to craft a dizzying array of lassis: coconut, chocolate, banana, papaya, strawberry, saffron, mango, cashew, pomegranate, apple, coffee, pistachio, blueberry, grape, guava, orange, pear, pineapple; not to mention combinations of all of the above!
In Varanasi, you can also try the "bhang lassi," sweet, green and laced with cannabis.
Warning:
If it's your first time get the light version, as they're very strong, even for regular pot smokers.
Also, make sure you order this from a government-endorsed shop, as there will be locals offering to make the drink for you who have no idea (or care) what they're doing.
Honestly, my bhang lassi experience ended up being one of the craziest India travel stories from my entire trip!
3. Get An Eye-Opening View (Literally) Of The Circle Of Life & Death
Varanasi
While in the Western world we tend to hide our dead, in Varanasi you get to see why Hindus come from all over the world to burn their dead in this holy city.
To Hindus, the Ganges River has the power to wash away sin. They also believe that if a person is laid to rest in the river, his or her soul goes to heaven (instead of being reborn into a potentially awful existence).
Bodies burn right in the open air on the Ganges 24/7, laid on wood, sprinkled with clarified butter (ghee) and incense, and burned. For me it was an odd scene at first — something you just wouldn't see in the USA — but it helped me gain a deeper understanding of the local traditions.
4. Ride The Train
Around The Country
I rode the train from Varanasi to Agra, a supposed 13-hour journey that ended up taking almost 18 hours.
Hey, that's India for you.
My ticket was for the Second Tier of First Class (there are three tiers), and while actually very comfortable with two bunk beds per compartment, a warm blanket, air conditioning, and a curtain to give you and your bunkmates privacy, Western riders should note that this is nothing like what you expect when you hear the word "First Class" at home.
For one, the toilet conditions made my group pretty much stop drinking for fear of having to use the facilities, and when I exited the train I saw the staff throwing garbage from the train in bags right out the door (ugh!).
It's an experience everyone should have though, and you'll have a window — at least in this class — through which to admire the landscapes and villages that you pass through.
Tip:
Bring your own food and water. It took about an hour to get a water bottle (they were out of water, and had to wait to get more) and the hot food can make you sick.
5. Romantic Rooftop Dining
Jaipur
Jaipur — which is a popular destination for a solo trip from Delhi — provided my introduction to the state of Rajasthan.
I was immediately captivated by the bright colorful clothing with lots of gemstone jewelry, women donning big nose rings and men with colorful headwraps.
I also found it different because there was some order to the chaos with sidewalks, traffic lights and even cops giving out tickets (and taking bribes, but hey, it's a start).
This is also where my dining experience took a markedly upscale turn at the Peacock Rooftop Restaurant in the amazing Pearl Hotel.
Strings of fairy lights, live Indian music and multiple rooftop levels full of artwork enhanced the dining experience.
Dishes ranged from homemade pizzas and olive oil-doused salads to typical Indian and Chinese dishes.
I loved my Afghani chicken and honey nut ice cream dessert, and the aerial views of the city and Hathroi Fort were worth the trip.
Alcohol is typically offered, but not always (it was listed on the menu but not available when I was there).
6. Hike Taragarh (Star) Fort
Bundi
I loved Bundi for many reasons, like its non-aggressive shopkeepers, laid-back vibe and nature opportunities. Plus, if you're traveling alone, Bundi is one of the top places for solo trips for women in India.
Now, I wouldn't say it's an outdoor adventure paradise — that I'd give to Kerala — but after traveling through Northern India's chaotic cities, Bundi offered an uber scenic hike up to the 12th-century Taragarh (Star) Fort.
The fort is named for its shape, snaking up the hillside and wrapping around the entire summit.
I loved how it offered many windows through which to frame shots and walls to climb for 360-degree views of Bundi, rolling hills, peaceful lakes and the Sukh Mahal (the small summer palace Rudyard Kipling spent time writing) from above.
7. Sip India's Best Chai
Bundi
Krishna's Chai is pretty much worth the trip to India in itself.
Located on old Bundi's main thoroughfare of Sadar Baazar Road, close to Maharajah's City Palace, Krishna has created an open-air shop full of murals and take-home artwork made by locals and visitors from all over the world.
The masala chai is amazing.
Plus you can sit and watch him boil the tea leaves and milk before using a stone to pound down the ginger, black pepper, cinnamon, and cardamom.
I wasn't feeling well when I ordered my first glass, and as I sipped I could literally feel the sicknesses in my stomach and sinuses melting away.
Bundi itself is a magical escape from India's typical chaos, and this shop only adds to the magic!
8. Try The Homemade Potato Chips & Rajasthani Thali In Bapu Bazar
Udaipur
Oh. My. Goodness. Those potato chips.
Located in the Bapu Bazar (near the Sabzi Vegetable Market) is a guy who makes homemade potato chips — salted and marsala seasoned — that I could have eaten for every meal of my trip.
Well, almost every meal. Udaipur had so many great food places.
Another highlight in the Bapu Bazar was at the Natraj Hotel — not actually a hotel but a restaurant serving Gujarati thali since 1970.
You'll see the word "thali" on menus all over India, referring to a platter of small tastings of local delicacies with local bread or rice. Basically, you get to try a bit of everything.
What makes this place unique is that the thali is unlimited and they'll keep refilling your plate with bajra roti, besan bhindi masala, Dal Banjara, matar paneer and other local dishes — plus yogurt to cool the palate — until you tell them to stop.
It's budget-friendly too at 140 Rupees (~$2.10 USD) including drinking water!
9. See The Sunset From Monsoon Palace
Udaipur
You'll pay 400 Rupees (~6 USD) entrance before starting the scenic drive past the Sajjan Garh Wildlife Sanctuary and up to the hilltop white marble Monsoon Palace.
Also known as the Sajjan Garh Palace, it was constructed in the late 19th century by Maharana Sajjan Singh.
As it's now owned by the government it's rather dilapidated — as are most of the historic palaces in India — though the museum about the local flora and fauna is interesting.
The real treat, though, is watching the sunset over the Aravalli Hills and surrounding lakes. There's a large terrace area where most people congregate, though I also recommend walking up to the second floor of the palace for even higher views.
Tip:
Don't bring snacks! There are cheeky monkeys who will literally rip them out of your hands.
10. Tour The Well-Preserved City Palace
Udaipur
As stated above, India is home to myriad historic palaces — many of which have been neglected and sit in a dilapidated state.
This is not the case for City Palace, which blends Mughal and Rajasthani architecture and sits whimsically on Lake Pichola.
The site dates back to 1537 AD when Maharana Udai Singh II laid the palace's foundation, with construction continuing into the 18th century with each ruler.
Touring the grand structure winds you up through the many courtyards and rooms to see artifacts, rooms made entirely of mirrors, sleeping areas for the rulers, historic storytelling artwork and more.
It's lovely to see by just wandering around, but to really understand the history it's worth hiring a guide.
Note:
Unless you want to leave your camera behind you'll also need to pay a 250 Rupee (~$3.63 USD) fee for it.
11. Have A Rooftop Cocktail
Udaipur
Udaipur is full of rooftop restaurants and bars offering romantic aerial views.
As alcohol is legal in Udaipur — which isn't the case all over India — you can also drink here.
Now I'm not promising pre-Prohibition style Old Fashioneds, but you can sip a local Kingfisher beer or clink Cosmos from a lovely vantage point.
I liked the cushion-style seating at Natural View Restaurant, though the Indian food atop my hotel, Jaiwana Haveli, was outstanding.
My Kashmiri chicken cooked with nuts and dried fruits was one of the most memorable meals of the trip!
12. Volunteer With Injured Animals
Udaipur
Want to volunteer with injured animals in India?
About 15 minutes outside the main city of Udaipur you'll come to Badi Village, which is where you'll find Animal Aid Unlimited.
Funded 100% through donations, the organization takes in wounded street animals to nurse them back to health; or, as often happens with cows who ingest plastic, make their remaining time on earth as comfortable as possible.
Of the 500+ animals that go to them more than half end up staying in the sanctuary due to injuries like blindness or paralyzation that leave them unable to survive on the streets.
The rest, once fully recuperated, will be dropped back off where they were picked up.
As a volunteer, you'll be able to play with, bathe and feed the animals, as well as assist the medical team.
You can also go for a tour to learn more about their work and spend time petting the dogs, cows, donkeys, and other animals on site.
Is traveling Northern India on your trip wish list?
Logistics:

Stay: Here is a list of the hotels I stayed at and my thoughts on them. Note: For India I recommend not going too low on the budget end. Even mid-range hotels can be less appealing than lower class hotels elsewhere. India is a place you'll likely want a comfortable and clean room to retreat to and collect yourself.

Safety Essentials:

Clever Travel Companion Pickpocket-Proof Garments will come in handy when wandering India's many crowded markets and streets.
A Vigilant Personal Alarm is essential for both home and away. Wear it as a a bracelet and, if you feel danger approaching, pull the pin to have it blare as loud as a firetruck. The idea is to scare off whoever is approaching.
Speakeasy Hidden-Pocket Scarves are handmade and feature hidden pockets for your valuables. Plus they come in styles for every season.
Always carry your hotel's business card. India's streets aren't always labeled, so if you need to get back you can easily hand it to a rickshaw driver.

Female Travel Info: While I did this trip with a group, I would have felt comfortable traveling solo. However, for a first-timer, this might be an overwhelming destination due to the culture shock and chaos. I traveled solo with a guide in Kerala two years ago and felt that to be calmer and more digestible as a solo traveler. Females should dress conservatively — loose breathable clothing that covers the shoulders (and sometimes elbows) and knees. Also carry a shawl / sarong to coverup when needed for temples and other sites.

Budget: India will be very affordable for most western travelers. You can easily eat a filling budget meal for about $2-3 USD. An example splurge night was in Jaipur when we ate at the whimsical Peacock Rooftop Restaurant in the Pearl Hotel. I had half a tandoori chicken with a large Misti Salad, a bowl of ice cream for dessert and a ginger lemon honey tea. The total of that meal was about $7.50. I found mid-range hotels to be about $25-$60 per night. My longest taxi ride was 2 hours in Goa and I paid 3000 Rupees (~$44).

Tipping: I found this tipping guide to be helpful.

Airports:

You'll need a copy of your flight itinerary either printed or on your phone to even enter an airport in India.
When checking in, your airline will give you a tag for each piece of carry-on luggage. These are VERY IMPORTANT. For security reasons, once the bags pass inspection each tag will be stamped. These tags are often checked by numerous officials before you're able to board the plane.

Further Reading: As beggars are a problem in India, I think it's important to touch on the subject on why giving isn't always good. Start there then read Should Traveler's Give To Kids Who Beg?.

Also read up on responsible wildlife tourism, as you'll find irresponsible experiences like elephant trekking in India. Don't do it! Please read this guide to responsible wildlife tourism.

Books:

Currency: Indian Rupees. As of November 2016 1 USD = about 66.88 Rupees.

Language: Along this route it was Hindi, though note that in other parts of India locals speak other languages. Many people also spoke English. The best way to communicate with locals in English is to speak simply. For example, instead of saying "What is your name?" say "Your name?" or instead of saying "I really love this song!" say "Song good!" You'll have a much easier time communicating with locals.
Enjoyed this post? Pin it for later!
Bonus Northern India Travel Resources
Dzükou Valley Trek: Your Ultimate Guide To India's Famous Hike
The Secret To Finding Peace In India Can Be Found In Bundi
How To Get High (Legally) In Varanasi, India
India's Unique Karni Mata Temple Is Devoted To Worshipping Rats
10 Unforgettable Things To Do In Delhi, India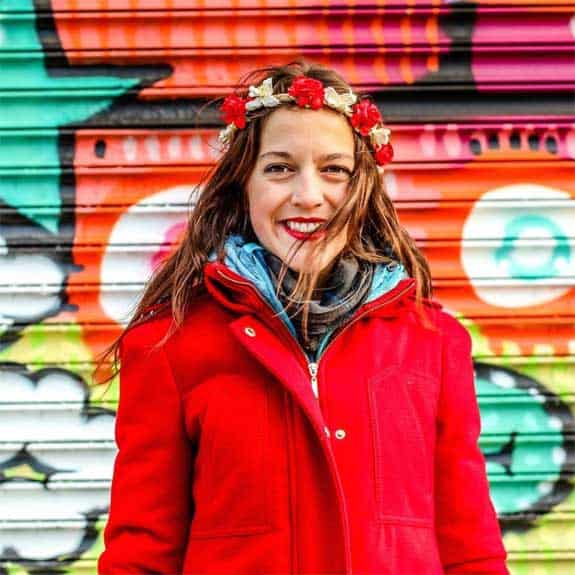 Hi, I'm Jessie on a journey!
I'm a conscious solo traveler on a mission to take you beyond the guidebook to inspire you to live your best life through travel. Come join me!
Want to live your best life through travel?
Subscribe for FREE access to my library of fun blogging worksheets and learn how to get paid to travel more!