Solo Travel in Sydney, Australia (The Ultimate Guide)
By Tina Riegelnegg. This guide to traveling alone in Sydney contains affiliate links to trusted partners!
Are you interested in learning about solo travel in Sydney, Australia? Want to have a safe and fun trip exploring on your own?
Then you're in the right place!
Showcasing an enticing mix of history, culture, entertainment, and natural beauty, Sydney is a great choice for solo travelers.
Along with visiting famous sites like the Sydney Opera House and Harbour Bridge, a wide array of museums and galleries allow you to immerse yourself in history and culture.
Other draws to traveling solo in Sydney include scenic coastal walks, relaxing on gorgeous stretches of sand like Bondi and Coogee Beaches, and shopping and eating your way through markets like The Rocks and Paddington.
It's also a popular destination for solo travel, so if you're worried about being lonely, know that you'll have many opportunities to make friends.
Personally, I've visited Sydney a few times, both as a solo traveler and with friends. And to be completely honest, I enjoyed my time alone in Sydney even more – especially as I didn't need to compromise my itinerary.
On that note, let's jump into this Sydney solo travel guide with all the things you need to know, from basic logistic questions like how to get there to the best things to do in Sydney as a solo traveler.
⏳Short on time? Here are some quick tips for traveling alone in Sydney:

☔ Safety: While Sydney is safe for solo travel, it's still smart to pack travel safety essentials. One top pick is the She's Birdie Personal Safety Alarm, which is TSA-approved and can help scare away potential attackers. Other recommendations include Clever Travel Companion Pickpocket-Proof Garments and Speakeasy Travel Supply Hidden Pocket Scarves.

🎉 Tours: Viator & GetYourGuide. Some top-rated excursions include:
–Morning or Afternoon Half-Day Sydney City Sightseeing Tour
–Sydney Street Art & Food Tour
–City Bike Tours (Multiple Route Options!)

🚘 Day Trips:
–Hunter Valley Wine Tour from Sydney including Lunch, Cheese, Chocolate & Distillery
–Blue Mountains Day Trip from Sydney Including Scenic World
–Sydney Whale-Watching Cruise including Breakfast or Lunch

💃 Events: Fever

🥘 Food Experiences: EatWith (cooking classes & dining in local homes)

🥾 Get Active: Coogee Coastal Walk & Bondi Beach surfing

🏨 Accommodation: This map can help you pinpoint top-rated and budget-friendly accommodation in the Spanish cities you're visiting solo. It's currently set to the Central Business District, but you can easily change it to your intended Sydney neighborhood (or "suburb" as they say in Sydney).

🏥 Travel Insurance: SafetyWing

📞 Staying Connected: Airalo eSIM
Travel Sydney Solo With Confidence [Free Course]
But first, before we get into our Sydney solo travel guide, I invite you to grab a seat in Jessie's free Savvy Solo Traveler E-Course.
The 6-day course is designed to help you feel confident about booking your first solo trip and exploring the world alone.
Lessons include:
Common solo travel fears and how to overcome them
How to choose your perfect solo trip
How to tell loved ones you're hitting the road solo
Mentally preparing for your solo journey without losing your mind
Essential steps for staying safe on a solo trip
How to take amazing solo selfies
Once you've grabbed your seat, read on to learn important tips and recommended for solo travel in Sydney.
Sydney Solo Travel: Is It Worth It?
Yes, Sydney is a great place to visit as a solo traveler! It's an incredible city with so many things to do and so many events to attend that you won't get bored on your own at all.
From the world-renowned Sydney Harbour Bridge to hidden gems like the Wendy Whiteley Garden, you can explore this amazing city at your own pace without needing to compromise – which is one of the biggest benefits of solo travel.
It's also very easy to get around. No need to rent a car, as getting around on foot and via public transportation is totally doable.
Another reason why Sydney is worth visiting alone is that it's very safe, especially compared to other big cities. And if you do get into a situation or just need some help, locals are generally friendly towards tourists and happy to help.
In short, solo travel in Sydney can be very fun and rewarding. The city offers a rich, diverse experience that you can tailor to your own interests.
Sydney Solo Travel Logistics
Where is Sydney?
Sydney is the capital of the Australian state of New South Wales (NSW) on the east coast of Australia. It's just a short drive to the coast, where you can go for a swim in the Pacific Ocean.
To the west of Sydney are the famous Blue Mountains, a popular destination for outdoor lovers and hikers.
Best time to visit Sydney
Sydney's peak season is in the summer months between December and February since Australia is in the Southern Hemisphere. During this time you'll get the warmest average temperatures of up to 80°F (26°C).
That being said, this is also the busiest season. If you'd like to skip the crowds while still being able to enjoy a solo beach trip, consider visiting Sydney solo during the shoulder seasons.
In fall, from March to May, the temperatures reach an average high of 69°F to 78°F (21°C to 25°C). And in spring, from September to November, the temperatures reach an average high of 70°F to 75°F (21°C to 24°C).
The other benefit to planning your solo trip to Sydney during the shoulder season is you can typically find cheaper flights and hotel deals.
Getting to Sydney
The easiest way to reach Sydney is by plane. Sydney has a big international airport, Sydney Airport, which is connected to the city center by public transport.
The Airport Link train runs about every 10 minutes, while the Route 420 bus runs at timed intervals. You can access both using a credit card or an Opal transport card, which can be purchased at the train station or from a WH Smith store.
This is great for those doing solo travel to Sydney, and it helps keep costs down when you don't have anyone to split an Uber or taxi with.
Getting around Sydney as a solo traveler
I love exploring a destination on foot, as you can really feel the beat of the city; however, Sydney is quite spread out, so sometimes the distances are just too far to walk. Luckily, Sydney has a well-connected and easy-to-use public transportation system.
There are countless trams and buses, and you don't even need to buy a ticket beforehand. You can simply tap your bank card to the card reader located inside the bus or tram.
Is Sydney Safe For Solo Female Travelers?
Are you scared to travel alone? If so, feel good knowing that Sydney is very safe for solo female travelers. As a matter of fact, according to World Population Review, Sydney is one of the safest cities in the world.
Additionally, Travel Safe-Abroad notes that your risk of being the victim of a mugging, scam, pickpocketing incident, or terrorism is low and that Sydney is particularly safe for female travelers. This helps to make it one of the best places to travel solo in Australia.
Of course, no matter where you travel, it's still important to keep some solo travel safety tips in mind like:
Avoid walking home alone late at night
Stick to areas with good lighting and other people around during the night
Watch out for pickpockets and scams in touristy areas
Never leave your bag unattended – or better yet, opt for pickpocket-proof garments so thieves don't even know you're carrying cash or cards
Don't forget a padlock to keep your valuables safe if you stay in a hostel
Take a guided tour if you feel unsafe or uncomfortable exploring Sydney on your own
Know how to get help: Sydney's emergency number is 000 or you can download the TripWhistle App, which allows you to call emergency services around the world quickly and easily
Where To Stay In Sydney When Traveling Solo
There are many great areas (or "suburbs") to stay in Sydney, though a few top picks include:
The Rocks
The Rocks is a very trendy neighborhood next to Sydney Harbour. The best Sydney hostel for solo travelers is located there, the Sydney Harbour YHA. This hostel has a selection of mixed and female-only dormitories; however, the best feature of this youth hostel in Sydney is the rooftop terrace with a view of the Sydney Opera House.
➡️ Click here for a full list of Sydney hotels in The Rocks.
The Central Business District (CBD)
From the CBD, it's just a short walk to most key attractions in Sydney and you're in the middle of plenty of restaurants, shops, and bars.
One of the best hostels in Sydney for solo travelers in the CBD is the Tequila Sunrise Hostel Sydney, especially as it's within walking distance of the major attractions. The modern design of the hostel gives you extra privacy in the dorm rooms too, as the bunk beds feel more like private pods with sealed-off sides and a curtain at the entrance.
➡️ Click here for a full list of CBD hotels.
Bondi
If you want to stay near the beach, Bondi puts you right near Sydney's famous Bondi Beach. You'll also find loads of restaurants, bars, and boutiques, as well as eateries serving up healthy smoothies and bowls to appeal to an active crowd.
One top pick for Bondi accommodation for solo travelers in Sydney is Wake Up! Bondi Beach, a private and shared room hostel with epic beach views.
➡️ Click here for a full list of Bondi hotels.
Sydney accommodation map
Of course, these are just a few of many options for solo-friendly suburbs in Sydney. A few other top picks include:
Newtown. This lively bohemian district is full of cafes, restaurants, and bars.
Darling Harbour. This waterside pedestrian district is known for its plethora of entertainment and nightlife options as well as family-friendly attractions.
Paddington. If you're looking for a more local experience and don't mind not being within walking distance of major attractions, this area is full of independently-owned businesses and restaurants.
To help you choose your accommodation, you can search this map showcasing a mix of hotels, hostels, apartments, and vacation rentals. It's currently set to the CBD, though you can easily change it to your preferred area of Sydney:
Top Things To Do Alone In Sydney
On that note, let's dive into how actually to spend your time while you solo travel in Sydney. There are so many amazing things to do and see. Add the following to your Australia solo travel itinerary:
1. See the Sydney Opera House
Whether you're a solo traveler in Sydney or not, you must see the famous Sydney Opera House, an iconic performing arts venue and a UNESCO World Heritage Site.
It's renowned for its distinctive sail-like architecture and groundbreaking design by architect Jørn Utzon as well as its cultural significance as a symbol of Australia's artistic and architectural innovation.
While many people simply stop by to take a picture of the Sydney Opera House facade, it's highly recommended to book a guided tour to see the inside as well. With a guided tour, you're able to visit normally off-limit areas and get a peak behind-the-scenes of this famous performance venue.
Another way to experience the Sydney Operate House is to actually attend an event there. Besides operas, they also host musicals, cabarets, dance and contemporary art performances, and much more. You can view their upcoming event schedule here.
2. Walk over the Sydney Harbour Bridge
The second most iconic attraction in Sydney is the Sydney Harbour Bridge – which you can view from the ground or even cross on foot!
While on the bridge, you'll get a very unique perspective of the Sydney Opera House and Sydney Harbour, so definitely bring your camera.
Additionally, walking over the Harbour Bridge is one of the best free things to do alone in Sydney – which is especially great for solo travelers who don't have others to split costs with.
Love adventure travel? You can also opt to climb the bridge through Sydney BridgeClimb – a thrilling experience that takes you high above the city.
Other ways to enjoy the Sydney Harbour Bridge include:
3. Look for Wendy's Secret Garden
On the other side of the Sydney Harbour Bridge, towards the north, you can look for Wendy Whiteley's Secret Garden – a secret garden hidden within Lavender Bay Parklands.
The garden is full of different plants and statues hidden amidst the flowers, and also features chairs and tables where you can relax. It's a great place if you want to take a break from the hustle and bustle of the big city.
I recommend bringing water and snacks so that you can have your own little picnic in the secret garden. While there are pros and cons to solo travel, one major pro is the ability to get to know yourself better, so consider bringing a journal and taking time for self-reflection too.
Bonus: Searching for a secret garden is not only one of the unique things to do in Sydney, but it's also great for everyone exploring Sydney on a budget since the garden is completely free to visit.
4. Visit the Royal Botanical Garden
The Royal Botanic Garden Sydney is the oldest botanical garden in Australia. It's located next to Sydney Harbour with an amazing view of the Sydney Opera House and the city skyline.
When you're traveling solo in Sydney, you can bring a book and a towel to the Royal Botanic Garden, as it's a great place to relax under a tree and read a book. Or you can simply stroll around the gardens taking in the flora and fauna.
There are also multiple events hosted by the Botanic Gardens, from plant sales to guided walking tours in the park and even walking tours in the Blue Mountains, so make sure to check their calendar.
Keep in mind, this is just one of many garden options in Sydney, with some others including the Paddington Reservoir Gardens, Auburn Botanic Gardens, and Australian Botanic Gardens.
5. Do a coastal hike then relax on the beach
One of the best ways to explore Sydney's coastal location is to do the Bondi to Coogee Coastal Walk.
This stunning coastal walk from Bondi Beach to Coogee Beach is about 6 kilometers (3.7 miles) and goes past multiple other picturesque beaches.
If you don't feel like doing the whole walk you can shorten it and just do the Bondi to Bronte Beach walk, which is about 2 kilometers (1.2 miles).
Whether you do the whole hike or just the shortened version, I recommend doing it from Coogee to Bondi. That way, you can relax at Bondi Beach after your walk. Plus, Bondi has more food options compared to Coogee or Bronte.
You can easily hop on a bus from Sydney's city center to reach any of these pristine beaches. Once there, you can stroll along the coastal track to a different beach and then catch a bus back to the city.
6. Take a surfing lesson
Have you always wanted to try surfing? Take a surfing lesson at Bondi Beach.
Bondi is one of the world's most iconic surfing destinations, so you'll be learning in a place that's got a lot of surfing history. The beach is also known for its friendly and inclusive vibe, making it easy to meet like-minded people.
Surf schools in Bondi typically prioritize safety and often offer classes for complete beginners, so you'll learn everything you need to know about surfing while feeling comfortable and supported as you catch your first wave.
Another positive side effect is that you can say that you went surfing in Australia. How cool is that?
7. Treat yourself to a helicopter tour
If you're looking for things to do in Sydney as a solo traveler that can help you get amazing photos, a helicopter tour allows you to get a different perspective of the city.
There are different helicopter tours available, and with many of them you can buy a single ticket and share your ride with other people.
So, go all out and treat yourself to an unforgettable helicopter tour over Sydney; you're worth it! A few top-rated options include:
8. Visit the Chinese Garden of Friendship
If you're looking for a bit of peace and quiet during your Sydney solo female travel adventure, the Chinese Garden of Friendship is the best place to be.
As soon as you enter this beautiful garden you leave the noise and the stress of the big city behind. You can walk along small paths in the garden while admiring Chinese pagodas, waterfalls, and a pond filled with koi fish. Keep your eyes peeled for big lizards too, as I saw a few during my visit!
The garden is very well maintained and there usually aren't many people there. And while you will have to pay an entrance fee to get in, I think it's worth it thanks to the beauty and peace of the place.
There are also plenty of great photo opportunities in this picturesque garden.
9. Shop around Glebe Market
Every Saturday, there's a big market in Sydney's Glebe suburb with many second-hand stalls and local artisans. It's the perfect place to stroll around after having breakfast in the area or you can get some food from one of the many market stalls.
Besides all sorts of vintage clothing, you can also get unique souvenirs from Sydney. Vendors sell everything: hand-knit decor, sunglasses, comic books, jewelry, and even magic beans!
10. See a movie at an open-air cinema
There's always something going on in the evenings in Sydney. In the summer months, open-air cinemas pop up all over the city, offering one of the top solo activities in Sydney.
Westpac OpenAir cinema next to the Royal Botanic Garden is probably the one with the most impressive atmosphere. Behind the cinema screen, you have an amazing view of the Sydney skyline and the Sydney Opera House.
However, be mindful that the Royal Botanic Garden closes its gates at night, so you might need to take a long detour through the dark streets to return to your accommodation after the movie. To play it safe, calling a cab or Uber on the way home is best.
11. See a musical
Another one of the great things to do alone in Sydney at night is to go see a musical. Musicals are performed in different theaters in the city and they change every few months.
The most famous location for seeing a musical is, of course, the Sydney Opera House, but there are also other beautiful local theaters, like the Capitol Theatre.
I watched Joseph and the Amazing Technicolor Dreamcoat at the Capitol Theatre during my visit. The stage design was incredible and the building feels like a castle with all of the intricate ornaments and coats of arms on the walls.
12. Enjoy a sunset at Mrs Macquarie's Point
The best place in Sydney to see the sunset is Mrs Macquarie's Point, which sits at the end of a peninsula next to the Royal Botanic Garden. From there, you have a view of the Sydney skyline with the Opera House and the Harbour Bridge behind the waterfront.
This Sydney attraction is named after Mrs Macquarie's Chair, a bench made out of sandstone rock at the tip of the point. Convicts carved the bench in 1810 for the wife of the governor of New South Wales, since this was her favorite spot in Sydney.
When you walk around Mrs Macquarie's Point at dusk, keep an eye out for giant fruit bats flying out from the trees. It's a really interesting sight!
13. Go for a drink with new friends
The good thing about staying in a hostel when you're traveling alone, besides saving money, is that a hostel is a great place to meet other solo travelers and make friends.
Just start chatting with people in the common room or your dormitory. Remember, almost everyone is in the same boat, and most people staying at hostels truly want to connect with other travelers.
If you're not comfortable with just chatting with strangers, see if your hostel has any social events you can sign up for, like group tours, comedy nights, or pub crawls.
Keep in mind, many hostels also offer private rooms. If you're someone who doesn't want to share your sleeping space, book a private room and make use of the common areas and events for socializing.
Alternatively, you can book a room in a Sydney hotel or vacation rental and then meet people by taking walking tours, joining local CouchSurfing forums and Facebook groups, partaking in local Meetup.com group events, and more.
14. Do a day trip from Sydney
While there are many options, one of the best solo day trips from Sydney is to the Blue Mountains National Park.
Known for its stunning natural beauty – including dramatic sandstone cliffs, deep canyons, lush eucalyptus forests, beautiful waterfalls, and diverse wildlife – the park is only about 2 hours from Sydney by car.
The park's unique topography, which creates a blue haze from the abundant eucalyptus oils, offers the perfect place for Sydney solo travelers wanting to take in amazing panoramic vistas and enjoy some of the world's best hiking trails and adventures.
A few top-rated treks in the Blue Mountains include the Grand Canyon Track, Three Sisters Walks, and Overcliff-Undercliff Track.
If you're not feeling up to doing this day trip on your own, there are different companies offering guided tours to the national park. Besides not having to worry about transport, doing a guided tour is a great way to meet others when traveling solo in Sydney. A few top-rated options include:
15. Explore Sydney's museums
When it comes to things to do alone in Sydney, few experiences beat wandering a museum. Not only can you learn something new, but these institutions are best explored solo and in your own time.
One of the first museums you should visit is the Museum of Sydney, which provides a great introduction to the history and culture of the city.
If you love art, Art Gallery NSW showcases a huge collection of fine Australian and international art, while the Museum of Contemporary Art Australia features modern works from the country and around the world.
Keep in mind, there are also loads of quirky and niche museums in Sydney, like the Museum of Human Disease, Sydney Bus Museum, Sydney Tramway Museum, and the Justice and Police Museum.
Sydney Travel Map
To help give you a lay of the land, here is a solo travel in Sydney map. It has all of the places mentioned in this guide pre-plotted:
Click here for the interactive version of the map.
Top-Rated Tours For Solo Travelers In Sydney
One of the best ways to gain a deeper understanding of the places you visit while meeting locals and making new friends during solo travel in Sydney is to book a guided tour. A few top-rated tours in Sydney include:
City Tours:
Day Trips:
➡️ Click here for a full list of Sydney tours.
Tips For Solo Dining In Sydney
There are so many amazing restaurants in Sydney. Try to embrace the experience of eating on your own, which can actually be very empowering.
Keep in mind, dining solo means you can eat when you want, where you want – and it's often easier to get a table too. Plus, the more you do it, the easier and more natural it becomes.
Best solo dining in Sydney
A few of my favorite restaurants for eating solo in Sydney include:
Oh My Days. This was my absolute favorite restaurant that I ate at while visiting Sydney solo. It's a vegan breakfast and brunch place in the Glebe area with a delicious selection of freshly baked pastries – like croissants with different toppings. If you go on a Saturday, you can stroll through the nearby Glebe Market afterward.
Bad Hombres. For dinner, I loved Bad Hombres, a Mexican-inspired vegan restaurant. When I went, the eatery was almost full, and the only reason I was able to score a bar seat without a reservation was that I was solo.
Farmhouse Kings Cross. Not only are their 4-course set menus delicious, but the restaurant features one long communal table, so you'll be seated with other people to chat with. Just make sure to book in advance, as space is limited.
Advice for solo dining in Sydney:
Opt for communal table restaurants. This can make it easier to meet other people. The above-mentioned Farmhouse Kings Cross is a great example.
Bring a book. Having some sort of activity to enjoy while you eat can make it less awkward.
Sit at the bar. It's totally normal for solo diners to sit at the bar. Plus, you'll have the bartend to chat with.
Dine during off-peak hours. If you're feeling awkward about eating alone, this will make it easier as the restaurant will be quieter.
Choose the right restaurant. If it's in your solo travel budget, you'll definitely want to try some of Sydney's sit-down and fine-dining establishments. That being said, don't discount food trucks, cafes, and less formal establishments that can feel more natural for eating alone.
Travel Insurance For Solo Travel In Sydney
When visiting Sydney solo, it's wise to get travel insurance.
One of the best travel medical insurance for travelers is SafetyWing as they've got a large network and offer both short-term and long-term coverage — including coverage if you're traveling for months as well as limited coverage in your home country.
Additionally, SafetyWing is budget-friendly and offers $250,000 worth of coverage with just one low overall deductible of $250.
Click here to price out travel insurance for your trip in just a few clicks.
Frequently Asked Questions About Solo Travel To Sydney
Now that we've gone over your solo travel Sydney itinerary as well as some vital tips, it's time to answer some common questions:
Q) Is Sydney good for solo travelers?
Yes, Sydney is a great destination for a solo trip. Along with being safe and full of things to do on your own, it's a popular destination, making it easy to meet other travelers.
Q) Is Australia solo travel friendly?
Overall, Australia is very solo travel-friendly, especially in the big cities. Some smaller towns and coastal regions might be difficult to get to by public transport, but if you're fine with renting a car then you'll have an easy time with solo travel in Australia.
Q) Is Sydney a walkable city?
Sydney is regularly rated as the most walkable big city in Australia. Many of the main attractions in Sydney are within a short walking distance of each other; however, the city is still very big so public transportation is still sometimes required.
Q) Is it safe to walk alone in Sydney at night?
Even though Sydney is one of the safest cities in the world, you should always be careful when walking alone at night. Stay in well-lit areas and make sure you have a functioning phone for emergencies.
Q) Is Sydney an expensive city?
Sydney is regularly ranked as one of the most expensive cities in the world; however, you're still able to find affordable hostels and restaurants. Additionally, there are many free things to do in Sydney.
Solo Travel In Sydney: Final Thoughts
Solo female travel in Sydney is a great option both for first-time solo travelers as well as for those who have traveled alone before. The city is truly one of the best places to travel alone in Australia.
There are so many great things to do in Sydney; not just the must-see sights, but also the amazing outdoor activities the city has to offer, like the stunning Bondi to Coogee Coastal Walk, the beautiful Royal Botanic Garden, and the cool open-air cinemas.
Other highlights of female solo travel to Sydney include the safety of the city and its convenient public transportation system.
Hopefully, this guide will help you travel solo successfully and with confidence. I wish you all the best on your solo journey, and I hope you fall in love with Sydney as much as I have!
What tips would you add to this guide on solo travel in Sydney, Australia?
About The Author
Tina Riegelnegg is the owner of the vegan travel blog Veganderlust. Her first experience traveling solo was in 2018 when she went on a solo backpacking trip in Southeast Asia – and loved it! In 2023, she spent a few weeks traveling solo through Australia, including Sydney.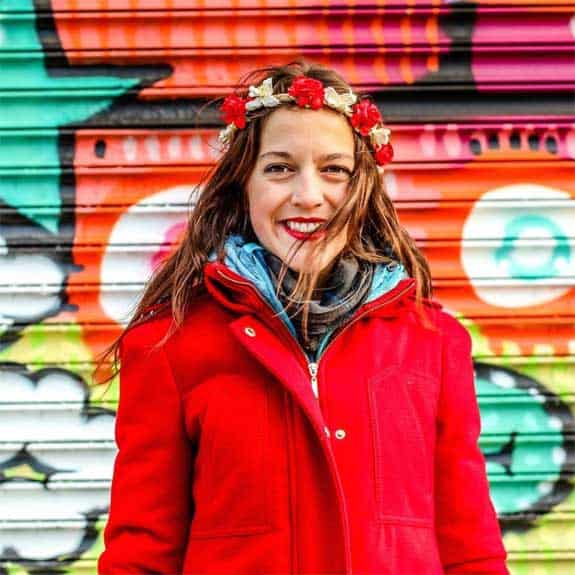 Hi, I'm Jessie on a journey!
I'm a conscious solo traveler on a mission to take you beyond the guidebook to inspire you to live your best life through travel. Come join me!
Want to live your best life through travel?
Subscribe for FREE access to my library of fun blogging worksheets and learn how to get paid to travel more!