How To Avoid Pickpockets While Traveling (For Good)
The year was 2014. I was on a bike tour of Bogota in Colombia. Now, I absolutely loved my time in this capital city; however, there's no denying it can be rough, especially when it comes to thieves.
Luckily I'd considered how to avoid pickpockets before the excursion and had worn pickpocket-proof garments; one woman, though, had not. As we sat on our bikes at a standstill, listening to our guide, I caught movement out of the corner of my eye.
"Thief!" I screamed, pointing as a local woman unzipped and reached into one of my fellow tourist's pockets and extracted her iPhone — one of the most common pickpocket techniques — right in broad daylight!
The startled women dropped the gadget and ran off, and the phone was retrieved.
But, what if it hadn't been?
Sure, it's just an object, albeit a very expensive one. While the situation wasn't life threatening, what if the robber had intimidated the woman at gunpoint? Or with a knife?
Why You Shouldn't Give Papaya
In Colombia, they have a saying: "Don't give papaya."
The statement doesn't refer to a literal papaya fruit, but the fact that in Colombia, if you show someone you have valuables and make them accessible, you also make yourself a target to be taken advantage of.
While my home of NYC is a relatively safe city, it's big, and the question of how to avoid pickpockets is something I think about 24/7, not just when I'm traveling.
Additionally, as the above story shows, it's not just something you need to think about when traveling solo, but also when you're in a group.
Meanwhile, check out this post for a list of safety precautions you should take when traveling solo.
Read on to hear frequent travelers share their unfortunate pickpocketing stories. Make sure to scroll to the bottom, as I've got actionable tips and gear to ensure you *never* get pickpocketed again!
Top Pickpocketing Cities
Of course, you can get pickpocketed anywhere.
That being said, there are some destinations where you're more likely to notice your wallet's gone "mysteriously" missing than others.
Some of these top pickpocketing cities, in no particular order, include:
Barcelona, Spain
Madrid, Spain
Rome, Italy
Florence, Italy
Naples, Italy
Paris, France
Athens, Greece
Pargue, Czech Republic
Buenos Aires, Argentina
Hanoi, Vietnam
Bogota, Colombia
San Jose, Costa Rica
Pickpocketing Stories From The Road
Don't think you need pickpocket-proof clothing or anti pickpocket accessories? These stories from my fellow travelers tell a different story:
Pickpocketed In Madrid When Asking For Directions
I had just got to Madrid and decided to take a cab from the train station to my hostel, The Hat, which was just behind the Plaza Mayor in Madrid.
Instead of stopping in front of the hostel, the cabbie dropped me on one side of Plaza Mayor and told me that my hostel was on the opposite gate.
What he failed to mention:
Plaza Mayor has nine entrances!
I spent the next 45 minutes dragging my luggage around, trying to find my hostel.
I spoke to multiple people for directions — my phone's internet was not working — and one of them pickpocketed me. It was during my six-week solo trip across Europe, and Madrid was only my 3rd stop!
-Soumya Nambiar of Travel, Books And Food
Pickpocketed In Phnom Penh With The Family
Traveling with hubby and three young kids, we had finished dinner with a Cambodian friend and our children were having a run around on the river side of the Tonle Sap.
A motorbike pulls up next to my youngest blondie on the footpath, and the girl on the back picks him up, kissing him. Not entirely unusual in Southeast Asia, but of course I immediately run to grab my child back.
More motorbikes appear; so hubby, who has been sitting on the bench with our backpack, runs to grab our other two children. Seeing him, all the motorbikes promptly disappear.
The whole incident was over in less than two minutes, but of course we turn to grab our stuff and the backpack is gone.
Thankfully, it contained little more than a baby's bottle, a few toys and maybe $50 in cash. We always keep items with us to a bare minimum on outings and most of our cash, passports, ID and health cards were thankfully in the hotel safe. My phone was in the baby sling which they didn't touch.
-Keri Hedrick of Our Globetrotters
Pickpocketed In Paris Near The Sacre Coeur
I have never been pickpocketed; though I came close just outside the Sacre Coeur.
Luckily, I didn't have anything in my pockets; but a man in a big coat was just loitering and swinging his arms in a relaxed fashion. He swung one arm and it went right into my empty pocket and I just walked away as fast as I could.
From now on, I always try and have my valuables in a handbag that is difficult to get into rather than an open pocket.
-Rebecca Sharp of Almost Ginger
Pickpocketed In Delhi On The Train
I had a few extra days in Delhi before my tour started, and I had been everywhere around the city on the train.
When I finally met my group, we needed to take the train to a mosque. I was confident on where we were going, and the group split up, with some us in the female carriage.
Of course, Delhi trains are packed and the second I got out of the carriage my bag felt a bit lighter. My wallet was gone along with all of my cards. I only lost $40 but I then had to pay to get money wired to India for me to use.
Luckily my guide lent me some money in the meantime!
-Nicole Labarge of Travel Gal Nicole
Pickpocketed In Rome In The Metro Station
My story starts with four friends traveling around Europe by train.
Young and naive we proceeded through each train station with confidence. On one particular journey we arrived at Rome Terminal, an extremely busy station.
Bumping into people was almost common practice. As a sort of precautionary measure I go to check my pockets…and my wallet is gone.
To be honest, it's no surprise to me nowadays as those shorts were baggy with big pockets — not exactly the best hidden pocket garments — so it was a miracle it hadn't happened sooner.
Our experience dealing with the police at the station was very uneventful as they seemed completely uninterested. They wrote down my name and number, I never heard from them again.
-Dean Lissaman of Life Out The Hive
Pickpocketed In Rwanda While Taking Photos
I was in Rwanda on a solo trip.
After a fabulous time with the wild gorillas, I wanted to explore some beaches. So, I visited the city of Kivu.
My impression of the country until then had been one of extreme safety.
I had to change local buses on the way, and decided to wander while waiting for the second bus. A bunch of young boys were playing, and I started taking their pictures.
Within seconds I heard a few men shouting behind me, and a policeman running fast after a young man and catching him just in time.
Shockingly, the policeman then came to me and returned my wallet!
The young thief had neatly pulled it out while I was engrossed in taking pictures — apparently one of the most common pickpocket techniques; but thanks to the vigilant police, I was saved.
What did I learn?
Well, lots of things. I stopped keeping my wallet in my outside pocket. I also realized how important it is to be vigilant, even in a safe country!
-Siddhartha Joshi of Sid The Wanderer
Pickpockted In Bangalore On A Bus
When I was traveling in Bangalore on a crowded public bus, an elderly lady was standing closely behind me.
Too close.
But the bus was full, and I could not ask her to move.
As she was an innocent looking old woman, I did not suspect anything unwanted would happen at all, even when she made eye contact with me a little unusually after bumping into me.
Once I got to my destination, I saw my backpack was open and my wallet was stolen.
Only then I realized I should not let my guard down, even if someone looks totally innocent in such situations.
After that incident, I keep my bag in front of me in crowded places, and also maintain a separate wallet on my person with important cards and documents and maintain another one for loose bills and change.
-Priyadarshini Rajendran of Glorious Sunrise
Pickpocketed In Madrid By A Prostitute
A few years back — when I was much more innocent to the ways of this world — I had just been out with a friend for a few drinks during a visit to Madrid.
On the way home, I was approached by two beautiful Spanish ladies.
Yea, you know where this is going.
They asked where I was from, and proceeded to tell me how much they loved English guys. Next thing I know, one of them is touching me in an inappropriate place, and I thought I was having the best night ever.
It wasn't long before my wise friend grabbed me, pointing out that they were prostitutes and, disappointed, I skulked back to the hotel.
The next morning I had a call from reception saying that someone had handed my wallet in.
Huh?!
That's when I realized I had been pick-pocketed. It turns out they didn't care for English guys at all; the inappropriate touching was just a distraction from their other hand.
Still, I do console myself that if I'm going to get mugged, I'd much rather it happens that way than at knife-point.
-Matt Hulland of The Travel Blogs
Pickpocketed In Cartagena By A Man Selling Cigarettes
In Cartagena, there was a man who held a small tray of cigarettes and gum.
I walked past him late at night on the way home from a club with a friend. Although the city square was empty at the time, he lightly brushed me as I walked past.
Why?
I checked my pockets immediately to find about $40 in cash missing. I immediately turned and started to swear at him in Spanish.
He dropped my money on the ground and briskly walked away.
That was the day I learned that if someone runs into you, there might be a reason why.
-Crystal Egan of Castaway With Crystal
Robbed In Madrid At A Club
One night in Madrid I went out with some friends for a going away party.
I'd been sick with an ear infection, and we were at a club playing house music — which isn't my scene — so I left alone.
On the way out I felt someone's hand up my skirt and underwear.
I took my right hand off of the zipper of my purse, where it always is when I walk, to punch the culprit.
As I did this his friend swooped in and stole my brand new iPhone out of my bag.
It was the middle of the dance floor, and the only way to exit the place.
When I told the Spanish police, they shrugged and said, no pasa nada (nothing is wrong).
They also laughed when I suggested it was sexual assault.
The three other times I was robbed in Spain didn't go much better. Keep your loved ones close, and your belongings closer!
-Lola Méndez of Miss Filatelista
Pickpocketed In India By A Nursing Mother
I was traveling by bus in the interiors of Tamil Nadu, India when a woman with an infant sat next to me.
She had a shawl around her and looked obscure. The child started crying and the woman covered him with the shawl and tried to feed her.
I moved towards the window and gave her more space.
By this time I was also half covered in her shawl.
After some time, she alighted and when I reached my destination I realized my wallet — which also had my ATM card — was missing!
She had used one of the age-old pickpocket techniques of using the baby to her advantage.
-Nisha Jha of Lemonicks
Robbed In Thailand From The Bus Luggage Compartment
After so many years on the road, I'm glad to say that I was only robbed once.
But it didn't happen in any of the "dangerous countries" I've visited like Mauritania or Venezuela.
Nope, I got robbed in Thailand!
I got a "bus + ferry" ticket at my hostel near Khao San Road. When you get a ticket like this, they pick you up at the hostel, so it's easier and even cheaper than doing the trip by yourself.
However, since the bus is full of tourists, some sketchy companies take this as an opportunity to take advantage of travelers.
Somehow, they must have had a guy in the luggage compartment just opening up backpacks to steal what was inside during the whole journey.
Unfortunately, I forgot 100 Euros in one of the pockets inside my backpack, which they took!
Other passengers had money, phones and even condoms stolen on that trip!
-Miguel of Travelsuauro
Scary stuff, right? The good news: there are safety gadgets and hidden pocket garments to help you evade anything like the above scenarios (while traveling and at home). Here I share some of my personal favorites — along with anti-theft tips — so you know how to avoid pickpockets for good.
Anti Pickpocket Clothing
To ensure that thieves never even know I'm carrying valuables, I often wear Clever Travel Companion's extensive line of pickpocket-proof garments, all containing hidden zipper pockets. Specifically, I love the solid tank top— which I wear both on its own and as an undershirt — and the super soft, double-pocket boyshort underwear. I mean, you'd have to be a pretty bold robber if you're going to go for my passport down there.
When it's cold, I wear the striped cotton long johns, also with two hidden pockets. Along with being my secret to not getting pickpocketed, these are also a very important component to my strategy for packing for multiple seasons with just a carry-on (hello, layers!).
In terms of accessories, Speakeasy Travel Supply makes gorgeous hand-made scarves with hidden pockets that even fit your passport.
And they zip!
Made by fellow travel bloggers of Beers and Beans, these scarves allow you to travel safely without the dreaded belly sweat ring of a money belt and more stylishly than with a fanny pack. Bonus: there's even a collection for when you're traveling to warmer climates.
Pickpocket Proof Bags
Good news: there is an entire line of over 60 backpacks, purses and other pickpocket proof bags made just for people wanting to keep their valuables safe from thieves. Personally, I'm a fan of their super comforable 25-liter daypack.
First of all, it has zippers that affix to concealed clips, making them tricky for pickpocketers to open. Additionally, the pack features RFID blocking — meaning the more tech-savvy robbers can't steal your identity without even touching your passport or cards (because yes, people can do that now!). Finally, lightweight wire runs through the pack to make the old slash-and-dash a tough tactic for the bad guys.
For a purse option, get the Pacsafe CitySafe 50 Shoulder Bag. Like the daypack, it's slash-proof, has RFID-blocking capabilities and featured the concealed clip zippers. Additionally, a built-in Turn & Lock Security Hook means you can affix the bag to secure strutures to help prevent thieves from grabbing your bag and fleeing. I'm also a believer that the safest purses sit in front of your body where you can see it.
Bonus: Order using the links above and you'll get free shipping!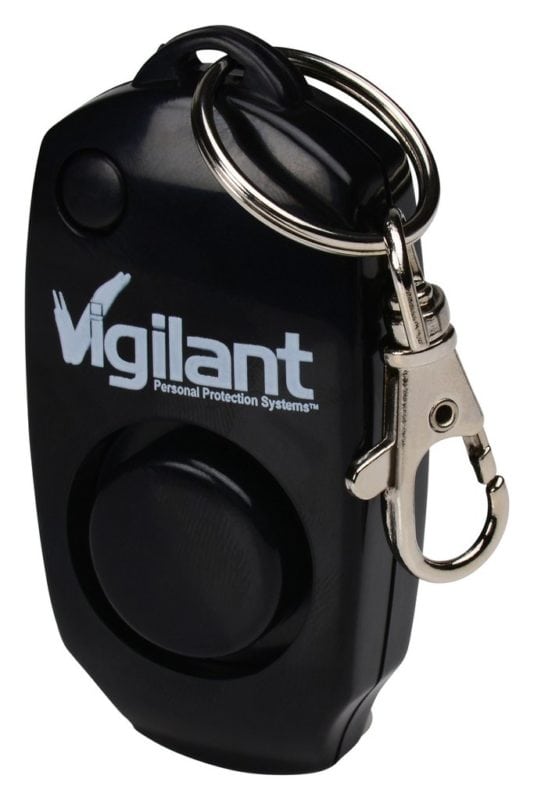 Anti Pickpocket Gadgets
I'll admit I used to carry a pocket knife around NYC for protection. As I got older, I realized how easily that could be turned on me since, let's be real, I'm 5'2" and haven't lifted a weight since high school gym class. Additionally, I carried pepper spray, but then my friend told me a story about how a guy was following her and when she sprayed a little in his direction it flew back into her eye and she had to go to the emergency room.
Yea, that would so be me.
On the search for some anti pickpocket gadgets that wouldn't lead me to hurt myself, I found the TSA-friendly Vigiliant Personal Alarm. I can wear it as a keychain or bracelet, and simply push a button to have it blare as loud as a fire truck if a thief or attacker gets close. Bonus: it works on bears, too!
How To Avoid Pickpockets *Before* You Leave Home
Along with packing the above-mentioned pickpocket safe bags and hidden pocket garments, there are a few steps you can take to lower your chances of being a target:
Leave your valuables at home. My rule of thumb: if you'd be devestated you lost it, don't pack it. The best way to ensure thieves don't get their hands on your diamond engagement ring or grandma's pearl earrings is to leave them home — not in the hotel room, but in your actual home — in a secure place.
Make sure any valuables you pack are insured. If there are expensive items you'll want for your trip, for instance, a DSLR camera or laptop, I highly recommend insuring it. I've been able to insure my electronics at an affordable rate by adding a floater policy to my existing renter's insurance.
Here's another budget-friendly option:
Purchase RoamRight travel insurance and ask for a policy that covers electronics. It'll be a weight off your shoulders to know that in the unfortunate chance your expensive gadgets are stolen, you'll be reimbursed.
Have copies of important documents. If you would have asked me 10 years ago, I would have told you how I made paper copies of my passport, ID and credit cards and stored them in different pockets of my backpack, leaving copies of each with my family.
Now that it's 2018, I simply scan all of my documents once and keep them in a Google Drive folder. Note: Google Drive is only as secure as your Google account, so make sure you're always logging out of Gmail and other Google tools when finishing an online session.
Research the local customs. Trust me, I love wearing crop tops and showing skin when I'm having a night out in Brooklyn; however, I also realize that in many destinations an outfit like this isn't appropriate — and can make me a target.
Speaking of accessories, it's great to have national pride; but making is super apparent you're a tourist with your I Heart [Insert Destination Here] shirt or American flag fanny pack is also a quick way to stand out to pickpockets.
Pack extra cards. And don't carry them all at once.
If your wallet is stolen, you'll still be able to eat dinner and enjoy your trip by using the card and cash that you left (in a safe) in your hotel room.
Sign up for Skype. Even though WhatsApp is my preferred method of making calls abroad, you can only call other WhatsApp users.
For this reason, I always have at least $5 of Skype credit on my phone; just in case I need to make an emergency phone call to a landline.
Ask your bank how they handle foreign cards overseas. Some banks will only mail replacement cards to your home address, so you might consider carrying at least one card that would be willing to do an overnight, overseas shipment. American Express is particularly well-known for their customer service in this arena.
Anti Theft Tips To Prevent Pickpocketing When Traveling
Okay, so know that you know the possibilities and what you can pack to stay safe, I want to leave you with a few anti theft tips to learn how to avoid pickpockets and help keep your valuables as safe a possible.
Know that nothing is free. That person offering to give you a free CD or who really wants to help you take a great photo will very likely ask you for some kind of payment afterward. And if you've given him a camera or phone to take a photo and don't give them the requested payment, they could very well run off with it. I'm not saying don't trust anyone, but if you can avoid giving your valuables to a stranger — especially a pushy one — then try to.
Be aware of "random" distractions. It's not uncommon for pickpockets to cause a commotion on purpose — some even going so far as to throw you their baby to hold while they pick your pockets. The best way to avoid becoming the victim of this is to utilize the above anti pickpocketing clothing mentioned so your valuables are out of sight and zipped up tight!
Those women are not really flirting with you. A few years back when I was in Barcelona a group of backpackers from my hostel were going out. While walking along the busy Las Ramblas (street), a group of attractive local women began hardcore flirting with the guys — even touching them. I can't say I was surprised when one of the guys noticed shortly after that his wallet was missing.
On that note, don't ever let anyone touch you. There are even scams where an unseen bystander will squirt ketchup on your shirt, and then run over, seemingly out of nowhere, to help you clean it off. And, you know, grab your wallet in the process. Anytime a stranger tries to get really close and touch you, back away.
Hang upon on random "front desk" calls. At least the ones where they tell you they're having an issue with your credit card and ask you to repeat the information over the phone. Instead, head down to the front desk to make sure the request is legitimate. Like calls that require you to hand over personal information, it's best to hang up and call/ask directly to avoid being robbed.
Use the ATM during bank business hours. While infrequent, it's not unheard of for an ATM to keep your debit card; or worse, for the ATM to give back your card and even a receipt but keep the money.
The former happened to my boyfriend in Nice, France on the first day of our trip. I can't imagine how nerve-wracking it would have been if we weren't able to go inside the bank to speak with someone about the issue.
While not a true pickpocket story, it will feel like you've been robbed when you don't have money to buy lunch!
Get RoamRight travel insurance. Of course, anything can happen on the road. While you'll want to outfit yourself with anti pickpocket clothing and gadgets as well as pickpocket proof bags — and of course educate yourself on local scams and always be aware of your surroundings — having travel insurance provides piece of mind.
Plus, even if you don't get pickpocketed, other mishaps may happen, from hospital visits to lost luggage, and you'll want to be reimbursed.
RoamRight is the travel insurance I use when hitting the road, and absolutely love their customer service and budget-friendly packages.
What To Do If You Get Pickpocketed
While the above travel safety tips should help you avoid getting pickpocketed, sometimes, it happens.
If it does, here are the steps you need to take to get your affairs back in order:
Step 1: Cancel your debit cards and credit card.
I'd suggest starting with your debit cards, since your bank account holds your actual cash (vs your credit card, which is credit).
Pro tip: It's a smart idea to have your bank's international number noted somewhere safe as it'll be different from the usual number you call. I personally like to take a photo of the cards numbers (you know, modern day note-taking).
Often, your bank will be able to overnight you a new card. Note, though, that some banks will only mail cards to your home address.
Step 2: File a police report.
This is especially helpful if you're going to try to get reimbursed from your travel (or other) insurance.
Step 3: Go to the nearest US Consulate if you need a replacement passport.
Depending on how long the line is and if it's business hours, you may be able to get a new passport in as little as one hour, though note you'll need to pay for it. Hopefully, you listened to the above tip advising not to carry all your cash and cards at once.
Now, I'd love to know: what tactics do you use to keep from getting pickpocketed?
Enjoyed this post? Pin this infographic for later!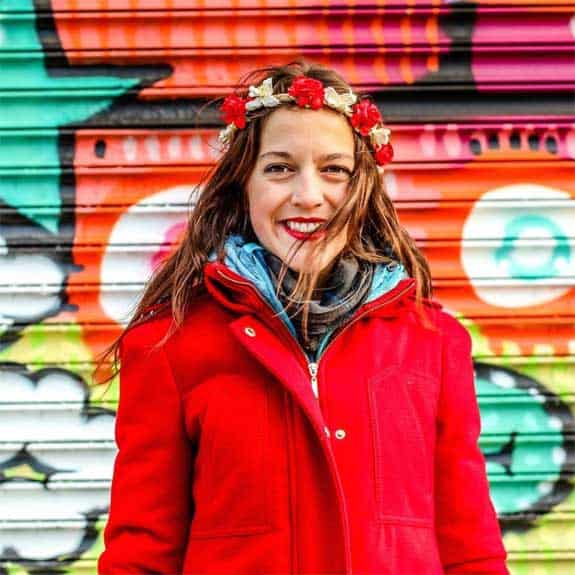 Hi, I'm Jessie on a journey!
I'm a conscious solo traveler on a mission to take you beyond the guidebook to inspire you to live your best life through travel. Come join me!
Want to live your best life through travel?
Subscribe for FREE access to my library of fun blogging worksheets and learn how to get paid to travel more!