Solo Traveler's Guide To Australia
By Leah Rise. This guide to solo travel in Australia contains affiliate links to trusted partners!
Australia is known for many things – laid-back beach bums, Vegemite, baby wombats, Russell Crowe and so much more.
Mostly people come to see the stunning natural beauty of Uluru, the outback, pristine white sand beaches and of course, the Great Barrier Reef.
They experience these sights while backpacking, camping, snorkeling, surfing or traveling by bike, car and bus. As for man-made wonders, not much in the world rivals Sydney's iconic Harbor Bridge and Opera House. Melbourne's cafe culture will remind you of Europe but with a distinct Aussie twist best experienced in person.
With so much to do and see, how does someone traveling on their own get the most out of solo travel in Australia?
Most travelers are daring and already motivated to explore and experience new things.
What you require as a solo traveler is a certain level of trust, in yourself and others. Also essential are excellent organizational skills.
Going solo means nobody else will help you keep up with your passport and ID. It can be lonely at times but the solo traveler often meets new people and makes great lifelong friends.
Essentials Only
Your suitcase or backpack should not exceed more than 22 pounds (10 kilograms). Seriously. As a perpetual globetrotter, I can honestly say if you're going to trek around the vast countryside of Australia, you need to pack light.
The less you have to keep up with, the more free you are to enjoy the trip. Certain things are absolutely essential but much of what you think you need, you don't.
What you really need includes good walking/hiking shoes, bathing suit, comfortable walking sandals, lightweight quick-dry clothing with roll-up sleeves, and zip-off legs.
If camping, a lightweight sleeping bag that rolls tightly is a must.
Don't Chase The Paper
You don't want to be that person who holds up the line at the airport.
Before leaving, scan important travel documents such as passport, insurance papers, tickets, and ID, and send them to yourself via email.
In the unlikely event that you become separated from your passport and ID, you can get started on the process of replacement much easier and quicker by checking your inbox.
Another piece of advice for traveling solo:
Use a cross-body anti-theft bag or pickpocket-proof garments to keep important documents close — and safe —at all times.
Prep for Jet Lag
Depending on how many time zones you're skipping over to experience solo travel in Australia, you may be dealing with jet lag.
Ahhh, the price you pay to see the world.
Book ahead and give yourself the luxury of knowing beforehand exactly where you'll be staying.
And if you need the time to relax and recover, take it. Use an app like Entrain to help predict when you should be snoozing based on your timezone.
Once refreshed, find your next hostel on the fly.
Heading to a Hostel?
In Australia, hostels are a popular place to stay when traveling from one location to another and offer a nice alternative to hotels.
Trustworthy chains such as YHA Hostels keep costs low and are awesome for meeting new people.
With the occasional hosted activity and lack of personal space — i.e. bathroom and kitchen space — hostels provide lots of 'quality time' for travelers to people-watch and break bread.
Insider tip: Check beforehand if there will be WiFi. If there isn't, bring a travel router. I use the Satechi Travel Router that I bought from Amazon for $45.00.
Some hostels allow you to help around the property in exchange for a bed for the night. If you want to travel cheaply, consider trading a few hours of cleaning or maintenance time for a good night's sleep.
For the majority of the travel expeditions in my 20s, this helped pay my way.
You might not want to do this all the time, but every now and then it's nice to stay without watching the wallet get thinner.
Or Looking to Live in Luxe at a Cheap Hotel?
If you're not into hostels, hop over to Priceline or Expedia to book a budget hotel.
Or opt for calling the local hotel number (not the 800 number) and ask for any specials. I booked my stay at ibis Sydney World Square, in the heart of CBD, on my first trip and within 24 hours and they offered me a discounted price.
Best part?
They gave me a free drink at iBar.
If you're traveling during an off-peak time, don't be afraid to ask for an upgrade, look what happens when you ask.
All Work & Some Play
WWOOFing is a program that offers you the opportunity to work on farms in exchange for free room and board.
Most people traveling the country long term try it for at least a month or so. Farming knowledge isn't necessary since you're usually picking fruit the whole time.
You can also house-sit — click here for a full guide on that — or work as a bartender or server at a local restaurant.
Getting Around The Land of Oz
When traveling alone around Australia, you can use bus services, rent a car, or check out carpooling websites.
Check your hostel's noticeboards for information and offers of lifts. Joining tour groups is an excellent way to travel as well.
Easyrider Backpacker Tours and Oz Experience are two I've trusted before. Book ahead when possible for the best deals. If you're looking a little more luxury within long-distance travel, the train is your best bet.
Sun, Fun & Dehydration
Most people don't like worrying about sunscreen unless at the beach but Australia's UV rays are quite powerful regardless of your location.
The climate is mostly arid and dehydration happens quickly, often without many warning signs. Use your sunscreen or find yourself looking like a lobster.
Drink plenty of fluids — especially water — or end up in the ER for a day or more of what should be sightseeing fun.
Now, where should you go when traveling solo in Australia?
New South Wales
See Fraser Island, the world's largest sand island. Camp, hike, and swim in lovely lakes while avoiding dingoes that also like trekking around this wonderful and rustic place.
While traveling solo in Sydney, you won't want to miss the Harbour Bridge or Opera House. I did the Bridge Climb on the first trip and got a 360-degree view of Sydney.
Epic!
A day at Bondi Beach is also a must. This is a top spot for a solo beach day trip.
If you're looking for a surf lesson, head to the south side of the beach – the waves are bigger and that's where the surfers hang out.
Wander down the Rocks Markets any Saturday or Sunday to get the best mouth-watering foods and to splurge a little on shopping.
Queensland
You can't miss going hiking in Queensland, especially as the state is home to the world's oldest rainforest, the Daintree.
Yes, it's even older than the Amazon. Go hiking, zip-lining or horseback riding while seeing lovely waterfalls, wildlife, and soaring cliffs.
If you really want to experience life off the beaten path, head up to Cape Tribulation where the permanent population is under 100 and the few extras are welcome tourists.
For those desiring a slightly less adventurous way of seeing Australia's animals reptiles and birds, visit Australia Zoo.
And if you want cocktails and tapas, hit up Black Coffee Lyrics. It's a local favorite.
Tasmania
Listed as a World Heritage site and a famous one at that is Tasmania's Port Arthur.
With options like overnight ghost tours, you don't have to be a history buff to enjoy Port Arthur. Take a walk down Overland Track, it's one of the world's most iconic walks.
Visit the lavender farm at the Bridestowe Lavender Estate – over 90 years in the making.
Stick to the CBD area or Hobart – it's safe and easy to walk around.
Pro tip:
Love adventure? Consider a day or weekend trip from Hobart to explore some scenic Bruny Island hikes. There are many epic trails to discover on the island!
Victoria
Known as Australia's food capital, Melbourne is a big city with an easy-going indy style café culture.
Brats Shop & Co and Kanteen have become my two top choices. With numerous coffee shops, eclectic, and thrift boutiques, Melbourne is the place to shop.
You'll also find many quirky things to do in Melbourne, like having a bite in the city's smallest cafe, Switchboard Cafe, or sampling beauty products at Aesop, which is made of cardboard.
Chapel Street shops offer second-hand exclusives while Queen Victoria Market offers anything you can think of.
Want to relax?
Chill by the river or stroll through the huge city gardens — both of which offer free things to do in Melbourne — or take a yoga class at One Hot Yoga.
Pro tip:
Don't miss discovering Melbourne's hidden gems and secret places!
Northern Territory
Uluru, also known as Ayer's Rock, is a must-see.
Both the sunrise and sunset are spectacular and offer a chance to take incredible travel photos.
Join a tour and spend a day gazing up close at the huge rock, noting the color changes from early morning to late evening.
Head over to Mindil Beach Sunset Market to watch the sunset under coconut palms and enjoy delicious Thai food while listening to live music.
Western Australia
Some of the best surfing in the world can be found in Western Australia.
Hit up Cottesloe Beach or "Cott" for the best waves.
Beautiful and secluded, the scenery is a never-ending thing of beauty.
Take a ferry ride to Rottnest Island to be carefree and car-free. Tour Swan Valley over the Darling Range with a winery-hop and horse-drawn wagon ride.
South Australia
Visit Flinders Ranges, the largest mountain range in South Australia.
If you're up for it, hike the real outback, go four-wheel driving, hunt for opals, and learn ancient aboriginal history. If you find one of the lovely black opals famous in the land down under, have it made into a piece of jewelry by a local craftsman.
Pro tip:
The food and wine experiences in South Australia are unforgettable!
It's been said that to visit Australia once leaves you with a burning desire to return.
I live in Australia now and after traveling to over 20 countries, you would think I'd be immune to its beauty.
Nope.
Every weekend is a new adventure and a new opportunity for me to dig a little deeper – that's where the fun really is.
Solo Travel Tips
New to solo travel?
Truth:
I made so many mistakes when planning my first trip solo — like booking out every second of my itinerary so that I had no room for adventure.
That's not what I want for you.
To help you plan a meaningful and memorable trip, I'm sharing my top tips for planning the perfect solo trip — with confidence!
About The Author
Leah Rise lives a creative life in Sydney, Australia. With an undeniable obsession for nonstop travel, Leah has visited 20 countries and can speak multiple languages. When Leah's not skydiving or climbing another mountain, she can be found at the dog park with Simba (her wolf dog) or searching for the next perfect beach.
Liked this post? Pin it for later!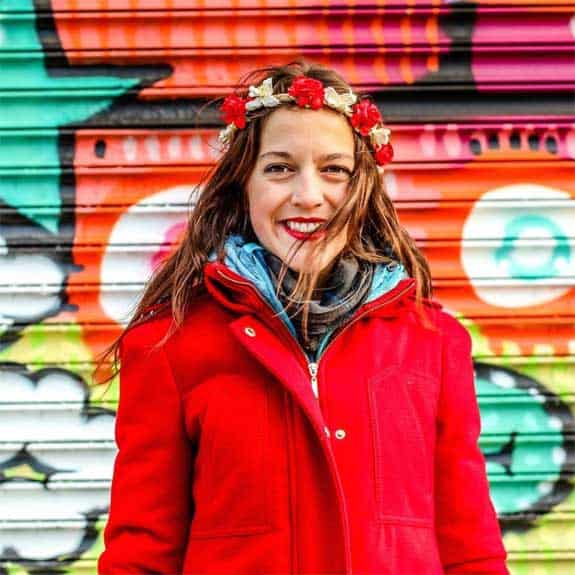 Hi, I'm Jessie on a journey!
I'm a conscious solo traveler on a mission to take you beyond the guidebook to inspire you to live your best life through travel. Come join me!
Want to live your best life through travel?
Subscribe for FREE access to my library of fun blogging worksheets and learn how to get paid to travel more!