21 Clever Tips For Finding The Absolute Cheapest Airfare
By Daniela Frendo, Jessie on a Journey contributor
Booking flights — and trying to find the absolute cheapest airfare — is an exciting part of your trip planning…
…as well as frustrating.
You may find yourself inundated with options, or struggling to find the right flight for what you had in mind.
The good news:
There are numerous ways to navigate the highly complex flight radar to find the most convenient and cheapest flight possible.
We asked 21 seasoned travelers to share their best cheap flight booking tips.
Whether you choose destinations around inexpensive available flights, or search for deals to your dream destinations, here are 21 tactics you should start employing on your flight hunt.
p.s. My affiliate partner, Mighty Travels Premium, is currently offering a 30-day free trial on their service. It's really handy, finding you cheap flight deals and fare errors so you don't have to search! Click here to start your free trial.
Psst! Don't forget to pin this post for later!
How To Find Cheap Flights: 21 Powerful Tips
1. Compare flight prices in different currencies
"One of the most clever flight booking tricks I've learned:
Change the purchasing currency to see if there are any differences.
For example, I've noticed when I book Wizz Air flights from Sofia, I get a cheaper price when I pay in leva (Bulgaria's currency) rather than in Euros or USD.
In this example, a random Wizz Air flight that would cost 123 leva (the equivalent of $74 USD at the time of writing) would be $82 USD if I chose to book using US dollars.
Not an insignificant savings, at all!
Similarly, I've found really, really cheap flights on Norwegian Airlines from the US to Sweden when using Norway's currency (NOK) rather than USD.
My strategy:
Check to see what currency offers the cheapest price when converted.
Use a credit card that doesn't charge foreign conversion fees to purchase the ticket.
Doing this has saved me a decent amount of money over the years!"
Allison from Sofia Adventures (Instagram)

2. Search for flights in incognito mode
"When trying to find really cheap flights, always use incognito or guest mode.
Why?
So the servers don't track the cookies of your previous searches.
If you don't do this, you'll likely see the price of your desired tickets getting higher with every search.
Wondering when to find the cheap flights?
Here's a tip:
When you have fixed dates your options are fewer.
The more flexible you are with dates, number of connections and flight times, the more likely you are to find super cheap plane tickets.
Plus, you'll likely find the best rates during weekdays."
Gloria from Nomadic Chica (Instagram)
Recommended: Here are 20 powerful tips for traveling like a VIP (without spending a lot of cash!).
3. Book flights separately
"How do you find the cheapest flights?
A tactic I use regularly is looking for one way flights instead of just returns.
Sometimes, these can be cheaper — especially if you're flying on a budget airline internationally to a cheaper country.
Not only can the flights themselves be cheaper this way, but the extras that you can pre-pay for — like luggage, meals and seat assignments — can work out to be less expensive in another currency.
This has especially worked well for us in Asia.
Important:
Make sure you have printouts of all flights when checking in at the airport for your outward flight.
We're often asked to show proof of our journey back when we have one-ways."
Sharon from Simpler and Smarter (Instagram)
4. Search for error fares (the best flight deals!)
"I first heard about 'error fares' from a guy I met in a Manila hostel.
He told me he was flying to Saudi Arabia the following day for $2.
Yes, you read that right.
Since then, I've been hooked.
And desperate to bag my own!
But what is an error fare?
Error fares are when an airline accidentally advertises flights for a very low price.
Usually if you book them, they honor the booking as it is their mistake; however, be wary that occasionally they'll cancel all error fare tickets.
How do you find error fares and book insanely cheap flights?
You can sign up for alerts from Secret Flying and Fly4Free as they send out details of error fares often.
Another tactic is to search on Facebook or Twitter for #errorfare.
You have to be very quick, as usually after around half an hour the airline notices and rectifies the mistake.
That being said, if you're online at the right time, you'll score a cheap flight!"
Demi from Around the World with Her (Instagram)
Recommended: Here's how to help change the world with your passport.
5. Sign up for credit cards with flyer miles
"Practice travel hacking by signing up for credit cards with large frequent flyer mile bonuses — and that waive the annual fee in the first year.
Pro flight booking tip:
Maximize the value of your miles by redeeming them for long-haul flights; savings are greatest in business or first class.
Since awards are generally offered on a one-way basis, miles are an inexpensive and convenient way to book an open-jaw itinerary that allows you to fly into one city and out of another.
And if you don't have enough miles for your trip on one account, you can mix and match among alliances to purchase one-way segments as needed."
Ingrid from Second-Half Travels (Facebook)
6. Check both aggregator sites as well as airline sites
"Booking cheap flights is all about being thorough.
For me, this means checking both aggregator sites and direct airline sites.
While aggregators are fantastic for pointing you in the right direction, every so often they're slightly more expensive than purchasing a flight directly from the airline.
When booking, you should also follow other great travel booking tips — like clearing your cache and searching incognito before proceeding to the airline website.
There might be more flight options, cheaper flight options, different luggage promotions, etc.
Check the best aggregators for the cheapest options, but don't wholeheartedly rely on them."
Rebecca from Maybe This Way (Instagram)
7. Use Scotts Cheap Flights to find great deals
"Scotts Cheap Flights is a service that emails you whenever they find a great deal on international flights.
Honestly, it's one of the best sites for cheap flights, with the real value in the email blasts.
You can sign up for the free newsletter, or get a paid subscription for more customized emails.
When you get an email with a flight you are interested in, the easiest way to book a flight is to go to Google Flights, find the dates and choose a flight that works for you.
For this to work, you need to be flexible in where you would like to go and when.
One great deal I found on here:
A $400 round-trip flight to Europe several times from Austin, Texas."
Dan from Honeymoon Always (Instagram)
Recommended: Flight delayed while traveling? AirHelp can help you get compensated for delays and cancellations. Bonus: You don't pay for their service. Instead, they take a commission from your payout from the airline.
8. Subscribe to email notifications
"If you're wondering how to find really cheap flights, check out websites like Skyscanner, Hopper and Google Trips allow you to monitor flight prices.
All you have to do is:
Input your email address
Click "track the flight"
You'll then receive emails with price updates, helping you to score cheap flights.
Most of these websites have a free 48-hour cancellation policy, too, for an easy flight booking experience.
Even if you've already gotten a good deal — but the price went down even more — you can save money.
Just by subscribing to email notifications, I've been able to save $200 on a flight from Denver, Colorado to Costa Rica, and over $300 on the flight from Houston, TX to Rome, Italy."
Gena from Gena's Adventure (Instagram)
9. Check out flight prices for an entire month
"There are many tricks to find cheap flights out there; though it's important to realize that flight prices vary from one day to another.
Therefore, one of the easiest ways to save money on flights is to find the cheapest day to fly.
Skyscanner's month view allows you to see the prices for a flight route across a given month.
So, rather than pick a specific date for your flight, select 'whole month' to view prices for that month.
Google Flights similarly allows you to see prices for the whole month.
Simply enter your flight dates, and prices automatically load within the date picker itself.
The more flexible you can be with your dates, the more likely you are to find a bargain."
James from The Portugalist (Facebook)
10. Play travel roulette
"My secret for how to find the cheapest flights online:
Travel roulette!
Here's how it works:
Using Google Flights, enter your home airport and travel dates, then leave your destination option blank…
…because you're going to let Google do the work for you.
When you hit search, Google provides flight suggestions from your home airport on your selected dates.
This is a great way to not only find cheap tickets, but to also discover places you never thought to visit.
If you have your heart set on a destination, enter it and use the fare calendar to get a sneak peek into the cheapest days to fly.
Something neat:
Adjusting your travel dates by a few days — or being flexible and flying off season — can save you hundreds. This is one of the top flight booking tips you'll definitely want to remember!"
Taima from Poor in a Private Plane (Instagram)

11. Take home currency to pay for your onward flight
"With flights adding such a considerable cost to travel, it's important to find the best money-saving tips.
If your home currency is strong, you can often score bargain flight deals from local travel agents if you pay in cash.
Think US dollars, Euros, British Pounds, etc..
This plan works best when traveling to a less developed country where it may be difficult to withdraw or exchange international currencies.
It's not worth exchanging money abroad to do this as you'll lose out on the exchange rates, so make sure you bring your home currency with you!
Important:
Check international laws and regulations about how much currency you can take overseas.
You also need to be careful carrying large quantities of money.
That being said, in our experience you can save enough to make it worthwhile."
Josh and Sarah from Veggie Vagabonds (Facebook)
Recommended: Love scoring a great travel deal? Check out these 35 money-saving, point-earning travel booking hacks!
12) Use Wikipedia
"If you've ever asked 'How do you find cheap flights?', here's our favorite tip to know:
Popular flight searches are always the first place we look, as they tend to be fairly comprehensive.
Occasionally, though, there are new or obscure airlines that popular aggregators aren't including in their listings.
Particularly in more remote places, we regularly find additional airlines with cheap fares.
To find these routes, simply check the Wikipedia page of the departure airport.
These Wikipedia pages tend to be very up-to-date, listing every airline and route available from that airport.
Scouring through those listings sometimes reveals small or regional airlines with an attractive route.
Then navigate directly to that airline's website to get pricing, and hopefully a deal!"
John from Roaming Around the World (Facebook
)
13) Use the search radius function to find alternative airports
"If you're using a third-party booking site — such as Kiwi — to search for flights, try taking advantage of the search radius function.
It allows you to browse airports within a geographical radius, rather than confining your search to a particular city or country.
To use it:
First search for your preferred departure and arrival airports.
If there are alternatives available, an option will appear to 'See departure radius'.
A colored circle will pop up around the location on the map, and the results will now be expanded to cover all airports within a 250km radius.
From there, you can manually toggle the search radius to become wider or narrower.
How far you go depends on where in the world you are, and how far you're willing to travel to take advantage of a cheaper fare.
This is a handy trick to use if your departure and arrival cities aren't set in stone, and you're willing to travel overland — or by domestic flight — to an alternative airport.
I've used this tactic to find cheap flights on two occasions:
Recently in Vietnam, I found much cheaper airfare to Thailand when departing from Haiphong—a city that's a two-hour bus ride from Hanoi (and home to an international airport I didn't even know existed).
Traveling to Australia, I used the search radius to find a cheap fare arriving at the Gold Coast rather than Brisbane.
In this case, I connected to my final destination with a quick train ride at the end."
Emily from Wander-Lush (Instagram)
Recommended: When flying is painful, literally (and what to do about it)
14) Always search ticket prices for one person
"I usually travel solo; but when traveling with family or friends, I know the airlines charge a premium.
I use Skyscanner to save money on tickets by buying them individually.
When traveling with a partner, normally you'd think to select two adults in the search.
Don't.
Instead, search for one adult in two separate tabs to get the cheapest ticket price, then purchase the tickets individually.
As soon as you receive your e-ticket go to the airline's check-in page and select seats for each ticket to ensure you're both sitting together."
Daniel from Layer Culture

15) Consider flying to/from nearby airports
"If you're flying to a very popular destination, you might find that your destination's closest airport will be much more expensive than other ones elsewhere in the same country.
Very often major airports will be cheaper to depart from— as opposed to arriving there —or vice versa.
So you can fly into one airport, and fly home from a cheaper airport somewhere else in the country.
For example, flying with EasyJet from Prague to London Stansted Airport (Friday 30th Nov 2018) is 920 Kč (€35, $40) which is quite reasonable, but the flight back from London to Prague a week later (Friday 7th Dec) is 4119 Kč (€159, $182).
That's a big difference!
However, a flight from Edinburgh to Prague (7th Dec) only £67 (€76, $87) — cheaper than half the price of flying from London.
Remember, though, that in this case, Edinburgh is 330 miles away from London, so you have to consider the cost of getting there.
That being said, it's often cheap to fly between airports in the same country.
For instance, you can fly from London Stansted to Edinburgh for as low as £22 (€25, $28), and you get to see another great city.
This way, you can save money and tick off another city."
Patrick from Complete City Guides (Facebook)
Recommended: Flight delayed? Here's how you can get re-imbursed for your troubles.
16) Subscribe to newsletters from airlines
"Living in Singapore means that I can fly all over Southeast Asia on AirAsia, Jetstar Asia and Scoot.
These three budget airline carriers hold sales practically every week — and $25 one-way flights to Malaysia and Thailand are not unheard of.
To stay informed of the latest airline promotions, I subscribe to their e-mail newsletters.
It's how I regularly score flights between $80 and $130, even for return trips as far as Hong Kong and Macau.
Additionally, I subscribe to the newsletters of full-service carriers like Finnair, and ensure that new posts from TravelFree, Fly4Free and Secret Flying appear at the top of my Facebook feed."
Nicholas from Rambling Feet (Instagram)

17) Compare the price between a single and a connecting flight
"One of my favorite tips for saving money flights:
Compare the price between the same flight; a connecting flight vs separate flights.
For example, if I'm flying to Cape Town from Manila, I will first check the price from Manila to Cape Town. And then look for the cheapest flight.
From the cheapest flight, I will then check the connection.
Some of the cheapest flights to Cape Town connect via Singapore or Bangkok.
After identifying the connecting flight, I then check separate flights from Manila to Singapore (or Bangkok), then Singapore to Cape Town.
Most often, booking a separate flight is cheaper.
As proof, the flight from Manila to Cape Town via Singapore would cost me $850+ on Singapore Airlines.
Plus, the layover is over 10 hours!
But the flight I booked from Manila to Singapore only cost me $50+ via Jetstar, and Singapore to Cape Town via Singapore Airlines for $500+.
In total I spent $600 — and the layover is only four hours.
Now I did have to check my luggage, though with the other option I probably would have done the same thing due to the long layover.
Which gets me to a bonus perk:
Booking separate flights also helps you manage the time you want to spend in layovers."
Christine from The Travelling Pinoys (Instagram)

18) Book all your flights together…. and fly on Tuesdays
"It's generally cheaper to fly on weekdays; specifically Tuesdays.
When searching for flights, I always start by checking Tuesday departures.
Also, if you're going on a trip to multiple destinations where you'll be taking a few flights within a region, it can be a lot cheaper to book all your flights together.
For example, instead of booking return flights to Vietnam and then booking additional flights within the country individually, it's often much cheaper to use a "multi city" flights search function — such as the one on Skyscanner — and book all the flights together in a bundle."
Maire from Temples and Treehouses (Instagram)
Recommended: Can airport lounge access be budget-friendly? (Spoiler: Yes, it can be!)
19) Use a VPN for the cheapest flights
"If you're booking a flight through a consolidator, you get the best price if you book through the website of the country where the flight departs from.
So a cheap flight from Norway will usually come from the website version that is ".no" — like expedia.no, rather than expedia.com.
However, all global companies will redirect your browser to the local version of their website.
But here's what you can do:
Use a VPN — like the award-winning NordVPN — to spoof your location and see the rates change!
I've saved hundreds of Euros, GBP and Dollars doing this!
Sarah from ASocialNomad (Facebook)
Recommended: Here's how to travel carry-on only like a pro.
20) Fly with small aircraft carriers for domestic flights
"On my recent visit to Kenya, I wanted to escape the national parks after seeing the Big 5.
As I kept researching, I found Lamu and its beaches to be the perfect escape from the big city traffic of Nairobi.
The only hitch?
Almost jaw-droppingly expensive flights on national carrier Kenya Airways.
So I looked at airlines operating only in Kenya and found Fly540, a small-time carrier who carried me economically on their turbo prop plane to my destination."
Priyanko from The Constant Traveller (Instagram)
21) Use the Pushbullet amd IFTTT app
"When there's an error fare or a really cheap flight deal, you want to get alerted to it right away.
Cheap tickets only last for so long, so when there is a great deal you should book it as quickly as possible.
Luckily, you can get notified to these deals with flight alerts.
Although there are a few travel sites offering an automatic email service, the best way to do this is with a custom automatization query.
And luckily, It's not as technical as it sounds.
You just need three things:
Good flight deal RSS feeds
With the Pushbullet app you can receive notifications on your browser and phone.
The other app, IFTTT ('If This Then That'), is a free service that enables you to connect your websites and apps; it automatically acts when a formula is triggered.
With these two things combined you can do wonderful things, like setting up automatic alerts for cheap flight deals.
Pushbullet has an IFTTT channel, so you just need to set up an account and create an applet that will filter the RSS feeds of your choice and send them to Pushbullet.
Sites like Flynous.com, Fly4free.com and Faredealalert.com share the best deals everyday.
When you add their RSS feed URL to the applet, you can filter deals by adding a keyword.
If you fill in 'New York,' it will look for all the deals that mention the word 'New York,' and will trigger the app to send a notification to your phone or browser when there is an amazing flight deal departing from New York.
Use two keywords like 'New York' and 'Bangkok' if you just want to receive notifications for the best deals for that direct flight route.
With this setup, I booked many flights and recently a return ticket from Amsterdam to Costa Rica for only $250!"
Denise from Inhetvliegtuig (Instagram)
Share your best tip for booking the absolute cheapest airfare below!
*Some of the above links are affiliate links, meaning if a purchase is made Jessie on a Journey earns a small commission at no extra cost to you. No brands were inserted to simply add an affiliate; all are truly part of the flight booking strategy mentioned.
Enjoyed this post? Pin it for later!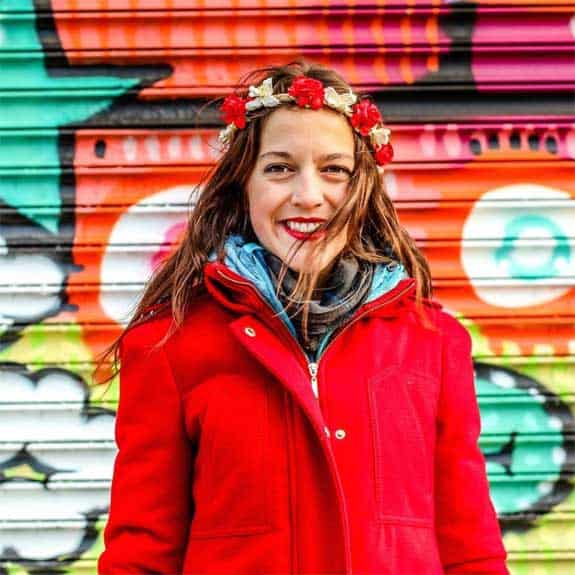 Hi, I'm Jessie on a journey!
I'm a conscious solo traveler on a mission to take you beyond the guidebook to inspire you to live your best life through travel. Come join me!
Want to live your best life through travel?
Subscribe for FREE access to my library of fun blogging worksheets and learn how to get paid to travel more!