Solo Female Travel In Israel: The Ultimate Guide
This solo female travel guide to Israel is a guest post by Diti Asiag, an Israeli blogger currently living in Amsterdam. It contains affiliate links to trusted partners I think you'll love!
If you've ever wondered if solo female travel in Israel is something you should consider, you're in the right place.
Israel — which is where I'm from — is a wonderful country in the Middle East to visit as a solo female traveler, especially as its modern offerings blended with spiritual culture make it truly unique.
One question that gets asked often, though, is:
"Is it safe to travel in Israel, particularly as a solo female traveler?"
Touring Israel on your own is safe and easy to do when you use common sense and stay aware of your surroundings — the same way you would when visiting any other destination.
We Israelis are hospitable and friendly if I may say so myself.
There are few things we love more than welcoming tourists and sharing the beauty of the country with them so that people don't think of Israel only in connection with the Israeli-Palestinian conflict or security issues.
There are many reasons to visit Israel and the country has much to offer solo female travelers on all fronts, from unique landscapes and outdoor activities to culture, history, and holy sites to exotic beaches and trendy city experiences.
And to help you fully prepare, this Israel travel guide shares essentially everything you need to know to confidently explore the country on your own.
Confidently Travel Israel Solo (Free E-Course)
But first, I invite you to grab a seat in my free Savvy Solo Traveler E-Course.
The six-day ecourse is designed to help you feel confident about booking your first solo trip and exploring the world alone.
Lessons include:
Common solo travel fears and how to overcome them
How to choose your perfect solo trip
How to tell loved ones you're hitting the road solo
Mentally preparing for your solo journey without losing your mind
Essential steps for staying safe on a solo trip
How to take amazing solo selfies
Once you've grabbed your seat, continue reading to learn why Israel is one of the top places to travel solo in the Middle East and how to travel solo successfully.
Israel Travel 101: Your Arrival
To kick off this Israel solo female travel guide, there are a few important practical things you need to know, especially if you are traveling to Israel for the first time.
Let's start by answering your questions about what happens when you arrive in Israel.
Be prepared for strict security at the airport upon arrival as well as departure.
Please, don't take this personally. I know visitors at times struggle with finding the process invasive, however, that is not the intention behind it.
If you take into consideration our history, geographical situation, and constant threats, tight security is a necessity.
Important:
Your passport will not be stamped, so make sure to keep your entry slip/paper with you for departure.
Other Things To Know Before Traveling To Israel
Soldiers are a part of daily life in Israel, so do not be intimidated.
All Israelis must enlist in the Israel Defense Forces (IDF) from age 18 to 21. This is something we all grow up with and are very used to seeing around us.
You will see soldiers throughout your time in Israel. Don't be put off by it or be scared. This is one of the precautions we take to keep everyone safe.
Planning around the Sabbath is key.
Shabbat is our day of rest.
It comes in just before sundown on Friday and lasts until the first three stars appear on Saturday evening.
In Israel, religion and state are not separate which means that almost everything shuts down earlier on Fridays — typically around 2pm — and remains closed throughout.
There is no public transportation running throughout the Shabbat, and except for a couple of places, street shops will be closed as will most shopping malls, kosher restaurants, and activities.
Because of this, planning is vital.
Shabbat is a holy day for the Jewish people so please, be respectful.
During Shabbat driving is prohibited so if you are touring the country by car, going to an orthodox city or neighborhood is not advisable. It will be frowned upon and in some places, the road will be closed off to traffic.
Do your research before heading out so that you are prepared.
Jewish holidays are considered as holy as Shabbat.
Therefore, the same rules apply.
Adjust your travel plans accordingly when visiting during these times.
The Best Time To Travel To Israel
One of the biggest advantages of traveling solo is having ultimate freedom over your schedule, which means you can take advantage of deals as well as the best times to visit.
Springtime starting from late March to June is a wonderful time to visit. Everywhere is green, flowers are blooming, and the temperature is warm and comfortable for exploring outside.
Additionally, the fall months from October to November are very pleasant, as well.
On the other hand, the summer months from late June to early September are extremely hot and I would advise first-time tourists against coming to Israel during this time.
Traveling around the country in such hot temperatures and high humidity is tough. The only thing you will want to do is be on the beach somewhere.
That is of course an excellent plan as we have great beaches; however, Israel has so much to offer it would be a shame not to see and experience more of it.
In any case, don't forget your sunscreen.
Tips For Getting Around Israel
Getting Around Israel By Car
There is no better way to explore Israel than by car, especially as it's a small country with good infrastructure and signage in English.
Driving gives you a proper chance to explore off the beaten track as well.
You can hire your car at the airport upon arrival; however, depending on your plans it might not be the best way to go as parking can be a nightmare in Israel's big cities.
You won't need a car to explore the cities anyway. If the city is where you are starting your trip it would be best to hire your car later.
Tips For Driving Around Israel:
Stay Safe
Do not drive to the Palestinian territories, the West Bank, or Gaza.
Make sure you pay attention to road signs and warnings around you and not just your GPS as it is known to make mistakes, especially around Jerusalem.
Legal Requirements
For you to be able to hire a car, you must be over 24 years of age with an international driver's license and a credit card with a high enough limit to cover the security bond normally reserved on your card.
Car Rental Companies
TIR Rent A Car is the company I use when traveling around Israel. It is a small and reliable company offering fair prices.
The address is TIR:HaYarkon St 132, Tel Aviv.
You can also use a site like Discover Cars to quickly compare your car rental options.
Their comparison tool does the homework for you, so there's no need to have 10+ tabs up trying to figure out which company is the most affordable.
Actually, you can save up to 70% using their tool!

Using Public Transportation In Israel
Using public transportation is another good way to go, as trains and busses are usually reliable and on time.
Tips For Taking Public Transportation In Israel:
Get A Rav-Kav
On most buses, you will need a Rav-Kav, which is an electronic card used on public transport that can be loaded using cash or credit card.
These cards can be used on trains as well. Arrange your Rav-Kav card if you plan to use public transport.
Use The Light Rail In Jerusalem
In Jerusalem, you can travel around by using The Jerusalem Light Rail.
This is an above-ground train with a route stretching from Pisgat Ze'ev in the North to Mount Herzel in the West, with stops along the way.
Consider Service Shuttles
You can use service shuttles (moniyot sherut in Hebrew) to move around/travel between cities.
These are minibusses that stop at various bus stops and pick people up.
The fare for these is usually cheaper than other transportation options since you're sharing the ride with other people.
Taxis Are An Option, Too
If you use taxis, make sure you ask for the price in advance as some destinations have a fixed price.
Of course, there is always Uber, as well. If you're new to Uber, that referral link gets you your first ride free!
Top Accommodation Options For Solo Female Travel In Israel
It's also a great central place to stay and travel from and is my personal favorite urban jungle.
If you are looking to stay in a hostel, Abraham Hostels are immensely popular among solo female travelers and come highly recommended.
This chain has hostels in Tel Aviv, Jerusalem, Nazareth, and Eilat.
It is on the higher end as far as hostels go and by all accounts offers a safe environment and a terrific way to meet other solo travelers.
They also organize tours throughout Israel, which is a convenient perk.
Another bonus?
They take responsible tourism seriously! You can read their Responsibility Pledge here.
Now, if you are like me and prefer a more luxurious experience, Tel Aviv has no shortage of beautiful boutique hotels to choose from along the coastline.
Isrotel is my favorite hotel chain in Israel. They're beautifully designed, offer excellent hospitality, and have everything you could need for a great vacation — restaurants, spas, and more.
Another option:
Staying at the Brown TLV Urban Hotel or the Lighthouse Hotel, which are both a part of the trendy Brown Hotel chain.
Brown Hotels offer free bikes for the duration of your stay. All are in the best locations in Tel Aviv.
Airbnb and VRBO are also options for those looking for self-catering accommodations.
Click here for a list of local hotels and self-contained rentals.
Or browse the map below:
Solo Female Travel Safety Tips For Visiting Israel
Use Common Sense While Exploring Israel
As I previously mentioned, using common sense and keeping your wits about yourself is the key to staying safe while traveling Israel.
It's also smart to know some general solo travel safety tips.
For instance, always let someone know what you are planning to do.
Additionally, keep the address to your hotel handy to use when you need it.
Know Which Tel Aviv Neighborhoods To Avoid
When visiting Tel Aviv as a solo female traveler, I recommend that you avoid the neighborhoods of Neve Shanan, Shapira, and Hatikva neighborhoods — particularly at night.
They aren't pleasant to explore nor is there much for a visitor to experience.
Never Hitchhike In Israel
Hitchhiking in Israel is, simply put, not a smart idea.
Dealing With Flirty Men In Israel
Israeli men are flirty, and the best way to deal with unwanted attention is to address it the Israeli way:
Be direct and tell your admirer that you are not interested.
In most cases, they will just move on.
Know How To Avoid Pickpockets In Israel
In crowded areas like the markets or on public transport beware of pick-pocketers.
Pro tip:
It's wise to invest in some pickpocket-proof clothing so you can easily hide your cash, credit cards, and phone and leave your purse behind.
Get An Israeli SIM Card
The cheapest way to have the internet is by purchasing an Israeli SIM card for your phone.
It is important to have internet — and not just for sharing beautiful travel photos on social media, but also for navigation, online ticket purchases, paying for parking, and to call for help if needed.
Moreover, there are many great personal safety apps for travelers you can download to help keep you extra safe, too.
Practical Solo Female Travel Advice For Israel
Understand Parking In Israel
You will need the internet to pay for parking as in most cities paying with cash is no longer possible.
The colors painted on the curb determine whether you need to pay and whether you can park there.
Blue/white means it's paid parking
Red/white means parking is prohibited
Gray means it is free to park
Red/yellow is for taxis and buses, so parking is prohibited
Note:
In major cities during the evenings white and blue/white-colored pavement is reserved for residents only.
Yes, You Should Tip When Traveling Israel
We tip between 12-15% in restaurants and bars.
Other services — such as your tour guide or hotel cleaning person — are up to you.
Know How To Dress For Israel's Weather
It is handy to know when packing that Israel has micro-climates, so make sure you are prepared.
During summer, for example, Tel Aviv and the coast are hot during the evenings; however, head to Jerusalem after sunset and you might need a long-sleeved shirt.
If you plan to spend a few days in the desert, the evening will require warmer clothes.
Know How To Dress For Holy Sites & Orthodox Cities In Israel
It is very important to wear the appropriate clothing when visiting holy sites or orthodox neighborhoods.
Israel is a modern and liberal country. You can wear whatever you like, however, when you are visiting holy places — like the Western Wall in Jerusalem or the city of Sefat — visitors are expected to be respectful and wear modest clothes.
Pro tip:
When exploring a religious city or site, have a big scarf with you that can be used to cover up.
It will come in handy especially during the hot summer months.
You can also purchase a pickpocket-proof scarf to help you cover up and hide your valuables for a two-in-one investment!
Pack A Reuseable Bottle When You Travel Israel
You will need to drink plenty of water, as it's easy to become dehydrated while out exploring.
Moreover, carrying a reusable water bottle is a cheaper and more sustainable way of traveling than buying disposable plastic water bottles along the way.
Do They Speak English In Israel?
Hebrew and Arabic are the official languages in Israel.
That being said, don't worry if you don't speak either language, as English is spoken well throughout the country.
Carry Cash When Traveling In Israel
While credit cards are widely accepted, it's also wise to carry some local currency with you for when you are visiting markets and food stands, for example.
Israel Has Three Associated Plug Types
These plug types are C, H and M.
Just in case your electronics don't match with these, it's smart to pack an electronics adaptor, like these.
Israel Travel Map
In the following section, we'll look at some top solo female travel destinations in Israel.
You can refer to the above Israel map for a visual of where these places are, or click here for an embeddable, downloadable version.
Note that the next section has you beginning in Tel Aviv and Jerusalem, and then traveling either north or south.
That being said, as you can see on the map that the destinations are close enough together that you can pretty easily visit them all.
Top Solo Female Travel Destinations In Israel
Visiting Tel Aviv
Traveling to Tel Aviv and Jerusalem shouldn't be missed, as these are the crown jewels of Israel!
People often ask me, "Is travel to Israel safe?" as well as "Is Tel Aviv safe?"
To both questions, my reply is "yes!"
Tel Aviv is unlike any other city in the world. In my opinion, it has an NYC-type vibe, and yet it is unique in its way.
The city offers gorgeous views of the Mediterranean Sea and golden beaches alongside fascinating historical sites, delicious culinary experiences, offbeat Tel Aviv experiences, and interesting museums.
My favorite museums are the smaller ones highlighting lesser-known sides of Tel Aviv, like:
The Reuven Rubin Museum. This artist-house-museum highlights one of Israel's most revered artists, Reuven Rubin.
The Bialik Museum. This is the former home of the Hebrew national poet Hayyim Nahman Bialik.
The Palmach Museum. Here you'll learn about the Palmach legacy and the Independence Hall where Ben Gurion announced the Declaration of Independence.
No visit to Tel Aviv is complete without a wander through Hacarmel Market as well as the artsy Nachlat Binyamin, Neve Zedek, and Florentine neighborhoods.
Have a drink and a meal in one of the trendy bars and restaurants.
Have some extra time to spend in Tel Aviv during your Israel trip?
Then there are a few other suggested activities I have for you.
For one, visit the Sarona complex. Here, you can walk in the footsteps of the Templars, a military-monastic order who helped pilgrims visit Israel from Europe to visit the country's holy sites.
A Sarona complex visit includes going through underground tunnels dug by hand by German Templars arriving in 1871. These were used by the Mossad, Israeli intelligence!
Here, you'll also find an indoor food market where you can enjoy Israeli delicacies.
Speaking of food, you can experience unique Israeli flavors walking through Tel Aviv's Levinsky market.
Wander the narrow Levinsky Street between HaAliya and HaMashbir Streets, a section filled with little stores and stands selling authentic local dishes like Turkish bourekas and Malabi.
Of course, there are also some incredible beach restaurants in Tel Aviv that offer tasty food and a relaxing ambiance.
Love shopping?
You can go on a treasure hunt in Shuk Hapishpeshim, a 100-year-old flea market in Jaffa, which is the ancient port city Tel Aviv grew from.
The flea market offers a treasure trove of antiques, art, handmade, and secondhand items. Do not be afraid to bargain yourself a good deal, as that is how it's commonly done.
Finally, explore Tel Aviv on a bike or an electric stepper. There are both public tour and private tour options for this, like:
Just please be careful and use only the marked bike trails. Israel, unfortunately, is not (yet) a bike-friendly country.
Bonus Tel Aviv Solo Female Travel Tips
Evenings on the beach during the summer are magical!
Apply beforehand for the Secret Tel Aviv VIP Card, a free card with exclusive offers and discounts at Tel Aviv's best bars, restaurants, and businesses.
There are also great walking tours in Tel Aviv, like these.
I highly recommend The White City Bauhaus architecture tour or a Tel Aviv street art tour.
Moreover, there are free walking tours in Tel Aviv for those traveling in Israel on a budget!
Visiting Jerusalem
Just like with Tel Aviv, people often want to know, "Is it safe to travel Jerusalem alone?"
To which I would again reply, "yes!"
In my opinion, traveling to Jerusalem — the capital of Israel — is a must! It's spectacular, buzzing with special spiritual energy.
There are many highlights that shouldn't be missed, like the Old City.
Here you can walk along the city's walls, visit the Western Wall, and spend time in the Jewish quarter.
Pro tip:
Whether you have a long time in the city or just 72 hours in Jerusalem, you must go down to the Western Wall Tunnels!
Tickets need to be booked at least six months in advance. Trust me that it's worth the extra planning, as this complex of underground tunnels tells a unique story.
You can also book a tour that includes the tunnel experience, like this Jerusalem Underground and City of David Tour.
In Jerusalem, you should also visit Yad Vashem, Israel's official tribute to the Holocaust.
Granted it is a difficult place to visit, though I do believe we all should.
There is also The Israel Museum, most famous for its Dead Sea Scrolls on display in its Shrine of the Book wing.
Furthermore, I recommend exploring the wonderful open-air Machane Yehuda Market.
This is where you will find many little restaurants spread throughout, all offering delicious and authentic foods true to Israeli-Mediterranean-Jerusalem cuisine.
Savor Yemenite food in Jahnun Bar, Kurdish delights at Ishtabach, and a Jerusalem mixed grill dish at Hatzot.
Love exploring interesting neighborhoods?
Some recommendations include Nachalat Shiva, Yemin Moshe, and Nachlaot.
Also, the German Colony — which is just a 15-minute walk from the Old City — is an upscale neighborhood established by the German Temple Society in the mid-to-late 1800s.
Walk the sidewalks with your camera and photograph the lovely mix of architectural styles, from late provincial Ottoman architecture to British Art Deco and beyond.
You'll also find parks and many locally-owned shops and eateries.
Interestingly, this neighborhood leads to the first train station of Jerusalem, which has renovated to now include galleries and restaurants.
Heading North From Jerusalem
Spend an afternoon in Caesarea National Park
Located about 40 minutes by car from Tel Aviv, Caesarea National Park is one of the best historical and archeological sites in the country!
It is an amazing testament to Roman times.
Some of the highlights here include an ever-growing archaeological park, a Hippodrome, and a seafront promenade filled with galleries and restaurants.
Spend time in Israel's third-largest city, Haifa
Haifa has been built in tiers, rising from the Mediterranean Sea up the slopes of Mount Carmel.
Needless to say, the views are breathtaking no matter which direction you choose to look.
The city is famous for the Bahai Gold Shrine & Gardens and the nearby German Colony where you will find beautiful architecture to admire along with trendy restaurants and shops.
Recommendation:
Take the cable car to the upper part of Haifa and enjoy the stunning views of the city meeting with the coastline.
Look closely, and you may be lucky enough to see a dolphin jumping up out of the water, too!
Visit the Israeli port city of Akko
Akko — which is also known as Acre — is an ancient port city on the Mediterranean coast about 40 minutes by car from Haifa.
What is unique about this city is that it has a mixed population of both Jews and Arabs living together in harmony, which isn't always true in other parts of Israel.
Additionally, it holds UNESCO World Heritage status thanks to its well-preserved history.
As you wander around, you'll truly be able to see that Akko has been continuously inhabited since the Phoenician period (1550 BCE to 300 BCE).
Because of this, you won't want to miss the colorful and vibrant Old Town, surrounded by well-preserved historic walls.
Acre Port — one of the oldest ports in the world — is a lovely place to stroll through and have lunch in one of the delicious restaurants serving fresh fish and Mediterranean cuisine.
From the harbor, you can take boats out to enjoy panoramic views from the sea.
Spend time in Israel's Galilee Region
This mountainous region in northern Israel is most notable for being home to the Sea of Galilee, where Jesus is said to have walked on water.
You can actually take a dip in the water yourself!
But, that's not all there is to do.
Solo female travelers should also check out Hula Nature Reserve, one of the region's many beautiful nature parks.
The heart of the park features a beautifully restored lake where birdwatchers can enjoy waterbirds from a floating bridge.
At the edge of the lake, there is a marsh area that serves as a hiding place for a range of animals.
Want to spend more time in the great outdoors?
Go kayaking on the Jordan River, which you can book here.
The Jordan River is a 156-mile-long river flowing from the north of Israel to the south through the Sea of Galilee to the Dead Sea.
This river is an important landmark for both Jews and Christians. It was here that the ancient Israelites first crossed and where Jesus was baptized.
Heading South From Jerusalem
Hike up to Masada in the Dead Sea region
Masada is an iconic landmark in Israel showcasing the ruins of an ancient fortification erected by Herod the Great in 30 BCE.
Not only that, but the site also commemorates past tragic events.
When Roman troops invaded Masada at the end of the First Jewish–Roman War, almost 1,000 Sicarii rebels and Jewish freedom fighters — those who had been trying to get rid of the Romans from Judea — killed themselves, as they would have rather committed suicide and be with God than be killed or enslaved by their enemy.
This important site sits on an enormous rock plateau overlooking the Dead Sea that you can hike up.
You'll leave your hotel around 4am, but it's worth it for the spectacular sunrise.
Afterward, you'll be in the perfect location to spend a day at the Dead Sea floating on your back while reading a book or enjoying a massage or facial incorporating curative Dead Sea mud.
In fact, many of the Dead Sea hotels located along the waterfront have spas offering sumptuous treatments like Desert stone massages, Dead Sea mud wraps, and chocolate body peels.
Nearby, the Mountain of Sodom offers extraordinary desert views.
There are two Israel hiking trails that take you to the top:
Ma'aleh HaSulamot ("Ladders Ascent").

This trail is steep — though it has stairs, which is helpful — and takes about 90 minutes.

Shvil HaDagim ("Fish Trail").

This option is steep and stairless. It gets its name from the multitude of fossilized fish embedded into the rock on the trail and takes about 90 minutes.
In the Book of Genesis, it talks about how a biblical person named Lot's wife turned into a pillar of salt when she looked back at Sodom.
During your hike, pay close attention and you can see her figure standing there as an actual pillar of salt.
Spend time in Ashkelon
This is an ancient port city that dates to the Neolithic Age.
Ashkelon has beautiful beaches, impressive sand dunes, a lovely promenade, ancient ruins, and medieval walls for a mix of natural beauty and visible history.
Spend a couple of days in Eilat
Eilat is a small piece of paradise on the shores of the Red Sea. If you're looking to take a solo beach vacation, it should definitely be on your radar.
It's the most southern point of Israel and is surrounded by the stunning Edom Mountains as well as Jordan to one side and Egypt to the other.
Here there is sunny weather year-round, meaning you can always enjoy beach relaxation, outdoor dining, and watersports — particularly diving, which the Red Sea is well-known for.
For something unique, head to the Treehouse Spa at Dolphin Reef and get a massage while floating in a treehouse pool. Afterward, lay on comfortable couches sipping complimentary wine and fresh-squeezed orange juice.
Pro tip:
On your way down stop at the Timna National Park, home to ancient copper mines, an artificial lake, and Egyptian temple ruins.
Bonus Israel Solo Female Travel Experiences
For the ladies that like to hike, follow the Israel National Trail, one of the best hiking trails in the world!
This hiking path crosses the entire country.
The entire trail is 636.9 miles long and is divided into sections, so you can choose what you would like to hike.
If you decide to do the entire thing, you'll need to allot about 45-60 days.
Prefer to explore Israel by air?
In cities and towns around the country, you can book a hot air balloon ride over Israel — which is truly one of the most unique experiences you can have in the country.
For instance, you can take a hot air balloon flight from Israel's Northern District and take in views of the Sea of Galilee, Nazareth, and Jordan. This also includes a gourmet breakfast and post-flight Champagne toast!
Additionally, Israel offers adventures by sea — like surfing lessons on the beach of Herzliya, which is right outside of Tel Aviv.
Finally, explore the Negev Desert using Mitzpe Ramon as your starting point.
The visitor's center is located right above the spectacular Ramon Crater. From the huge balconies, you can take in marvelous views of the incredible rock layers and open desert landscape.
You can also enjoy many outdoor activities and Israel desert adventures here such as 4×4 tours, hiking paths, and even abseiling down the cliffs.
Suggested Solo Female Travel In Israel Itineraries
A 7-Day Israel Itinerary
Spend three days exploring Tel Aviv-Jaffa and one day in Jerusalem.
Then finish on a high note by spending the last two days in Eilat. It is possible to fly out from Eilat.
A 10-Day Israel Itinerary
Spend three days exploring Tel Aviv-Jaffa.
Follow this with one day up north in Rosh Hanikra, stopping in Caesarea on the way back.
Then enjoy one day in Jerusalem and then two days down south exploring the Dead Sea, Masada, and Mizpe Ramon.
Spend the remaining days in Eilat.
A 14-day Israel Itinerary
Spend three days exploring Tel Aviv-Jaffa.
Follow this with two days up north starting in Caesarea and then driving to Haifa and Akke.
From there, enjoy one day in Tiberias combined with a stop in Hula Nature Reserve.
Then spend two days in Jerusalem and then two days exploring the Dead Sea, Ashkelon, Masada, and Mizpe Ramon.
From there, spend three days in Eilat, combined with a stop in the Timna National Park.
Private & Group Tours In Israel
There are many great companies offering local tours in Israel, including private and group options.
For instance, two companies that list numerous local tours include Viator and GetYourGuide.
Here are some top Israel tours to get you started with your trip planning:
Click here for a full list of tours.
Israel Travel Insurance
When traveling solo to Israel — or going to Israel in a group or visiting anywhere else in general — make sure to get travel insurance.
In my opinion, the best travel medical insurance for travelers is SafetyWing as they've got a large network and offer both short-term and long-term coverage — including coverage if you're traveling for months as well as limited coverage in your home country).
Additionally, SafetyWing is budget-friendly and offers $250,000 worth of coverage with just one low overall deductible of $250.
Click my referral link here to price out travel insurance for your trip in just a few clicks.
Solo Travel Tips
New to solo travel?
Truth:
I made so many mistakes when planning my first trip solo — like booking out every second of my itinerary so that I had no room for adventure.
That's not what I want for you.
To help you plan a meaningful and memorable trip, I'm sharing my top tips for planning the perfect solo trip — with confidence!
About The Author
Hi! I'm Diti, an Israeli travel and lifestyle blogger living in Amsterdam. I have been exploring the world, living in different countries from a young age (eight countries on three continents), and always feeding my wanderlust — because to me, to travel is to live!
Backpacking, solo travel, budget travel, city trips, island vacations, extreme adventures, luxury journeys; I've done it all!
I specialize in Israel (my home) and the Netherlands (my home away from home).
My mission is to inspire and empower you to travel by offering you high-quality travel content and resources on my blog, My Trendy Trail.
What tips would you add to this solo female travel in Israel guide?
Enjoyed this post on traveling to Israel as a woman solo? Pin it for later!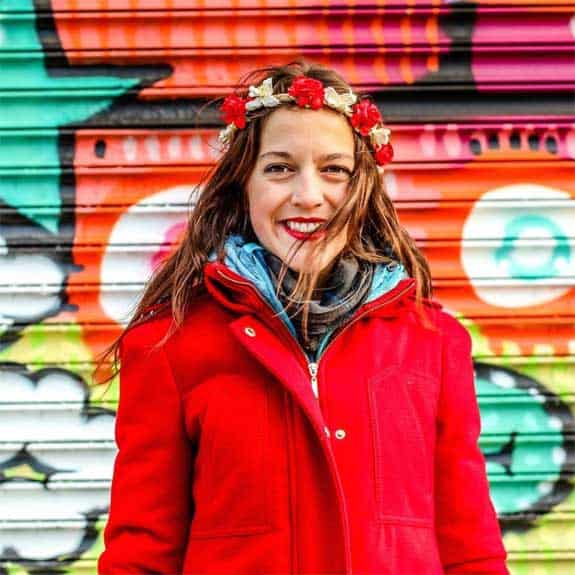 Hi, I'm Jessie on a journey!
I'm a conscious solo traveler on a mission to take you beyond the guidebook to inspire you to live your best life through travel. Come join me!
Want to live your best life through travel?
Subscribe for FREE access to my library of fun blogging worksheets and learn how to get paid to travel more!