Awesomely Offbeat Things To Do In Tel Aviv, Israel
Israel's most cosmopolitan city may be small, but it's packed with great things to see and do.
Here are a few things to do in Tel Aviv to experience the quirkier side of the city.
Stock Up On Spices At Levinsky Market
Most tourists head straight to the famous Carmel Market to experience that famous "local flavor" — and you should too. That being said, Tel Aviv has a smaller market dedicated to spices, dried fruit, sweets and other dry foods. Levinsky market is actually a stretch of shops along Levinsky Street, between HaAliya Street and Herzl Street.
Shops here sell everything from exotic spices and herbal tea blends to freshly ground coffee, every dried fruit imaginable, and even tasty Turkish delight.
There are also a few good restaurants and cafés along the street and at night you can visit some hip bars in the area, like the Bar Mitzva at 13 Zevulun Street.
This delicious market is also discussed in my Ultimate Guide To Solo Female Travel In Israel. If you're planning a trip to the Middle East, I highly recommend checking it out.
Enter The Belly Of The Beast With A Central Bus Station Tour
Tel Aviv's central bus station is most people's idea of hell, but this controversial concrete monster is steeped in history, weirdness and even wonder.
If you're into modern architecture or urban exploration or are just interested in weird things, you can join a tour, offered by CTLV that will take you into abandoned areas of the station, including a derelict cinema, a nature reserve (yes, really) and an anarchist Yiddish museum.
Eat Gourmet Street Food At Hamiznon
You can find out what happens when a famous TV chef reinvents the already amazing local street food by checking Hamiznon — the name means "the canteen" – located at 30 King George Street. Most dishes are served in pita bread and there are whole baked cauliflowers and fresh vegetables scattered around which serve as both décor and food.
Pro tip: Feel like you ate too much? Explore some of the best hikes in Israel to burn off those calories!
Catch Some Live Music At The Pasaz
This bar / club located at 94 Allenby Street has taken over an underground shopping arcade and hosts live gigs and club nights almost every evening, appealing to Tel Aviv's creative and hipster population and beyond. It has a good, varied line up of nights ranging from folk to rock and blues, hip hop to electronica.
See Some Affordable Art At Pachot meElef Gallery
The Pachot meElef Gallery, located at 60 Abarbanel Street, is right at home in the Florentin neighborhood and if you visit it, you may well recognize some works as belonging to the same street artists that graffiti the doors and walls in the surrounding streets. If you've got some money to spare, you can buy some original works here. Otherwise, you can continue your art tour by taking to the nearby alleyways that are completely covered in street art.
Shop For Young Designer Fashion In The Noga Neighborhood
This little area between Tel Aviv and Jaffa has been turning into a centre for young designers. Walk along the narrow streets and you can find everything from lingerie and swim suits to clothes, shoes and even housewares. There are a few cute cafés and restaurants, too, and you're only a few minutes away from Jaffa's famous flea market. This has already gentrified to the point of also being awash with designer boutiques, bars and restaurants.
Behold The Hideousness Of Tel Aviv's Most Outrageous Sculpture
After years of neglect, the famous fountain on top of Dizengoff Square has been restored to its full and hideous glory, as intended by the artist. The thing spins around, shoots fire and water and plays loud classical music at regular intervals. At night, it turns into a light show, too. There's plenty of seating in the surrounding square where you can hang out and watch this going on.
Chill Out Or Work In The Sunken Garden At Habima Square
If your battery can handle it, you can take your laptop to the middle of Habima Square, where a beautiful garden has been dug into the ground. Enjoy relaxing music while chilling out, reading or working among trees, cacti and other local plants or watch children play in the sandbox on the far end of the garden. There is free WiFi in the center of town that you can use.
About The Author
Shimrit Elisar is the author of the DIY Tel Aviv Guide. When she's not hunting for the next big (or small) thing on the Tel Aviv underground scene, she's usually either traveling somewhere far away or recovering at home with her cats.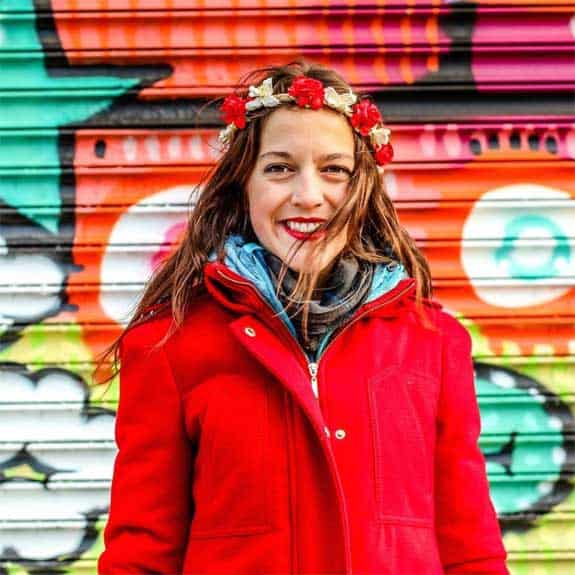 Hi, I'm Jessie on a journey!
I'm a conscious solo traveler on a mission to take you beyond the guidebook to inspire you to live your best life through travel. Come join me!
Want to live your best life through travel?
Subscribe for FREE access to my library of fun blogging worksheets and learn how to get paid to travel more!