Eilat's Treehouse Spa At Dolphin Reef Is A Hidden Gem In Israel
My first thoughts of Eilat are that it looks like your typical seaside city, shop and restaurant-filled beachfront promenades, big brand resorts, and sidewalks filled with tanned smiling tourists.
After being in Jerusalem, I feel like I've gone from the US to Israel back to the US, and I'm not sure how I feel about that.
While the mezze platters and grilled local meats of at Shipude Habustan Restaurant introduce me to Israeli culture through the palate, I can't help but feel Eilat feels a little too much like home (although the Golf of Aqaba is way prettier than the Hudson River).
Although it was once a military outpost in the 1940s, by the 1970s it had grown into the resort city it is today.
Beautiful? Yes.
Full of things to do? Absolutely.
But still a bit more removed from the culture than I'd been hoping for after my transcontinental flight to the Middle East.
This is how I felt…until I visited Stalbet On The Water at Dolphin Reef, a sort of hipster spa experience I never knew existed anywhere, let alone Israel.
Picture this:
After parking your car you walk through the entrance, strolling through lush grounds dripping with dangling trees, peacock calls creating the background soundtrack.
After winding your way along the beach you come to a treehouse.
Not the small one that fit a sleeping bag and some games when you were a kid, but the kind that could house a full bar, multiple lounges, three heated pools, and two changing rooms.
And it does. In a very spacious and comfortable wooden venue overlooking the Red Sea.
Spoiler: This attraction quickly became one of my top Israel highlights.
You check in your valuables before walking through the bar area — complete with funky bean bag chairs mixed colored couches, tables and drinks — before descending down into the treehouse.
The next floor down is another lounge, while the bottom floor is the relaxation area.
This is where you'll get your terry cloth robe, and can change into a bathing suit before embarking on the ultimate wellness travel experience:
Deciding if you want to decompress in a fresh water, sea water or Dead Sea water heated pool. This is also where you'll meet your massage therapist for the "techniques" portion of the visit.
Now, I've gotten interesting massages before (remember my awkward Ayurvedic massage experience?), but I never knew it was possible to get a massage while in a pool. After receiving this treatment, I realize my life up until this point has been incomplete.
Seriously. This is worth traveling to Eilat for in itself, whether you're enjoying solo female travel in Israel or exploring in a group.
I chose the sea water pool — I love the Dead Sea, but too long in there makes me feel like I'm covered in slime — and met my therapist. She explained to me what would happen, and that I needed to trust her and just completely relax, loosening every muscle and letting the tension just disappear. A pool noodle was used as a prop, which she slid under the bend in my knees while holding my head with her hands.
At first, I felt a little uneasy having my ears underwater for so long, my mind wandering back to summers as a kid where constant jumping in pools meant ear infections, but the soothing music they have playing below the water washed away my fears, literally.
While there were some traditional massage techniques I recognized — shoulder and temple rubs, the cupping of my feet and pulling of my toes, a hand gently pressed on my third eye — it felt a lot like I was water dancing, as she gently extended my arms and twirled me in circles on my back.
The waves made lapping noises against my skin, a strong ASMR trigger for me, and every few minutes she blew tiny bubbles on my back.
When the massage was complete I wasn't sure if I had fallen asleep or just drifted to another dimension, as despite only two hours of rest the night before I felt completely rejuvenated, ready to swim an Olympic pool.
Or just continue laying on a noodle and floating around in heavenly bliss, which is what I actually did.
I had booked my time for two hours, so once I started to prune I went up a wooden walkway into the shower area to wash my hair — they provide shampoo, conditioner and body wash — before heading into the quiet lounge.
Here, my friends and I sprawled out on comfy couches (the bean bag chair was occupied by an adorable cat), glasses of complimentary wine and just-squeezed orange juice, cookies, nuts, and fruit in our hands and mouths. We whispered animatedly about our experience, all agreeing it was pretty spectacular.
Another thing to note is that the entire spa is co-ed, making it great for couples and groups of families and friends that don't want to be split up to use the facilities.
Prices start at 165 New Israeli Shekles (about $43 USD).
Bonus tip: Eilat is also near to some incredible Israel hiking trails worth exploring!
Have you gotten an underwater massage or visited Eilat before?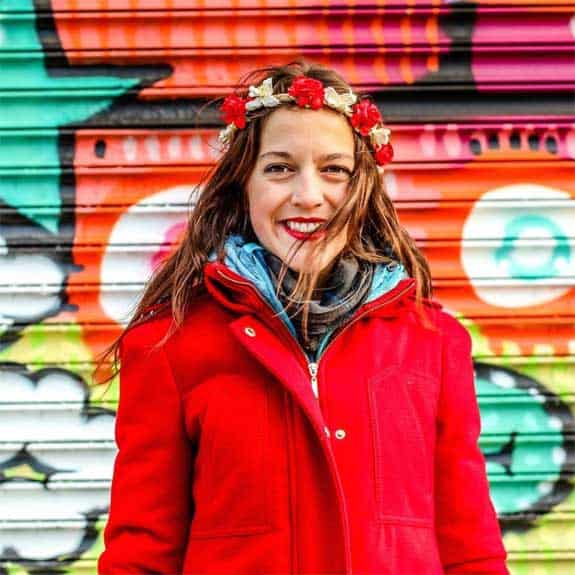 Hi, I'm Jessie on a journey!
I'm a conscious solo traveler on a mission to take you beyond the guidebook to inspire you to live your best life through travel. Come join me!
Want to live your best life through travel?
Subscribe for FREE access to my library of fun blogging worksheets and learn how to get paid to travel more!