Active Middle East: Amazing Desert Adventures In Israel
People have many pre-conceived ideas about Israel travel.
I say this not only because I had my own before visiting — mainly that visiting religious sites would be the only way to fill my days — but because of the statements made by family and friends.
My mind was filled with dusty deserts, streets mixing temples, mosques and churches, and a lot of hummus.
Not that these are untrue, but there is so much more to Israel, especially for those seeking outdoor adventure.
Yes, you read that right.
Israel is an adventure travel destination. Or at least it can be if you know where to look.
While Israel is not all desert, most of my trip — aside from Tel Aviv — focused on this region of the country, and what thrills awaited me in the arid landscapes, sand dunes, and salty seas.
My trip began in a non-adventurous fashion:
Touring the Old City of Jerusalem with my guide for the week, Yair Tzadok — which, by the way, is a great way to start an Israel solo female travel journey.
No matter what kind of trip you're after, you can't miss Jerusalem, considered holy by practicers of Judaism, Christianity, and Islam (which also means it has a tumultuous history filled with violent crusades).
The only city — a UNESCO World Heritage Site since 1982 — features cobbled streets, protective old stone walls and buildings crafted from Jerusalem (dolomite) stone, giving the area a special historic atmosphere.
Visiting Jerusalem is like immersing yourself in a melting pot of cultures that haven't actually quite melted together yet.
Along with being an extremely important place for Christians, Jews and Muslims, you've got the Israelis and the Israeli Arabs, two groups that seem to hate other, but get along when necessary.
And the Palestinians in East Jerusalem, who pay taxes and are considered residents, but not citizens. In general, Israelis and Palestinians don't interact (although there are beautiful images and stories of these groups coming together, some of which can be found on the Facebook groups Israel Loves Palestine and Palestine Loves Israel).
While wandering the Old City of Jerusalem, I hear about these conflicts from my guide, Yair (and also from a few very vocal locals); however, for the most part I feel safe and intrigued, my curiosity piqued by the vast array of important religious attractions: the Western Wall and Temple Mount for Jews, the Dome of the Rock and al-Aqsa Mosque for Muslims, and the Church of the Holy Sepulchre for Christians.
What's amazing is that, despite having little natural resources, many people feel so emotionally connected to Jerusalem they'd die for it.
Jerusalem's Old City showcased the Israel I had pictured in my mind, albeit with more tourists (you never seem to picture those when imagining a destination, do you?).
Here I was able to get the perfect introduction to my trip for a better understanding of place; however, from there the focus became exploring Israel in a way not many know is possible: adventure travel.
While the Dead Sea may not exactly be adventurous (although, tell that to anyone who's ever gotten that salt in their eye!), it's well located near a number of active pursuits.
In fact, on the way from Jerusalem to the Dead Sea I make a detour at En Gedi Nature Reserve, showcasing 3,588 acres (1,452 hectares) of sheer cliffs, waterfalls, springs, streams and aromatic herbs in the Judean Desert. It's truly home to some of the best hikes in Israel!
Visitors can choose from a number of trails — the main ones being to an ancient synagogue (easy) or the Upper (difficult) or Lower (easy) David's Waterfall.
I go the easy route as I'm trying to make it to the Dead Sea in a timely manner. Trekking to the lower falls is simple and scenic, and I feel small looking up at the tall cliffsides, ibex standing on the outcroppings.
Below, a baby hare nurses its mother, orange-winged Tristram's grackles abound and fallen boulders induce a slight bit of trepidation.
Random side note:
According to Yair, the hare is more closely related to the elephant or manatee than the rabbit or rodent.
WTF?!
These guys are adorable, although slightly scary looking, and I can't seem to push away mental scenes from Donny Darko.
When we reach the waterfall it isn't huge, although Yair explains that's because they're having an unusually dry April, and that during wetter months the falls and pool below are much larger.
Still, after hiking through the desert for 30 minutes I'm happy to refresh myself in its cool cascades.
I spend the night at the Dead Sea — the lowest place on Earth at 417 meters (1,368 feet) below sea level — getting the chance to float in its uber salty waters.
Despite having been to the Dead Sea in Jordan two years prior, I'm still startled when I try to tread water and am thrust backward by the sea's salinity.
The Dead Sea is one strong but beautiful beast!
Sleep isn't on the menu for the night, as I wake up early to have an iconic Israel adventure: hiking Masada at sunrise.
My departure for this experience is 4:15am (eek!), although because I'm still jetlagged I end up waking up at 1am naturally (double eek!).
Like this photo? Buy it on Etsy!
Like this photo? Buy it on Etsy!
Masada isn't just any old mountain; it's an ancient fortification erected by Herod the Great in 30 BCE residing on an enormous rock plateau, and today you'll see the fortress ruins.
According to my guide, when Roman troops invaded Masada at the end of the First Jewish–Roman War, almost 1,000 Sicarii rebels and Jewish freedom fighters — those who had been trying to get rid of the Romans from Judea — killed themselves, as they would have rather committed suicide and be with God than be killed or enslaved by their enemy.
The trek to the top is a steep 45-60-minute uphill climb, beginning in darkness (you may want to bring a flashlight), with the sky lightening little by little along the way.
On my trek I arrive to the top when the clouds are just beginning to yellow, and spend some time exploring the fortress ruins at the top.
While not my most colorful sunrise ever (that would be Indian's Nose in Guatemala), it is truly breathtaking to see the sun come up over the shimmering Dead Sea in stages, first appearing like a halo above the clouds until gowning the water in a swath of orange and yellow.
I continue to stare even after the sun has fully risen, breathing in the mountain air and pinching myself that I'm in Israel.
Tweet: I continue staring even after the sun has risen, breathing in the mountain air and pinching myself. I'm in #Israel. http://bit.ly/1I59rpD
Masada isn't the only day's hike.
About two hours away by car I come to Timna Park, encompassing 60 square kilometers (23 square miles) and surrounded on three sides by cliffs. Timna is one of the world's oldest copper mines — over 6,000 years old — and was once an enormous Egyptian enterprise.
Today you can see copper demonstrations and learn about the history throughout the park.
While understanding this history adds context, the real reason I visited wasn't the copper, but the exploring the unusual landscape by bike. And I did…and hated it.
Now, you all know how much I love biking (I even have a bike tattoo on my wrist); however, while exploring my bike gears would not work.
When I talked to other riders they experienced the same problem, making the ride more pain than pleasure.
I'm definitely not saying don't visit — definitely definitely definitely visit.
But I would recommend thoroughly checking your bike before riding off, or renting a car, or hiring a driver to show you around the different rock formations, like The Mushroom, Solomon's Pillars, and Hathor's Temple, many holding rich history.
For example, Hathor's Temple was actually an Egyptian Temple built in the 14th century BCE.
With your car you can also access trailheads for different hikes, some to the rock formations and some actually on them.
It gave me a glimpse into the Israel I wasn't expecting to see, mainly because I didn't even know it existed.
Tweet: #TimnaPark provides a glimpse into the #Israel I wasn't expecting to see, mainly because I didn't know it existed http://bit.ly/1I59rpD
Camping in Timna Park provides quite the nighttime adventure.
My group settles in around the lake oasis outlined by palms and tents complete with beds separated by canvas and a desk with outlets and a lamp.
We make it there late, so there isn't much going on but to drink plastic cups full of raki — a local liquor you mix with water that tastes like black licorice — out in the desert.
One of the more sober members of our clan gets the idea to drive out to Timna Park's famous Arches for some star shooting.
We all think it's brilliant — until we arrive at the site and realize only one person has brought a flashlight and that we're all completely petrified of the dark (oh why must I love American Horror Story so much).
The short trek away from the road is filled with gasps and shrieks as garbage bags flutter, wind howls and dusty cans scatter, but once we settle into a spot, take a deep breathe and look up at the Big Dipper we all seem to calm down.
And take stellar photos. While I love Brooklyn, we definitely don't have stars like these.
Tweet: The trek is filled with gasps and shrieks as the wind howls & cans scatter, until the #BigDipper calms us down http://bit.ly/1I59rpD #israel
The excitement and booze lead to an excellent night's sleep, and after a traditional breakfast of bread, labneh, tahini, boiled eggs and Turkish coffee — and oddly a dish of chocolate cake frosting — the group is off to Ramon Crater.
Like this photo? Buy it on Etsy!
Interestingly, Ramon Crater is not a crater, but a very rare "makhtesh." The heart-shaped geological landform sits atop Mount Negev in the Negev Desert, which was covered in water hundreds of millions of years ago. As the water receded a hill was formed, which eroded oven time due to the ebb and flow of the ocean and weather. The softer center of the landform collapsed inward while the outer walls grew taller, exposing ancient rock layers. Today you can't help but notice the contrasting textures and swirls in colors of fudge, red and yellow within the natural site.
There are only seven makhtesh in the world, all in Israel and the Sinai Peninsula of Egypt, although the one I'll be exploring today is the largest of them. In fact, it's possible to fit all other six inside at 25 miles (40 kilometers) long, 4 miles (6 kilometers) wide and 1,640 feet (500 meters) deep.
Ramon Crater and its surrounds compose Ramon Nature Reserve, Israel's largest national park.
It's also an adventure hub, offering nighttime scorpion tours, hiking (part of the Israel National Trail even runs through it), cycling, rapelling and off-roading. I opt for the latter two activities.
While I've been rappelling, canyoning, and rock climbing before, I've never tipped backward into what to me looks like the Middle Eastern version of the Grand Canyon, albeit with less red sandstone and more brown dolomite.
And while having experience with the activity makes it less scary, I still feel the nervous butterflies and visions of splattered brains that inevitably come with looking over the cliff edge I'm about to hurl myself over.
My guide, Adam from Adam of Challenging Experience Tours, instructs me to widen my stance and sit back — aka act like the void beyond the cliff edge is a comfortable chair instead of the top of a deadly fall. I push negative thoughts out of my mind, ignore my sweaty palms and begin to descend slowly tipping myself back and walking my feet over the dolomite stone.
Tweet: I feel nervous, imagining splattered brains as I look into the crater I'm about to hurl myself into.. http://bit.ly/1I59rpD #travel #israel
Until suddenly the cliff wall is gone — vanished! — and there's nothing. I try to shove my legs inward with the curve of the wall, as it seems to have jutted in a few feet, but I lose my footing and fall.
Gah!
The rope catches me. Phew. I decide instead of breaking my face against rock — as I sway like Tarzan — I'll slowly drop myself like Madonna descending from the ceiling at a concert, and kiss the sky once my feet are on the ground.
After a short hike back up to the top, it's now time to get into the Jeep — sorry, Land Rover — for the off-roading tour into the makhtesh.
The vehicle is open-air, with inside and truck bed seating. If you're not looking to be jostled around too much closer to the front is probably best; however, I apparently enjoy having whiplash, and choose the back instead.
While the ride is naturally bumpy, it's less focused on the freak out factor and more on providing information and photo opportunities, as we see a blue water beach seemingly in the middle of nowhere (called the Stone Wind Water Site) and sections of the Israel National Trail. Adam even takes us foraging for wild arugula.
One of the most interesting findings is a pre-historic dwelling made from stone, which researchers can date due to the absence of pottery. Within the stone walls are fossils of crustaceans — some of which are now extinct — that prove the place I'm standing now was once underwater.
We end at the summit of Mount Gvanim, from which it's possible to see natural sites like the mahktesh wall and magmatic intrusions, as well as Mount Katum, Mount Marpek and Ramon Fault. It's hard to imagine what this may have looked like 200 million years ago, coated in the no-longer-in-existence Tethys Ocean. And while I'll never really comprehend it, today I'm able to better understand Ramon's past and potential future in an adventurous way.
Before my journey to Tel Aviv where I'll be ending my trip, I embark on one more adventure: sandboarding. This is something I first tried in San Pedro, Chile, and absolutely loved, zipping down giant dunes, getting lost in the desert's swirls of sand.
This time, I'd be sandboarding in Israel's Shivta area in the Negev Desert with Tourist Israel. While in Chile I'd done the activity standing, this time I had multiple choices: sitting (alone or with others), laying pin-up girl style on your stomach, kneeling backward or half standing while bending back to grip the back of the board. With all position, I quickly learn that turning the rides into races with others makes it a lot more exciting (especially if free drinks are at stake).
The big tent with Israeli electronic music and mats with big pillows made me feel like I was in a mini Coachella.
I dust myself off, pockets and underwear full of sand. I was sweaty and sunburned, with slightly aching muscles.
Most of all, though, I was happy.
My epic Israel trip was a fascinating mix of adventure, culture, and history, the scenery, stories, and activities changing with the cities I visited.
The journey allowed me to throw any of my preconceived notions and the sad stories I hear so often on the news regarding Israel, and see the country, in an active way, for myself.
And isn't that what travel is all about?
Have you visited Israel? What was your experience like? Please share in the comments below.
Tweet: I was sweaty and sunburned, with slightly aching muscles. Most of all, though, I was #happy. http://bit.ly/1I59rpD #israel #adventure
Essential Information:

Emergency Numbers: 100 (Police); 101 (Ambulance). You can also dial 911 or use the Emergency button on your phone. Having an SOS Emergency-type app is also recommended, especially if embarking on solo adventures like cycling through Ramon Crater.

Currency: Israeli New Shekels.

Official Language: Hebrew & Arabic (most speak Hebrew over Arabic, and many speak English, as well)

Private Israel Guide Services: Yair Tzadok, [email protected], (972) 523 800 660

Challenging Experience Tours: Adam Sela, [email protected], (972) 505 308 272; Pricing: $180 for 2-hour off-roading tour; $260 2-hour off-roading tour with rappelling; $280 for 4-hour off-roading tour; $380+ for a full day tour

Tourist Israel (sandboarding): [email protected], (972) 587 135 678; Pricing: Individuals need to inquire for pricing, while pricing for groups of 6 or more starts at $180 USD.

Fitness Level: A mix of beginner and intermediate experiences, although the above itinerary can certainly be done by anyone with a drive to take on the activities.

Recommended Reads:

1001 Natural Wonders You Must See Before You Die: UNESCO Edition by Michael Bright

Fodor's Israel (Full-color Travel Guide) by Fodor's

Walk the Land : A Journey on Foot through Israel by Judith Galblum Pex
*My trip to Israel was sponsored by Tourism Israel. I was not required to write this post nor was I compensated for it. As always, all opinions and insights are strictly my own.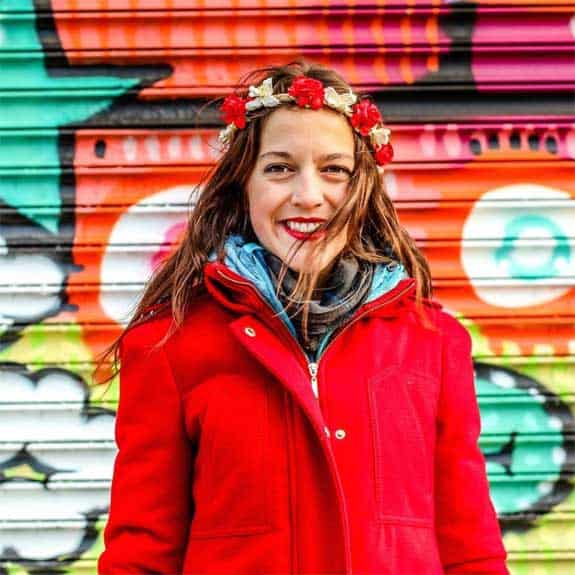 Hi, I'm Jessie on a journey!
I'm a conscious solo traveler on a mission to take you beyond the guidebook to inspire you to live your best life through travel. Come join me!
Want to live your best life through travel?
Subscribe for FREE access to my library of fun blogging worksheets and learn how to get paid to travel more!