10 Reasons Why Israel Should Be Your Next Trip
Not sure where to go on your next trip? I've just returned from an adventure-focused journey through Israel, and absolutely fell in love. Here is why you might want to make this Middle Eastern country your next trip, as well.
Tip: Flying into Israel? Check out this in-depth guide on what to expect at Israel's airport security.
1. The Hummus
When traveling to Israel in the Middle East, you'll probably notice that hummus goes from being a mere chickpea dip to the country's fourth religion.
For me, it was one of the main reasons I wanted to go in the first place (seriously), and one of the primary reasons I fell in love with the country.
One goal for the trip was to figure out what, exactly, made Israeli hummus so much tastier than in the US, with a more full, fresh and garlicky flavor.
The response I received most of the time was that it was a mix of the climate and the way it affected local ingredients, as well as the quality of the tahini. Moreover, in the US we tend to use canned chickpeas, canola oil instead of olive oil and citric acid, at least when it's store-bought.
According to my guide, Ya-ir, the best hummus in Jerusalem, where he is from, is at Abu Shukri Restaurant. After trying it for myself, I concur.
2. To Better Understand Different Religious Viewpoints
Muslims, Jews and Christians all consider Jerusalem to be of important religious significance.
Just look at all of the major sites located in the Old City: the Western Wall and Temple Mount for Jews, the Dome of the Rock and al-Aqsa Mosque for Muslims, and the Church of the Holy Sepulchre for Christians. While these groups co-exist, the picture isn't always pretty.
While most of major holy sites have been cause of conflict and quarreling, The Temple Mount/Noble Sanctuary compound is one area of particular debate between Palestinian Muslims and Israeli Jews, as both groups feel ownership over it.
Visiting Jerusalem — especially with a local guide to add context, such as on a walking tour of Jerusalem's Old City — can help you better understand these different religions, why conflicts arise, and how people deal with them.
Admittedly having these different religions living in one country can sometimes lead to violence, although it's highly unlikely, especially as a tourist, you'll come into contact with this.
Note: It's important to dress respectfully and observe religious customs when visiting holy sites. Definitely cover those shoulders and knees!
3. To Get A Better Understanding Of How Groups Co-Exist
What fascinated me about Israel is how so many cultural groups that don't get along co-exist.
My Israeli guide, Yair, was constantly talking smack about Arabs and explained to us that, while civilians don't own guns, an Israeli can for protection if he shows he lives in a remote Arab neighborhood.
That being said, I saw my guide chatting with Arab friends, or at least acquaintances, multiple times during my trip.
I also saw a beautiful art installment in Jaffa, the oldest part of Tel Aviv, around Jaffa Port Hanger 1 that depicted Israelis and Arabs getting along.
There's also the high tensions that exist between Israelis and Palestinians, a quarrel that goes back to the late 19th century. While I didn't do it myself, I've heard Abraham Tours' Dual Narrative Tour is amazingly insightful and moving.
First you'll be setup with an Israeli guide who will tell you their side of the conflict story and show you relevant sites, before crossing into the Palestinian section for a lunch in a local home and more touring.
It helps to show just how complicated the conflict truly is.
Also check out Israel Loves Palestine and Palestine Loves Israel for a different perspective of these relationships.
4. To Have An Adventure
While Israel isn't typically touted as an adventure destination, it's full of outdoor activities and adrenaline rushes. Bonus: There are some incredible hiking trails in Israel to explore!
For those looking for something active yet tame, hiking in the En Gedi Nature Reserve — a biblical oasis full of waterfalls, natural swimming pools, and bird-life — is a nice way to explore the Judean Desert, while a sunrise hike up Masada in the Dead Sea area fuses outdoor beauty with history through 30 BCE century fortress ruins.
At Ramon Crater, you can hike, bike, rappel, off-road, and even hunt for scorpions at night. Spend a day hiking or cycling through Timna Park, a geological park home to ancient Egyptian copper mines, and spend the night camping under the bright stars.
These are just a few of the many adventure options to be had in the country, whether you're in a group or enjoying solo female travel in Israel.
5. To Knock Off A Number Of Iconic Bucket List Experiences
I'll admit I don't have a bucket list; however, for those who are planning a trip to Israel understand it's one of the top destinations in the world to knock off a number of iconic lifetime musts.
I mean, how could a place that has a Jerusalem, potentially the holiest place in the world; the Dead Sea, the lowest place on Earth at 417 meters (1,368 feet) below sea level; Nazareth, an extremely important pilgrimage destination; and the stunning Byzantine age Mar Saba Monastery not be? And these are just a few examples.
For a more in-depth list, check this out.
6. To Visit The Caribbean In The Middle East
In the Dead Sea area, when driving from the resort area of the Dead Sea toward Timna Park, I discovered the most beautiful section of its coastline.
Vibrant light blue water glistened around white sand islands…in the middle of the desert.
For sure a surreal experience. Continue driving about 20 minutes more and the same direction and on your right you'll come to Mount Sodom, made of rock salt.
7. For An Aqua Massage
In the resort city of Eilat, I discovered a relaxing spa experience I never knew existed in the world at Stalbet On Waters at Dolphin Reef.
This hipster spa resides in an enormous treehouse, decked out with a full bar, multiple lounges, three heated pools (fresh, sea and Dead Sea water) and two changing rooms.
You'll choose a pool and be paired with a therapist, who will float you on pool noodles while massaging your body, gentling stretching your arms, and spinning you in the water, all while calming music plays below the surface.
Afterward, head into one of the colorful bean bag chair lounges for free wine, cookies, and fresh-squeezed juice.
8. For Historical Thrills
Timna Park is over 23 square miles (60 square kilometers) and surrounded on three sides by cliffs. It's one of the world's oldest copper mines, over 6,000 years old, and was once an enormous Egyptian copper mining enterprise.
Along with learning about copper and visiting ancient Egyptian temples and sites made of rock, you can cycle, hike, and camp in this historical yet thrilling place.
I recommend spending a night camping in the park around the palm-fringed oasis lake, and taking a night drive to photograph the stars. Just don't forget your tripod for the clearest shots.
For some tips, check out Behind The Lens: Shooting Long Exposure Photos In Low Light Using Bulb Mode.
9. For Tel Aviv's Old-Meets-New Offerings
I was really impressed with Tel Aviv. To go back in time I visited the surprisingly old yet artsy Jaffa, the original area of Tel Aviv.
Its narrow streets and brown sandstone buildings house Jewish, Muslim and Christian sites — like the home of Simon the Tanner who welcomed Apostle Peter there, with Jaffa built on a hill for defense purposes during biblical times.
Roaming around you'll also find an array of local galleries and studios, street art, and an inspiring peace art installation at the Jaffa Port Hanger I mentioned above.
The city's history blends with a modern culture, as well, which I explore through the Tel Aviv Port, trendy Rothschild Boulevard, the hip Neve Tzedek neighborhood and its architectural salad of styles, and the nightlife scene.
In terms of bars, there are two I highly recommend, both on Dizengoff Street.
First is Spicehaus Pharmacy Bar, which has a chemistry concept with drinks like "Test Tube Baby Got Back" and "Baby Herman on Fire" served in beakers and test tubes.
The other is Jasper Bar, an unpretentious speakeasy-style establishment with no sign, where cocktail creation is akin to a Broadway show and a DJ plays fun tunes with a volume that allows for conversation.
For an Israeli club, Patio Bar gets crazy on Sundays (as in let's-do-shots-and-dance-on-the-bar crazy, which I know from first-hand bar dancing experience).
10. Beautiful Beaches & Marine Offerings
As with adventure, Israel isn't typically touted as a beach getaway; however, in many areas — even within the desert — it is.
Even in Ramon Crater in the Negev Desert, one can find a beautiful blue water beach at the Stone Wind Water Site.
Tel Aviv has a beachfront full of hotels and clubs, while Eliat is the premier resort destination for beach relaxation and Red Sea boat trips where you can dive into turquoise waters filled with colorful brain corals and fish.
Have you visited Israel before? Please share your experiences in the comments below.
Essential Information:

Emergency Numbers: 100 (Police); 101 (Ambulance). You can also dial 911 or use the Emergency button on your phone. Having an SOS Emergency-type app is also recommended, especially if embarking on solo adventures like cycling through Ramon Crater.

Currency: Israeli New Shekels.

Official Language: Hebrew & Arabic (most speak Hebrew over Arabic, and many speak English, as well)

Private Israel Guide Services: Yair Tzadok, [email protected], (972) 523 800 660

Challenging Experience Tours: Adam Sela, [email protected], (972) 505 308 272; Pricing: $180 for 2-hour off-roading tour; $260 2-hour off-roading tour with rappelling; $280 for 4-hour off-roading tour; $380+ for a full day tour

Tourist Israel (sandboarding): [email protected], (972) 587 135 678; Pricing: Individuals need to inquire for pricing, while pricing for groups of 6 or more starts at $180 USD.

Fitness Level: A mix of beginner and intermediate experiences, although the above itinerary can certainly be done by anyone with a drive to take on the activities.

Recommended Reads:

1001 Natural Wonders You Must See Before You Die: UNESCO Edition by Michael Bright

Fodor's Israel (Full-color Travel Guide) by Fodor's

Walk the Land : A Journey on Foot through Israel by Judith Galblum Pex
*My trip to Israel was sponsored by Tourism Israel. I was not required to write this post nor was I compensated for it. As always, all opinions and insights are strictly my own.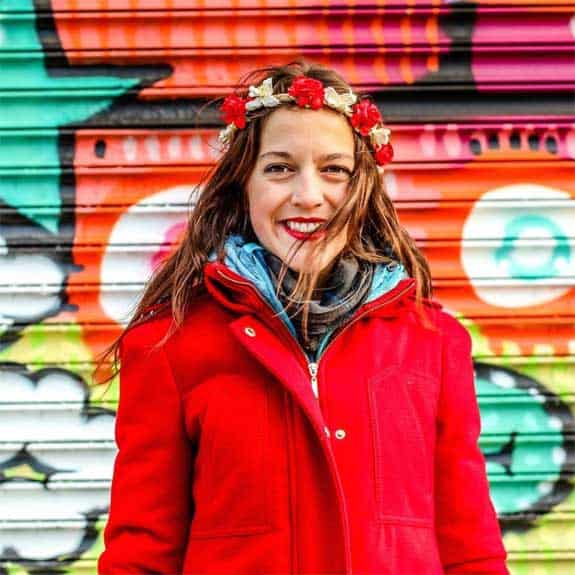 Hi, I'm Jessie on a journey!
I'm a conscious solo traveler on a mission to take you beyond the guidebook to inspire you to live your best life through travel. Come join me!
Want to live your best life through travel?
Subscribe for FREE access to my library of fun blogging worksheets and learn how to get paid to travel more!