How To Plan A Trip Without Making Plans
After reading a title like that, you're probably wondering how such an oxymoron could be possible. If you've never traveled without a plan before, it is one of the greatest ways to take a vacation; however, even when going on a trip without an itinerary, there is still a bit of pre-departure research that is involved. Use this guide to help you successfully plan a trip without making plans.
The Pros Of Traveling Without A Plan
The thought of traveling without a well-structured plan can sound extremely scary to those who have never done it.
"But, where will I sleep? How will I know where to go and what to do? What if I run into trouble?"
Don't fret, as these questions all get answered along the way. You'll realize it's easy to find hostels, get recommendations and use common sense to keep yourself safe. The beauty of traveling without an itinerary is you can live in the moment and change your plans as you go. Before departure, you'll have no idea what you'll encounter. Maybe you'll get an opportunity to volunteer with an interesting organization or do a homestay and live with locals. Or, maybe a music group you like will be coming to town or a unique festival. You may even find a new friend you would like to travel with, or possibly even your future husband or wife (you'd be surprised).One of my first solo backpacking trips was a summer in Europe. Before going, I planned out every single detail, down to what trains I would take each day. I booked 90 nights of accommodation in advance, signed up for tours and wrote down restaurants and bars I wanted to check out. After about a week of this tightly scheduled trip, I realized I hated the commitment. In Amsterdam, I met a guy I really liked, and would have stayed longer with him if I hadn't pre-booked my train and hostel in Bacharach. In Paris, I missed out on a huge summer music festival that was happening the day after I was leaving. And in Rome, I met some of the greatest people I'd ever met in my life, but only got to spend three days with them due to my rigid schedule. Moreover, I missed out on free and discounted tours through my accommodation that offered the same itinerary as the ones I had pre-booked.
I had quite the opposite experience when backpacking South America, where I planned virtually nothing. First of all, by not booking accommodation and tours way in advance, I had the ability to show up to a place and ask other travelers, locals and hostel owners what was worthwhile to do in the area. Using this tactic not only forced me to interact with locals, it allowed me to discover some lesser known hikes and sites. For example, when in Ushuaia in Patagonia I knew I had to visit Tierra del Fuego; however, I discovered two hikes I enjoyed even more but had never heard of, Martial Glacier and Valle de Lobos.
Along with discovering new sites, I was also able to visit lesser-known cities I hadn't expected to end up in. For instance, when I arrived in Lima, Peru, I figured I would head straight to the lazy beach town of Mancora afterwards. That is, until someone in my hostel showed me their photos from a hike in Huaraz. I left Lima early, a city I expected to love but wasn't that crazy about, and spent almost a week in Huaraz trekking and taking in the unique natural scenery.
Lastly, too much planning can actually cause stress. When you're locked into certain dates and itineraries, that's it. It doesn't matter if you hear about something more interesting or a better deal along the way, you're stuck with your plans unless you don't mind forfeiting money and going through the hassle of rescheduling bookings. Arriving somewhere without a plan will allow you the freedom to enjoy as many activities as you want. And when you're done, you can hop on a bus and move on to the next city.
How To Become A Non-Planning Travel Planner
There are two ways you can go about becoming a non-planning travel planner. The first – and scarier – option is to just do it. Literally, book a plane ticket to somewhere you've always wanted to go, get your visas and vaccinations and just show up. You'll be forced to be spontaneous, and to see just what you're capable of. And truth is, if you really hate the unplanned aspect of the trip, you can always spend a day in an Internet cafe booking hotels and tours for the remainder of the vacation.
The second option is to ease your way into it. Maybe on your next trip you pre-book your hotels but not your tours. Then, on the following vacation you can forgo both with only an itinerary of city names. After that, you probably won't ever need it again. Another way to do this is to do an unplanned trip close to home. Go somewhere domestic or get on a train and go to a nearby city you've always been curious about, not making any plans but just letting yourself discover the area organically. Most likely, you'll be surprised at how much you enjoy yourself.
Tips For Planning Without Making Plans
While you're traveling without a plan, there are a few things you should do before and during your trip:
Enroll In The Smart Traveler Enrollment Program
Although you're traveling without making plans, make sure to sign up for the Smart Traveler Enrollment Program before leaving the country if you're a US citizen. This is an important step in keeping you safe, as it makes it easier for the US government to help you if you get in serious trouble.
Research The Culture
While you don't need to book hotels and tours before heading off, you should do a bit of research on the culture. This will allow you to steer clear of saying or doing anything offensive. It will also help you assimilate into the culture and easily make friends with locals. For example, while at home you may sit with your legs sticking out in front of you toward other people, in Thailand this is considered rude. Moreover, in New Zealand what people in the US and Canada think of as a peace sign actually means "F*ck You" if the palm is facing outward. Know these things before you go to stay away from sticky situations.
Interested in learning about other cultural taboos? Check out Quirky Taboos From Around The World.
Safety First
Whether you're going for a trip around the world or across the street, safety should always be your number one priority. Take steps toward keeping your self safe before and during your trip. Sign up for a self-defense class, purchase a safety whistle, invest in some pickpocket-proof clothing with hidden pockets, bring locks to lock up your belongings if you're staying in hostels and leave valuables at home so you don't make yourself a walking target.
Turn Fear Into Excitement
The first few times you set off on a trip without making a plan it's likely you'll feel unsure of your decision. You may even feel as though you want to back out of the trip or book an organized tour so you can have the entire thing planned out. Think about why you wanted to go on a trip without making plans in the first place. Do you want an adventure? Are you hoping to let your feelings guide you? If the reasons still speak to you, don't back out now. Turn those butterflies of fear into feelings of excitement and give traveling without making a plan a chance.
Open Your Mind
In order to successfully go on a trip without making plans you'll need to have an open mind. Start practicing before you leave home. Say yes more often, change up your routine and do something spontaneous. By the time you reach your destination you'll be in the right mindset to have an adventure.
Make Use Of CouchSurfing When On The Road
CouchSurfing is a resource many people use that allows travelers to stay with locals free-of-charge and experience the city from a local point of view. Not only does CouchSurfing help you save money on accommodation, but the website's message boards allow you to tell people when you'll be arriving in a certain city and plan meetups. You don't need to do this weeks in advance, either. You can simply post a message a day or two before you'll be arriving to see if there are any other travelers or locals who would like to get together for dinner, hiking, sightseeing or something else. It's great for having local experiences without much planning needed.
Think About What You Want To Get Out Of The Trip
Are you hoping to experience the great hikes of Jordan? Or Peruvian history? Maybe you just want to have a culinary journey around Europe, or are simply hoping to grow in your independence. Whatever it is you're hoping to achieve, keep this in mind along the way and let it guide your trip.
Book Your First Few Nights Of Accommodation
I've backpacked numerous times without an itinerary, and absolutely love it. That being said, arriving into a new city at the very start of a trip before you've gotten into your rhythm can be stressful. Have your first three nights of accommodation pre-booked and know how to get to it via public transportation or by taking a taxi so you can relax after your flight and get used to the country you're exploring.
Remember Your Can Always Change Your "Unplans"
If you're nervous about traveling without making plans, remember you can always change your "unplans." If after a few weeks you're finding traveling without a plan more stressful than fun, start booking your accommodations and tours in advance and create a planned itinerary. There's nothing wrong with traveling with a plan. In fact, one of the great things about travel is it allows you to be selfish and have the kinds of experiences you want. Plans or no plans, as long as you're enjoying your trip, that's all that matters.
This post was adapted from my original article on Gadling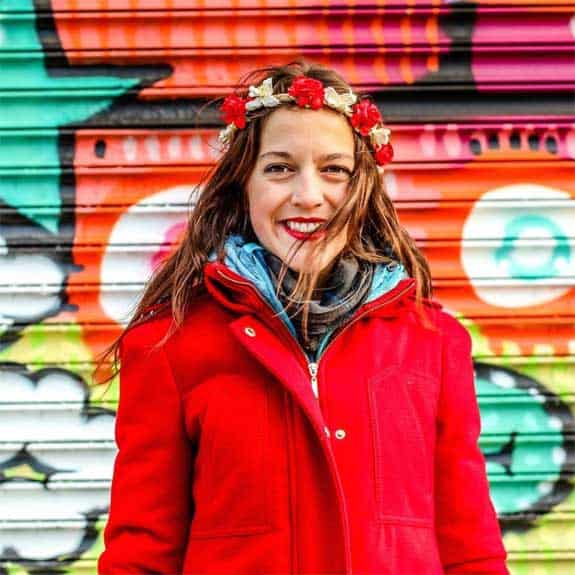 Hi, I'm Jessie on a journey!
I'm a conscious solo traveler on a mission to take you beyond the guidebook to inspire you to live your best life through travel. Come join me!
Want to live your best life through travel?
Subscribe for FREE access to my library of fun blogging worksheets and learn how to get paid to travel more!