One Perfect Day On The Italian Island Of Ischia
The 90-minute ferry ride from Naples to the island of Ischia was sunny and scenic.
Grabbing Campari Spritz cocktails from the bar, my boyfriend Andy and I made our way up to the top deck to take in the views of the Naples skyline and surrounding islands as we journeyed to the volcanic landscape of Ischia.
Why Ischia? Well, we'd heard it was less touristy, less crowded and less high-end than Capri.
While I can't compare as we only went to Ischia, I can say the island was laid back, beautiful and did not disappoint!
And though it's a relaxing destination, there are still so many things to do in Ischia.
*Note: This post contains affiliate links to trusted partners I think you'll love!
Psst, don't forget to pin this post for later!
According to Ischia Review, the island — the largest of Italy's four volcanic Phlegrean Islands — was settled by the Greeks around 770 BC.
At this time it was known as "Pithecusae," likely named after a type of jug that these settlers traded with the Italian Etruscans.
Now, excavations of Ischia have uncovered many items opening doors to history.
The most important was discovered during a tomb excavation in 1954.
This is when they found "Nestor's Cup," a clay vessel showcasing the alphabet of the time, and reading, "This is Nestor's cup from which it is pleasant to drink, but the one who drinks from this cup will suddenly fall in love with Aphrodite and her beautiful crown."
The cup is visible at Ischia's Villa Arbusto Museum.
Not surprisingly, Ischia also holds a rich mythological history.
In fact, the volcanic nature of the hot spring-ladden landscape is sometimes attested to a feud between Zeus and the monster Tifeo (sometimes known as Typheus). Tifeo was angry at Zeus for holding the Titans prisoner.
After they battled and Tifeo lost, Zeus banished Tifeo to live below the island, and the volcanic activity is the physical manifestation of his anger.
A little dark, yes, though as a visitor you'll definitely enjoy the adventures and spa opportunities the mountainous landscape offers. And for those wanting a sample itinerary, here are the best things to do in Ischia to have the perfect day.
Check out my entire Italy trip video above
One of the most stunning views of our entire time traveling Italy!
This cozy Airbnb features two terraces — one with a dining table surrounded by sprawling ivy and fairy lights and a higher one showcasing a true 360 island view.
Ornella gardens, and we were greeted with a bowl of sweet grapes and figs from the gorgeous fruit, herb and flower garden. There's even air conditioning, a rarity in Italian Airbnbs.
Deal: Get $40 off your first Airbnb by signing up with this link!
Live Tour Of My Ischia Airbnb
Want to learn some Ischia folklore while touring the Airbnb firsthand?
Check out the video above!
Isn't that an incredible view?
Morning
Breakfast With A View
Make breakfast and eat on the terrace. Take in the spectacular view of the Aragonese Castle, which dates back to 474 BC. Connected to the mainland by a causeway, it sits on an islet of volcanic rock surrounded by the sparkling Gulf of Naples.
Hike The Island's Highest Point
Next it's off to hike up Mount Epomeo, Ischia's highest point at 2,589 feet.
To get to the trailhead, take the bus. Get the 1.80 Euro 1-hour ticket from the tabacchi (tobcacco shop) around the corner (there's a 1.50 Euro single ride ticket, but you'll need to make a switch so you'll want the 1 hour). Then catch the C12 bus to Pilastri — or just walk 15 minutes to the bus stop, which is right near the island's beautiful and famous aqueduct.
From here you'll catch the CD line to Fontana to hike to the top of the lush, vineyard-filled Mount Epomeo.
The mountain was formed after an underwater eruption, notes Ischia Review, and is "the result of the uplift of magmatic masses from the seabed," though it is not a true volcano. Greeks, followed by Romans, lived on the mountain as early as 2BC.
Note: If you look at the bus schedule, Fontana is four stops from Pilastri, though it's smart to ask the bus driver to call it out as people frequently ask for additional stops, making it impossible to count. Once in Fontana you'll see a big church. Walk behind the church and veer right to see the trailhead.
The hike is short but steep, a challenging 60 minutes to the top. It's scenic though, as you trek from vineyard and berry-lined road into the forest and through a narrow dirt path. The hike was one of my favorite things to do in Ischia.
This path is lined with dirt that rises above your head, making you feel like you're in a maze. It's recommended to grab one of the free walking sticks near the beginning of the trail, as toward the top the ground becomes slippery white rock and stone steps surrounded by lush green flora.
Multiple viewpoints let you take a break and gaze out over the Gulf of Naples and islands like Capri and Posida. Even better, at the top there's a restaurant serving delicious Italian food called La Grotta de Fiore, with specialties like homemade ham, Epomeo-grown tomatoes, and local wines (though as always I opted for my favorite refresher, the Aperol Spritz).
Afternoon
Mission Aborted
After the hike down our goal was to rent Vespas; however, as we'd never ridden before the shop we called advised us that Ischia's narrow roads and hair pin-turns weren't the safest for newbies.
We also tried to rent "mini moke" cars (small 4-person open air vehicles), but every shop seemed to be sold out of them (so if this sounds fun to you rent in advance).
Cava Grado
We decided instead to have a beach day. From the place we'd been dropped off (Fontana) we caught the CD bus again to Cava Grado, a small beach with a natural grotto and crystal waters for snorkeling. Keep your eyes peeled; it's hidden underneath the street near the bus stop, so if you're not looking for it you may miss it.
Sant'Angelo Fishing Village
After descending a set of stairs off the road and spending some time here, we headed back up and continued on to the historic fishing village-turned-tourist resort of Sant'Angelo. Don't let the phrase "tourist resort" turn you off. No cars are allowed in the village meaning it's very peaceful. Additionally, the pastel-hued buildings embedded into the rocky hillside are absolutely gorgeous.
There are tons of shops and attractions worth stopping in. Three favorites:
Parco Termale Tropical. This thermal pool complex and spa speaks to Ischia's mythological history, offering pools ranging from 18-40 degrees Celsius, saunas, jacuzzis, a fruit bar, a restaurant and bar, and treatments starting at 10 Euros (for inhalation therapies; massages start at 25 Euros). If you'd just like to enjoy the facilities it's 10 Euros. Bonus: Next door is a stand serving up fresh-squeezed orange juice with a twist of lemon juice, made right in front of you, for 2.50 Euros. So refreshing! Plus the decor is penis-themed for a quirky cultural twist.
Il Pirata. The woman who owns this dress and tank shop was so sweet, and was really honest when helping me find items that looked cute. For 20 Euros I got two dresses in a buy-one get-one sale.
NaturIschia. We were beckoned in by the barrel topped with free tastings of local limoncello and amarancio. Again, the lady who owned the shop was so friendly she went beyond that to allow us to try locally-made liqueurs laced with melon and pistachio, as well as delicious chocolates filled with limoncello. Yum!
Chiaia di Rose Beach
There are also a number of beach options beyond the small grotto mentioned above.
We strolled through Sant'Angelo, hopping into the shops, until we eventually reached the large Chiaia di Rose Beach, which is actually a long and slender strip of sand connecting the village's two sections.
The beach is filled with umbrellas, beach chairs and floats. Spotting two open chaises we laid out, and were promptly told "these aren't free, but it's okay, you can stay." When we offered to pay the guy smiled and declined the money. Pretty sweet. Even if you don't get so lucky there is a section of the beach that is free — perfect for those looking for budget-friendly things to do in Ischia.
The water of the Tyrrhenian Sea was cool and refreshing, and there were paddleboats and floats for rent. There was even a black VIP-looking float for 40 Euros.
Along with swimming, we loved climbing up the giant rock outcrop right off the beach. It's easy — we did it barefoot — and gives a beautiful view out toward Sant' Angelo village and beach.
Le Fumarole Beach
While we didn't end up having time, there's also another beach nearby called Le Fumarole Beach that features steam jets shooting out from sand so hot that in some areas you can cook on it. Talk about a beach barbecue!
The sand is also said to be curative, with the ability to assuage ailments like rheumatism or sciatica.
Evening
Castle Exploration
After our beach day we headed back toward our Airbnb, taking the bus to Ischia Ponte near the medieval Aragonese Castle, which again sits on its own rocky islet. The Castle is 10 Euros to enter and open until 10pm. From Sant'Angelo you can take the CD or CS lines to Ischia Porto and switch to Line 7 to go to Ischia Ponte, near the Castle (which is also just a 30-minute walk from Ornella's Airbnb).
Note: Make sure to buy your tickets in advance (before visiting Sant'Angelo) or have change on you. There's a machine selling tickets at Cava Grado bus stop (it's a huge bus stop at the edge of the Sant'Angelo shopping area, you can't miss it); however, you'll want to have coins to use it.
Inside Aragonese Castle you'll learn about its history as a defense outpost for the island. You can take an elevator up or, my recommendation, walk up the dramatic vaulted staircase. Now, if you've ever visited a castle and toured the rooms, this is more like a castle complex, with 24 points of interest from a small torture museum to a monastery with stunning views to gorgeous jasmine-filled gardens and olive groves.
If interested in a guided tour, email [email protected]
Tip: Even if you don't want to spend the 10 Euros to go inside, taking it in up close from the outside is worth the trip.
Nearby are numerous delicious restaurants, like Al Pontile and Ristorante Bar da Coco, offering beautiful waterfront and castle views.
Another delicious option closer to the Airbnb that offers aerial castle vistas is Barracuda, a delicious Italian restaurant with fantastic fresh seafood and a prime view of Aragonese. I also loved that our waiter immediately greeted us with free glasses of Prosecco. Cheers to that!
What are your favorite things to do in Ischia?
Logistics:

Getting There: The ferry takes about 90 minutes to get from Naples to Ischia. We booked our tickets through Ok Ferry for 12.20 Euros each round-trip. The earlier you book, the cheaper.

Getting Around: Ischia has a reliable bus system. Cost is 1.50 Euro for one ride, 1.80 Euro for one hour (great if you'll be transferring buses) or 9 Euros per day.

You buy the tickets at a tobacco shop (tabacchi), not on the bus.
Once you board the bus validate your ticket by sticking it into the yellow box. If you're found not validating your ticket you can be fined quite a pretty penny.

Currency: Euro

Dining Tips:

Understand that in many places there will be an extra charge for sitting at a table.
Note that you do not need to tip — service is typically included — though you can leave 5-10% if you wish
While in the US if a restaurant serves a snack that was not asked for, like bread or peanuts, it's safe to assume it's complimentary. In Italy though we were often charged a few Euros for these. If you don't want them, say so.

Language: While many locals speak English, it's helpful to know some Italian. At least know a few common phrases.

SIM Cards: While you can buy your SIM card from the airport, I recommend purchasing it within the city of your first stay. This way, if there's a problem you can go back to the place you actually purchased it to get help.

I sadly purchased mine from the Milan Airport, and wasn't told you're supposed to not use your phone until you receive a certain text message (which is in Italian). I used up my 40-Euro package — which should have lasted my entire 10-day trip — in less than an hour due to this error and had to re-purchase one, because the Vodafone representative in Venice (the first city visited on the Italy trip after landing in Milan) told me the airport wasn't affiliated with his shop.
Enjoyed this post on Ischia travel? Pin it for later!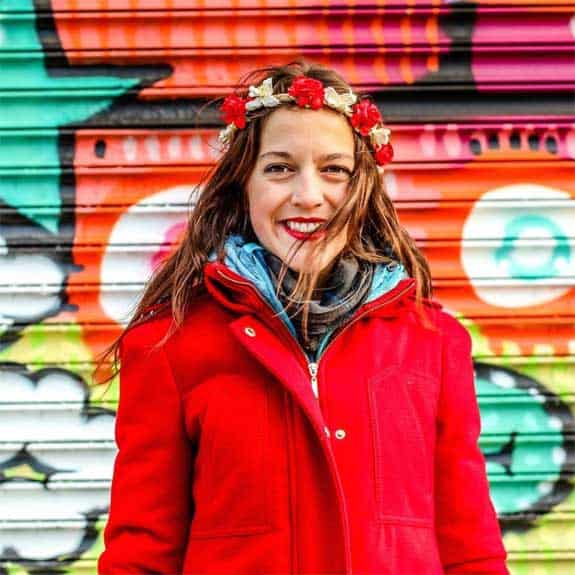 Hi, I'm Jessie on a journey!
I'm a conscious solo traveler on a mission to take you beyond the guidebook to inspire you to live your best life through travel. Come join me!
Want to live your best life through travel?
Subscribe for FREE access to my library of fun blogging worksheets and learn how to get paid to travel more!