How To Have An Epic Road Trip Through Italy
For the past two summers my boyfriend and I have chosen countries in Europe to road trip through, taking our time and just enjoying the scenery. Last year we explored the South of France, while this year we chose Italy, beginning in Venice and ending in the Amalfi Coast.
Our Italy Road Trip Route
Okay, so in reality we actually flew round-trip NYC -> Milan as flights to and from Milan seemed to be much more affordable than other cities. We didn't really spend any time there, though, so for the intention of this post I won't really be mentioning it.
As soon as we arrived into Milan we hopped on a pre-booked Trenitalia train to Venice. After Venice we pre-booked an Italo train to Florence where we picked up a car and began our Italy road trip.
Road tripping through #Italy? Don't miss these 10 things! #roadtrip #tuscany #europe
Click To Tweet
Booking Ferrys & Trains In Italy
For train and ferry travel we booked in advance, using GoEuro's easy interface and reliable booking system. We also found GoEuro often had cheaper prices than booking directly with TrenItalia and Italo.
Note: You'll want to book in advance! The earlier you book your train and ferry tickets, the cheaper it will be. For example, our train tickets from Milan to Venice were 60.80 Euros for two tickets (one-way) booked in advance. When we arrived at the train station early from the airport and asked if we could switch our ticket to an earlier train, they said we would have had to pay the difference in price: 160 Euros.
Insane!
We were glad we booked early.
#Traveltip : book your trains in advance via GoEuro....it will save you money! #budgettravel
Click To Tweet
Renting A Car In Italy
Ugh. So the truth is we booked our car through Hertz.
I hate Hertz. I've had so many problems with them over the years, and their customer service just is not good. Typically I'd book with Enterprise, but they didn't have a car rental office in the city in Florence (only the airport). We tried to book with EuropCar, but they didn't have automatic cars in the city (only the airport).
In short, if you don't mind renting from the airport — such as if you're flying into Florence anyway — book with Enterprise. In my experience they are the best and have great customer service.
If you're desperate for an automatic car in Florence and don't want to trek to the airport, Hertz has what you need.
Here is another option that I sadly didn't know existed before this trip:
Use a comparison site like Discover Car Hire.
You can save up to 70% on your rental just by comparing your options!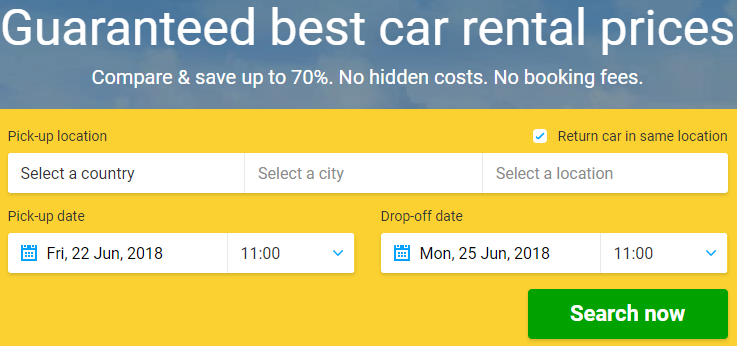 Best Hotels In Italy
We booked almost all of our accommodation through Airbnb. You can stay in everything from gorgeous countryside wineries to historic palaces-turned-city hotels.
Accomodation Links: We loved all our accommodations aside for Amalfi Coast, so I'm leaving that one out of the list.
Deal: Click here for $40 off your first Airbnb stay!
Check out my entire trip video above
Italy Road Trip Highlights
Wow! Where to begin. There were so many amazing experiences to be had on the trip, from the wine travel to the scenic adventures. Here are 12 highlights from our (mainly) road trip:
Venice
1. A Floating Apertivo Hour
While we did the whole gondola thing — hey, you gotta! — we also booked a Canal & Aperitivo Experience with Urban Adventures. Full disclosure: I work with Urban Adventures in NYC as one of their guides, so when coming to Venice I reached out to their Italy manager and they set Andy and I up with this awesome experience.
We took a private water taxi down the Grand Canal and beyond, seeing everything from the city's ancient palaces-turned-hotels to outer islands like Murano and Lido. Along the journey we learned fun facts about the city — like that Venice invented the Aperol Spritz — while sipping Prosecco, munching on tasty finger sandwiches and clinking glasses with new friends. While the gondola was fun, this felt like a much more local experience.
2. Explore The Art
For an inspiring afternoon, wander the sculpture gardens at Giardino Della Marinaressa (public park) — Carole Feuerman's sculptures were on view when we visited — before boarding a ~10-minute vaporetto (ferry taxi) to Murano.
Here you can drink an Aperol Spritz on the water before wandering the many Murano glass shops. Within the stores you'll see gorgeous glass sculptures, jewelry and housewares. Additionally, walking around the small island introduces you to giant al fresco glass works.
Burano is another island nearby — though a bit farther at about an hour away from Venice. Here the houses are in crazy bright colors, with the shops introducing you to artisanal lace products.
3. Lido Beach
While you can't swim in the Grand Canal — both because there are so many boats and because it's full of sewage — you can head less than 10 minutes by vaporetto to Lido Beach.
It's about a 15-minute walk from the dock to the shell-gowned shoreline, with tons of gelato shops offering a snack for the stroll. Once there, walk along the sand or jump in for a swim. It's seriously beautiful, not to mention their beach cafe serves tasty Aperol Spritz cocktails.
Can you tell what my favorite cocktail is?
By the way, here's how to explore Venice (responsibly) beyond the Grand Canal.
Florence
Sadly, the art of fresco in Florence is dying out. In fact, there are only three fresco artists left in the city, and you can take a workshop with one through Context Travel.
We had the pleasure of creating our own frescos with Dr. Alan Pascuzzi in his San Frediano studio. The neighborhood is known for its artisan studios, and introduced me to the city beyond the Duomo.
True fresco refers to applying natural pigments to freshly laid (wet) lime plaster. There are no binders — like oil — in the paints, just water, and when the hues hit the limestone a chemical reaction takes place that leads to a truly lasting piece of art.
The tough part is having to complete your painting (and tempering!) before the plaster dries. A truly creative race against time that leaves you with a deeper cultural appreciation and an authentic souvenir to take home!
This was one of a few great art experiences in Florence that we did!
5. Dinner In A Local Home
This was our second dinner through BonAppetour and as usual it was a pleasure. We opted for a traditional Tuscan dinner in the home of a local man named Andrea and his wife Giovanna, savoring a delectable spread.
On the menu: Tuscan tomato & bread salad (Panzanella), Tuscan onion soup (Carabaccia), spinach with baby squid in squid ink (Seppie al Nero con Spinaci) and cold chickpeas with tomato and sage (Ceci all'uccelletto) — all paired with wine of course. We ended with a chestnut tart called Castagnaccio that's typically eaten in mountain communities, paired with locally made dessert wine. Yum!
6. Wandering San Niccolo
We loved this Florence neighborhood! Walking around Florence we noticed a few recurring styles of street art. One was the work of Blub, who painted small square portraits of cultural icons like Salvadore Dali and the Mona Lisa as scuba divers.
There was also Clet, who added stick figures in interesting situations to typical street signs.
Both of their studios are in San Niccolo — along with other Florentine artists — and you can purchase a creative gift.
7. Sips & Sculptures At Belvedere Fort
Okay, so there are MANY attractions offering a view over Florence. Andy and I first visited Boboli and Borelli gardens…and were unimpressed. Maybe in other seasons there is a lot to see, but in late August there were not many flowers, especially after paying 10 Euros each to get in.
While wandering around the gardens, we stumbled upon Fort Belvedere next door, which was just 3 Euros each to get in. Not only were the views stupendous, but the historic fort houses an indoor art museum and outdoor sculpture garden. It's pretty interesting to look out over a massive 79-foot skeleton with a Duomo backdrop.
Bonus: the Aperol Spritz cocktails and pizza were delicious! While TripAdvisor said it would be expensive, we thought $55.50 USD for two meals, two cocktails and two coffees was very affordable, especially for what we got.
8. Drinks On Ponte Santa Trinita (Bridge)
Of course, the Ponte Vecchio is a must, though expect tons of tourists eating gelato and perusing the impressive amount of jewelry shops. Once the sun goes down, grab a bottle of wine — might I suggest some Chianti — and head to the Santa Trinita Bridge.
It's beautiful to see the reflections of buildings at night on the Arno River, and there are many people on the bridge also sharing some wine and taking in the peace.
Montepulciano (Tuscany)
If you're active, I highly recommend a scenic bike ride with Cortona Wine Tours through the UNESCO World Heritage-listed Val d' Orcia, The valley is known for inspiring Renaissance painters and being landscaped in a way that led to locals living in harmony with nature. You'll cycle through cypress-lined paths, olive groves, medieval towns and endless rows of sangiovese, the predominant grape in the famed Vino Nobile di Montepulciano wine.
While challenging — it's those steep rolling hills that make Tuscany so beautiful — it's worth it for the views.
Bonus: the 21-kilometer ride ends with a delicious farm-to-fork Podere Il Casale. Clinking glasses of homemade wine while sharing plates of house-made pici (a local chickpea-flour pasta) and suckling pig laced with goat's milk and ginger, the tastes and company were enhanced by a gorgeous aerial view of the valley.
If you'd prefer not to exert so much energy, Cortona Wine Tours also offers private wine tours by car, as well as Vespa tours, truffle hunting excursions and custom experiences.
Perugia (Umbria)
While we stayed at some amazing accommodations, our favorite was Agriturismo La Fonte, a gorgeous farmstay accommodation in Perugia. I was shocked to learn that not many Americans visit Umbria, skipping over it for the nearby Tuscany.
Which is a shame, because Umbria — known as the "green heart of Italy" — is so breathtakingly beautiful. As soon as we drove onto the property and saw our apartment backed by endless rows of olive bushes and chestnut trees, we were in heaven.
Inside, a table showcased a spread of homemade and farm-sourced goodies: fresh eggs, lemon cake, tomatoes, olive oil, preserved eggplant and zucchini, jam, bread and a bottle of red wine — which quickly got poured into our glasses as we ducked out onto the patio to take in hillside views.
On property, we hiked, lounged by a pond, napped in hammocks, played with dogs and cats, swam in the pool, played ping pong and foosball, and just enjoyed the feeling of complete peace and quiet.
This is a must-stay in Italy!
Amalfi Coast
11. Trek The "Path Of The Gods"
This 5-mile trek— also known as Il Sentiero degli Dei — sits beautifully embedded into the slopes of Monte Peruso. It begins in Bomerano and ends in Positano, taking you along the hillside towns and ancient ruins. According to The New York Times, the Path was "carved out by Greek settlers in the eighth century B.C. and was later used by those living in secluded monasteries."
Not only are you traversing history, but the views over the sparkling Gulf of Salerno and of Naples as you wind your way up and down the terraced hillside are absolutely jaw-dropping. What's really neat is you have a view of chic Positano and its pastel-colored houses most of the time, so your eye is literally on the prize as you hike. This was one of the most stunning, interesting hikes I've ever done.
Bonus: it's free!
Naples
Just a 90-minute scenic ferry ride from Naples port sits Ischia, an island settled by the Greeks in 770 BC that's shrouded in mythology. In fact, it's said that after an altercation with Zeus, a monster named Typheus was banished to live under the island, which is why it's filled with volcanoes and thermal pools.
For the perfect itinerary stay in Ornella's Airbnb in ​​the island's Campagnano neighborhood, a true slice of heaven on earth. The accommodation has both a lush garden terrace and 360-degree rooftop, both offering gorgeous views of the medieval Aragonese Castle, the Gulf of Naples, and the adjacent islands of Procida and Vivara.
On the island also don't miss a hike to the top of Mount Epomeo, the highest point on Ischia at 2,589 feet. Follow the adventure with a wander through Sant'Angelo, a pastel-hued village full of artisan and clothing shops.
One favorite: NaturIschia, where Andy and I sampled free tastings of local limoncello, locally-made liqueurs laced with melon and pistachio, and delicious chocolates filled with limoncello. From there, walk down to the sandy Chiaia di Rose Beach, secluded Cava Grado Beach or the steamy Le Fumarole Beach.
Deal: Click here for $40 off your first Airbnb stay!
Logistics:

Stay:Get $40 off your first Airbnb with this link!

Route: Milan -> Venice -> Florence -> Montepulciano (Tuscany) -> Perugia (Umbria) -> Amalfi Coast -> Ischia -> Milan. Note: We spent very little time in Milan, but flew round-trip from there as flights to and from NYC were signficiantly cheaper than other airports.

Car Rental: We used train travel until we reached Florence.

Sigh. I'll admit we rented from Hertz, my least favorite car rental company in the world, but they were the only ones we found who didn't require us to go to the Florence airport to pickup an automatic car (instead we simply walked 10 minutes from our Airbnb to pickup).

Of course, when we got our final receipt we'd been charged ~$75 USD for fuel — even though we'd filled up the tank before returning — and I had to spend time getting the charge removed. Can you tell I looooove Hertz? Nope!

If you don't mind going to the airport, I highly recommend Enterprise instead!

Getting Around: We loved our Italy road trip! The only difficult area to drive on our itinerary was the Amalfi Coast (definitely scary, though not impossible if you're comfortable with driving). Also big cities like Rome and Naples will be challenging, too (we avoided those).

Additionally, train travel in Italy is phenomenal. For the few trains we did take we loved GoEuro's prices and interface. Actually, we found GoEuro to be cheaper than booking directly with Italo and Trenitalia, the train companies we used.

Safety Essentials: I never leave home without:

Currency: Euro

Dining Tips:

Understand that in many places there will be an extra charge for sitting at a table.
Note that you do not need to tip — service is typically included — though you can leave 5-10% if you wish.
While in the US if a restaurant serves a snack that was not asked for, like bread or peanuts, it's safe to assume it's complimentary. In Italy though we were often charged a few Euros for these. If you don't want them, say so.

Language: While many locals speak English, it's helpful to know some Italian. At least know a few common words and phrases.

Accommodation: I found Airbnb to be really affordable with tons of great options — many with views, gardens and patios. Get $40 off your first Airbnb with this link.

SIM Cards: While you can buy your SIM card from the airport, I recommend purchasing it within the city of your first stay. This way, if there's a problem you can go back to the place you actually purchased it to get help.

I sadly purchased mine from the Milan Airport, and wasn't told you're supposed to *not* use your phone until you receive a certain text message (which is in Italian). I used up my entire 40-Euro package — which should have lasted my entire 10-day trip — in less than an hour due to this error and had to re-purchase one, because the Vodafone representative in Venice (the first city visited on the Italy trip after landing in Milan) told me the airport wasn't affiliated with his shop.
Check out my entire trip video above
Hi, I'm Jessie on a journey!
I take you beyond the guidebook to inspire you to live your best life through travel. Come join me!
Want to live your best life through travel?
Subscribe for FREE access to my library of fun blogging worksheets and learn how to get paid to travel more!
THE NEW STRATEGY FOR PROFITABLE TRAVEL BLOGGING
Short on time but eager to learn how to REALLY grow your blogging business? This FREE 5-day email course was made for you.