3 Unique Art Experiences In Florence (Beyond The Uffizi)
Yes, the popular Uffizi Gallery and its Gothic paintings, Roman sculptures and Renaissance art is a must-see when visiting Florence.
But you knew that.
My goal:
To take you beyond your guidebook and what you already know and immerse yourself in Florence's rich art culture.
When looking for art in Florence, don't miss the following experiences — all major Italy travel highlights!
Love Italy? Don't miss my Italy trip video at the bottom of this post. Or click here to view it on YouTube.
1. Take A Class With One Of Florence's Few Fresco Artists
When in Florence I was shocked to learn that despite the city's vibrant fresco heritage, there are only a handful of fresco artists left today, according to Dr. Alan Pascuzzi. I was fortunate enough to take a workshop with Dr. Pascuzzi through Context Travel, a tour company focused on taking travelers beneath a destination's surface.
I'd always thought fresco paintings referred to large murals in churches; however, buon fresco (true fresco) refers to the technique of using natural pigment on freshly-laid wet lime plaster. There is no binding agent in the paints as there is with oil painting; simply water. Due to the nature of limestone, the pigments bind to the surface for a truly lasting masterpiece.
The trick: you've got to move quickly, as the work must be complete before the plaster dries.
In the workshop I painted Mrs. Lenzi, a woman the Italian Renaissance painter Masaccio painted in a donor portrait (meaning her and her husband were most likely the ones who commissioned the fresco). The class began with tracing and poking holes into a "cartoon" — not as in Bugs Bunny, but from the Italian word "carta," meaning paper.
The poked tracing paper was then placed over the wet plaster and "pounced" with red ochre pigment powder puffs. When the paper was taken off, I was left with a powder-outlined sketch upon which to begin painting.
It was truly a creative race against the clock.
Tip: You get to take home your own fresco, and there really isn't a better souvenir than art in Florence. While the fresco is being tempered, head over to the Hemingway Cafe for a "second breakfast" (Italians start the day with coffee then have a pastry a few hours later). It's a literary-themed cafe with delicious cakes and an impressive hot chocolate selection.
Price: $95 per person. Click here to book.
2. Savor A Spritz With An Artsy View At Belvedere Fort
You'll need to have some energy to get to the top of a giant hill to access the ancient Belvedere Fort, constructed between 1590 and 1595. Today it's a modern art museum with indoor exhibit rooms as well as large-scale outdoor sculptures that look funky with the skyline background.
While the Aperol Spritz originated in Venice, it's still popular in Florence. It's the perfect sip while taking in the views, giant sleeping skeletons and head massagers — at least that's what it looked like to me — sitting in front of the Duomo and Giotto's Campanile.
Tip: The fort is right next to the Boboli and Bardini Gardens (10 Euros per person to visit both). To be honest I was less than impressed with both, at least in the summer as there were barely any flowers to see. The fort, however, was cheaper and more interesting to visit.
Price: 3 Euros. The fort is open daily from 10:30am to 6:30pm, aside for Mondays when it's closed.
3. Wander The San Niccolo Neighborhood
Yes, you'll of course want to wander the San Giovanni neighborhood to see famed sites like the Duomo and Piazza della Repbulica. However, when you want to stroll quiet streets packed with creativity, San Niccolo doesn't disappoint. Here you'll find funky artist shops, many run by legendary locals.
Stop by notable street artist Clet's Studio to buy stickers and signs of his recognizable stick figure in street signs. I noticed these signs all over Florence, and it became clear they were actually art once in the shop.
There's also an eye-catching rotating wheel with moving stick figures falling into provocative sex positions as it spins. Rawr.
Down the street at Dhai-studio you can see iconic figures like Dali and the Mona Lisa in scuba gear. This is the work of Blub, and you'll see his aquatic paintings — which aim "to make famous art more accessible to the wider public" — on walls around the city.
The studio also showcases a number of other local artists, like Carla Bruttini.
Tip: Another option: the San Frediano neighborhood. This is actually the neighborhood the fresco workshop is in, and it's known for its plethora of artisan studios and shops.
Price: Varies; though the artwork we saw in both studios was very affordable!
Bonus Experience
If you consider food art — which I do — I also recommend dining in a local home through BonAppetour. I did a traditional Tuscan dinner in the home of a local man named Andrea and his wife Giovanna, going beyond pizza and pasta to savor Tuscan tomato & bread salad (Panzanella), Tuscan onion soup (Carabaccia), spinach with baby squid in squid ink (Seppie al Nero con Spinaci) and cold chickpeas with tomato and sage (Ceci all'uccelletto) — all paired with wine of course. We end with a chestnut tart called Castagnaccio that's typically eaten in mountain communities, paired with locally made dessert wine.
Equally as great as the food was the conversation, as I learned about local Tuscan life. Our group even saw photos of Andrea and Giovanna volunteering to clean graffiti off palaces and dancing tango!
Italy Trip Video
Want to see more Italy travel?
The video above takes you along our entire Italy road trip journey!
Logistics:

Getting There: Santa Maria Novella is the main train station of Florence (locally called "Firenze").

Trains: I used Omio to book all of my non-driving transportation and found the site not only easy to navigate and in English, but also often cheaper than actually booking through TrenItalia or Italo (the train lines I used during the Italy trip).

Note: Make sure to book early if not using a Eurail pass! You'll save money the earlier you book.

Getting Around: On foot! Florence is very walkable. They also have taxi service, though note they cannot be flagged down. Instead, you must go to a taxi station or call them. Here is full information on this.

Currency: Euro

Dining Tips:

Understand that in many places there will be an extra charge for sitting at a table.
Note that you do not need to tip — service is typically included — though you can leave 5-10% if you wish.
While in the US if a restaurant serves a snack that was not asked for, like bread or peanuts, it's safe to assume it's complimentary. In Italy though we were often charged a few Euros for these. If you don't want them, say so.

Language: While many locals speak English, it's helpful to know some Italian. At least know a few common words and phrases.

Accommodation: I found Airbnb to be really affordable with tons of great options — many with views, gardens and patios. Get $40 off your first Airbnb with this link.

SIM Cards: While you can buy your SIM card from the airport, I recommend purchasing it within the city of your first stay. This way, if there's a problem you can go back to the place you actually purchased it to get help.

I sadly purchased mine from the Milan Airport, and wasn't told you're supposed to *not* use your phone until you receive a certain text message (which is in Italian). I used up my entire 40-Euro package — which should have lasted my entire 10-day trip — in less than an hour due to this error and had to re-purchase one, because the Vodafone representative in Venice (the first city visited on the Italy trip after landing in Milan) told me the airport wasn't affiliated with his shop.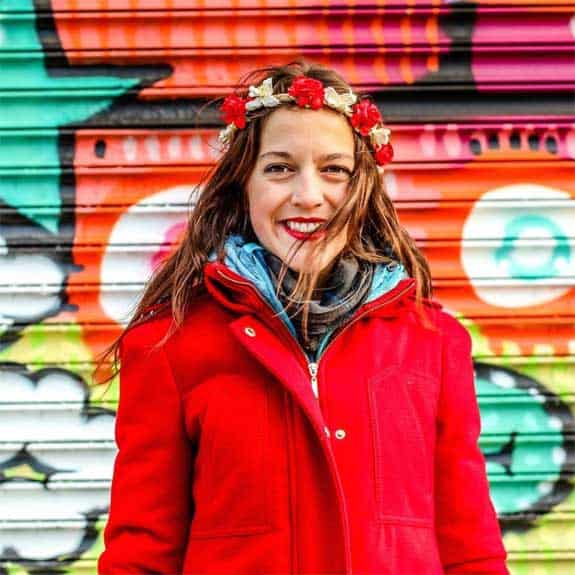 Hi, I'm Jessie on a journey!
I'm a conscious solo traveler on a mission to take you beyond the guidebook to inspire you to live your best life through travel. Come join me!
Want to live your best life through travel?
Subscribe for FREE access to my library of fun blogging worksheets and learn how to get paid to travel more!