How To Bike Tuscany & See The Region's Best Views
"You can do it, you can do it…"
This is my mantra as I peddle up the steep slopes of the Val d' Orcia, a breathtaking valley within Tuscany that made the UNESCO World Heritage list in 2004.
According to UNESCO, this landscape was celebrated by Renaissance painters, who crafted beautiful depictions of locals living in harmony with nature in the Val d'Orcia. Essentially, the iconic works exemplify what today is the model of well-managed Renaissance agricultural landscape that was also insanely beautiful.
And hilly.
Tuscany didn't become one of the world's best wine and olive oil regions by sitting on flat ground.
This means that with each climb up I'm rewarded for my efforts with some of the most stunning views I've ever seen on my travels.
I'd definitely count this as one of the best bike rides in the world, particularly for the beauty.
When traveling I almost always book a cycling trip, and today I'm on a tour to bike Tuscany with Cortona Wine Tours, who offer a mix of customized, small-group wine and scenic cycling excursions. The company's founder, Alberto, explains the business got started after he studied to become a professional sommelier in 2007.
"Wine has been my passion since I was a child, and I wanted to turn this passion into a job," he explains. "In 2011 I decided to create a website and make this dream a reality. The name comes from the fact I was born in Cortona, and it's pretty well-known around the world."
Alberto comes along for the ride, as does local cycling expert Andrea of Vacanze Toscane, who is the trip guide.
While Alberto is a marathon and triathlon runner, Andrea is a true cycling expert who knows every inch of the Valley. Basically, I'm in good hands.
Love Italy? Don't miss my Italy trip video at the bottom of this post. Or click here to view it on YouTube.
The ride starts in Montepulciano, a medieval hill town in southern Tuscany's Siena province. After being picked up at my absolutely gorgeous agritourismo Airbnb, Alberto and Andrea take myself and the bikes to San Biagio. The grand church, consecrated in 1529, stretches up above the hillside and is visible from miles away.
Immediately we're cycling on dusty gravel roads, endless rows of sangiovese, canaiolo nero and cabernet to our left.
Sangiovese — locally known as "prugnolo gentile" — is the predominant grape in Montepulciano's famed Vino Nobile di Montepulciano, a red wine holding the regarded Denomination of Controlled and Guaranteed Origin status.
It's a drink that's been filling my glass nonstop since being in Montepulciano, its intoxicating notes of cherry and dark berries laced with spice being a trip highlight.
What's amazing is that many of the vineyards that look "large" to me are actually "small," used solely for personal use.
I laugh to myself as I think of my small one-bedroom apartment in NYC, and what would happen if I ever tried to grow a "small" personal vineyard. Maybe on the fire escape?
Meeting My Wine In Tuscany
Vineyards aren't the only delicious highlight on the ride. We whizz past olive groves, tobacco plots and even muddy fields for growing wheat. While sometimes we're shaded by trees for a forest ambiance, other times flat plains meet with rolling green hills dotted with ancient stone farmhouses and magnificent churches.
"What's that?" I ask Alberto, pointing to a mountain in the distance.
"Monte Amiata. It's a dormant volcano."
Its peak reaches 1,738 meters, and is in view pretty much the entire ride, dominating the landscape. Actually, this volcano — along with others nearby — is one of the reasons Tuscany is able to grow such heavenly wine grapes, olives, tomatoes, sunflowers and other delicious natural products. Volcanoes lead to nutrient-rich soil, with volcanic ash offering minerals to plants that help them grow.
Alberto also explains how the area we're cycling used be marshland, but it was drained. While not visibile anymore, this past has helped lead to fertile soils today.
Suddenly, the wine in my glass and olive oil on my bread is no longer a tasty though abstract concept; I've come face-to-face with its production, experiencing it with every sense.
An Up — And Down — Hill Journey
While the uphill climbs are physically challenging — especially when peddling up gravel paths — the downhill are even tougher. On the first steep descent, the sound of skidding rock makes me nervous and I hop off the bike to walk it, though with each section I get a little braver. This trip to bike Tuscany is one that mixes gorgeous scenery with personal growth; little by little I grow more confident in my mountain biking capabilities.
I also come to physically understand those gorgeous rolling hills — though if you ever need encouragement to continue on a challenging journey, you can't beat the gorgeous Val d' Orcia.
Every time I feel out of breath, I simply look toward the contrasting lines, rolling hills running into ruler-straight vineyards alongside bales of hay lining golden trails, towering cypress trees reaching toward bright billowing clouds for energy.
For a few miles, I bike Tuscany in awe as I take in views of Montepulciano, Pienza, Monticchiello and Montefollonico — four medieval hill communities showcasing their fairytale architecture over the valley.
To visit one is a dream; to see all them at once while riding through a UNESCO-listed landscape is a pinch-me experience. It's like watching those drone videos that pan out to show you how small you really are in this enormous world; however, instead of watching it on a screen I'm really there.
Italian Cypress Paths
While much of the rolling landscape features low-laying flora, mounds of clay and dry brush, cypress trees also reach up from the ground. At other times, we're immersed in woodland.
At times, our bikes ride up paths completely lined with them, making the road feel like a grand entryway into a wealthy local's mansion. But no; these trees provide shade and beauty for all to enjoy.
Visiting UNESCO-Listed Pienza
About 8.5 miles into the ride we make a pit stop in Pienza, one of the many charming small towns in Italy.
This hilltop community is known as the "ideal city" as it embodies "the first application of the Renaissance Humanist concept of urban design," according to UNESCO.
Yes, that's right, I'm introduced to yet another UNESCO World Heritage Site. It's beautiful construction dates back to 1459, and the architecture sits largely unchanged to take today's visitors back in time.
It's also known for its cheese. In fact, as soon as we find ourselves cycling between the weathered stone buildings gowned in hanging flower beds, aromas of Pecorino fill my nostrils. A few of the gelato shops and cafes even boast Pecorino gelato!
From here one can take in a view of the Northern Val d' Orcia, especially Monte Amiata.
Within the city there's also the magnificent Duomo — different from the one in Florence — showcasing one of the earliest examples of Renaissance architecture (it hasn't been altered since 1462!).
The Final Climb
There's still about 4.5 miles to go. Luckily, much of the ride is flat and scenic; the surrounding wine grapes reminding me of what meets me after the final ascent: lunch.
But not just any lunch; this meal is served at the farm-to-fork-focused Podere Il Casale.
You know how in North America we get excited when ingredients are sourced within 100 miles?
Try 0 miles, as in everything is grown in their on-site garden, meat is sourced from their own or very local farms, and all meals are made on site. They even make their own wine, olive oil, cheese and honey! We order the homemade pici pasta with ragu and Pecorino as well as a slow-cooked suckling pig laced with goat's milk and ginger.
A bottle of homemade wine is brought to the table; a light red to compliment both the food and hot weather. Holding our glasses high, we toast to the gorgeous view of Monte Amiata and Radicofani, a hilltop commune known for its ancient castle in front of us; and of course what we've accomplished today.
Yes, the ride was tough, but oh so rewarding, especially when the experience culminates with wine, delicious food and great company.
20 Best Weekend Trips from Rome
Traveling Italy Solo: The Ultimate Guide
Logistics:

Stay: Get $40 off your first Airbnb with this link!

Pricing: Pricing depends on how many people book the experience to bike Tuscany; however, a rough estimate for the experience for two people is 160 Euros ($188 USD) per person. Cortona Wine Tours also does wine tours (two wineries plus lunch starts at 160 Euros/$188 USD per person). There are also Vespa tours, truffle hunting tours and custom tours available.

Physical Fitness: The particular route I did is considered moderate-hard. I found it very challenging, but doable as someone who is active though not a gym-goer. There are easier routes available, as well as harder routes for truly expert cyclists who want to bike Tuscany.

Getting There: When visiting Tuscany it's recommended to have a car. We rented a car in Florence and drove to Tuscany, a very enjoyable drive. I'll admit we rented from Hertz, my least favorite car rental company in the world, but they were the only ones we found who didn't require us to go to the Florence airport to pick up an automatic car (instead we simply walked 10 minutes from our Airbnb to pickup). Of course, when we got our final receipt we'd been charged ~$75 USD for fuel — even though we'd filled up the tank before returning — and I had to spend time getting the charge removed. Can you tell I love Hertz? If you don't mind going to the airport, I highly recommend Enterprise instead!

Getting Around: Tuscany is best explored by car. There are also taxis available (you'll call them for pickup vs hailing them).

Currency: Euro

Dining Tips:

Understand that in many places there will be an extra charge for sitting at a table.
Note that you do not need to tip — service is typically included — though you can leave 5-10% if you wish.
While in the US if a restaurant serves a snack that was not asked for, like bread or peanuts, it's safe to assume it's complimentary. In Italy though we were often charged a few Euros for these. If you don't want them, say so.

Language: While many locals speak English, it's helpful to know some Italian. At least know a few common words and phrases.

Accommodation: I found Airbnb to be really affordable with tons of great options — many with views, gardens and patios. Get $40 off your first Airbnb with this link.

SIM Cards: While you can buy your SIM card from the airport, I recommend purchasing it within the city of your first stay. This way, if there's a problem you can go back to the place you actually purchased it to get help.

I sadly purchased mine from the Milan Airport, and wasn't told you're supposed to *not* use your phone until you receive a certain text message (which is in Italian). I used up my entire 40-Euro package — which should have lasted my entire 10-day trip — in less than an hour due to this error and had to re-purchase one, because the Vodafone representative in Venice (the first city visited on the Italy trip after landing in Milan) told me the airport wasn't affiliated with his shop.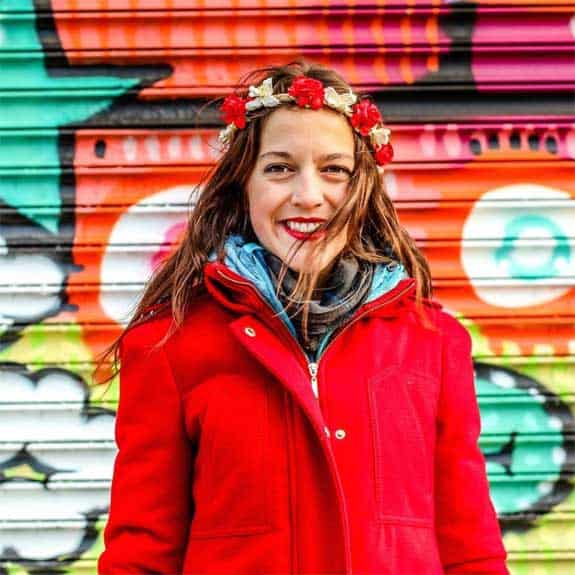 Hi, I'm Jessie on a journey!
I'm a conscious solo traveler on a mission to take you beyond the guidebook to inspire you to live your best life through travel. Come join me!
Want to live your best life through travel?
Subscribe for FREE access to my library of fun blogging worksheets and learn how to get paid to travel more!