Solo Travel To Mexico City: Your Ultimate Guide (With Map!)
By Trisha Velarmino. This guide to traveling alone in Mexico City contains affiliate links to trusted partners!
Considering solo travel to Mexico City, but need help with the planning?
Then you're in the right place!
Mexico City is one of the world's largest and most vibrant metropolises. It offers an extraordinary fusion of ancient history and modern life, housing numerous UNESCO World Heritage sites, such as the historic center and Xochimilco, alongside contemporary architecture and cutting-edge restaurants.
Its rich culture is reflected in countless museums, vibrant street art, traditional markets, and festivals, which vividly showcase the country's artistic heritage and culinary diversity.
Exploring Mexico City offers an immersive experience of warm hospitality, a diverse food scene, timeless traditions, and captivating history, providing an enriching travel destination for any traveler.
As someone who lives in Mexico and has lived in Mexico City, I can provide insights into traveling alone as a woman in this Latin American capital that has a notorious safety reputation.
Along with travel tips, this Mexico City solo travel guide will give you a general feel of what's it like to travel here alone from a foreign woman who has lived here.
Mexico City Solo Travel Itinerary (Quick List)
If you're short on time, here are a few top picks and tips for solo travel to Mexico City. You can find even more in the full itinerary below!

Best Neighborhoods To Stay:
–Roma hotels
–Condesa hotels – including excellent hostels like Casa Pancha & Roomies Hostel Condesa
–Polanco hotels
–Click here for a full list of Mexico City hotels & rentals

Top-Rated Tours:
–Xochimilco, Coyoacán, and Frida Kahlo Museum Tour
–Hot Air Balloon Flight over Teotihuacan
–Chapultepec Castle & Anthropology Museum Tour
–Click here for a full list Mexico City tours

Culinary Experiences:
–Private Food Tour of Mexico City
–EatWith (eat in a local home)
–Click here for a full list of Mexico City food experiences

Mexico City Safety Tips:
While Mexico City is safe for solo travel, it's still smart to pack travel safety essentials. One top pick is the She's Birdie Personal Safety Alarm, which is TSA-approved and can help scare away potential attackers. Other recommendations include Clever Travel Companion Pickpocket-Proof Garments and Speakeasy Travel Supply Hidden Pocket Scarves.
Resources For Solo Travel In Mexico City [Free Course]
But first, before we get into our Mexico City solo female travel guide, I invite you to grab a seat in Jessie's free Savvy Solo Traveler E-Course.
The 6-day course is designed to help you feel confident about booking your first solo trip and exploring the world alone.
Lessons include:
Common solo travel fears and how to overcome them
How to choose your perfect solo trip
How to tell loved ones you're hitting the road solo
Mentally preparing for your solo journey without losing your mind
Essential steps for staying safe on a solo trip
How to take amazing solo selfies
Once you've grabbed your seat, read on to learn about solo female travel in Mexico City.
Solo Travel In Mexico City: Is It Worth It?
Mexico City may not be your first destination in mind when it comes to solo female travel so let's kick this guide off by answering the question, "is it even worth it?"
Mexico City offers an engaging blend of diverse cultures, fascinating history, and unique attractions catering to solo travelers.
It's one of the top places to travel solo in Mexico – especially as it's home to some of the world's best museums, such as the Museum of Anthropology and the Frida Kahlo Museum, showcasing a rich cultural and artistic history.
The city's culinary scene is also world-renowned, from street food to Michelin-starred restaurants.
In 2021, Mexico City became a top spot for digital nomads due to the lower cost of living. From then, the digital nomad community of foreigners kept growing, which may be a reasonable justification for you to visit.
Meaning, you can easily make friends and meet people here as a solo traveler. It's a melting pot – everyone's here!
Where Is Mexico City?
Mexico City, the capital of Mexico, is located in the southeastern part of the country. It is situated in the Valley of Mexico, also called the Basin of Mexico, a large valley in the high plateaus in the center of Mexico, at an altitude of 2,240 meters or about 7,350 feet.
The city is surrounded by mountains and volcanoes, creating a uniquely beautiful landscape. Geographically, it's roughly in the middle of the country, making it a significant hub for transportation and travel in Mexico.
Best Time To Visit Mexico City
The best time to visit Mexico City for good weather is during the dry season, which runs from late November to April.
During these months, the city experiences less rainfall and has an average temperature of around 20-24°C (68-75°F), providing a pleasant climate for exploring the city's outdoor attractions.
Remember that Mexico City is at a high altitude, so the city can have warm days but cooler nights. Packing a jacket or sweater is advised even during these months.
Actually, make sure to always pack a jacket because the weather in Mexico City can be really unpredictable. It also can have occasional rain showers even in the dry season so expect different layers of weather when you visit.
I personally think that Mexico City is an all-year-round destination, but I love rain so it might be different for you. I also live in Cabo where we don't experience rain at all, so visiting Mexico City with a different climate is always a joy for me.
The rainy season in Mexico City typically begins in May and ends in October, with the heaviest rainfall usually occurring from June to August. Keep this in mind if you want to avoid a wet trip to Mexico City.
Getting To Mexico City
Mexico City, being the capital, has all the transportation types that make travel from here to other parts of the country easy. For instance, if you are going to other parts of Mexico, flights will always stop in Mexico City.
Mexico City International Airport is the main flying hub, not just for Mexico but for Latin America. Most flights from the USA, Canada, Europe, and even Japan are direct!
Once you arrive at the airport, it's relatively easy to get to your hotel; however, remember that Ubers are not allowed to operate in Mexico City or any other airports in Mexico.
You have to pay for a licensed taxi to get to your hotel, which can be double the price of an Uber. There is no airport train, unfortunately, and if you want to take the bus, you have to walk out of the airport (which is quite a walk).
The good news is you can take Uber to the airport to save on costs. They are allowed to drop off passengers but not pick them up.
Getting Around Mexico City As A Solo Traveler
Mexico City is a big city and as a tourist, you will most probably focus on the trendy neighborhoods of Condesa, Roma, and Polanco. These are the top three areas for tourists and are labeled as the safest areas.
Within these neighborhoods, you don't need public transportation. You can even walk from one neighborhood to another. The bulk of your things to do in Mexico City are here, so get ready to do a lot of walking!
If you need to go to another tourist attraction outside these areas – like the Frida Kahlo Museum in Coyoacan – Uber is cheap and easy to hail.
As unpredictable as the weather is, heavy traffic in Mexico City is also inevitable. Personally, when taking Uber, I always expect traffic jams no matter what time of the day.
Mexico City has a train but I don't take it because Uber is cheap and more convenient. The city's train is not well-maintained and in the last few years there have been many incidents of collisions and accidents.
Buses are also common and can be found everywhere, but you need to speak very good Spanish to be able to navigate or ask around if you are on the right bus.
I would only recommend buses if you are going to nearby cities like Queretaro or San Miguel de Allende. These are first-class buses and are really easy to hop into. Within the city, just take an Uber.
Mexico City Travel Map
To help give you a lay of the land, here is a map for visiting Mexico City solo. It includes most of the main points and activities mentioned below pre-plotted:
Click here for an interactive version of the map.
Is Mexico City Safe For Solo Female Travelers?
According to Travel Safe-Abroad, while Mexico City does experience crime, travelers who stay aware of their surroundings and practice common sense should be fine – especially as tourists are rarely targeted. That being said, pickpocketing is common, so make sure you know how to avoid pickpockets.
In my opinion, solo female travel safety is objective and personal. I do feel safe in Mexico City because first, I have been living in Mexico for the last five years; I know how to behave and move here like I am a Mexican.
Additionally, I also speak Spanish which makes locals not mistake me as a foreigner. Sure, they know I am a foreigner by looking at me but when I start speaking to them in their language, they treat me as a local.
As in many other destinations, solo female travel is often daunting if it's your first time, especially in a city with a bad press when it comes to safety.
I also believe that safety is not dependent on the places we travel to but on our behavior when we are traveling. In Mexico, I learned that the more you lay low and don't draw too much attention to yourself, the more that travel becomes safe.
What do I mean by "drawing attention?"
For many of our North American neighbors, Mexico is a place to party, and partying often means drugs. I always tell my friends that buying drugs is the only reason why you will get into trouble anywhere in Mexico (or in the world).
When it comes to how to stay safe in Mexico City, know this: you can enjoy the city without drugs. Do not get too drunk and do not walk alone after 10pm. Sure, you can drink and have fun as this is also a party city; but, make sure you can handle yourself and bring yourself home safely.
Where To Stay On A Solo Trip To Mexico City
Mexico City is a big city, so the best areas to stay in are within the areas where tourists frequent.
Roma
Known for its artistic and bohemian vibe, Roma is home to indie boutiques, art galleries, and a thriving culinary scene. Here, you can wander down tree-lined streets, explore vintage markets, or dine in trendy eateries.
Roma is walkable and has good public transportation options, including the metro and buses.
Click here for a full list of Roma hotels!
Polanco
Known as Mexico City's most upscale neighborhood, I recommend staying in Polanco if you're looking for high-end shopping, luxury hotels, and top-tier restaurants.
It's one of the city's safest neighborhoods. Public transit is readily available, though the area is also walkable.
Click here for a full list of Polanco hotels!
Condesa
Popular among young professionals, Condesa offers a mix of vibrant nightlife, lush parks, and Art Deco architecture. Enjoy the cafe culture, stroll in Parque Mexico, or get into its vibrant nightlife.
Condesa is pedestrian-friendly, and you can also use the EcoBici bike-sharing system.
Here you'll also find some of the best hostels in Mexico City, like Casa Pancha and Roomies Hostel Condesa. If you don't like the idea of sharing a room with strangers, keep in mind that many hostels also offer private rooms.
Click here for a full list of Condesa hotels!
Coyoacan
Steeped in history, Coyoacan is the place to explore the Frida Kahlo Museum, or visit the vibrant Coyoacan Market. It's one of the best places to stay for small-town charm, with cobbled streets and colonial architecture.
Safety can vary, so it's advised to take common precautions. The neighborhood is served by the light rail system and buses. Walking is also an enjoyable option here.
Click here for a full list of Coyoacan hotels!
Hotels & Rentals In Mexico City
If you want to research local Mexico City hotels as well as self-contained stays, this map can help you compare your options. It's set to show hotels and rentals in the Roma neighborhood, but you can easily change this based on where you're staying:
Top Things To Do Alone In Mexico City
As a large city, you will never run out of things to do in Mexico City. To help you with planning your solo itinerary, here are the best things you shouldn't miss, especially if it's your first time.
1. Frida Kahlo Museum
Located in the vibrant neighborhood of Coyoacan, the Frida Kahlo Museum, or "Casa Azul" (Blue House), is the childhood home of the famous Mexican painter.
It was transformed into a museum in 1958, four years after Kahlo's death. The museum houses an extensive collection of Kahlo's work, personal belongings, and pre-Hispanic artifacts she collected.
Tip: it's one of the most visited museums in Mexico City, so buy your tickets 1-3 months in advance. You can click here to purchase them. If you're interested in exploring art in Mexico City, this is a must-do.
When exploring Mexico City as a solo female traveler, you can't miss Teotihuacan.
Known as the "City of the Gods," it's an ancient Mesoamerican city located 50 kilometers (31 miles) northeast of Mexico City. It flourished from the 1st to the 7th century AD, making it one of the most significant archaeological sites in Mexico.
Here, you can explore the immense Pyramid of the Sun and Pyramid of the Moon, and stroll down the Avenue of the Dead.
Tip: go early to avoid the midday sun and bring plenty of water. Wear comfortable shoes – it's a lot of walking!
You can also opt for one of the many guided tours that visit here, like:
3. Xochimilco
Xochimilco, a UNESCO World Heritage Site, is known for its extensive network of canals and artificial islands, or chinampas. Traditionally decorated, colorful flat-bottomed boats called trajineras navigate these canals.
The area offers a glimpse into the ancient agricultural practices of the Aztecs and is a popular spot for festivities.
You can visit the site on its own, or combine the experience with others on a guided tour from Mexico City like a Xochimilco, Coyoacán, and Frida Kahlo Museum Tour or a City Tour and Xochimilco Floating Gardens Experience.
4. Anthropology Museum
The National Museum of Anthropology in Mexico City is one of the world's most renowned anthropology museums.
It houses artifacts from Mexico's pre-Columbian era, including the famous Aztec Calendar Stone and the replica tomb of the Mayan ruler Pakal.
The museum is a stunning modernist architecture with a massive stone umbrella at its center. It's also vast, so allot at least half a day to explore.
5. Grutas Tolantongo
Grutas Tolantongo is a natural paradise in the Mezquital Valley of Hidalgo, approximately 180 kilometers (112 miles) north of Mexico City.
It's a unique resort set in a canyon, famous for its strikingly beautiful hot spring caves and turquoise-blue, mineral-infused pools situated on the cliffs.
You've probably come across this on Instagram as it is one of the most popular Instagrammable spots in Mexico!
6. Chapultepec Park
Chapultepec Park, often compared to Central Park in New York, is one of the largest city parks in the Western Hemisphere. It's an amazing place housing numerous attractions, including Chapultepec Castle, several museums, a zoo, and a lake.
The park has been a site of significance since Aztec times and offers a welcome respite from the city's hustle and bustle.
I recommend visiting on a weekday if possible, as it can get crowded on weekends. Don't miss the view from Chapultepec Castle!
7. Centro Historico
Centro Historico, or the Historic Center, is the heart of Mexico City and a UNESCO World Heritage Site.
Established on the ruins of Tenochtitlán, the capital of the Aztec empire, it became the center of New Spain after the Spanish conquest.
The neighborhood showcases the city's rich history – with buildings dating from the 16th to the 19th centuries – and is a living testament to Mexico City's cultural evolution.
Key attractions include:
the Zócalo, one of the largest public squares in the world,
the stunning Metropolitan Cathedral, the largest cathedral in the Americas,
and the National Palace, which houses Diego Rivera's famous murals depicting Mexico's history.
Nearby, the Templo Mayor, an Aztec archaeological site, offers a glimpse into pre-Hispanic times.
The area is also known for its bustling markets, boutiques, and eateries, where you can sample local cuisine. A maze of streets, brimming with architectural treasures, museums, and art galleries, make the Centro Historico a must-visit in Mexico City.\
8. Chinatown
Mexico City's Chinatown, known as "Barrio Chino," is a small two-block area located in the historic city center on Dolores Street. While modest in size, it's a vibrant district with a rich history.
Its development began in the late 19th century with the influx of Chinese immigrants to Mexico. It's a great place to experience Chinese-Mexican culture, explore shops selling Asian goods, and enjoy Chinese cuisine with a Mexican twist.
The district is known for its colorful archway, street food stalls, and annual Chinese New Year celebrations.
9. Eat street food
Fun fact: there are 46,000 taquerias in Mexico, of which 2,862 are in Mexico City!
Mexico City's street food culture is an integral part of its identity, reflecting its rich culinary tradition. From taco stands to tlacoyos (oval-shaped cornmeal patties topped with a variety of ingredients), the city's streets are teeming with mouthwatering food.
One of the most beloved street foods is the taco al pastor, a Lebanese-inspired dish made with marinated pork cooked on a vertical spit and served with pineapple.
Also worth trying are churros (fried dough dusted with sugar) and elotes (corn on the cob served with chili, lime, cheese, and mayo).
One of the best ways to explore local street food is on a guided tour, such as a Mexico City Street Food Experience or a Private Food Tour of Mexico City. You can click here for a full list of Mexico City food tours.
10. Eat in a local home
If you're still hungry after your tour, a guaranteed way to meet people as a solo traveler in Mexico City is to book a dining experience in a local home. One company that offers this is EatWith, which also offers culinary tours, classes, and experiences.
11. Discover Mexico City nightlife
Mexico City's nightlife is as diverse as its daylife, with a mix of traditional cantinas, dance clubs, mezcalerias, and jazz lounges.
Zona Rosa and Polanco are known for stylish bars and dance clubs, while Roma and Condesa offer a bohemian vibe with craft beer pubs, mezcalerias, and live music venues.
The city's nightlife is a blend of modern and traditional, with the age-old cantinas in the historic center serving tequila and pulque, a fermented maguey sap drink.
Mexico City is a night owl, and bars are open until 5 AM! There will be street food all over the city operating until late, too.
Top Tours For Solo Travelers In Mexico City
While traveling to Mexico City alone as a woman can feel daunting, one way to immerse yourself in local culture while meeting other people is by booking a guided tour. A few top-rated options include:
Click here for a full list of tours in Mexico City!
Tips For Solo Dining In Mexico City
Exploring food in Mexico City is one of the top local experiences – even if you're eating alone. Here are some tips for dining out when traveling alone to Mexico City:
Opt for street food. Street food in Mexico City is communal so you will often find yourself standing or sitting with locals. Along with giving you the opportunity to connect with locals and meet other people, it also helps you save money and stick to a solo travel budget.
Every cafe is a digital nomad hub. Particularly in Roma and Condesa, you will often come across foreigners – who are also traveling solo – working on their laptops while eating. Even if you are not sharing a table, the conversation will flow naturally.
Ask for a bar seat. Bartenders are often chatty, welcoming, and entertaining, especially to solo travelers. Plus, fellow solo travelers also tend to sit by the bar, so don't be surprised if you end your meal with a new friend.
Always say hola. Mexico and the Latin culture generally have strong greeting cultures. Everyone says hola (hello) to everyone, and it's not weird. They will say hola back. Try entering a restaurant and say "hola, buenos dias!" (hello, good morning!), even to diners. You'll see that Mexico City locals will typically respond.
Go on a food tour. When traveling to Mexico City alone or even in a group, at least one food tour is obligatory. Apart from meeting other travelers on a tour, you'll get to taste delicious Mexican food. Additionally, you might opt to eat in a local home to have a true taste of local culture.
Treat yourself to a fine dining restaurant. Mexico City is home to many best restaurants in the world with affordable 9-course tasting menus from $140 USD. Go to Pujol or Quintonil to get an interactive meal.
Estimated Mexico City Solo Trip Cost
For a solo traveler, a decent hotel in Mexico City starts at $55 USD. Street food is around $3 USD while a meal at a nice restaurant can cost $9 USD.
If you want to splurge on accommodations, many five-star hotels start from $90 USD. Tasting menus in very popular restaurants cost $90 – $120 USD.
All tours range from $25-$125 USD, depending on the activity that you are doing. There are many free things to do in Mexico City, too!
Not including accommodations, $30 USD per day is a very good budget for solo travel to Mexico City.
And if you're looking for budget-friendly accommodation in Mexico City, check out this map to peruse a mix of hotels and holiday rentals in the Roma neighborhood:
Travel Insurance For Solo Travel In Mexico City
When visiting Mexico City solo — or anywhere else in the world — it's wise to get travel insurance.
One of the best travel medical insurance for travelers is SafetyWing as they've got a large network and offer both short-term and long-term coverage — including coverage if you're traveling for months as well as limited coverage in your home country.
Additionally, SafetyWing is budget-friendly and offers $250,000 worth of coverage with just one low overall deductible of $250.
Click here to price out travel insurance for your trip in just a few clicks.
Frequently Asked Questions About Mexico City Solo Travel
Still have questions about visiting Mexico City alone? Here are answers to common queries:
Q) Is Mexico City safe to travel alone?
Like any major city, Mexico City has areas that are safe and others that are less so, but overall, it is generally safe for solo travelers who take standard precautions such as avoiding less secure areas, especially at night, and being mindful of their belongings.
Q) How many days do you need in Mexico City?
For a first-time visitor, a trip of about 4 to 5 days is usually sufficient to explore the key attractions of Mexico City, such as the historic center, the Frida Kahlo Museum, the pyramids of Teotihuacan, and Xochimilco. However, if you wish to delve deeper into the city's culture, and explore its diverse neighborhoods, museums, and cuisine at a more leisurely pace, you might want to consider a week or longer.
Q) What are the top things to do alone in Mexico City at night?
Mexico City at night offers a range of activities for solo travelers. You can immerse yourself in the vibrant culinary scene, enjoy traditional mariachi music at Plaza Garibaldi, attend a Ballet Folklorico performance, or partake in cultural events at various museums. Always remember to stay in well-lit, busy areas and exercise standard precautions for your safety.
Q) Is Mexico City a walkable city?
Mexico City is quite expansive, but many of its central neighborhoods, such as Condesa, Roma, Polanco, and the historic center, are indeed walkable with many attractions, restaurants, and shops close to each other. However, given the city's size and the distance between some attractions, you'll likely need to use public transportation or taxis at times.
Q) Can I use Uber in Mexico City?
Yes, Uber is widely available and commonly used in Mexico City, providing a convenient and often safer alternative to traditional taxis. It's an efficient way to navigate the city, especially if you're unfamiliar with the public transportation system.
Final Thoughts On Solo Travel To Mexico City
Mexico City is a world-class city despite its bad press. It is easy to travel here alone as a woman because there's always an opportunity to meet people.
You'll see that you will keep coming back after your first solo trip to Mexico City! Consider your source and only ask people who have been instead of browsing the news.
The situation on the ground is always different, so take advice from someone who knows Mexico City well.
What would you add to this solo travel to Mexico City travel guide?
Enjoyed this solo travel Mexico City guide? Pin it for later!
About The Author
Currently living in Mexico, Trisha Velarmino is an award-winning journalist who produced TV and radio shows for major channels like BBC and CNN. She's given TEDx talks about creating genuine content and making the Internet a better place for learning and development. She's the founder of P.S. I'm On My Way and Mexico Insider. You can follow her adventures on Instagram and TikTok.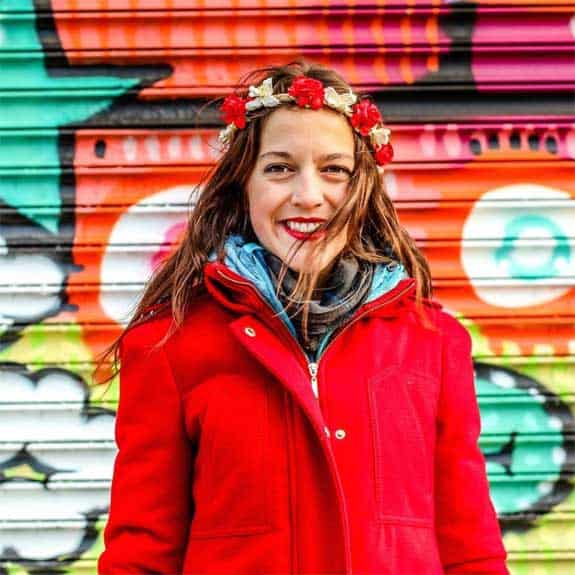 Hi, I'm Jessie on a journey!
I'm a conscious solo traveler on a mission to take you beyond the guidebook to inspire you to live your best life through travel. Come join me!
Want to live your best life through travel?
Subscribe for FREE access to my library of fun blogging worksheets and learn how to get paid to travel more!