How To Become A Digital Nomad With No Experience
By Kayla Schilthuis-Ihrig. This post on how to start as a digital nomad contains affiliate links to trusted partners.
Curious how to become a digital nomad with no experience?
Then you're in luck, as I've created an in-depth digital nomad guide that breaks everything down.
Now, if you're feeling hesitant or aren't sure if you're cut out for the lifestyle, understand this:
At this exact moment, your digital nomad dream life is being lived by someone. No matter what beach, bungalow, or boat that person is sitting on right now, they started out at zero, too.
The path probably wasn't very clear. It's likely that people even tried to talk them off of it, but they learned as they went and made their dream life a reality.
Let there be no mistake:
It is 100% possible to learn how to be a digital nomad — even if you've never left the country, or you don't think you have the skills you need.
I'm positive of this because every digital nomad started out this way. Sure, some people grew up as kids traveling the world and maybe already had an online business before launching their lifestyle, but my gut says that doesn't apply to you.
You're intrigued and excited, but maybe not convinced it's as simple as it seems, or even possible for you.
Am I right, even 10%?
Well, I was the same way.
How To Become A Digital Nomad With No Experience: My Story
Rewind to 2017:
I had a great job in Chicago, essentially no international travel experience, and was terrified to go to a country where I didn't speak the language for the first time.
There was no reason to pack up a good life and do something that I had no qualifications to do. Yet, every day, I opened up Instagram and saw people traveling.
All the time. To countries where they didn't speak the language. With no concerns for their resume.
Can you believe that? Not one person was wearing a power blazer.
It played through my mind every day, like a song that was impossible to get out of my head. I couldn't let the idea go.
After six months of tapping my foot to the tune, I was at the airport boarding a one-way flight to Mexico. I'd never been so scared in my life.
If you're the same and have ever thought to yourself "I want to be a digital nomad" then don't let the idea go either. Let me help you with that.
In this guide on how to become a digital nomad with no skills or experience, we'll go over everything you need to know to get started — from how to work as a digital nomad to what living a digital nomad life is like and beyond. You'll even snag some helpful digital nomad resources.
On that note, let's dive into how to become a digital nomad.
What Is A Digital Nomad?
There are a lot of buzzwords and titles thrown around amongst travelers. The term "digital nomad" refers to anyone who works online and travels.
This encompasses people who have their own online businesses, those who work a 9-5 remotely, and anyone in between.
A digital nomad can be truly nomadic with no permanent address or apartment waiting for them. They can also live somewhere in between with a home base that they plan on returning to temporarily or permanently.
There are also other terms thrown around in this same space:
Location independent. This refers to anyone who doesn't have to show up in a specific place for work every day. It's an umbrella term that includes everyone on the spectrum, from those who work online and travel to those who work from home. This is referred to as "location indie" for short.
Laptop lifestyle. With all the freedoms of being location independent, those who live the "laptop lifestyle" may just travel from place to place like digital nomads. They also often live their lifestyle from semi-permanent locations abroad. Think moving to Bali for a year or spending the winters in Greece.
Digital nomad. Combining the freedoms of being location independent with the adventure of the laptop lifestyle, digital nomads typically move from place to place (hence being nomadic). They may stay in a town for a few days or a few months, but they're a rolling stone, no matter the speed.
These terms aren't etched in stone, but they're commonly used this way amongst travelers. It's up to you to decide how you'll think of yourself.
This can present a surprising identity crisis if you're embarking on your digital nomad journey by leaving a job or career that was a part of your identity.
So, why do people who love their jobs make the jump at all?
Why Do People Live A Nomadic Life?
The obvious draw to the digital nomad lifestyle is the opportunity to travel more, but there are actually a lot of auxiliary perks.
Big-picture benefits of being a digital nomad:
Align your lifestyle with your values. Along with travel comes a natural shift towards minimalism and conscious living. These can be elusive in normal life.
Spend less money. Depending on your starting cost of living, you may be able to save a lot on your life expenses by going to cheaper countries. This is known as geographic arbitrage.
Go from just day-to-day survival to a passionate existence. Not every day as a digital nomad is filled with core-memory moments, but it's a move towards living and experiencing every day.
Not being too afraid to pursue what you want. I met a woman in her 70s named Marsha who was solo traveling the world after her husband died. She told me that if you truly want to do something and keep finding reasons not to start, you become afraid. I think she was right.
What are the benefits for you? That's something you need to decide. Be curious about your ambitions so that you can get the most out of your experience.
When you make bold moves towards your goals, everything else seems to change, too. The old adage is true: fortune does favor the bold.
Of course, it's not all beaches and sunsets, and it wouldn't be fair to talk about the benefits without also listing some risks so you can really understand both the pros and cons of being a digital nomad.
Big-picture risks of being a digital nomad:
Being set back in your career, should you choose to return to the career you had.
Going broke. This is a risk that's mitigated through savings, flexibility, and travel medical insurance for digital nomads.
Pushback from loved ones. Some people will always wholeheartedly reject the legitimacy of the digital nomad lifestyle as "living on vacation". Depending on your culture and upbringing, this can be more difficult.
Social isolation. The beating heart of the digital nomad lifestyle is working online, and that can be very lonely.
My two cents on the risks? Every single life choice has a huge list of risks, most of which we never consider. Can you imagine making this benefit-risk list for going to university?
"Spend four years of your life, plus thousands of dollars, with the loose expectation but zero assurances that you'll get the life you want."
If the benefits of digital nomad life call to you, crumple up the risks list and throw it in the recycling bin. The reality is that if you go all-in on your dream, you'll make it work.
So, how DO you go about making it work?
How Do You Find Work & Stability As A Digital Nomad?
Digital nomad jobs for beginners generally fall into one of two categories: self-employment or remote employment.
Remote employment is not that different from a normal job:
In-school teacher → cyberschool teacher
In-person therapist → remote therapist
Locat attorney → digital consulting attorney
You see the pattern? You can set out in search of a remote version of the job you currently do, or choose another door, like the opportunity to change careers or become self-employed.
Here are some things to consider as you're weighing which type of work to pursue.
Remote job versus
Self-employment
– More stability
– Less responsibility
– Routine
– Potential tangible benefits (healthcare, retirement, etc.)
– Employer handles the paperwork (like taxes)
– More freedom
– Opportunity to create the job that you want
– Learn new skills
– Build confidence
– Can make passive income in the long-run
Are you worried that if your plans fail, you'll end up having trouble getting hired because of a resume gap? Employers don't care about that nearly as much as you think.
LinkedIn even added a feature to add career breaks to your profile, normalizing and demystifying this extremely common occurrence.
With that in mind, let's look at the array of digital nomad jobs you can get.
Best Digital Nomad Jobs
Some of these jobs fit both the remote employment and self-employment camps. When you're starting from scratch figuring out how to become a digital nomad with no experience, remember that your first remote job just has to get you going.
It's natural to find a groove making money online. You should expect to change roles or industries once you figure out what you're good at and what you like.
Let's run through the most popular digital nomad jobs and talk about how you can start finding work right away.
SEO Writing
Find work as an SEO writer at an SEO agency, marketing company, as an in-house SEO writer for a business, or as a freelancer.
SEO can seem really complicated, but you're basically just explaining a piece of content to search engines. Although Google is incredibly sophisticated, it's still a program that needs to be told everything. By strategically using keywords you make sure that the Google crawlers know what your content is about.
Beyond just the word choice, an SEO writer also pays good mind to article quality. Include things like images, video, GIFs, or any of the other things search engines like, in order to convince Google that a piece of content is worth showing.
In order to be a good SEO writer, you need to understand how to write blog posts that people want to read and do so in a way that gets them displayed on Google.
This is also sometimes referred to as content writing or general "freelance writing" (when done independently).
This was my first job as a remote worker! I didn't know anything about SEO, but an agency was hiring any proficient freelance writer and giving them an SEO checklist to go by. This proves that if you're searching for digital nomad jobs no experience, it's possible to find them.
Copywriting
Find work as a copywriter with a copywriting agency, marketing company, as an in-house copywriter for a business, or as a freelancer.
Every advertisement, blog title, or email headline you have ever seen is an example of copywriting. Through your writing, you can persuade people to open an email, click on a blog post on Google, or even enlist someone's services after reading a sales page.
When you come across any corporate writing, you see copywriting in action. When you engage in copywriting, you're looking for the most efficient way to get your message across and make it resonate with your target audience so they take action.
Blogging
Make money blogging by starting your own website.
Since it's so popular, running a blog sounds like a pretty straightforward way to make money online. If you do it well, you can speak to a huge audience, create a brand as well as a business, and rake in that coveted passive income.
While it's true that you can make good money with a successful blog and it can be one of the more high paying digital nomad jobs, it generally takes a long time to build up the amount of traffic you need.
Plus, every niche has a different depth of opportunity. When you own a website that gets steady traffic, you can earn advertising fees by renting out space on your website for ads.
Ad revenue can really add up, but the money you make per ad is not the same for every industry.
For example, if you're in the minimalism niche, expect to make much less money per ad than someone who's in the travel or personal finance niche. Potential ad revenue shouldn't be a deal-breaker for your blog idea, but it's good to understand that there's more to blogging for money than meets the eye.
Plus, getting loads of traffic to your blog isn't something that just happens on its own. It takes a lot of hard work and dedication to create the amount of high-quality content that you need in order to get thousands of page views.
If you're passionate about blogging, start your blog now alongside another income source. Start publishing your first blog posts immediately and treat it with the focus of a real business. It's easy to get discouraged from blogging. Make S.M.A.R.T. goals and stay focused.
I started my first blog in 2014 and quit. Then, I started a second one in 2017, and — drumroll — also quit! My current blog, Writing From Nowhere, was started in 2018 in a hostel in London. I can *only* call it a success because I stuck with it.
Online Language Teacher
Find work teaching a language online through specific companies.
The role of online English teacher was long seen as one of the most reliable digital nomad jobs for native English speakers due to the demand — specifically in China — and easy entry.
That was, until July of 2021 when there was a tectonic shift: China passed new laws making it illegal for foreigners to teach children certain subjects (including English) from outside of the country.
I'm mentioning this because if you research this further, you need to make sure you're getting advice from *after* July 2021 or the tips may not be relevant anymore.
There are still many opportunities to teach English online, but it requires more searching now. Look here to find a job with a company outside of China.
For opportunities to teach other languages, browse:
Social Media Management (SMM)
Find work as a social media manager as a freelancer, as an in-house SMM for a business, or through an agency or marketing company.
Social media management is one of the more common remote jobs, as almost every brand, organization, company, nonprofit, religious community, and government branch has its own social profiles.
These companies hire people to create content that's specific to each platform, whether it's Instagram, YouTube, TikTok, etc.
Duolingo has a brilliant TikTok account, if you need a laugh. Hats off to their SMM.
A SMM generates the visuals, researches platform trends, uploads, and engages with viewers. If you enjoy social media, this can be a great digital nomad job to look into.
Pinterest Manager (or Pinterest Virtual Assistant / PVA)
Find work as a Pinterest manager with a marketing company, as an in-house PM for a business, with an agency, or as a freelancer.
Every mouth-watering recipe or gram-worthy travel pin you see on Pinterest was created and uploaded by someone. That someone could be a blogger, company, or the person they outsource their account to.
It could've even been uploaded by me! I started freelancing as a Pinterest manager in 2020. I share my story of how I ended up at the helm of other people's Pinterest accounts here.
There's a steep learning curve of understanding the complexities of the creator side of the platform, but work is reliable and rewarding if you know how to create a Pinterest strategy.
Start A Service-Based Business
A service-based business is probably the most popular type of location-independent business model.
The process is simple: you offer to do something for people, they pay you, and you do it.
For example, if you ever cut grass or babysat when you were a teenager, you already experienced the service-based business model.
All of the digital nomad jobs ideas that we talked about fall into this category, but it deserves its own special moment in the spotlight because of the opportunity.
It's one of the best digital nomad jobs for beginners and beyond because, essentially, any idea can be outsourced as a service-based business.
These ideas can be totally off-the-wall and still be profitable.
Think about it:
During the pandemic, people paid for virtual golf lessons and babysitting. Virtual babysitting!
People still costantly pay for digital assistance, for things as basic as talking to a digital friend. I even follow someone on Instagram who's a freelance bridesmaid.
That's not a remote service-based business, but I mention it to help blow your mind and expand your horizons.
You can freelance anything. Here are other popular digital nomad work ideas that fit into this category:
Podcast editor
Video editor
Photo editor
Translator
Transcriber
Website developer
Coder
Data entry
Virtual assistant (VA)
For-hire content creator
Online business manager
To start developing an idea for a service-based business, ask yourself: what do you enjoy doing that most people don't?
You're already sitting on a way to earn money online. You've just gotta crack that egg open to begin working as a digital nomad by utilizing your expertise.
It's okay to not have everything figured out when you start. You can figure it out as you go, just like other successful digital nomads. The only failure is stopping.
How Do You Find Work As A Digital Nomad?
Time to throw your line in the water! Start hanging out in these digital neighborhoods looking for a job.
I've had more fruitful networking opportunities come from Facebook groups than any formal networking event in my life. Facebook groups are a great place to find opportunities, friends, and connections.
Look for Facebook groups in these categories:
Your role. There are endless groups specific to being a social media manager, Pinterest manager, VA, freelance writing, etc.
Your location. If you're going to be a digital nomad in Bali — which, by the way, is one of the best digital nomad cities — I'm sure there are many groups to join with opportunities shared. For those without a specific or long-term destination in mind, look for general digital nomad groups.
The demographic you're trying to target. Hang out where your potential clients or employers are hanging out!
A few groups that I've found helpful for finding work or getting travel advice:
A great way to find work through Facebook is to answer questions that people have in regards to the service you offer.
Try this script:
[Your answer the question asked]. I'm a [your title], I'm happy to answer any of your questions! I love talking about [topic] 🙂
This positions you as being an authority on the subject, being great to work with (friendly and information), shows that you're willing to give away free help (builds trust), and advertises that you're available for hire.
LinkedIn works just like Facebook, but could be a better fit for you if you're targeting more professional roles. After all, not everyone hangs out on Facebook talking about work in their spare time.
Just set up your LinkedIn account effectively to help be discovered.
Pro tip:
Always ask for recommendations from clients on LinkedIn. You can repurpose these into testimonials on your website or social media later, and they'll vouch for you as soon as someone clicks on your profile.
These recommendations are going to be so impactful for you down the road! Harvest them as you go.
3. Remote Work Job Boards
For more standard job opportunities, set alerts on digital nomad job boards.
A more exhaustive list of remote job boards can be found on Travel Lemming.
4. Negotiate Your Current Job To Be Remote
If you've caught the travel bug but aren't keen on giving up your position, consider trying to negotiate your contract to go remote. Follow these tips to help make it a reality, but be prepared to walk away if you're shot down.
5. Craigslist (Only Certain Countries)
Small companies without the budget or patience for listing jobs on normal hiring websites will sometimes utilize Craigslist. I've personally found remote writing gigs this way, but use common sense and good judgment to not fall for anything illegitimate.
Tip:
Toggle the locale of your search to bigger metropolitan areas to find more opportunities.
Once you have your remote work income sorted, it's time to pick a spot on the map.
How To Travel Without Experience
Once you're able to work remotely, you can work from anywhere with WiFi.
Tonight, you could fall asleep on the other side of the world. How incredible is that?!
It's not my norm, but I've personally woken up in the Netherlands, had breakfast in Belgium, lunch in Iceland, dinner in Washington DC, and fallen asleep in Pittsburgh, all in one very exhausting day.
Picture it: tomorrow, you could put work away for the day and find yourself in Rome or in a sleepy beach town in Vietnam.
Technology has made the world shrink. Crossing the Atlantic used to take weeks, now it only takes a couple of hours. The times of maps with blank spaces are behind us.
That doesn't mean that the blank spots on your map don't need to be filled in, though. Where do you want to go?
You can research and prepare all you want, but at some point you just have to go, nerves and unknowns be damned.
Where To Go As A Digital Nomad
When I was young, I spent hours flipping through an old atlas. I just couldn't believe that obscure places like Jerusalem or Timbuktu were real and that people actually lived there.
What's more, that I could go there!
The moment you realize that the world is open to you, you can close your eyes and visualize where you would like to be.
Picking a destination is one of the most enjoyable things to do as a budding digital nomad.
When it comes to visiting countries as a tourist, there is no wrong choice as every country is unique and is worth visiting.
The same cannot be said for visiting countries as a digital nomad. Some countries are better suited for life as a digital nomad than others.
Focus on these three factors when choosing your destination:
1. Community
Meeting locals and other travelers, or simply other people with whom you can communicate, is important. The passing souls you meet on the road are where the real magic of travel takes place.
Some destinations collect more travelers than others. It's something to be aware of in your research.
Factors like price, location, safety, popularity, and time of year will play a huge role in this.
For example, traveling during the off-season will save you money, but it may mean you'll go days or weeks without seeing another traveler. Research extensively so you're well-informed before arriving.
2. Reliability
Did you know that some people live without power for certain hours every day? This is a type of energy conservation that's common in parts of the world.
You'll need to be aware of this before promising your manager you'll Zoom into every Monday-morning meeting, only to realize you don't have power at the time.
Stability worth researching:
Power grid
Internet
Government
3. Cost
You can estimate your costs from the front end or from the back.
Back end: Decide you'll spend $25 a day → then see where you can go with that budget, or
Front end: Decide where you want to go → and decide how much money it will cost you
Do your research and decide so that you can estimate how much income you'll need to sustain being there.
Before you go, deflate your lifestyle costs to put more money into savings and maintain a healthy savings buffer.
What's It Like Being A Digital Nomad?
Everyone's digital nomad experience is, of course, going to be different. Rather than try to paint a broad, vague picture of what's true for everyone, let me tell you about my journey.
Prior to 2017, I had essentially no international travel experience. I was trying to learn how to become a digital nomad with no experience from scratch, not knowing a single person who lived this way.
I was standing on the edge of this lifestyle, wanting to take the jump, but didn't have enough information.
After ferociously consuming information from digital nomad blogs, Instagram accounts, and podcasts, I jumped.
It was the right decision, but I was completely terrified. My corporate job was really good, and I felt like there was a 50% chance that I wouldn't be able to hack it traveling abroad and supporting myself.
Strangers in Facebook groups gave me the encouragement I needed:
My experience went like this:
Wanted to leave and started researching exhaustively
Felt like I needed to get some more information
Didn't know how I would afford to sustain travel and started asking people online for advice
Learned about WorkAway, where you can get free room and board in exchange for work
Applied to a bunch of WorkAway gigs and was accepted to one in Cozumel, Mexico
Booked a one-way ticket
Quit my corporate job in Chicago
Found a freelance writing gig that was four hours a day, Monday-Friday
Packed everything up in a storage unit (which I emptied less than six months later, #hindsight)
Was officially living out of a backpack!
This doesn't have to be the order of your launch, but I do have a timeline for you in a minute.
A lot changed as my journey went on, from destination to income. My writing gig lasted for a few months, but I wanted to be detached from a schedule and not have to be online every day.
Travel changes you. I started out with questions like "how to become a digital nomad with no experience" but moved onto "what actually makes me happy?"
I quit that gig and coasted off of savings for a while, keeping weekly expenses as low as possible. I drifted south from Mexico down to Peru, and ended up moving to the Netherlands with a fellow backpacker — now known as my husband — at the end of that trip.
What I Wish I'd Known Before Becoming A Digital Nomad
Most of learning how to become a digital nomad with no experience is about the emotional hurdles. And, some of them don't get left behind as you travel.
The ups and downs of normal life don't get left behind in your cubical. Everything you're struggling with emotionally still comes with you, no matter how small the backpack.
Traveling will give your life purpose, but it won't last forever. The intense excitement you feel over your first flight or waterfull will never return. The rush comes from the expeirnece being new, and the longer you travel, the harder you have to look for new experiences.
Use travel to help find answers to big questions you have in life, not to run away from them.
What Is The Digital Nomad Scam?
The life of a digital nomad is not lived on the beach, in a bikini, costing only a few hours of work per week.
It's not for sale, either.
Digital nomad scams try to convince viewers of just that: this dream life is available to them, for a cost. They've cracked the code and, for a very special price, you can too!
Not unlike a modern-day pyramid scheme with lofty opportunities and low returns, these digital nomad courses will try to sell you "The Answer" on how to become a nomad or master the digital nomad lifestyle without experience.
"Scam" might be a somewhat misleading word. Personally, I don't think these people are selling a lie, they're just not selling the whole truth.
Working remotely is something that you need to achieve for yourself. It can't be bought via a single course or coaching program. They can certainly help, but it's a mistake to think that one equation could get everyone to the same finish line.
Plus, do we even all want to get to the same finish line?
The nomadic lifestyle is about exploration and freedom. You can't find that by following someone else's plan to a tee.
Use every resource you can find online, but be wary of anyone who tries to convince you that they've cracked the code. This lifestyle isn't new or mysterious enough to need a code breaker.
The nomadic lifestyle that combines digital opportunities with location independence isn't new. The digital nomad lifestyle dates back to the '90s.
More importantly than that, people managing to make their travel goals a reality date back even further.
You don't need a course or a guided digital nomad tour (like Remote Year) to achieve this lifestyle. Gather the free digital nomad resources online, mix in some gumption, a generous serving of optimism, and go for it.
Checklist + Timeline To Become A Digital Nomad
Some travelers will be able to hit the road with ten bucks in their bank account and no worries, figuring it all out as they go. But, you're not one of those travelers, are you?
I'm only guessing this because you're still here, several thousand words in, still learning, planning, and preparing. I'm exactly the same way.
When I was researching for my first trip, I scoured every blog post, podcast, Instagram post, and email that helped me piece together a timeline.
So on that note, let me share an outline with you.
This won't be completely exhaustive, since every location, traveler, and trip has different demands, but it covers a lot of big bases.
6 Months Before Starting Your Digital Nomad Lifestyle
Six months is a realistic amount of time to plan and launch your lifestyle.
Just think: this time next year, you could've already been living the digital noamd lifestyle for six months.
Put whatever money you can into savings
If you need help with this, look for creative ways to reel in some extra cash. In the six months leading up to my digital nomad launch, I regularly babysat, sold plasma, and participated in paid research studies at the local university to put extra cash in savings.
You can also pick up a digital side hustle, like creating and selling a digital product.
Deflate your lifestyle costs
A few basic steps of lifestyle deflation include reducing your number of monthly subscriptions down to the essentials, adhering to a strict grocery budget, and quitting non-essential shopping. This will help you put more money into savings and will also be an asset once you start traveling.
Look for your digital income source
It's okay if this job doesn't last you for years. Getting your "foot in the door" working online will teach you so much about what you're good at, what you like, and what connections can do for you.
You don't need a digital nomad job until you're ready to set sail, but start exploring your options and getting ideas.
Start making friends in the digital nomad space
This step isn't technically required, but it's so impactful for those who are trying to figure out how to become a digital nomad and travel the world.
Finding other people who live this way — or who are trying to — will give you so many ideas about what to do for work, where to go, and organizations that can help you.
Join a Facebook group or an organized digital nomad community.
Take good care of yourself
This might not seem related to the digital nomad lifestyle, but health problems are a surefire way to halt travel plans.
Taking good care of yourself is a secret travel hack. Treat your health like it's as essential and fragile as your laptop.
Schedule necessary doctor's appointments, make water your best friend, and take your vitamins every day. If your digital nomad ambitions are to travel for the next year or two, you realistically won't visit a doctor in that period unless something goes really wrong.
This is not meant to imply that health problems or chronic illnesses are a result of personal choices; it's just meant to encourage a prioritization of health.
Renew your passport and driver's license…
…if they're set to expire anywhere in the next two years or longer if you think you'll be traveling indefinitely or potentially settling down abroad.
Getting documents renewed when you don't have a permanent address is a real headache, so be on the safe side with this!
3 Months Before Starting Your Digital Nomad Lifestyle
Plan out health insurance
Whether you're thinking about just winging it without travel insurance (read this if you're on the fence) or are still picking your digital nomad health insurance plan, you need to research and decide.
It's important to choose the best digital nomad insurance that also makes sense for your specific trip, as you won't want to be without coverage when incidents arise.
Go to the dentist
This isn't a sexy tip, but a cavity or toothache is one of the last things you want to have to deal with while abroad. If you have dental insurance at home, get your teeth checked before you go.
Get a good travel credit card
In addition to savings, a credit card is good to have on hand for emergencies.
Get necessary travel vaccines and papers
This will vary depending on your location and country of origin, but get your paperwork and any necessary digital nomad visas settled way in advance.
Get new glasses
This is obviously not applicable to everyone, but for any fellow four-eyed readers, this is something to consider.
If you depend on glasses to live your everyday life, consider getting a new pair before you go.
What better way to see the world than with a fresh prescription? Plus, save your old pair and pack them as a backup. Warby Parker is an option that's generally affordable.
Word to the wise:
Opt for blue light protection in the lenses. It's really impactful for remote workers!
Get your gear
This will include all of the travel basics like a backpack, emergency kit, and laptop. It's recommended to research the best laptop for travel so that you can work effectively and efficiently.
Figure out financial requirements
There's no required digital nomad salary because every destination and lifestyle has wildly different financial requirements.
You need to figure out how much money every day or month abroad will cost you and upscale your income appropriately.
One Month Before Starting Your Digital Nomad Lifestyle
Forward your mail
Is a family member or friend willing to be your local mailing address? Iron out where your mail will go once you give up your apartment or house.
Clean your laptop
See if a computer repair store nearby offers this service. A good cleaning should include physical cleaning (for dust and dirt) and digital (for viruses), as well as checking over for loose screws.
Investing in cleaning your computer will help minimize tech problems on the road.
For older laptops, also test the battery life and consider getting a fresh battery in as well. This can be a bit pricey, but can double or triple your unplugged work time.
Stock up on medicine
At a minimum, most travelers will want to stock up on their multivitamin and emergency meds, including Benadryl (for allergic reactions) and a minor pain reliever.
This step should also include prescription drugs, which will require a custom plan based on your needs as well as the digital nomad places you'll be visiting.
For those with chronic allergies, take extra antihistamines. Your allergies may very well flare when exposed to new food, pollen, conditions.
Get two extra passport photos
Some tourist visas will require passport photos. It's not a hard requirement to have these on hand before you go, but it's nice in case you're caught off guard at a border crossing.
Final Thoughts On Becoming A Digital Nomad
Is digital nomadism pulling at your heartstrings? Listen to that call — it's leading you on the greatest adventure of your life!
The Best Digital Nomad Travel Insurance
Before diving into digital nomad living, it's wise to get travel insurance.
Jessie's favorite travel medical insurance for travelers is SafetyWing, as they've got a large network and offer both short-term and long-term coverage — including coverage if you're traveling for months as well as limited coverage in your home country).
Additionally, SafetyWing is budget-friendly and offers $250,000 worth of coverage with just one low overall deductible of $250.
Click here to price out travel insurance for your trip in just a few clicks.
Free Quiz: Where To Travel Next
As you research the best digital nomad locations, Jessie has a free and fun quiz that can help you decide where to travel next.
Click here to take the travel personality quiz.
While it's not specifically geared toward digital nomadism, it can help you get a sense of what your travel style is and the types of places you might like to travel to.
Plus, it's fun!
What tips for how to become a digital nomad with no experience would you add to this guide?
Enjoyed this digital nomad guide? Pin it for later!
About The Author
Kayla is a blogger, website traffic consultant, and remote work enthusiast. She blogs about the remote work lifestyle while living abroad and traveling, and helps business owners get more bang for their buck with their content marketing. She lives for conversations about increasing traffic, blogging better, and bucket lists. Find here online at Writing From Nowhere, YouTube, and Pinterest.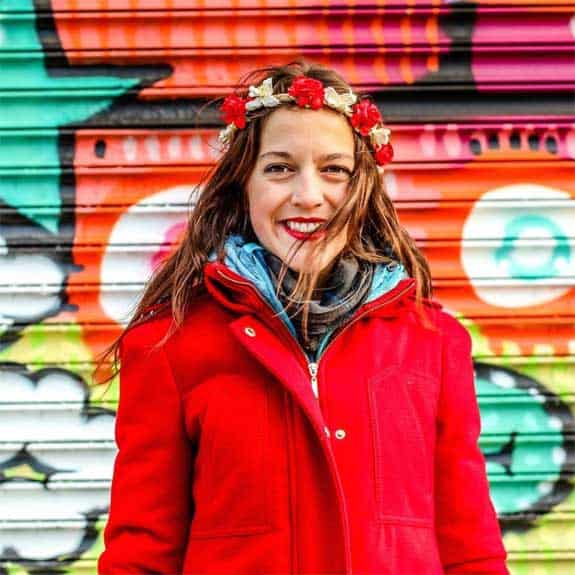 Hi, I'm Jessie on a journey!
I'm a conscious solo traveler on a mission to take you beyond the guidebook to inspire you to live your best life through travel. Come join me!
Want to live your best life through travel?
Subscribe for FREE access to my library of fun blogging worksheets and learn how to get paid to travel more!