Solo Travel In Portugal: The Ultimate Guide (From A Local)
By Allison Baxley. This guide to traveling alone in Portugal contains affiliate links to trusted partners!
Looking to experience solo travel in Portugal for yourself, but need help with the planning?
Then you're in the right place!
Traveling solo in Portugal is easy, safe, and incredibly rewarding. For such a small country, you can cover a lot of ground in a short amount of time and enjoy an impressive array of historical landmarks, breathtaking landscapes, and cultural experiences.
From castles, palaces, and old-world cities to beaches, waterfront hiking trails, and vineyard-flanked rivers, the country really has it all.
And that is just the beginning of what to look forward to when you visit Portugal.
Keep reading to discover some of the best destinations and attractions to fit into your Portugal solo travel itinerary.
As a local, I'm excited to share some of the many special experiences you can have here as well as insider tips that can help make female solo travel in Portugal safe, fun, and truly unforgettable.
⏳Short on time? Here are some quick tips for traveling alone in Portugal:

☔ Safety: While Portugal is safe for solo travel, it's still smart to pack travel safety essentials. One top pick is the She's Birdie Personal Safety Alarm, which is TSA-approved and can help scare away potential attackers. Other recommendations include Clever Travel Companion Pickpocket-Proof Garments and Speakeasy Travel Supply Hidden Pocket Scarves.

🚗 Renting A Car: Discover Cars (save up to 70% using their comparison tool!)

🚅 Train Travel: Omio

🎉 Experiences: Viator (tours), GetYourGuide (tours), Fever (events), and EatWith (cooking classes & dining in local homes)

🏨 Accommodation: This map can help you pinpoint top-rated and budget-friendly accommodation in the Portuguese cities you're visiting solo. It's currently set to Baixa, Lisbon, but you can easily change it to your intended destination in Portugal.

🏥 Travel Insurance: SafetyWing

📞 Staying Connected: Airalo eSIM
Travel Portugal Solo With Confidence [Free Course]
But first, before we get into our solo travel Portugal guide, I invite you to grab a seat in Jessie's free Savvy Solo Traveler E-Course.
The 6-day course is designed to help you feel confident about booking your first ever solo trip and exploring the world alone. If you want to know how to travel solo in Portugal, it can help.
Lessons include:
Common solo travel fears and how to overcome them
How to choose a good destination
How to tell loved ones you're hitting the road solo
Mentally preparing for your solo journey without losing your mind
Essential steps for staying safe
How to take amazing solo selfies
Once you've grabbed your seat, read on for a Portugal solo travel itinerary and tips.
Is Portugal Safe For Solo Female Travelers?
Portugal is one of the best female solo travel destinations. Not only is the country one of the safest in the world, but its vibe is also very laid back, immediately putting you at ease. Plus, the ultra-friendly locals will instantly make you feel at home.
Violent crime in Portugal is very low, and other than typical precautions travelers should take, Portugal female solo travelers don't need to worry about exploring this beautiful country safely.
Portugal also has tons to offer those traveling alone. Digital nomad communities, expat groups, and social clubs offer frequent opportunities to meet other solo travelers and locals to plan activities or meetups.
The country is packed with culture, history, beautiful landscapes, UNESCO World Heritage sites, great local food, delicious wine, and friendly people. No matter which corner of Portugal you decide to explore, you won't regret planning a visit. In fact, a solo trip to Portugal will likely leave you wishing you could move to Portugal!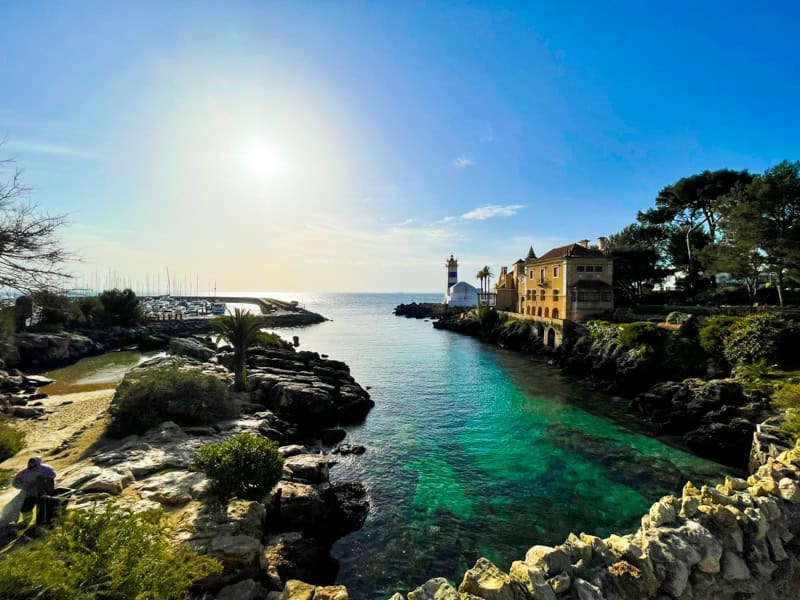 Where Is Portugal?
Portugal is part of Western Europe; but it has only recently been discovered by American tourists in the last few years, despite being a popular respite from the cold for European travelers for much longer.
Located on the western edge of the Iberian Peninsula west of Spain and south of France, Portugal shares history and a border with Spain, but it has a unique identity all its own just waiting to be discovered by visitors.
Getting To Portugal
Portugal has three international airports to choose from depending on whether you want to start your adventure in the:
north (Porto) – Francisco Sá Carneiro Airport (Porto Airport)
south (Faro) – Faro International Airport
the capital (Lisbon) – Lisbon Portela Airport (Lisbon Airport)
Lisbon Airport is the most popular in the country and is usually the cheapest to fly into. TAP Airlines also offers stopovers in Porto and/or Lisbon if you're laying over on your way to another solo travel destination.
They are one of the only airlines that will allow you to stop over on your way to and from your destination. This could allow you to stop over in Lisbon and Porto to bookend another trip!
Getting Around Portugal As A Solo Traveler
Portugal offers several modes of transportation for solo female travelers. Trains, planes, and automobiles are all great ways to get around this relatively small country.
The rail system runs from north to south and through the most popular regions like the Algarve and can get you to popular spots like Cascais and Sintra.
Lisbon and Porto both have great subway systems as well as historic trams and extensive bus routes.
And there are many low-cost bus routes to take you around the whole country.
By far, the best way to see off-the-beaten-path locations is to rent a car and drive yourself. Driving in Portugal is relatively easy as long as you don't mind navigating narrow roads and steep hills. Roundabouts are plentiful, and the tollways are exquisitely maintained making travel on them quick and easy.
How to rent a car in Portugal
Need to rent a car for your Portugal solo trip? Check out Discover Cars to quickly compare your rental options.
Their comparison tool does the homework for you, so there's no need to have up 10+ tabs trying to figure out which company is the most affordable. Actually, you can save up to 70% using their tool!

Tips for renting a car and driving in Portugal
Don't rent a car in Lisbon and Porto—use public transportation and/or walk
Do get full-coverage insurance—as you never know what can happen while driving in a foreign country
Do splurge on the Via Verde toll tag if you plan to drive a lot as it will save you loads of time not having to stop and dig out your coins at the plentiful toll stations
Automatic cars are available but can cost significantly more—go stick if you can handle it
Portuguese drivers like to go fast, so stay to the right if you can't keep up
Americans do not need an international driver's license—a valid American driver's license is accepted
Portugal Travel Map
To help give you a lay of the land for exploring this wonderful country, here is a map:
It has some of the main points of interest mentioned in this Portugal solo female travel guide pre-plotted to make it easy for you to transfer to your phone and start exploring.
Solo Travel In Portugal: Where To Go
Now let's discuss where to actually go during solo travel in Portugal. While there are many options for great destinations, a few top picks include:
Lisbon
When it comes to the best places to visit, most international flights land in the country's famous capital city, Lisbon, and this is a great place to start your solo female adventure in Portugal.
There are many museums to peruse, such as the Azulejo Tile Museum or the Museum of Art, Architecture and Technology (MAAT), which are both very much worth visiting.
Ride the historic 28 Tram to glimpse some of the city's best sights, or stroll through the Graça neighborhood to check out some of the incredible street art.
Miradouros, or viewpoints, are everywhere throughout this city of seven hills. Book an electric eco-tuk tour and allow your guide to show you to some of the best miradouros in Lisbon.
If you'd rather shop 'til you drop, wander around the Chiado neighborhood or head further north to Avenida da Liberdade for high-end ateliers.
Walking is one of the best ways to see Lisbon, but there are also public transport trams and the subway if you prefer.
Of course, you can always hire a car using Uber or Bolt (Portuguese Uber). Getting around safely is easy, even at night.
If you're feeling peckish, book a local food tour or head down to Time Out Market Lisbon to grab a bite at one of the local vendors and then walk along the waterfront toward Praça do Comércio to take in the view across the river to Almada. From there, meander through the cobblestone streets and hills of popular nearby neighborhoods like Baixa, Alfama, and Chiado.
A quick train or ferry ride will take you across the river to the Setúbal Peninsula where there are amazing beaches along the Costa da Caparica, or take the 40-minute train ride along the coast to Cascais for a beach day in this charming seaside town.
Fairytale Sintra is only an hour's train ride away, where you can while the day away in the myriad castles, palaces, and gardens.
Solo travel in Lisbon can be as fast-paced or as slow as you like. Portuguese people are notorious for living slowly and enjoying the moment.
Lisbon Hotels: Click here for a full list of hotels in Lisbon.
Lisbon Tours: Click here for a full list of fun tours in Lisbon.
Porto
Once you've experienced the cosmopolitan vibes of Lisbon, rent a car or take the 3-hour train ride to magical Porto to enjoy its riverside setting.
Book a hotel overlooking the Douro River, sip Port wine, eat a francesinha (layered, meat-filled sandwich covered in melted cheese and a tomato-based sauce), and head across the river to the city of Vila Nova da Gaia to explore the Port wine caves (storage cellars offering tours and tastings).
Walking tours are popular in Porto—and Lisbon for that matter—and there are several companies that offer a free walking tour each morning at a designated meeting point. It's a great way to see the city from the eyes of a local and a great way to start the day!
An unmissable adventure is a day trip to the Douro Valley to visit the wineries and do a Port wine tasting.
There are several ways to get there, but the most popular day trip from Porto is a Douro River cruise. Some options offer multiple winery stops plus lunch and tastings as you take the day to wonder at the beautiful landscape of hillside vineyards. It truly is a sight unlike any other in the world!
In terms of how long to stay, it's recommended to spend a minimum of 3 days in Porto to experience the top highlights.
Porto Hotels: Click here for a full list of hotels in Porto.
Porto Tours: Click here for a full list of fun tours in Porto.
The Algarve
No solo female travel in Portugal experience would be complete without a stop, or two, or three in the premier beach destination of the Algarve region.
Take the scenic drive through the center of the country along the A1 which connects north to south, or hop on a quick flight from Porto to Faro. From there you can pick up a rental car or use the rail system to explore.
The southern coast of Portugal, also known as the Algarve, has been attracting European holidaymakers and expats for a while; but, in recent years has become more popular with Americans as well.
Temperate weather year-round makes it a great place to visit no matter when you go. In fact, visiting the Algarve in the off-season can allow you to avoid the crowds and enjoy some of Europe's best beaches all to yourself. How's that for a solo travel win?
Popular Algarve destinations include Lagos, Albufeira, Portimão, and Tavira, but you can't go wrong with any town in this area, as they all offer an amazing time.
Algarve solo travel can be amazing as you have the freedom to explore all the different and unique towns. Each one has its own distinct character, so it can be fun to beach-hop through several until you find the one that's right for you.
Algarve Hotels: Click here for a full list of hotels in the Algarve.
Algarve Tours: Click here for a full list of fun tours in the Algarve.
More Popular Travel Destinations In Portugal
The Islands of the Azores & Madeira
Madeira and Azores solo travel has skyrocketed as the islands have become more well-known. These are both popular hiking and outdoor destinations, so if getting back to nature is your goal you must make time to enjoy a few days of Portuguese island life.
Also, if you're interested in exploring eco-tourism in Portugal, both of these destinations have many options.
First of all, the Azores is the world's first archipelago certified as a Sustainable Tourism Destination under the EarthCheck Sustainable Destination program.
Moreover, Madeira has numerous eco-friendly experiences, like visiting The Laurisilva (Laurel Forest), a UNESCO World Heritage site known for its impressive biodiversity. It also plays an important role in maintaining the island's hydrological balance.
There is a lot to do on this island, and you could easily spend a week in Madeira or more if you have the time to allot!
Azores Hotels: Click here for a full list of hotels in the Azores.
Azores Tours: Click here for a full list of fun tours in the Azores.
Madeira Hotels: Click here for a full list of hotels in Madeira.
Madeira Tours: Click here for a full list of fun tours in Madeira.
Silver Coast
An under-the-radar area in Portugal, the Silver Coast has beautiful beaches, charming towns, and a bit more authenticity than some of the more touristy areas. It's a great destination for a beach holiday alone.
Check out the big waves at Nazaré, or go for a more casual surf at some of the best surf beaches in Portugal—Peniche and Ericeira. The latter is home to some of the best yoga and surf retreats in Portugal.
Caldas da Rainha is nearby and offers a taste of authentic Portuguese life, and Óbidos is a medieval walled castle town that will make you think you're in a Disney movie.
Silver Coast Hotels: Click here for a full list of hotels in Nazare.
Silver Coast Tours: Click here for a full list of fun tours in Nazare.
Tips For Taking A Solo Trip To Portugal
There is no shortage of places to visit, day trips to take, castles and palaces to Instagram, traditional and trendy restaurants to try, and experiences to have when traveling Portugal solo.
Renting a car is the absolute best way to get off the beaten path when you visit Portugal. While the rail and bus systems are great, there are many magical places to see in the country that are quite far from the nearest train station.
That being said, because they are not as easily accessed by public transportation, they usually have fewer crowds and feel more special!
And as a bonus for solo travelers willing to self-drive, you're the only one in charge of where to go next. That kind of freedom and flexibility goes a long way in a small country like Portugal. You could see all four corners in just a few weeks if you put the pedal to the metal. It's one of the main benefits of solo travel.
As with any trip, practice caution, especially at night, in crowded tourist spots, and when you find yourself completely alone. You might also pack some travel safety essentials.
That being said, in general, Portugal is one of the safest countries in the world and offers a safe environment.
Costs Of Solo Travel To Portugal
Accommodation
While Portugal can be much cheaper than other Western European countries, it is really only as cheap as you make it.
One thing to love about travel in Portugal is that there are always options from low- to high-end. A hostel can cost as little as €20, and a 5-star hotel or resort can run more than €300 per night.
Vacation rentals tend to be on the cheaper side compared to hotels and the amount of space you can get, but if you're staying in some of the most popular locations during peak season, be prepared to pay for quality.
Food
The cost of food in grocery stores tends to be much cheaper than in the U.S., especially when you consider organic products; however, restaurants run the gamut.
A traditional Portuguese lunch of soup, main, dessert, and either coffee or a beer/glass of house wine can cost as little as €6-10, while an organic brunch dish can double that.
There are a million local Portuguese restaurants to choose from, and amazing seafood can be cheaper if you choose the right place; but, you can also find tons of Michelin-star restaurants too.
The restaurant world really is your oyster and there are plenty of places for any travel budget.
Drinks
You're in luck if you're a beer or wine lover in Portugal. A small draft beer can be as cheap as €1, and a glass of house wine will run as low as €3.
Even in a nice cocktail bar or fancy restaurant, premium drinks are much cheaper than in other parts of Europe and the United States, quite often coming in under €10.
A delicious oat milk latte at a trendy coffee shop will surprise you at under €5, while an espresso, or bica, is usually just €0,50.
An excellent bottle of wine can be bought in the grocery stores or a nicer wine shop for under €15. While a very decent bottle can also be purchased for €3.
Tipping
While tipping is not usually expected, the Portuguese people do appreciate a small token of your appreciation if you enjoyed your service. Typically, 5-10% of a larger bill is appropriate. If it's a smaller bill, rounding up to the nearest Euro or leaving your small change will suffice.
At nicer or more touristy spots a service charge may automatically be included, so make sure to check your bill.
Transportation
E-scooters and bike rentals are popular and sometimes even free.
Rail tickets, especially if booked well ahead, can cost pennies on the kilometer.
Car rentals in the high season can be pricey, as can gas/diesel but offer the most flexibility. Prices for rental cars fluctuate with the tourist season, as can inventory, so book well ahead of your visit. During the off-season, cars can be rented for about €20/day.
Trams cost a considerable amount more per ride, but if you intend to take more than 3-4 rides during a 24-hour period it makes more sense to buy a day pass.
Activities
Activities during your Portugal trip can be quite affordable as there are many providers competing for business. For example, a boat trip to visit Benagil Cave in the Algarve can cost as little as €20 per person.
Costs of travel in Portugal span a broad range making it affordable for every budget as long as you do your research.
Portugal Tours For Solo Travelers
Of course, there are advantages and disadvantages to traveling alone. While many people find traveling solo fun, others would prefer to have a guaranteed group of companions to explore with.
If you fit into the latter camp, a few group tours that have itineraries in Portugal and welcome solo travelers include:
Do You Need Travel Insurance For Portugal?
When visiting Portugal—or anywhere else in the world—it's wise to get travel insurance.
One of the best travel medical insurance for travelers is SafetyWing as they've got a large network and offer both short-term and long-term coverage—including coverage if you're traveling for months as well as limited coverage in your home country.
Additionally, SafetyWing is budget-friendly and offers $250,000 worth of coverage with just one low overall deductible of $250.
Click here to price out travel insurance for your trip in just a few clicks.
Frequently Asked Questions About Solo Travel In Portugal
Q: When is the best time to visit Portugal?
While you can visit Portugal any time of year, the spring and fall seasons are generally considered the best time if you want to enjoy comfortable weather and many great things to do while avoiding the summer crowds and high prices. During the winter months, it is considered too chilly to visit the beaches.
Q: Do locals speak English in Portugal?
English is widely spoken in Portugal, particularly in the big cities and tourist destinations.
Q: Is it safe to travel Portugal independently?
Portugal is considered very safe, and you can travel solo without worrying—though you should of course keep basic safety precautions in mind.
Final Thoughts On Solo Travel In Portugal
As a solo female traveler, you don't need to limit yourself while visiting Portugal.
Safe and reliable transportation, welcoming people, rich history and culture, historical monuments, a variety of picturesque landscapes, and burgeoning hipness all make Portugal the next place you should visit as a solo female traveler.
Whether you're looking for Portuguese culture, history, beauty, or fun, Portugal has it all. The options really are endless!
What would you add to this guide to solo travel in Portugal?
Enjoyed this solo female travel Portugal guide? Pin it for later!
About The Author
Allison Baxley is a wife to her high school sweetheart, mother of two young children, former advertising creative director, and creator of RenovatingLife.com. She and her family uprooted their comfy lives in Brooklyn in order to start fresh in Cascais, Portugal. After living the rat race that is NYC for 11 years, they decided they wanted to slow down, enjoy more of what the world has to offer, and live life with more intention. In addition to her blog, you can find her on Instagram, TikTok, Facebook, Twitter, and Pinterest for more fun Portugal content.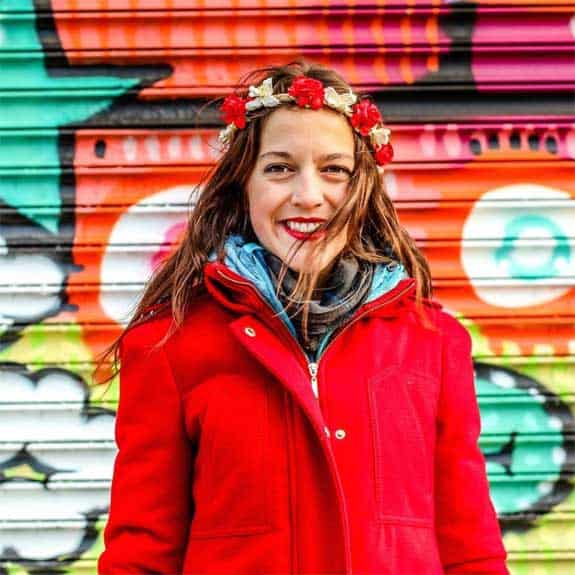 Hi, I'm Jessie on a journey!
I'm a conscious solo traveler on a mission to take you beyond the guidebook to inspire you to live your best life through travel. Come join me!
Want to live your best life through travel?
Subscribe for FREE access to my library of fun blogging worksheets and learn how to get paid to travel more!