Solo Travel In Lisbon: The Ultimate Guide (With Map!)
By Linn Haglund. This guide to traveling alone in Lisbon contains affiliate links to trusted partners!
Are you interested in learning about solo travel in Lisbon, Portugal? Want to have a safe and fun trip exploring on your own?
Then you're in the right place!
Portugal's capital city is full of charm with its cobbled streets, tiled buildings, and coastal location. And with plenty of hotels, attractions, and events to choose from, you'll never get bored in Lisbon as a solo traveler.
Personally, I've traveled solo to Lisbon numerous times, falling in love with this safe and exciting city more and more with each trip.
If you love exploring local culture, Lisbon showcases art and tradition at every turn, from its traditional tilework covering building facades to the soulful Fado music spilling out the doors of venues and restaurants into the late evenings.
Speaking of restaurants, solo travelers will also fall in love with delicious local dishes like ameijoas a bulhao pato (clams with sauce) and cozida a Portuguesa (mixed meat stew).
But, this is just the beginning of what makes Lisbon such an incredible solo travel city. Luckily, the following Lisbon solo travel guide will cover everything you need to know about how to have a safe and fun trip exploring this beguiling city on your own!
⏳ Short on time? Here are some top recommendations for your Lisbon solo itinerary:

✈️ Lisbon Airport Transfer: Book that here

☔ Safety: While Lisbon is safe for solo travel, it's still smart to pack travel safety essentials. One top pick is the She's Birdie Personal Safety Alarm, which is TSA-approved and can help scare away potential attackers. Other recommendations include Clever Travel Companion Pickpocket-Proof Garments and Speakeasy Travel Supply Hidden Pocket Scarves.

🏨 Accommodation: Goodmorning Solo Traveller Hostel & Lisboa Central Hostel. You can also view accommodation on this map to view local Lisbon hotels, hostels, and vacation rentals.

🚅 Public Transportation: Omio

💸 Save Money: Lisbon Card gets you free and discounted admission to attractions + free access to public transportation

🗺️ Experiences: Viator (tours), GetYourGuide (tours), and EatWith (cooking classes & dining in local homes)

📍Recommended Excursions:
✨ Private City Tour: Highlights of Lisbon
⛵ Lisbon Sunset Sailing Tour with Wine & Snacks
🥘 Lisbon Cultural Food & Wine Walking Tour

🎉 Events: Fever

🏥 Travel Insurance: SafetyWing

📞 Staying Connected: Airalo eSIM
Travel Solo In Lisbon With Confidence [Free Course]
But first, before we get into our solo travel Lisbon guide, I invite you to grab a seat in Jessie's free Savvy Solo Traveler E-Course.
The 6-day course is designed to help you feel confident about booking your first solo trip and exploring the world alone.
Lessons include:
Common solo travel fears and how to overcome them
How to choose your perfect solo trip
How to tell loved ones you're hitting the road solo
Mentally preparing for your solo journey without losing your mind
Essential steps for staying safe on a solo trip
How to take amazing solo selfies
Once you've grabbed your seat, read on to learn everything you need to know to travel alone in Lisbon and have an amazing time.
Solo Travel In Lisbon: Is It Worth It?
You might wonder if solo travel to Lisbon is worth it or not. The truth is, this is one of the best European cities to explore on your own.
It is a safe city with fun hostels offering group activities, plenty of culture, and attractions to explore on your own if you prefer some "me-time".
Plus, whether you visit Lisbon in winter or in the summer months, temperatures are mild, there are plenty of things to do, and each season has its own allure.
Where Is Lisbon?
Lisbon is located in central Portugal in western Europe, with the Tagus River running peacefully below the city's hills.
In terms of nearby destinations, Lisbon is about three hours north of the Algarve and three hours south of Porto, making it a popular base for day trips around the country.
Getting To Lisbon
Flying into Lisbon
Lisbon Airport (Humberto Delgado Airport) is Portugal's main international airport, making it a natural arrival point for a solo trip to Portugal. Further, Tap Portugal uses Lisbon as a base, so most flights to other destinations have a layover in the city.
Getting from Lisbon Airport to the city center is easy by metro. The metro line Aeroporto-Saldanha takes you directly into the city center in only 20 minutes.
Getting to Lisbon by train or bus
Additionally, Lisbon is well-connected by train and bus from all across the country and neighboring Spain. The main train station is Gare do Oriente Station and the main bus terminal is called Sete Rios Bus Station.
You can use a platform like Omio to plan your train and bus journeys.
Getting to Lisbon by car
If you travel by car and visit Lisbon on a road trip, it is easy to reach the city; but note that there are several toll roads in Portugal, and once you get closer to Lisbon there are multiple.
Some only take cash or don't accept foreign cards, so make sure you have about 100 Euros in cash in the car for both pay roads and parking in the city.
Parking in Lisbon is a little bit complicated, especially if you park in the city center. This is because you must pay cash to park along the road, and can only park for four hours maximum at a time.
Your best bet is to find a hotel with free parking or leave your car in a parking garage or public parking lot. You can use a platform like Parclick to find public parking lots.
Renting a car in Lisbon
Need to rent a car for your solo Lisbon trip? Check out Discover Cars to quickly compare your rental options.
Their comparison tool does the homework for you, so there's no need to have up 10+ tabs trying to figure out which company is the most affordable. Actually, you can save up to 70% using their tool!

Getting Around Lisbon As A Solo Traveler
Lisbon is easy to get around, and you'll find plenty of options for seeing the many interesting and beautiful places around the city.
The best way to get around the popular destination of Lisbon as a solo traveler is by foot or taking the iconic yellow trams. While the city is walkable, there are a lot of steep hills which might feel quite daunting if you are not used to it.
Tram no. 28 runs through the Alfama, Baixa, Estrela, and Graca districts while the Tram no. 15 goes to Belém.
Note that while Belém has numerous Lisbon attractions, it is not easily reached on foot. Because of this, I recommend taking the tram to help you maximize time on your Lisbon solo travel itinerary.
Tram tickets cost 3 Euros for a single journey and are free with the Lisbon Card.
Getting home at night in Lisbon alone is usually safe, but I would recommend taking a taxi for anything more than a 10-minute walk, especially if you must pass any dark alleys or you have been drinking.
Taxis in Lisbon have meters; however, sometimes they don't turn them on so they can charge you extra. Make sure the driver turns it on and if they don't, agree on a price upfront or get a different taxi if you think the price is too high.
Is Lisbon Safe For Solo Female Travelers?
If you've ever wondered "Is Lisbon safe to travel alone?" you'll be happy to know the answer is yes!
According to Travel Safe-Abroad, the chances of being the victim of a violent crime are low. Additionally, the city is safe for women traveling alone – though you should still keep normal solo travel safety tips in mind.
It's also important to remember that pickpocketing does occur somewhat regularly. To avoid thieves, swap your open purse for a crossbody bag that sits in front of you or even pickpocket-proof clothing or a money belt.
Finally, avoid walking alone at night, particularly in areas where there aren't other people. I've walked around Lisbon solo at night multiple times and never felt threatened or uncomfortable, but it's better safe than sorry.
Best Places To Stay In Lisbon For Solo Travelers
When considering where to stay in Lisbon as a solo traveler, there are a few neighborhoods that are centrally located. Both Baixa and Alfama are some of the best areas for walking around the historical center and visiting the city's attractions.
There, you will find the São Jorge Castle overlooking the city, Lisbon Cathedral, the Carmo Convent, and the Santa Justa Elevator among other sites.
If you want to stay near the evening action, Bairro Alto offers a vibrant nightlife scene with plenty of restaurants, bars, and clubs. It is also within walking distance of tourist attractions like the Miradouro São Pedro de Alcântara viewpoint and Igreja de São Roque church.
Here are my favorite hostels to stay for solo travelers in Lisbon. They are both centrally-located and walkable to numerous tourist attractions in Lisbon:
This is a good place to stay for anyone traveling solo to Lisbon with a communal room where you can get to know other travelers or watch movies. Walking tours and pub crawls are organized too, so you can go out in a safe environment with fun company. Your stay includes free breakfast, and rooms are a mix of dorm sizes, including female-only dorms.
This is another one of the best hostels in Lisbon for solo travelers and it features both shared and private rooms. It is nice and spacious with a great common area and kitchen – not to mention complimentary breakfast and free milkshakes on Milkshake Mondays. The staff is helpful and they organize different activities so you can easily make new friends if you feel like being social.
Find Lisbon accommodation
Want to research other solo travel-friendly hostels, hotels, and vacation rentals in Lisbon? You can view accommodation on this map.
It's currently set to Lisbon's Baixa district, but you can easily change this to your preferred area to find the best hotels in Lisbon for solo travelers:
Top Things To Do Alone In Lisbon
Now that we've discussed the logistics of traveling solo in Lisbon, let's go over what to actually do. There are endless things to do on a solo trip to Lisbon, and you can easily spend weeks there without getting bored. Here are some of the main highlights to add to your itinerary:
1) Visit Castelo de São Jorge
Atop one of Lisbon's seven hills, you will see the majestic Castelo de São Jorge (Saint George's Castle) looming above this amazing city.
This UNESCO World Heritage site is one of the most prominent landmarks in Lisbon and has been protecting the city since the 10th century; however, it was destroyed in both the 1531 and the 1755 earthquakes that hit Lisbon, so most of what you see today is restoration work after these devastating disasters.
You can get tickets at the entrance or book online. A visit encompasses the gardens with sweeping views of Lisbon and the Tagus River, the museum, and the castle where you can walk on top of its ramparts taking in more views.
2) Explore history at Jerónimos Monastery
Jerónimos Monastery is a UNESCO World Heritage site that should absolutely be on your Lisbon solo female travel itinerary.
The monastery was built in the early 15th century on the same site where Henry the Navigator founded an old hermitage. This was also the same place Vasco de Gama and his men spent their last night praying before venturing out on the open sea to India.
The monastery is a symbol of the wealth Portugal saw during the Age of Discovery with its impressive architectural details, courtyards, magnificent cloisters, and beautiful chapels. You'll see a nautical theme all over the building with sculptures and details of sea monsters, coils of rope, and corals decorating the columns and ceilings.
3) Climb Belém Tower
About a 20-minute walk or a quick ride on Tram 15 from Jerónimos Monastery is Belém Tower, another UNESCO World Heritage site in Lisbon and perhaps the most important token of Portugal's Age of Discovery.
Located on the riverfront, the tower was built at the beginning of the 16th century as a protective fort on a strategic point of the Tagus River defending the city against pirates. It was also the point where sailors set out on their discovery journeys. Later, it has also been used as a lighthouse and a prison.
A visit to the Belém Tower gives you a peek into the architecture, the pits where they held prisoners, and the canons; however, the highlight is climbing the stairs up to the top for amazing views over the city and waterfront.
I recommend visiting both Belém Tower and Jerónimos Monastery on the same day, as they are pretty close to one another. Along with exploring these sites, make sure to go for a walk in the Praça do Império Garden along the riverfront, see the 170-foot tall Monument of Discoveries, and try some of the famous Portuguese custard tarts, Pastel de Belém, while you are in the neighborhood.
💡 Pro tip: One of the best ways to visit these sites is on a Belém and Jerónimos Monastery Guided Small-Group Walking Tour, which also includes a stop at Pastéis de Belém, a Portuguese pastry shop that's more than 100 years old!
4) Take the Santa Justa Lift
The Santa Justa Lift was built by Raul Mesnier du Ponsard, who was the apprentice of Gustav Eiffel of Eiffel Tower fame. This is why it appears so similar to the famous Paris landmark.
The detailed wrought-iron lift was originally run by steam but was changed to use an electric motor a few years later.
The lift is still in operation and takes you up 45 meters from the lower district of Baixa to the higher Carmo Square. It is a great way to reach a higher level without walking, but is also a unique experience in itself.
Note that during peak season in Lisbon, there is usually a very long line to take the lift, so the best time to go is early morning. Opening hours are every day from 7 AM to 10:45 PM.
On Carmo Square, you can visit the Carmo Convent which was completely destroyed in the 1755 earthquake, leaving only its empty shell. It is tremendously beautiful with its large arches but also showcases the devastating reality of what the earthquake left behind.
Now it houses an archaeological museum where you can see, among other things, an Egyptian mummy, the tomb of King Ferdinand I, and the tomb of Queen Maria Anna of Austria, who was queen in Portugal in the mid-18th century.
5) Explore Praça do Comércio
Located on the harbor, Praça do Comércio is one of Portugal's largest squares and is lined with yellow Pombaline-style buildings on three sides and Lisbon's harbor on the fourth.
The square was built after the 1755 earthquake destroyed the country's most important palace, the Paço da Ribeira, which stood in this exact place.
Lisbon's Praça do Comércio has been a place for receiving goods from the ships docking outside it and has always been a center of activity in the city. It is also where the beginning of the fall of the Portuguese Monarchy took place when the last King, Carlos I, and his son Luis Filipe were executed on the square.
These days, it is a bit more peaceful on Praça do Comércio, with tourists snapping pictures of the equine statue of King Joseph I and people eating and drinking in the restaurants surrounding the square.
💡 Pro tip: Many tours also visit the Praça do Comércio, like the Best of Lisbon Guided Walking Tour and the Old Alfama & Baixa Chiado Quarters Walking Tour.
6) Book a Lisbon food tour or cooking class
One highlight of a solo trip to Lisbon is the food. Portuguese food is renowned for its rich and diverse flavors, characterized by fresh seafood, hearty stews, and a variety of traditional pastries like pastéis de nata (Portuguese custard tarts).
The cuisine is celebrated for its use of high-quality ingredients, Mediterranean influences, and a perfect balance of sweet and savory, making it a delicious culinary experience that reflects Portugal's rich history and culture.
One way to explore the local culinary culture is through a Lisbon food tour. A few top-rated options for this include:
➡️ Click here for a full list of food tours in Lisbon!
If you'd prefer to learn how to make the food yourself, you can also opt for a cooking class like:
➡️ Click here for a full list of cooking classes in Lisbon!
7) Eat in a local home
If you'd like to really immerse yourself in Lisbon's culinary culture while meeting locals, EatWith is a platform where you can book dining experiences with locals in their homes.
If you're nervous about being lonely while traveling solo, these shared meals are a great way to socialize over some delicious food.
Along with dinners in local homes, EatWith also lets you book food tours and cooking classes led by locals.
8) Step into Lisbon Cathedral (Sé de Lisboa)
As you can see, there are many amazing things to do in Lisbon for solo travelers. And when it comes to local attractions, Sé de Lisboa (Lisbon Cathedral) is a must-visit.
Located in the Alfama district, the Tram 28 passes straight in front of it so it is hard to miss. The 12th-century Gothic basilica is the oldest in Lisbon, and beyond its grand facade, the interior hides beautiful treasures.
Inside, take note of the choir, the altarpiece, and the stained glass rose window. There is also a balcony where you can enjoy epic city views.
Besides, the tombs of King Alfonso IV and João Anes, the first archbishop of Lisbon, are inside as well as the relics of the martyr St. Vincent.
9) Visit the National Tile Museum
One of the most traditional art forms in Portugal is the mastering of the azulejos, the beautifully decorated tiles that adorn house facades as well as church and courtyard interiors around Portugal.
The National Tile Museum (Museu Nacional do Azulejo) in Lisbon is a wonderful place to learn more about the history of the Portuguese tiles.
It is set in an early 16th-century convent and displays a vast collection of tilework from the 15th century to the present day.
10) Search for the best Lisbon viewpoints
No Lisbon solo trip would be complete without taking in some absolutely stunning views. Lisbon is built on seven hills, so you can only imagine how many splendid viewpoints you will find throughout the city.
One of the most popular viewpoints is Miradouro de Santa Luzia in the Alfama district, recognized for its white and blue tiles and overhanging plants. It offers stunning views of Lisbon's rooftops, the National Pantheon, and the Tagus River.
A short walk from there, you get another iconic view of Alfama's terracotta rooftops from Miradouro das Portas do Sol.
Additionally, Miradouro de São Pedro de Alcântara is located in Bairro Alto and offers sweeping views of Alfama and Lisbon's iconic hilltop castle with the Tagus River as a backdrop.
For a different view, you can climb the Arco da Rua Augusta at Praca da Commercio where you will get a bird's eye view of the giant square, Rua da Augusta, and beyond. There is a small fee to go to the top, but it is totally worth it.
Top-Rated Tours For Solo Travelers In Lisbon
One of the best ways to gain a deeper understanding of the places you visit while making new friends during solo travel in Lisbon is to book a guided tour. A few top-rated tours in Lisbon include:
➡️ Click here for a full list of Lisbon tours.
Tips For Solo Dining In Lisbon
Solo dining in Lisbon is widely accepted and I have never experienced being denied eating anywhere when going alone or felt awkward due to the treatment of the restaurant workers.
Actually, many restaurants have small tables for one or two people, making it easy to seat those dining alone.
If you feel uncomfortable, go early for dinner at about 7-8 PM when the restaurants still are not full. This way, you have the option to chat with the waiters who usually have more time on hand, or read a book while waiting for the food.
A great place to go if you are not comfortable dining alone is the Time Out Market Lisbon. Here you can get food from different stalls featuring some of the best restaurants in Lisbon. It's a popular place for solo diners looking for a delicious meal.
Finally, one of the best ways to try a variety of different Portuguese foods is to join a Lisbon food tour, which is also great for meeting locals and other travelers. Click here for a full list of food tours in Lisbon.
Lisbon Bars For Solo Travelers
Traveling to Lisbon alone shouldn't mean you have to stay in when the sun goes down. There are a number of districts in Lisbon known for their evening offers, each with its own vibe. Some of my favorites include:
Bairro Alto. This is the best place for nightlife with plenty of bars, clubs, and restaurants. If you enjoy a good cocktail, one of the best bars for solo travelers in Lisbon is Cinco Lounge, a trendy spot with a vast drink menu. You can even sign up for a cocktail course if you fancy meeting people with similar interests.
Chiado. Head here if you are looking for more chilled-out after-work bars. For a casual and local dining experience, Taberna da Rua das Flores is intimate enough that it is easy to chat with people at other tables, and the staff is also very friendly.
Marvila. Known as Lisbon's Beer District, Marvila is the perfect place for beer drinkers. And if you enjoy craft beer in particular, definitely visit Fábrica da Musa which offers everything from IPAs to pilsners to blonde ales and beyond.
Alfama. Here you'll find some of the best places to enjoy soulful Portuguese folk music or fado. My top pick for this is Fama d'Alfama as they easily accommodate anyone dining solo and it is entertaining watching the Fado show even if you are not used to dining alone.
💡 Pro tip: There are many ways to meet others to enjoy local Lisbon nightlife, such as joining pub crawls through your hostel or finding meetups through platforms like CouchSurfing and Meetup.com. Additionally, you can check Fever to find fun local events, concerts, and pop-ups.
Fun Day Trips From Lisbon For Solo Travelers
There are plenty of day trips you can take from Lisbon to nearby towns and cities, like:
Sintra
The most popular day trip from Lisbon is the fairytale town of Sintra where you can visit the famous Palacio da Pena (Pena Palace).
There are also plenty of other fairytale castles in Sintra like Quinta da Regaleira and the Moorish Castle with its walls reminiscent of a miniature Great Wall of China.
It is easy to visit Sintra by train and bus, or by booking a tour to Sintra from Lisbon.
Cascais
Not far from Sintra, you find another charming town, Cascais. This is a coastal resort town with splendid beaches, palaces, and a lighthouse that is well worth a day trip.
A short walk from the town itself, you can admire the natural blowhole Boca do Inferno combined with a relaxing coastal walk.
It is easy to reach Cascais by train or bus, or by booking a tour to Cascais from Lisbon.
Ericeira
Ericeira is home to Europe's only World Surfing Reserve and is one of the most quaint little beach towns in Portugal near Lisbon.
Besides surfing, it has a lovely old town with traditional white and blue painted houses, interesting rock art along the coastal walk lining the town, and great beaches for swimming.
To reach Ericeira you can take a bus from the Campo Grande bus terminal in Lisbon to Ericeira's Terminal Rodoviário. Alternatively, you can book a private transfer or book a tour to Ericeira from Lisbon.
Mafra
In Mafra, you can visit the opulent National Palace of Mafra (Palácio Nacional de Mafra) which is 220 meters long and boasts 1200 rooms.
The palace has an integrated basilica and is listed as a UNESCO World Heritage Site. The town itself is small with a few restaurants and bars for lunch.
To get to Mafra from Lisbon, take a bus from Campo Grande bus terminal to Av Forças Armadas 8. You can also book a private transfer or book a tour to Mafra from Lisbon.
Lisbon Travel Map
To help give you a lay of the land, here is a solo travel in Lisbon map. It has all of the places mentioned in this guide pre-plotted:
Click here for the interactive version of this map.
Do You Need Travel Insurance For Lisbon?
When visiting Lisbon solo, it's wise to get travel insurance.
One of the best travel medical insurance for travelers is SafetyWing as they've got a large network and offer both short-term and long-term coverage — including coverage if you're traveling for months as well as limited coverage in your home country.
Additionally, SafetyWing is budget-friendly and offers $250,000 worth of coverage with just one low overall deductible of $250.
Click here to price out travel insurance for your trip in just a few clicks.
Solo Travel In Lisbon FAQ
Now that we've gone over some important things to know when it comes to Lisbon Portugal solo travel, it's time to answer some frequently asked questions:
Q) Is Lisbon good for solo travel?
Lisbon is great for solo travelers thanks to its welcoming atmosphere, vibrant street life, and a mix of historic charm and modern amenities, providing a safe and enjoyable environment for those exploring the city on their own.
Q) Is Lisbon safe for solo travel?
Yes, Lisbon is safe to travel alone, and your risk of being the victim of a violent crime is low.
Q) How do I meet solo travelers in Lisbon?
A few ways to make friends when traveling solo in Lisbon include booking small-group walking tours, staying at hostels, and making use of platforms like CouchSuring, Meetup.com, and local Facebook groups that help facilitate meeting locals and other travelers.
Q) When is the best time to visit Lisbon?
The best time to travel to Lisbon is the shoulder season, which includes March to May or September to October. During this time, you can enjoy wonderful weather without the crowds and high prices of summer.
Q) Is Lisbon friendly to foreigners?
Yes, locals in Lisbon are generally friendly to foreigners and are known for their warm hospitality and willingness to help visitors, creating a welcoming atmosphere for those exploring the city.
Q) Is Lisbon friendly to American tourists?
Yes, Lisbon is generally friendly to American tourists, as English is widely spoken, and locals are accustomed to welcoming visitors from diverse backgrounds.
Final Thoughts On Lisbon Solo Travel
Summing up this Lisbon solo travel guide, there are plenty of reasons to visit Lisbon alone.
Not only is it safe, but there are many places and opportunities to connect with other solo travelers. Additionally, there are loads of activities and attractions, not to mention the food is delectable – even for vegans.
If you enjoy a good nightclub, Lisbon will not disappoint, but if you prefer a quiet night out with wine and an authentic fado performance, you will find that too.
No matter what your travel style, I hope you enjoy traveling Lisbon solo just as much as I do!
What tips would you add to this guide to solo travel in Lisbon, Portugal?
About The Author
Linn Haglund is a multicultural full-time traveler, blogger, vlogger, and freelance writer focused on travel and the outdoors. Her passion for sustainable travel led her to help others travel more responsibly with her blog Brainy Backpackers. You can also follow her journey on YouTube, Facebook, or Instagram.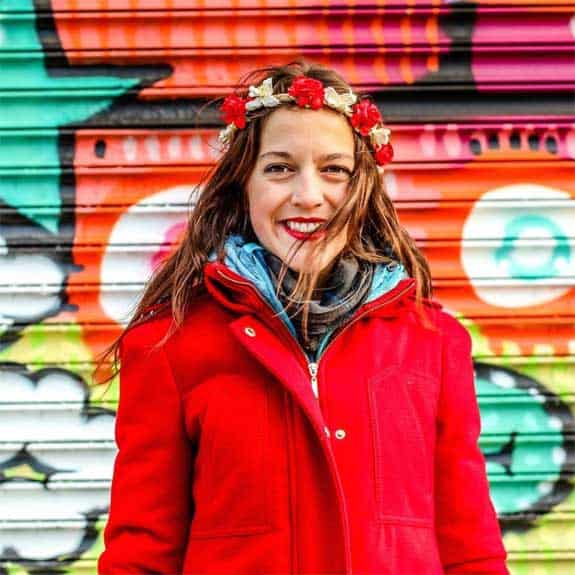 Hi, I'm Jessie on a journey!
I'm a conscious solo traveler on a mission to take you beyond the guidebook to inspire you to live your best life through travel. Come join me!
Want to live your best life through travel?
Subscribe for FREE access to my library of fun blogging worksheets and learn how to get paid to travel more!