11 Reasons The Azores Should Be Your Next Trip
For those having trouble deciding where to go next, I recently returned from a trip to the Azores — a group of nine volcanic islands located 950 miles west of Lisbon, Portugal's capital — and loved it.
To be honest, I'd never heard of the destination before going (bad travel blogger!) and was shocked to learn I could take a direct flight from Boston in about five hours on SATA Airlines.
If that's not convincing enough, here are 11 other reasons the Azores should be your next trip — and should certainly not be missed when visiting Portugal!
1. To Immerse Yourself In Green
While part of Portugal, the Azores are essentially in the middle of nowhere in the middle of the Atlantic Ocean and are still largely untouched by mass tourism.
This means pristine landscapes and natural experiences at almost every turn: 60+ hiking trails, volcano climbing, countryside cycling, dolphin and whale watching (20+ whale species), bird watching (64+ species), sailing, challenging surfing, water sports.
Interestingly, the islands are extremely self-sufficient in terms of production, making their own alcohol, tobacco, and dairy; growing their own produce to sell and turn into jams, curries and mustards; and keeping livestock for high-quality meat production.
São Miguel in particular is heaven for nature lovers, nicknamed "The Green Island" due to the intense emerald green vegetation covering almost every inch of the landscape, although Pico Island's volcano hiking and historic vineyard touring is also worth a trip.
2. The Views
The Azores were full of amazing vistas — I especially loved the views on São Miguel during my solo trip to Portugal.
Grab a map from the local tourism board and you'll see numerous suggested lookout points on each of the islands. One of my favorites was the vista from Pico da Barrosa lookout, which made the Earth look more like a painting than real life.
On São Jorge, the view from the fishing harbor near Ilhéu do Topo was spectacular. Rent a car and try to photograph them all!
3. The Pineapples
While I'd eaten pineapple before the Azores, I'd never eaten Azorean pineapple. Trust me, it's different. Pineapple culture on the islands began in the late 19th century, when the fruits were brought over from Brazil, although their nature transformed with the unique terroir into a more acidic, less sweet fruit — one that I quickly became addicted to.
I even swapped my typical chocolate desserts for local pineapple cakes and mousses.
Tip:
Try the pineapple cake — a thick slab of fresh local pineapple pressed against a moist gelatin-like cake topped with powdered sugar and a cherry — from Alcides Restaurant in Ponta Delgada (Rua Hintze Ribeiro, 61/77). Decadent!
I also visited the free-to-tour organic A. Arruda Pineapple Plantation on São Miguel (Rue Drº Augusto Arruda – Fajã Baixo – 351-296 384 438).
Compared to six months for Latin American pineapples, Azorean pineapples take two years to cultivate, and you'll be able to see the fruits at their various stages of development. In the onsite shop, pineapple novelties and a variety of housewares and accessories are sold alongside free samples of family-recipe pineapple liqueurs, chutneys (love the spicy one!), jam, mustard, and curry.
4. Europe's Only Tea Plantations
São Miguel is the only place in all of Europe where you'll find tea plantations.
There are actually two on the island, both within a 10-minute drive of each other. I visited Gorreana Tea (Maia, Sao Miguel 9625; +351 296 442 349) a family-operated business since 1883 that takes pride in growing organic, chemical-free tea leafs.
Here, visitors can wander the plantation and factory free of charge, learning how the machines work, sampling tea (the green has a floral, non-bitter flavor), and perusing a gift shop showcasing local products like homemade jams and fruit liqueurs. They make both green and black teas, which I learn are from the same plant — Camellia sinensis; however, while black tea goes through a fermentation process, green tea instead is steamed.
At the moment, they're constructing a museum to house old machines and artifacts.
5. Underground Cooking
Every day at 12:30pm you can go to Lagoa das Furnas on São Miguel to watch locals and chefs pull pots filled with meats and veggies out of the ground.
These people aren't foraging — although almost all of the meat and produce used in the Azores is grown locally — they're using naturally occurring steam from the geothermal hot springs to cook the ingredients for "Cozido das Furnas," a typical dish in the São Miguel parish of Furnas.
After watching how the ingredients are prepared, head to Furnas Village to the Terra Nostra Garden Hotel (Rua Padre José Jacinto Botelho, 5) to savor the dish for yourself — a hearty plate of beef shoulder, black pudding, pork shanks, chorizo, pork belly, pork foot, chicken, kale, cabbage, carrot, yam, and potato all gowned in its own juices — before wandering the onsite 12-acre botanical gardens (€6/about $6.80 USD per person).
7. The Cheese
São Jorge isn't just home to any cheese, but the famous São Jorge Cheese — renowned all over the Azores.
This part of local culture can be explored at Uniqueijo cooperative (Uniqueijo, Beira 9800-501 Velas São Jorge; +351 295 438 274/5; [email protected]), where they produce protected designation of origin (PDO)-classified raw milk cheese and offer tours.
After dressing up in a plastic gown, hat and booties, I'm taken on a guided tour of the plant, viewing how the cheese begins as raw milk and moves through the different phases to become a perfectly wheel-shaped cheese, an important aspect of attaining the PDO São Jorge Cheese label.
There will also be a colored stamp to tell you the cheese's age: black/7 months, red/4 months or green/3 months.
The stinky experience continues into a bar and shop, where I peruse local dairy products and homemade pastries, and also savor a comparative tasting of a young 3-month aged cheese, which has a yellower color and more soft and salty flavor, and a 7-month aged cheese, which is slightly firmer, sharper and even a bit spicy.
My guide informs me that many guests inquire if they add pepper to their older cheeses, when in fact the taste occurs naturally, especially in the São Jorge Cheese.
6. The Wine
Once you have your artisan cheese on São Jorge, head to Pico Island for some local wine.
Not only does the island make great vinho, but many of its vineyards hold heritage importance. Within the UNESCO World Heritage wine area of Criação Velha, home to the most extensive network of vineyards on Pico Island, you can take a walk through the basalt wall-lined vineyards and do a tour, workshop or tasting at the local Cooperativa Vitivinícola da Ilha do Pico (Pico Island Wine Cooperative).
The area focuses on historical grapes like verdelho, arinto, and terrantez as vintners work to preserve a heritage that has been around since the first settlers arrived in the 15th century.
To immerse yourself in this old world, drive about 15 more minutes to Lajido, where houses are done in a 15th-century style — simple constructions made from stone without the use of concrete with small glass windows and red and green doors to signify if you were poor or wealthy, respectively — abound.
Here you'll also find a distillery-slash-museum worth checking out to see how they make liquors and firewater using old stone machines.
Cooperative of Pico Island (CVIP), Avenida Padre Nunes de Rosa #29, 9950 Madalena; +351 292 622 262, [email protected]
7. Scenic Hiking
Each Azorean island has its own network of hiking trails, with brochures and maps provided by the local island tourism boards (click here for their addresses).
I did a few during my trip:
One was Fajã dos Cubres to Fajã da Caldeira de Santo Cristo, the place where they catch São Jorge's famous clams.
The landscape immerses you in woodland lush with native vegetation, along the mountain edge for Atlantic views, through the small stone house fajã villages on the water, and near lush jungle for a mix of experiences in about two hours round trip.
If you have the energy to continue, it's possible to continue Serra do Topo in the mountains, which makes the trail 10 kilometers (6.2 miles) each way.
Another I enjoyed was Salto do Cabrito on São Miguel, a unique waterfall trail that introduced me to nature as well as geothermal and hydro-electricity, as I hiked atop the Fajã do Redondo Dam for beautiful water views, through steamy sections of trail from geothermal activity, over metal catwalks taking me over streams and alongside giant pipes, and to a beautiful waterfall where you can swim in the warmer months.
8. It's Budget-Friendly
Unlike exotic island groups like French Polynesia and the Galapagos which are amazing but pricey, the Azores can actually be a budget-friendly trip.
For example, at São Jorge's fanciest restaurant, Restaurante Fornos de Lava, I paid 10 Euros (about $11.40 USD) for grilled pork chops.
On São Miguel, hotels start at around 45 Euros (about $51 USD) (Guest House Comodoro) per night, although hostels are available for cheaper. A set lunch menu is about 6 Euros (about $6.80 USD) for a coffee, soup, meal and glass of wine. There are a slew of free and under 2 Euros attractions such as hiking trails, nature parks, and agricultural cooperative tours.
Your major expense for this trip will be the flight(s).
That being said, beginning in April 2015, Ryanair and Easyjet will offer cheap service from the mainland to the islands. Additionally, from October 2015 inter-island flights will be capped at 120 Euros ($136 USD) or less. It's also worth checking AtlanticOnline — a large ferry service running May through September — for multi-island ticket deals, like the Blue Sea Pass, as well as SATA Airlines' website.
10. Visit Numerous Destinations In One Trip
What's really special about the Azores is how easy and close it is to get from island to island. Actually, all of my inter-island flights were about 30-40 minutes long.
Moreover, each island has its own personality. While São Miguel is known for its crater lakes, colorful flowers, green landscape and vibrant Ponta Delgada capital city, Santa Maria offers whimsical vine-covered buildings and is home to Anjos Chapel of Baia de Sao Lourenco, the very place Christopher Columbus prayed on his return voyage to America.
Then there's Terceira, steeped in history as it's home to the Atlantic's first European city (Angra do Heroísmo) and is a UNESCO World Heritage Site. On Pico Island, I was stunned by the gorgeous lava-covered landscape mixed with green slopes and basalt-lined vineyards.
These are just a few of the nine islands and what to expect on each.
11. Rural Accommodation
While Airbnb hasn't hit the islands yet, the Azores offers rural accommodation usually in the typical old stone style. It's a great way to go back in time and get a taste of what the islands used to be like.
Adegas de Pico on Pico Island was by far my favorite of the four accommodations I used on the trip.
Basically you get your own traditional stone cottage — mine used to belong to a fisherman — featuring local handicrafts and items throughout, right on the water. It was super cozy, had its own self-catering kitchen with breakfast items included and allowed me to fall asleep to the sounds of the ocean.
Just make sure to bring your own toiletries — the bathroom only has hand soap. Rates start at $67 Euros (about $76 USD) per night.
Have you visited the Azores? What was the highlight for you? Please share in the comments below.
Here is a sample travel packing list that might work for the female traveler (though men can tweak to fit their needs) going to the Azores for one week. I visited during early March and found it to still be slightly chilly, and even in summer it rarely gets above 78 degrees Fahrenheit.

I also found the Azores to be quite casual, so having laid-back attire and rewearing certain items is fine.

Carry-on suitcase. I'm currently using a Ricardo Beverly Hills 20-Inch 4 Wheel Expandable Wheelaboard, though if I had more money ($399, to be exact) I would go for the Bluesmart Connected Carry-On, which charges your gadgets, weighs and tracks itself and logs trip data via a paired app.
Passport & necessary visas/medical documents
Personal medications
Beside-U Backpack for hikes and day trips (so comfortable with so many pockets!)
TravelMore International Travel Adapter with USB ports
Aromaflage perfume & DEET-free insect repellent in one
Clever Travel Companion pickpocket-proof garments. I personally use the underwear and tank.
3 pairs of Smartwool socks
4 pairs of regular socks
7 pairs of underwear. I personally like ExOfficio, as they're comfortable, quick drying, moisture-wicking and so light they feel like a second skin.
Two sports bras; 1 regular bra
Pajamas
Two sundresses (if it's summer)
2 pairs of leggings. Modcloth has a good mix of neutral and fun prints.
1 pair of Stonewear Breathe Pants, which can be born as dressy or lounge pants
2 moisture-wicking tops for hiking, including at least one turtleneck
Frogg Toggs Rain Suit jacket and pants set
1 pair of gauchos or capris (if it's summer)
3-4 nice fitting tees/tanks you can dress up or down or use as an undershirt. I'm a fan of Life is Good inspirational tees.
3 winter shirts/sweaters that look nice with leggings
2 thin hoodies
2 button-up sweaters that can be worn on its own or as a light jacket
1 Classic BUFF for warming your head, neck and face
An intervalometer for taking non-douchey selfies, or at least less douchey than with a selfie stick
AquaFlexi collapsible water bottle (you can drink the water in the Azores)
SmugMug or equivalent for storing photos
Laptop/device of your choice for uploading/editing photos. I love PicMonkey for editing as it's essentially "Photoshop for Dummies" and has tons of fun features.
Smartphone for Instagram, Kindle app and keeping in touch
Mad Hippie Vegan Vitamin C Serum. This may sound frivolous, but this serum is better than makeup, gives you a gorgeous glow and can help give you a skin health and moisture boost when you're not being 100% kind to your skin, such as when flying.
Sunscreen
Sunglasses
Glasses/Contact lenses/Solution
Comb/Ponytail holders/Bobby pins
Toothbrush/Toothpaste/Floss
Bandaids
Jiva Cubes for delicious pre-sweetened single-origin Colombian coffee on the go
Cavas slip-on shoes. I wear these for wandering around and with sundresses or dress pants.
Ahnu Montara II Waterproof Hiking Shoes. Great for sightseeing and adventure activities.
Necessary electronics chargers
Snacks. Some of my favorites include trail mix, protein bars, roasted almonds, cereal, pretzels and oatmeal.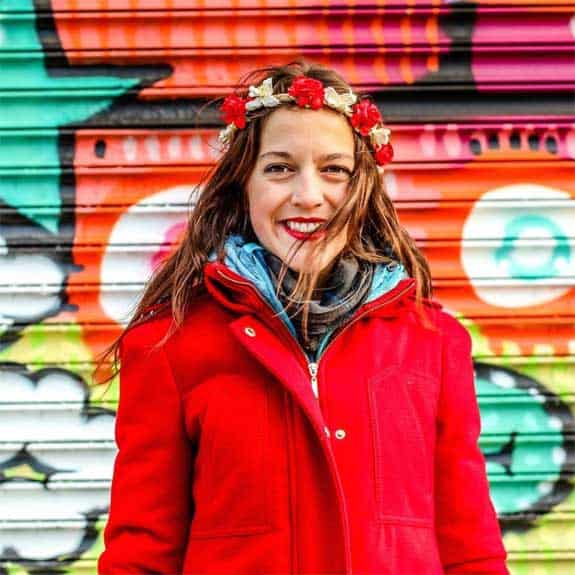 Hi, I'm Jessie on a journey!
I'm a conscious solo traveler on a mission to take you beyond the guidebook to inspire you to live your best life through travel. Come join me!
Want to live your best life through travel?
Subscribe for FREE access to my library of fun blogging worksheets and learn how to get paid to travel more!