Solo Travel In New Zealand: The Ultimate Guide
By Kate S. This guide to traveling alone in New Zealand contains affiliate links to trusted partners!
Interested in solo travel in New Zealand, but need help with the planning?
Then you're in the right place!
New Zealand is known as a land of hobbits, sheep, snow-capped mountains, and turquoise lakes. While it might not have the same backpacker-friendly reputation as Southeast Asia or Europe, New Zealand's small size and friendly laid-back environment make it an easy and approachable destination for solo travelers.
Whether you want to hike Mount Tongariro, hit the slopes at Cardrona, or soak in a Rotorua hot spring, there is so much to do here for all types of solo travelers, but especially the adventurous — this is the home of the bungy jump after all!
With so much to do and see, how does someone traveling on their own get the most out of solo travel in New Zealand?
All you need is a willingness to explore and experience new things and a certain level of trust, in yourself and others. Also essential are excellent organizational skills.
Traveling solo in New Zealand is a great way to meet new people, maybe even make lifelong friends, and definitely create some incredible memories.
Keep reading to learn how to plan a safe, fun, and unforgettable trip to New Zealand on your own!
Quick tip: While New Zealand is safe for solo travel, it's still smart to pack travel safety essentials. One top pick is the She's Birdie Personal Safety Alarm, which is TSA-approved and can help scare away potential attackers. Other recommendations include Clever Travel Companion Pickpocket-Proof Garments and Speakeasy Travel Supply Hidden Pocket Scarves.
Travel Solo In New Zealand With Confidence [Free eCourse]
But first, before we get into our New Zealand solo travel guide, I invite you to grab a seat in Jessie's free Savvy Solo Traveler E-Course.
The 6-day course is designed to help you feel confident about booking your first solo trip and exploring the world alone.
Lessons include:
Common solo travel fears and how to overcome them
How to choose your perfect solo trip
How to tell loved ones you're hitting the road solo
Mentally preparing for your solo journey without losing your mind
Essential steps for staying safe on a solo trip
How to take amazing solo selfies
Once you've grabbed your seat, read on to learn all about solo female travel in New Zealand.
Is New Zealand Safe For Solo Female Travelers?
Overall, New Zealand is a very safe and welcoming place for travelers, including solo travelers. In fact, it ranks #2 on the Global Peace Index out of 163 countries!
Women are generally treated very well – NZ was the first country in the world to give women the right to vote – and solo travelers are fairly common in major tourist areas so you won't stand out.
Public transport is typically very safe to use and crime rates are fairly low.
In the cities, expect to follow the same basic precautions you would anywhere else in the world: avoid waking alone late at night in deserted areas, limit your drinking, and trust your gut.
Where Is New Zealand?
New Zealand is the southernmost country in the world and a long way from basically everywhere.
In terms of geography, New Zealand is closest to Australia, about 3 hours by plane between the two countries' capitals.
New Zealand consists of two main islands, simply called the North Island and South Island. Both have a lot to offer so try to fit both into your solo New Zealand trip if possible.
Getting To New Zealand
Because New Zealand is an island country, the only way to get there is by plane. Auckland Airport is the main airport for the country with the most flight options; however, you can also fly into Wellington, Christchurch, and Queenstown if coming from Australia.
Getting Around New Zealand As A Solo Traveler
When traveling alone around New Zealand, you can use bus services – which offer the cheapest option – or rent a car or camper van.
New Zealand by bus
If traveling New Zealand by bus, the Intercity network will be your best bet. They go basically everywhere in New Zealand and the first tickets for each bus are often $1. They also have multi-trip pass options to help you save some dollars.
New Zealand by car
Need a rental car? Check out Discover Cars to quickly compare your car hire options. Their comparison tool does the homework for you, so there's no need to have up 10+ tabs trying to figure out which company is the most affordable. Actually, you can save up to 70% using their tool!

New Zealand by tour company
Another idea for those traveling New Zealand solo is joining a tour group to have all the transport sorted for you. I've used G Adventures and Contiki before and rate them both highly. It's also a great way to make new friends.
Flying around New Zealand
Flights are available between major cities but can be expensive unless booked far in advance. You'll also miss a lot of New Zealand's beautiful scenery if you stick to the airline routes.
New Zealand Travel Map
To help give you a lay of the land, here is a map. It has most of the main points and solo activities mentioned in this guide to New Zealand solo female travel:
You can also click here for the interactive version.
Popular Destinations For Solo Travel In New Zealand
Of course, one of the most important aspects of planning a solo trip to New Zealand is deciding where to go. While there are many wonderful places to explore, some top picks for those visiting NZ on their own include:
Auckland
Auckland is the starting point for most solo holidays in New Zealand because it has the major airport.
It is New Zealand's biggest city with around 1.5 million people, but it's not the capital. That would be Wellington (more on this below!).
When in Auckland, you'll want to visit the iconic Sky Tower for the best views of the city and surrounding coast. If you enjoy adventure travel, you can even try a bungee jump off the edge!
The waterfront precinct sits on the harbor in downtown Auckland, and is a great place to go for walks, do some shopping, and savor some of the best dining in the city.
Here you'll find Commercial Bay and its upmarket food court, while Britomart — with its lovely cobble-stoned plaza — has more fine dining restaurants and local designer boutiques. Make sure to grab some ice cream from Giapo while you're there!
If you have time, escape the city with a short ferry trip across to Waiheke Island. The island has some pretty beaches, though it's most famous for its wineries — some of which you can walk to from the wharf, including Cable Bay and Mudbrick. Tastings are available for free or for a small charge.
For a taste of daily life in Auckland head to Mount Eden, a pretty suburb just south of the city center. Here you can take an easy 30-45-minute walk up the mountain and grab coffee and cake in the village. A flat white is the favorite order of locals in New Zealand!
Auckland Hotels: Click here for a full list of hotels in Auckland.
Auckland Tours: Click here for a full list of fun tours in Auckland.
Central North Island
When you travel New Zealand solo, the central North Island region is a must. It's home to some of the country's most famous attractions and is definitely a place to spend time on your solo trip.
There are a few stops you should make while here.
The first is the central Waikato region, which has many popular attractions, including:
Further south, you'll find Rotorua, New Zealand's geothermal town. This is the place to relax with a day spent in the hot pools at the Polynesian Spa.
Rotorua is also home to a large Māori population – the Indigenous Polynesian people of mainland New Zealand (Aotearoa) – and there are tours available where you can learn about their history and culture and try traditional hangi food.
You can view a list of local cultural tours here.
After Rotorua, keep going south until you reach Tongariro National Park. This is where you can do the Tongariro Alpine Crossing, a day trek that is considered one of the best hikes in New Zealand.
If you want a hiking option that's safe and doable for solo travelers, then this is it. It's around eight hours, with some serious elevation — though it's manageable for most fitness levels. To make things easy, you can book a shuttle from your accommodation to the trailhead.
Of course, just make sure to keep a few important solo hiking tips in mind, like staying on designated trails and familiarizing yourself with potential hazards and threats, like certain wildlife, along the way.
Click here for full details on Tongariro Crossing and a trail map.
Rotorua Hotels: Click here for a full list of hotels in Rotorua.
Rotorua Tours: Click here for a full list of fun tours in Rotorua.
Wellington
Solo holidays to New Zealand aren't complete without a stop in Wellington.
As the nation's capital, Wellington is a must-see on any New Zealand solo traveler's itinerary. I lived in the city for six years and can't speak highly enough of it, especially its foodie culture.
Depending when you're visiting, you may be able to attend a few Wellington On A Plate Festival events hosted at cafes, bars, and restaurants around town. In the past the festival has taken place in August, though recently it was hosted in May, so join their mailing list to stay in the loop.
Wellingtonians take a lot of pride in their coffee, and the best way to try it is with a tasting flight of black or white coffees at Flight Coffee. Follow that up with a tour of the bean-to-bar chocolate making process at Wellington Chocolate Factory on nearby Leeds Street.
Of the many things to do in Wellington, the top of the list is a trip to Te Papa, the national museum. Te Papa is free — making it great for solo travelers on a budget — and has tons of exhibits on New Zealand's history and art.
Make sure to visit Wētā Workshop in the Wellington suburb of Miramar. This is where they make the special effect magic behind movies like Lord of the Rings, Avatar, and Stranger Things. The tour here is fascinating, even if you aren't a fan of the particular movies.
While you're in town, spend some time exploring the laneways and the many hidden cafes and bars. I love Hanging Ditch in Hannah's Laneway for cocktails, while People's Coffee in Luke's Lane is perfect for digital nomads. You really never know what you'll find in Wellington!
Wellington Hotels: Click here for a full list of hotels in Wellington.
Wellington Tours: Click here for a full list of fun tours in Wellington.
Nelson-Tasman
If you're looking for some beach time on your solo holiday to New Zealand then the Nelson-Tasman region is the place to come.
You could say it's a bit like the Florida of New Zealand in that the weather is often sunny, there are miles of coastline, and lots of retirees.
While you should base yourself in Nelson, it will be a lot easier if you have a car for this part of your trip as the attractions in the area are a bit spread out. While it's possible to get to most places with local buses and water taxis, it will be difficult.
The beaches at Golden Bay and Kaiteriteri are some of the most famous and beautiful in New Zealand — with golden sand and clear blue water that is perfect for swimming and snorkeling. Fortunately, these beaches are typically less crowded than the more easily accessible beaches in Coromandel on the North Island.
Another great way to explore the area is by kayak. The best kayaking in the area is in Abel Tasman National Park, where you can see the famous Split Apple Rock and colonies of seals sunbathing along the shore.
Foodies will love the Tasman's Great Taste Trail, a collection of wineries, distilleries, historic pubs, and artisan food producers that you can visit by bike (hirable in Nelson), car, or on an organized tour.
Nelson Hotels: Click here for a full list of hotels in Nelson.
Nelson Tours: Click here for a full list of fun tours in Nelson.
Queenstown
Queenstown really is the best of New Zealand.
As a New Zealander myself, it's the place I recommend all travelers visit for an amazing time. It combines phenomenal scenery with loads of fun adventure activities — including some of the best South Island New Zealand hikes — and incredible food and wine.
Queenstown has the world's first bungee jump, out at Kawerau Bridge Bungy, plus something called the sky swing to keep adrenaline-seekers entertained.
For something slightly less fear-inspiring, there are jet boat rides through the canyons on the Shotover River as well as gondola rides up Ben Lomond Mountain. Afterwards, you can opt to luge or parasail down the mountain.
Otherwise, you can hang out by the lakeside, taking in the spectacular sunsets over The Remarkables Ranges while enjoying some classic kiwi fish and chips.
A short trip out of town takes you into the Gibbston Valley, where the world-renowned Central Otago pinot noirs are made and where you can see the historic gold mining town of Arrowtown.
Queenstown Hotels: Click here for a full list of hotels in Queenstown.
Queenstown Tours: Click here for a full list of fun tours in Queenstown.
Tips For Taking A Solo Trip To New Zealand
Alright, so now hopefully you're starting to get an idea of where you might want to go while traveling solo in New Zealand; however, there are still some important tips you should keep in mind:
Pack light for New Zealand
Your solo travels around New Zealand will be a lot easier if you can keep your baggage as small and light as possible, preferably in a backpack.
Public transport isn't always easily available, so you may have to walk reasonable distances from the bus stations to your accommodation or just between attractions. Because of this, it's easiest if you aren't lugging heavy bags.
Besides, New Zealanders are very casual, so you can get by everywhere with just jeans/shorts, t-shirts, and sneakers.
Likely, you will want to devote a portion of that precious baggage space to some cold and wet weather gear — especially if you're planning to do any New Zealand hikes. Proper hiking attire is a must, as the weather in New Zealand can change quickly.
If you need to buy any essentials on the go, department stores like The Warehouse and Kmart have everything you could need at affordable prices.
Expect jet lag
Unless you're coming from Australia, chances are you'll have to cross many time zones to get to New Zealand — which means that jet lag is inevitable.
The trip is hardest coming from the Americas as you'll have to cross the international date line and lose two days in the process, which is bound to mess up anyone's body clock.
You can plan for this by picking a flight that comes in at night so you can go straight to your (pre-booked) accommodation and to sleep, hopefully waking up fully adjusted the next morning and ready to explore.
Because of the jet lag, you'll want to allow yourself time to take it easy for the first few days, rather than jumping right into a jam-packed itinerary.
Find cheap hotels
If hostels aren't you're thing, it is possible to get cheap deals at New Zealand hotels, but you'll want to book well in advance and avoid holiday weekends. Booking.com typically has the best range of options.
Travelers from Europe and America will notice that New Zealand doesn't have a lot of the chain hotels you might be used to, especially outside Auckland. So, if you're into points and hotel loyalty programs then you won't have much luck.
However, some common chains that typically have reasonable prices include Ibis and Breakfree.
As a solo traveler in New Zealand, you'll be safer in hotels and hostels compared to motels — which may look cheaper, but can often be in unsavory areas and may not be staffed overnight.
Consider a working holiday
New Zealand has a long history of travelers on extended stays working to pay for their board and activities. This is most common in Queenstown during the ski season and summer holidays, but can be done in almost any town.
Typically, working holidaymakers will find jobs in hospitality (experienced baristas and bartenders are always in demand), at tourist attractions, or in retail stores. In the bigger towns, these businesses commonly hire "summer casuals" — as in, staff on fixed-term contracts with variable hours — between November and February.
If you're interested in doing a working holiday, you'll need to check specific visa requirements. The easiest way to find a job is to drop off CVs around town once you arrive.
Be Careful With Transport
While public transport in New Zealand is usually safe and easy to use, the transportation centers and bus depots are not the kinds of places solo travelers will want to hang out in, especially at night.
To avoid this, try and buy your tickets online in advance and don't show up earlier than necessary. If you do have a lot of time before your bus, try and wait in a nearby cafe rather than at the station itself.
What Does Solo Travel To New Zealand Cost?
Unfortunately, New Zealand is not a super cheap place to visit; however, if you're coming from North America, Europe, or the UK then you'll find that the currency difference helps mitigate the costs.
Some indicative costs (in New Zealand Dollars) are:
Accommodation: $30-80 per night for a hostel bed or $150+ for a hotel
Food: $100-150 per person for a week's worth of groceries, $15 per meal for fast food or $25+ for a café or restaurant meal
Transport: $10 per day to bus around cities, $20-80 for Intercity buses, $40-200 for one-way domestic flights
There is no tipping in New Zealand and taxes are already included in the prices so whatever you see on the menu or tag is all you have to pay.
Best New Zealand Tours For Solo Travelers
Prefer to join a guided tour on your solo trip in New Zealand? The following group excursions are highly rated and can make it easier to meet other people — which can make traveling New Zealand alone a lot more enjoyable:
Click here for a full list of tours in New Zealand.
Do You Need Travel Insurance For New Zealand?
When visiting New Zealand solo — or anywhere else in the world — it's wise to get travel insurance.
One of the best travel medical insurance for travelers is SafetyWing as they've got a large network and offer both short-term and long-term coverage — including coverage if you're traveling for months as well as limited coverage in your home country.
Additionally, SafetyWing is budget-friendly and offers $250,000 worth of coverage with just one low overall deductible of $250.
Click here to price out travel insurance for your trip in just a few clicks.
Frequently Asked Questions About Solo Travel In New Zealand
Q) Is New Zealand good for solo travel?
New Zealand is the perfect place for solo travel! It's safe and welcoming, and as a small country it's easy to get around and see a lot in a few weeks.
Q) Is New Zealand safe to travel alone?
New Zealand is a very safe country for traveling alone in. Just make sure to take extra precautions like carrying extra gear when hiking and letting someone know your plans when going into the mountains or bush.
Q) Is it easy to get around New Zealand without a car?
It's not super easy to get around without a car, but it's doable if you are willing to be flexible with travel times and endure long-distance buses. There are very few intercity trains in New Zealand and domestic flights are often expensive.
Q) What is the best month to visit New Zealand?
February and November are the best months to visit New Zealand. This is when the weather is warm, but you won't have to deal with the large crowds and inflated prices that always happen in December and January when New Zealanders typically take summer holidays.
Q) Can you drink the tap water in New Zealand?
Yes, the tap water everywhere in New Zealand is safe to drink.
Final Thoughts On Traveling To New Zealand Alone
If you're looking to enjoy a solo travel NZ experience, get excited: from outdoor adventures to volcanic landscapes to delicious food and wine, you're in for a treat.
There are so many incredible places to travel solo in New Zealand, each offering its own unique attractions and activities.
Not only are there many fun things to do in New Zealand, but it's safe and welcoming, making it easier for travelers to feel confident exploring on their own.
In short, if you're feeling a pull to book a solo trip to New Zealand, go for it. You won't regret it!
What tips would you add to this guide on solo travel in New Zealand?
Enjoyed this guide to planning a solo New Zealand trip? Pin it for later!
About The Author
Kate grew up in New Zealand and now lives in Sydney, Australia. She loves all things travel and has visited 30 countries and counting! When Kate's not traveling or planning another trip, she can be found out running along the coast or searching for the next hidden gem cafe. You can read her trip guides at KateAbroad.com.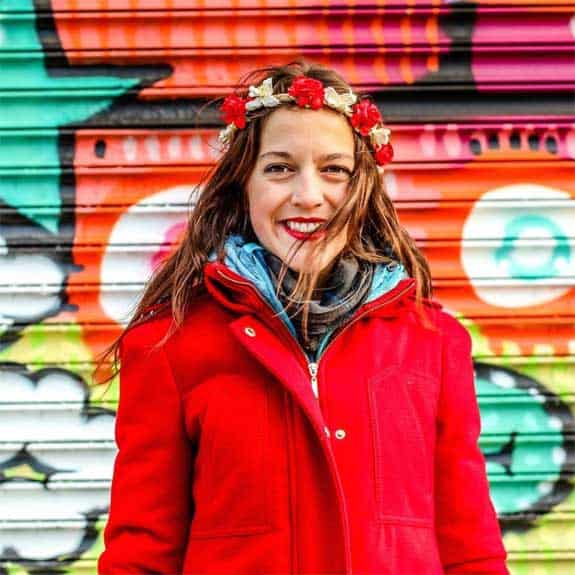 Hi, I'm Jessie on a journey!
I'm a conscious solo traveler on a mission to take you beyond the guidebook to inspire you to live your best life through travel. Come join me!
Want to live your best life through travel?
Subscribe for FREE access to my library of fun blogging worksheets and learn how to get paid to travel more!