Solo Travel In Istanbul: The Ultimate Guide (With Map!)
By Cassie Yoshikawa. This guide to traveling Istanbul solo contains affiliate links to trusted partners!
Looking to experience solo travel in Istanbul for yourself, but need help with the planning?
Then you're in the right place!
Traveling solo in Istanbul can be a truly rewarding experience, with so much to do, see, and experience.
First of all, it's a city of contrasts, with historic buildings from various dynasties sitting right next to modern structures. You can spend a morning visiting a 15th-century mosque and the afternoon sipping cocktails at a rooftop bar.
And because you can literally cross continents within this Eurasian city in a single afternoon, deciding how to spend your time here is a feat in itself.
Luckily, this guide will help you to make the most of your time in Istanbul — with recommendations on the top things to do, how to get around without a car, and more.
With its rich culture, beautiful views, and delicious food, you'll certainly have an unforgettable and enjoyable trip to Istanbul!
⏳Short on time? Here are some quick tips for traveling alone in Istanbul:

✈️ Airport Transfer: Book your transfer here

💸 Budget Travel: Save money while traveling Istanbul solo with an Istanbul E-Pass, which includes access to more than 40 top Istanbul attractions and guided tours!

🎉 Experiences: Speaking of experiences, you can see a list of guided Istanbul tours here. A few top picks include the Best Of Istanbul Guided Tour, the Taste of Two Continents Food Tour, and the Bosphorus Sunset Cruise on a Luxury Yacht.

🏨 Accommodation: In terms of where to stay, this accommodation map showcases hotels and vacation rentals with pricing near the popular Sultanahmet Square – though you can easily change this to your preferred location. My top hotel picks include:
–Aren Suites (rooftop views)
–Antique Hostel (budget-friendly)
–Hagia Sofia Mansions Curio Collection (luxury)

☔ Safety: While Istanbul is safe for solo travel, it's still smart to pack travel safety essentials. One top pick is the She's Birdie Personal Safety Alarm, which is TSA-approved and can help scare away potential attackers. Other recommendations include Clever Travel Companion Pickpocket-Proof Garments and Speakeasy Travel Supply Hidden Pocket Scarves.

🏥 Travel Insurance: SafetyWing

📞 Staying Connected: Airalo eSIM
Confidently Enjoy Solo Travel In Istanbul [Free Course]
Before we dive into our travel guide to Istanbul solo travel, here is an invite to grab a seat in Jessie's free Savvy Solo Traveler E-Course.
The 6-day course is designed to help you feel confident about booking your first solo trip and exploring the world alone.
Lessons include:
Common solo travel fears and how to overcome them
How to choose your perfect solo trip
How to tell loved ones you're going to travel solo
Mentally preparing for your solo journey without losing your mind
Essential steps for staying safe on a solo trip
How to take amazing solo selfies
Once you've grabbed your seat, read on to dive into our Istanbul solo travel guide.
Solo Travel In Istanbul: Is It Worth It?
For the solo traveler looking for a fun, safe, and memorable experience, Istanbul is a great destination.
First of all, it is easy to get around. Many of Istanbul's main attractions are within walking distance of each other, and public transportation is easy to find and use.
In terms of safety, as the largest city in Turkey, Istanbul has a booming tourism industry — which helps to make it relatively safe for foreigners and solo travelers.
With its size and myriad of attractions, there's something for every type of solo traveler. From its world-renowned historic sites like the Hagia Sophia and Blue Mosque to its bustling streets where European and Middle Eastern cultures collide to its east meets west atmosphere, there is much to explore.
It's one of those cities that can be whatever kind of experience you want. Explore it at your own pace and discover what makes this vibrant city truly special.
Where Is Istanbul?
Istanbul is one of the world's most unique cities. In fact, it is the only city that spans two continents!
Located in Turkey (Türkiye) and divided by the Bosphorus Strait, Istanbul lies both in Europe and Asia. It is famously dubbed the "city across two worlds" and attracts many visitors who want to explore its contrasting cultures and depths of history.
On top of that, it's often associated with the Middle East, depending on your source. And if you're curious about solo travel in Turkey in general, know that it's often touted as one of the best places to travel solo in the Middle East!
The country of Turkey is quite large, bordered on one side by Syria, Iraq, and Iran; however, Istanbul is tucked away in the country's northwestern corner, sharing a border with its European neighbors, Bulgaria and Greece.
Formerly known as Constantinople, Istanbul continues to be an essential passage for modern maritime shipping between the Black Sea and the Mediterranean Sea.
Its historic and continued significance as a port creates a stunning mix of ancient architecture with contemporary vibrancy and an abundance of activities for solo travelers.
On the same street, you will find hammams from the Ottoman Empire and rectilinear glass coffee shops from the current decade. So whether you are in the mood to immerse yourself in history or if you need a modern comfort like a cappuccino, both worlds are at your fingertips.
Best Time To Visit Istanbul
While Istanbul is a year-round destination, October and November are the ideal months to visit.
This is because the weather during this time of year is mild and enjoyable, with temperatures usually ranging from the low 50s in the mornings to the high 60s in the afternoons — great for sightseeing without uncomfortably extreme temperatures.
Personally, I visited in November, which is also shoulder season when prices go down in Turkey.
It was so nice to enjoy the city without the summertime crowds while still avoiding the chilly temperatures of late winter.
It also helped minimize my packing because I was fine bringing one jacket and didn't have to worry about the temperature fluctuating wildly from day to night.
Getting To Istanbul
The most common way to get to Istanbul is by flying into Istanbul International Airport, the world's largest airport. This is where most people who solo travel to Istanbul begin their trip.
Because of its great size, it does take a commute to get to the airport from the city center. The airport is about 40 kilometers (~25 miles) from the heart of Istanbul, which is about a 45-minute drive.
In terms of public transportation in Istanbul, there is a metro; however, that route will take you about three hours. For this reason, I recommend an airport transfer — but arranging it ahead of time.
I have previously been scammed by a "taxi" driver that drove me in circles for miles to jack up the fare and have heard similar travel horror stories from friends about taxi drivers who target tourists.
On my next visit to Istanbul, I took no chances and planned a ride with Tranigo. The drivers were easy to find and confirm for safety, and they were timely with very clean cars. Best of all, I could schedule my pickup and departure rides simultaneously, and the price was comparable to taking a taxi.
Getting Around Istanbul As A Solo Traveler
When it comes to how to travel solo successfully, one important consideration is getting around. Luckily, traveling around Istanbul is easy thanks to the many buses, ferries, and even funiculars that are well-connected within the city.
Aside from the airport transfer, unless you are venturing outside of the city, there really is no need to rent a car or even get a taxi while you are visiting Istanbul.
You will, however, need to get an Istanbulkart prepaid chip card. The Istanbulkart conveniently works on all public transport including ferries. In fact, most public transport will not accept cash, you can only pay using the reloadable chip cards.
I recommend purchasing the Istanbulkart in the airport where it is easy to get assistance if needed.
While you can purchase the Istanbulkart in the city at almost every tram stop, I regret purchasing there because there were no English instructions on the kiosks that I found. Luckily, a local helped me through the process.
Not to worry, once you do have the card, it is very easy to use and reload using cash.
Istanbul Travel Map
To help give you a lay of the land for traveling solo in Istanbul, here is a map. It has some of the main points mentioned in this guide pre-plotted.
You can also click here for the interactive version.
Is Istanbul Safe For Solo Female Travelers?
One of the most common question travelers ask: Is Istanbul safe to travel alone?
Overall, Istanbul is safe for solo female travelers; however, as with any big city, basic precautions are necessary.
In terms of safety tips, don't carry valuables on you, be on guard so that you can avoid pickpockets in crowded areas, and don't walk secluded streets alone late at night. For the most part, common sense goes a long way in staying safe.
One specific thing I would avoid as a solo female traveler in Istanbul is wandering too deep into the bazaar alone.
The Grand Bazaar itself is a must-do experience; but, the market sprawls out into tiny corridors and small alleyways where it is quite easy to get lost. The deeper you go, the fewer tourists there are and the easier it is to be targeted.
I found that the hagglers became more aggressive and pushy the further from the main paths I wandered. I never felt I was in harm's way, but I certainly felt uncomfortable and the most harassed as a woman.
If extensively shopping and exploring the bazaar is on your list, then I would consider booking a guided walking tour (like these). It'll make your solo female travel Istanbul experience a lot easier.
Where To Stay In Istanbul When Traveling Solo
To avoid needing a car and to stay safe at night, solo travelers should stay within walking distance of Sultanahmet Square. While this is a touristy area, there are still plenty of places to explore and have an authentic Turkish experience.
I stayed at the Aren Suites and would definitely stay there again. It was quite affordable, had a rooftop view of the Bosphorus and the Blue Mosque, and there were several sweet shops and restaurants along the surrounding roads. Most importantly, it was an easy walk to Sultanahmet Square and the metro.
For a more budget stay, check out Antique Hostel, which offers co-ed dorms, women-only dorms (which are very popular with those enjoying solo female travel to Istanbul), and private rooms.
And for a bougie experience, the Hagia Sofia Mansions Curio Collection provides a luxurious stay, features onsite amenities like restaurants and a pool, and also has its own spa for some pampering.
Click here for a full list of hotels near Sultanahmet Square, a great area to stay when traveling alone in Istanbul! You can also browse the map below for nearby hotels and self-contained stays:
Top Things To Do On A Solo Trip To Istanbul
For the most part, the main tourist attractions in Istanbul are all within easy walking distance of Sultanahmet Square, which is where most of the top things to do in Istanbul alone are located. Anything beyond the square is easy to access using the Istanbulkart card.
Walk Sultanahmet Square
Start your Istanbul solo female travel adventure at Sultanahmet Square. Within one afternoon, you can easily explore top attractions like:
The Blue Mosque and Hagia Sophia are both free to visit. Just be mindful of visiting hours as both are functioning mosques.
Although they are Muslim places of worship, the Blue Mosque and the Hagia Sophia are safe for Christian tourists and non-believing visitors alike. Just be sure to bring a scarf because all female visitors are required to cover their hair and shoulders.
Also, make sure to prepare for long ticket lines at Topkapi Palace and the Basilica Cistern.
For a slightly higher price, you can book in advance through a third-party tour company like Viator to avoid the lines.
Quick tip: Looking for a guided tour of the main sites? This highly-rated excursion includes visits to the Blue Mosque, Hagia Sophia, Topkapi Palace, Istanbul Hippodrome, Basilica Cistern, and the Grand Bazaar — and even includes a 3-course lunch at a traditional Istanbul restaurant!
Explore Istanbul's Different Districts
Take advantage of your Istanbulkart card and ride the tram to the Grand Bazaar — one of the oldest and largest covered markets in the world — to get your shopping in.
From there, cross the Golden Horn estuary by walking the iconic Galata Bridge, which connects the northern and southern districts of Istanbul.
You can even stay a while and have a meal in one of the cafes located in the bridge. Yes, you read that right — there is a market and cafes built into the bridge itself!
Iconic Galata Tower, a Roman-style watchtower that is now a famous landmark and viewpoint, is just a 12-minute walk from the bridge.
After visiting, you can take the tram to stop by Taksim Square, the modern heart of Istanbul featuring shopping and restaurants. It is a stark contrast to the historic Sultanahmet Square, and certainly a must-include on any solo travel Istanbul itinerary.
By now, you'll probably be hungry, so head down to the port to have the unique experience of taking the ferry from Europe to Asia for dinner. Good news: the ferry even accepts your Istanbulkart card!
Experience Turkish Culture
End your busy day of sightseeing by getting a massage at a Turkish bath. A hammam is a very intimate way to experience Turkish culture, so make sure you understand what you are signing up for!
The hammams are completely separated by gender, and while you can bring a swimsuit to wear, you will find most locals wear only the towel and paper garments provided by the hammam.
In my opinion, the best place to go for this experience is Cemberlitas Hamami, which I loved so much I went twice! There are much cheaper hammams in Istanbul; however, as a solo female traveler, I would not skimp on the price for this activity.
Take A Bosphorus River Cruise
The Bosphorus River runs through the middle of Istanbul. It separates Europe from Asia and connects the Mediterranean and the Black Sea.
There is an abundance of ways to cruise the Bosphorus, which is a good way to explore this attraction.
Enjoy a sunset cruise on a yacht, an all-inclusive dinner cruise with entertainment, or spend a full day cruising the Bosphorus Strait and Golden Horn with stops and excursions along the way.
You'll want to book this one ahead of time, as cruise availability changes seasonally.
Visit The Istanbul Archaeological Museums
The Istanbul Archaeological Museums is actually a complex of three museums: The Archaeology Museum, The Museum of the Ancient Orient, and The Tiled Kiosk Museum.
Explore three museums at once for only 100 Turkish Lira. You can also opt for skip-the-line access.
Best of all, it is in Sultanahmet, so it's easy to add to your Istanbul solo travel itinerary.
See A Whirling Dervishes Performance
No solo trip to Istanbul would be complete without seeing the Whirling Dervishes perform at the Galata Mevlevi House Museum.
Sufi Muslims started whirling as a form of meditation and prayer in the 12th century, which some groups still practice today.
There are many places to see "whirlers" in Istanbul. Because of its religious significance, finding a reputable performance center like a cultural center or museum is important.
Book A Food Tour (Or Dine In A Local Home)
One of the best ways to explore a new destination is through food. Istanbul is known for its delicious cuisine — from delectable mezes (which are like Mediterranean tapas) to fresh produce to seasoned meats and beyond.
Luckily, there are numerous food tours you can book — like a Taste of Two Continents Food Tour. On this excursion, you'll explore a spice market, savor a Turkish breakfast, sip Turkish coffee, and feast on local eats.
Click here for a full list of Istanbul food tours.
Now, along with visiting local food businesses, you can also dine in the home of a local through EatWith — a platform showcasing food tours and at-home dinners hosted by locals.
It's a really fun way to immerse yourself in local life and meet other people during your Istanbul solo travel experience.
Learn How To Cook Like A Local
Speaking of food, you can also learn how to cook by booking a local cooking class. EatWith also features cooking classes, through it's not your only option.
One top pick is this Turkish cooking class, where you'll prepare traditional dishes like vine leaves or kirde kebabı while also learning culinary techniques from a professional chef. These are skills you'll be able to bring back to your kitchen at home too!
Take An Istanbul Photo Tour
When traveling solo, it can be tricky to get good photos with you in the picture — which is where an Istanbul Photo Shoot Tour comes in.
This two-hour experience allows you to explore Istanbul's popular sites, and be photographed with them! You're also allowed to change outfits.
It's a great way to get all of your photos done quickly, and then leave your camera behind and relax as you roam the city solo.
Top Tours For Solo Travelers In Istanbul
Along with the above-mentioned attractions and experiences, there are loads of great tours. The beauty of a guided tour for those traveling solo in Istanbul is they offer a fun way to learn about the destination and important travel tips while also interacting with locals and connecting with other travelers.
A few top-rated tours to add to your Istanbul itinerary:
Click here for a full list of tours in Istanbul.
Tips For Solo Dining In Istanbul
Whether from a roadside vendor or an established restaurant, Istanbul has so many fantastic food options that it can be a bit overwhelming.
Plus, restaurants pop up, disappear, or change ownership frequently in touristy districts. Instead of searching for a specific restaurant, I found it helpful to make a bucket list of food to try that is unique to Turkey.
Then I stopped at any restaurant or stand that looked promising.
The best thing about solo dining in Istanbul is that even at nicer restaurants, eating alone is quite common. A few times, the host asked if I would prefer to sit a the bar with other solo travelers; but it was not awkward to request my own table if I preferred.
Start your morning with Turkish coffee, specially prepared with fine grounds and no filter. This is complimentary at most hotels and available at most cafes.
Then, have a freshly pressed pomegranate or orange juice at one of the many street carts.
For lunch, find a sit-down cafe and have a kebab platter.
In the afternoon, dance for your ice cream. You'll know you are in for a treat (or trick) when you find a little red cart with the vendor adorned in a red vest and fez hat. The ice cream men are known for playful sleight-of-hand when handing out the ice cream cones, all in good fun of course.
On at least one night, splurge on a rooftop restaurant with a view of the Blue Mosque. I loved the view from the Lady Diana Hotel. The staff were very proud of the view and were more than willing to take my picture and share the best angles to see.
To end the day, pop in to a window shop to try a new flavor of baklava and Turkish Delight for dessert.
When it comes to tipping in Istanbul, 10% is customary, though this also depends on the type of restaurant and quality of service. Here is a full guide to tipping in Turkey.
Getting Travel Insurance To Travel Solo In Istanbul
When visiting Istanbul — or anywhere else in the world — it's wise to get travel insurance.
One of the best travel medical insurance for travelers is SafetyWing as they've got a large network and offer both short-term and long-term coverage — including coverage if you're traveling for months as well as limited coverage in your home country.
Additionally, SafetyWing is budget-friendly and offers $250,000 worth of coverage with just one low overall deductible of $250.
Click here to price out travel insurance for your trip in just a few clicks.
Frequently Asked Questions About Traveling To Istanbul Alone
Q) Is Istanbul good for solo travelers?
Istanbul is an excellent destination for solo travelers because of its large size, abundance of things to do, and fusion of European and Middle Eastern cultures. Plus, Istanbul is relatively safe and easy to explore without a group or guide.
Q) Can a woman travel alone in Istanbul?
Yes! In fact, solo female travel in Istanbul is common, and women can feel safe exploring the city on their own. Of course, as with any big city, it's important to take basic precautions and use common sense to stay safe — particularly from scams and pickpocketing schemes.
Q) How many days should you spend in Istanbul?
You can experience the most popular sites in Sultanahmet Square in Istanbul in one day; however, to really get to know the city, two days is a good minimum.
Q) How much money will I need for a week traveling solo in Istanbul?
Solo travel in Istanbul will average about 1200 Turkish Lira or 65 USD per day on meals and expenses. Budget at least $1100 for a week, including an average hotel stay.
Q) How should a woman tourist dress in Turkey?
The more remotely they travel, the more modestly women should dress in Turkey; however, in large cities like Istanbul, women should not feel too restricted in what they can wear. It is a good idea to always have a scarf and a long sweater in the event of visiting a mosque or religious attraction. Otherwise, western fashion is quite common in Istanbul.
Final Thoughts On Solo Travel In Istanbul
Overall, Istanbul is an excellent destination for solo travelers. Even solo female travelers in Istanbul can feel safe and enjoy the best things this city offers.
Istanbul's fusion of European and Middle Eastern cultures and contrast of ancient and modern marvels make it a destination you'll undoubtedly want to return to again and again.
What tips for solo travel in Istanbul would you add to this list?
Enjoyed this guide on how to travel solo in Istanbul? Pin it for later!
About The Author
Cassie Yoshikawa has a serious passion for travel, and her mission is to inspire that same love in others. She curates destination guides as well as faith-based travel resources on her blog cassiescompass.com. When she's not on the road, you can find her in a coffee shop in Fresno, California. Follow her anywhere at @cassiescompass.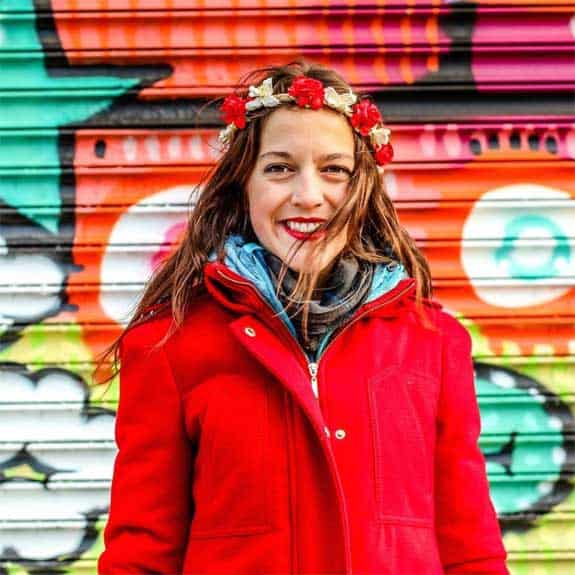 Hi, I'm Jessie on a journey!
I'm a conscious solo traveler on a mission to take you beyond the guidebook to inspire you to live your best life through travel. Come join me!
Want to live your best life through travel?
Subscribe for FREE access to my library of fun blogging worksheets and learn how to get paid to travel more!