Smarter Travel: How To Pack A Carry-On Like A Pro
packing tips
, you certainly can.
1. Realize A Carry-On Bag Isn't That Small
There is a misconception that bringing a carry-on bag means you can only pack two outfits and a pair of flip flops. Not at all! You can absolutely pack much more. On a recent trip to Tahiti I traveled with just a carry-on and packed six sundresses, three pairs of shorts, six tank tops, a skirt and shirt outfit, a light jacket, two bathing suits, underwear, bras, socks, flip flops, a pair of Keds, a box of granola bars, a box of oatmeal, my outlet adapters, electronics chargers and two Ziplocks of toiletries (one liquids, one not). To the airport, I wore a pair of light pants, hiking sneakers, a t-shirt and a hoodie.
Jessie's Picks: When learning how to pack a carry-on like a pro you need the right bag. I suggest the Bluesmart Connected Carry-On (it charges your gadgets on the go AND weighs and tracks itself) and the Ricardo Beverly Hills Mar Vista Expandable Wheelaboard.
2. Remember You're Allowed One Personal Item
And your personal item doesn't have to be a small purse. Use the size of a laptop bag or backpack to your advantage.
Jessie's Picks: I'm a fan of backpacks as I can use them as my personal item and as a day pack/hiking bag. I love my spacious and organized Beside-U Backpack, which features RFID blocking, durable Ripstock nylon fabric, tons of pockets and a whistle dangle for safety. If you want something connected, try the Tylt Energi Backpack + Battery.
Psst! Don't forget to pin this post for later!
3. Choose A Color Scheme
Instead of packing your favorite outfits at random, choose a color palette so you can mix and match pieces. For example, pack bottoms and tops that are brown, white, pink and yellow, or opt for black bottoms and jackets that go with everything.
Jessie's Tip: Bring it all together with a neutral shawl scarf! This is one of my top travel packing necessities as it acts as a clothing accessory and a blanket.
4. Ditch The Heels
There are so many stylish flats on the market that take up virtually no space. You don't need to bring your heels to look good. Plus, heels take up a lot of unnecessary luggage space. If you really must bring them, wear them to the airport instead of packing them.
Jessie's Tip: Instead of heels, pair sundresses and dress pants with dark slip on canvas shoes and strappy sandals.
5. Wear The Bulkiest Stuff
Once you've decided what items to pack, take out the bulkiest and wear them to the airport. For me, this usually means my jeans, sneakers or boots, a t-shirt, light hoodie and my light rain jacket.
Jessie's Tip: Layering works wonders for staying temperate and leaving additional room when figuring out how to pack a carry-on.
6. Buy Travel-Sized Toiletries
Fliers are allowed a clear quart-sized bag with as many liquids under 3.4 ounces as can fit. This means you can pack two liquids that are 3.4 ounces or less or 10+ items that are 3.4 ounces or less, as long as they fit in the quart-sized bag. Keep in mind, if you have a 6-ounce bottle of lotion that is half empty you still won't be allowed to bring it on the plane, as the bottle as well as its contents must be 3.4 ounces or less. I advise heading to Target and perusing their impressive travel-size section. If you're staying in a hotel most likely shampoo, conditioner, soap and lotion will be provided, so skip buying those. That being said, at hostels, homestays and AirBNBs you may need these items. And remember, if you forget something you can always buy it in your destination.
Jessie's Tip: A few special items for carry-on travel beauty I love that won't break your liquids limit: LUSH Godiva Shampoo Bar, MBeze Dabber Dust Antiperspirant and Lancôme Miracle Cushion Liquid Compact Foundation.
7. Check-In Ahead Of Time
Along with not having to pay baggage fees or worry about lost belongings, a main benefit of traveling with just a carry-on is you don't have to wait in line to check in at the airport (or at the baggage carousel once you land). Check in for your flight online and print your boarding pass — or on your smartphone for a digital barcode, if it's an option — and head straight to security once you get there.
Jessie's Tip: Get through security even quicker by signing up for programs like TSA PreCheck, Clear and Global Entry.
8. Just Try It
Challenge yourself. Next time you're going on a trip, don't just grab the big suitcase off the shelf. Make an honest attempt at packing a carry-on suitcase and see if you can make it work. Worst case scenario, you switch your belongings to the bigger bag.
Have tips to add on how to pack with a carry-on? Please share in the comments below!
Enjoyed this post? Pin it for later!
Recommended:
10 Pieces Of Safety Gear I Don't Leave Home Without

[Blog Inspiration]

Clever Travel Companion Pickpocket-Proof Garments

[Travel Safety]

I Was Here: A Travel Journal for the Curious Minded

[Travel Fun]

As an avid carry-on traveler it amazes me how many people are still checking a bag. The usual response I get when I ask friends and family why they're choosing to pay a $25 or higher fee instead of just packing a carry-on is that they could never fit all their belongings into one small bag. With these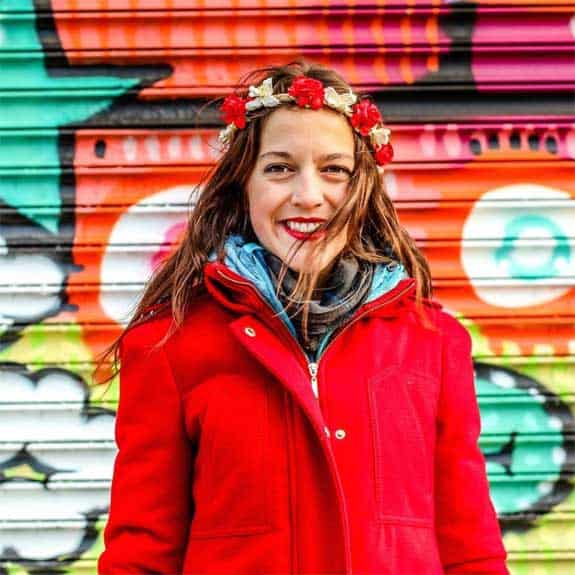 Hi, I'm Jessie on a journey!
I'm a conscious solo traveler on a mission to take you beyond the guidebook to inspire you to live your best life through travel. Come join me!
Want to live your best life through travel?
Subscribe for FREE access to my library of fun blogging worksheets and learn how to get paid to travel more!