Rome Solo Travel: How To Have An Amazing Time Traveling Rome Alone
By Matt Kepnes. This post on planning a solo trip to Rome contains affiliate links to trusted partners!
Looking to experience Rome solo travel for yourself, but need some help with the planning?
Then you're in the right place!
Rome can be a beguiling city. It's big, bustling, and buzzing activity. As the second-most popular destination in Europe (after Paris), Rome is brimming with tourists every summer who come to feast, explore, and live la bella vita.
The Italian capital is ancient, home to numerous iconic monuments and offering layers upon layers of history.
According to legend, the city was founded in 753 BCE by the twin brothers Romulus and Remus. The pair, who were raised by a she-wolf, decided to build a city together… until Romulus killed his brother in an argument and claimed the city for himself (hence the name "Rome").
Around 10 million people visit the Eternal City every year, which means the city is more than familiar with travelers of every interest and budget. As part of such a well-worn tourist trail, Rome is a perfect destination for solo travelers. There's a ton to see and do (and eat) here — all of which you can enjoy on your own.
This guide to solo travel in Rome will help you plan your trip, save money, and make the most of your time in this amazing metropolis. It's based on my own experience visiting Rome countless times, and I'm excited to share my favorite places and best tips with you!
Rome Solo Travel Top Picks:
Short on time? Here are some recommendations for your solo trip to Rome:

Accommodation:
–The Beehive
–Hostel Trastevere
Click here for a list of hotels in Rome

Experiences:
–EatWith (for food tours & culinary experiences)
–Ancient Rome at Twilight Walking Tour
–Vatican Museum and Sistine Chapel Guided Tour
Click her for a full list of tours in Rome

Safety: While Rome is safe for solo travel, it's still smart to pack travel safety essentials. One top pick is the She's Birdie Personal Safety Alarm, which is TSA-approved and can help scare away potential attackers. Other recommendations include Clever Travel Companion Pickpocket-Proof Garments and Speakeasy Travel Supply Hidden Pocket Scarves.
Confidently Enjoy Rome Solo Travel [Free Course]
But first, before we discuss how to have an amazing trip traveling to Rome alone, here is an invite to grab a seat in Jessie's free Savvy Solo Traveler E-Course.
The 6-day course is designed to help you feel confident about booking your first solo trip and exploring the world alone.
Lessons include:
Common solo travel fears and how to overcome them
How to choose your perfect solo trip
How to tell loved ones you're hitting the road solo
Mentally preparing for your solo journey without losing your mind
Essential steps for staying safe on a solo trip
Tips for taking amazing solo selfies
Once you've grabbed your seat, read on to dive into the solo travel guide.
Where Is Rome?
Italy is a large boot-shaped peninsula that juts out into the Mediterranean Sea. The Adriatic Sea lies to the east and the Tyrrhenian Sea to the west. The northern border is marked by the Alps, which stand sentry against Switzerland and Austria.
Rome is situated in central Italy. It's the capital of Lazio, an under-appreciated region that offers amazing cuisine and charming medieval hill towns. Rome is not technically a seaside city, but it's only about 15 miles from the coastline.
Why Rome Is A Great Destination For Solo Travelers
Is solo travel fun? Absolutely! There's so much to see and do in Rome. History buffs, foodies, language students, partiers, and art lovers will all find plenty of unforgettable experiences.
The city sees millions of visitors each year, so it's easy to navigate and get off the beaten path as a solo traveler.
Rome is also very safe. Of course, you should be mindful of petty theft and always keep your valuables secure and out of reach to avoid pickpockets, but visitors don't need to be perpetually on guard.
A little common sense goes a long way, making it a fun and safe choice for travelers (including women looking to have a Rome solo female travel experience).
Arriving In Rome
Almost every visitor to Rome arrives via the Termini Railway Station — not just because nearly every Rome-bound train stops here, but because the one to and from the main airport, Fiumicino (or, more officially, Leonardo Da Vinci), goes to Termini. The 32-minute ride — called the Leonardo Express — costs 14 EUR. Trains leave every 30 minutes.
If you want to save money, there are also several buses that go from Fiumicino to Termini, costing 5-9 EUR for a one-way ticket. Keep in mind, though, that the travel time is highly dependent on traffic and can take up to an hour during busy periods.
On the other end of the spectrum, a taxi from Fiumicino has a fixed rate of 48 EUR, which isn't cheap if you're traveling solo so I'd avoid this option if you're on a budget.
Rome's other airport, Ciampino, is mostly served by European budget airlines. If you're arriving there, you can get to Termini via the Ciampino Airlink train. The signs for it will lead you to a bus, which will then take you to the train. The entire journey takes about an hour and only costs 2.70 EUR.
The flat rate fare for a taxi from Ciampino costs 30 EUR, which again, is a lot if you're not splitting it with someone.
Getting Around Rome As A Solo Traveler
Public transportation – Rome has an extensive public transportation network consisting of buses, a subway (metro), trams, and trolleys.
The metro is the fastest way to get around town. There are three lines; a single-journey ticket that's valid for 75 minutes costs 1.50 EUR. You can pick up tickets from local tobacco shops, newsstands, and vending machines at the stations.
One of the issues with the subway in Rome, however, is that the lines essentially avoid the city center. If you're going to a central location, you're going to have to walk or take a taxi or bus for part of the journey, the latter of which are susceptible to constant traffic jams. Like the subway, bus tickets are also 1.50 EUR.
If you're going to be using public transportation a lot, you can purchase a one-day pass for unlimited travel on all forms of public transit for 6 EUR. A one-week pass costs 24 EUR and you can also get a three-day tourist pass for 16.50 EUR.
Taxis – Taxis are very expensive here, so I don't recommend taking them for Rome solo travel. The meter starts at 3 EUR during the day and 6.50 EUR at night. It then goes up 1.20 EUR per kilometer. Avoid them at all costs!
Uber is available in Rome, and it's usually cheaper than taxis. That said, it's still not super cheap, so skip Uber too!
Bike rental – Bicycling around Rome may seem a little scary, what with the high volume of traffic (and the hills), but there are bike lanes around the city center that make it doable. Bike rentals start at 14-20 EUR per day.
Scooter-sharing programs – There are a handful of new scooter-sharing programs in Rome if you want to take the risk. Find a scooter on the street, download the app for that particular company, register, and then scoot your way around town. It usually costs around 1 EUR for the scooter and then .15 EUR per minute.
Car rental – The traffic in Rome is absolutely terrible, so I would avoid renting a car here. Even if you're leaving the city, it will still be a nightmare to get around and find parking. Skip the car rentals!
Where To Eat In Rome As A Solo Traveler
In a culture that embraces eating together, going to a restaurant alone can be an alienating experience.
But there's hope, because if you go to a crowded, sought-after restaurant in Rome, servers will often put you at a table with other diners. This is a great way to meet people for travelers not comfortable just showing up and eating solo.
A classic example is Da Enzo. This restaurant in Trastevere is so good that, while it used to be mostly patronized by locals, now it's pretty much in every guidebook.
Every night there's a queue of mostly foreign tourists, so if you're dining solo here, you're pretty much assured that you're going to be sharing a table with other diners. If you want to meet other travelers, swap travel stories, share dining recommendations, or whatever, eating at a place like Da Enzo should be on your list.
Another good solo dining tip is to hit the aperitivo (an Italian version of happy hour) in the early evening. This started in Venice and then spread to other northern Italian metropolises like Milan, Turin, and Bologna before working its way southward. In the last decade or so, it's hit Rome too.
At participating bars in the early evening — usually starting around 7pm — patrons buy a glass of wine or a cocktail (at slightly inflated prices), which opens the door to a room filled with an all-you-can-eat bounty of Italian deliciousness: huge wheels of cheese, mountains of sliced salumi, bowls of olives, baskets of fresh bread. Some places even serve pasta. All for the price of one drink!
Best Places To Stay In Rome For Solo Travelers
There are a couple of nice neighborhoods in Rome that are particularly well suited for the solo traveler, like:
Trastevere
Literally translated as "Across the Tiber River," this ancient neighborhood is ambience to the nth degree.
The narrow, curvy lanes are flanked by atmospheric cafés, bars, and restaurants. For as long as anyone can remember, it's been one of the best places to go out once the sun descends upon the horizon.
Its nightlife makes this a great area for the solo traveler to stay in. It's safe, central, and there are always people out on the streets. And it's relatively easy to meet other travelers here too (if that's what you're looking for).
Hostel Trastevere is my favorite hostel in this part of town. It offers a cheap buffet breakfast, fast Wi-Fi, and AC when it gets hot. The bunks are basic, and some of the top ones don't have railings; however, they're comfy enough, and the dorms don't feel crowded. There's a bar on-site too, and the hostel is close to grocery stores and public transit.
San Lorenzo
If you want to stay somewhere with a student vibe, head to San Lorenzo, near the Sapienza University and walking distance east of the city center. The neighborhood was bombed heavily in World War II and was never rebuilt quite as well as other areas, but what San Lorenzo lacks in prettiness it makes up for with fun.
There are lots of shopping options both for new Italian fashion and vintage clothes, tasty cheap pizza, and cool bars. Head to the Via dei Volsci and Via dei Sabelli to see where the young people of Rome enjoy a night out.
The Beehive is my favorite hostel for Rome solo travel. It's super chill and laid-back, with a mix of dorms and private rooms, and the owners go out of their way to make you feel welcome. There's a café on-site that serves an organic breakfast (not included) with homemade bread, homemade croissants, and fresh bagels. The hostel also organizes weekly events (like cooking classes) and communal dinners (for a donation) using seasonal produce, to make it easier to socialize.
For more hostel suggestions, here is a list of the best hostels in Rome.
And for a list of the best areas to stay in Rome.
Top 5 Things To Do On A Solo Trip To Rome
Rome has tons of things to see and do. You could literally spend years here and still not see everything. That said, there are a few highlights that every solo traveler will want to see during their visit:
The Colosseum
At nearly 2,000 years old, the iconic and photogenic Flavian Amphitheater was built around 70 CE and was the largest amphitheater in the entire Roman Empire (it could hold 50,000 people).
Admission is 12 EUR and includes entry to the Forum and Palatine Hill — but the lines are long.
To beat the crowds, head to the kiosk at nearby Palatine Hill. It's far less busy so you can buy your ticket here and then stroll past the herd of people in the Colosseum queue.
There are also tours that include the Colosseum, many of which allow you to skip the line.
The Vatican
While technically a different city than Rome (in fact, its own country), the Vatican shouldn't be missed. Stop by to see the home of the Pope, St. Peter's Basilica, and the Sistine Chapel. Even if you're not religious, it shouldn't be missed. Tickets are 17 EUR.
Keep in mind that tourists begin lining up at 7am for the 9am opening and the line eventually winds through the streets.
To beat the crowds here, go explore other parts of Rome in the morning, have a nice lunch somewhere and then, around 2pm, head to the Vatican museums. There will be no ticket line, and you can walk right in.
Sure, you'll only get a few hours of viewing (it closes at 6 pm) but that's more than enough time to see many of the treasures the Vatican has to offer.
Alternatively, there are a number of tours and fast-track tickets you can purchase beforehand for an increased price.
The Pantheon
Emperor Hadrian built this temple around 1,900 years ago, over Agrippa's earlier temple. It was later converted to a Catholic church and today, it's by far one of the best-preserved ancient buildings in the world. Entry is free.
Trevi Fountain
The 18th-century Trevi Fountain is one of Rome's iconic sights — which is why it's always crowded. The best time to see this beautiful fountain is before breakfast, when the crowds are thin. That way, you can snap photos without the hordes. It's free to view.
The Spanish Steps
The Spanish Steps, built in the 1720s, are a long and grand staircase, with the Piazza di Spagna at its base and the Trinità dei Monti church looming at the top.
While the Spanish Steps were once a social hub on which you could hang out and people-watch, sitting on them is no longer allowed. This is part of new preservation measures enacted in 2019, intended to ensure that the monument will be around for generations to come.
While you can't linger on the steps, you can still climb them to get to the top.
Other Things To Do & See When Traveling Rome Alone
The above-mentioned attractions aren't the only fun things to do when you travel to Rome alone. Here are some other suggestions:
Visit The Museums
Looking at art is more or less a solitary experience, so if you enjoy art museums, Rome will not disappoint.
There are a ton of great ones here, several of which are some of the highest-ranking in the world. The Galleria Nazionale d'Arte Moderna is a good starting point, as it is home to numerous Italian masterpieces.
The Galleria Borghese is also excellent, as it boasts a garden villa filled with Bernini sculptures and artwork by Caravaggio, Raphael, Titian, and other masters. This collection was originally commissioned by Cardinal Scipione Borghese.
For something different, check out MAXXI, Rome's first national museum devoted entirely to contemporary art.
Take A Cooking Class Or Food Tour
One fun (and delicious) activity for solo travelers in Rome is to take a cooking class or a food tour. Both connect you with a lot of other like-minded travelers while you learn more about the city's cuisine.
I like Take Walks, as they offer some of my favorite cooking classes, while Devour Tours runs excellent food tours that last around three hours and are super insightful. You'll not only have fun but learn a lot too.
Prices vary, but expect to spend around 80 EUR.
Eat In A Local Home
If you're still hungry after your tour, a guaranteed way to meet people as a solo traveler in Rome is to book a dining experience in a local home. One company that offers this is EatWith, which provides culinary tours, classes, and experiences.
Go On A Free Walking Tour
Free walking tours are perfect for solo travelers — I start all my trips to new cities with one. It's a nice way to get to know Rome, especially for first-time visitors.
The one catch is that while the tours are advertised as "free," you're expected to tip the tour guide. So make sure to throw down a few euros for the guide's time and knowledge.
Try Free Tour Rome, which offers a few different types, or Free Tours by Foot, which also offers a handful, including tours of the Vatican, Trastevere, and the city center, as well as food tours.
Tour Castel Sant'Angelo
This structure was built as a mausoleum for Emperor Hadrian at the end of the first century. Over the years, it's also served as a papal residence and a prison.
As you may know from The Da Vinci Code, there's a passageway here that runs into the Vatican, designed as an emergency escape for the Pope (it was actually used by Pope Clement VII in 1527).
The Terrace of the Angel has some amazing city views. Admission is 14 EUR, or you can click here to peruse guided tours of the attraction.
Take In The Pace Of Local Life
People-watching is another great solo activity, and admiring stylish, animated Romans never gets old.
There are countless piazzas and parks in Rome that are great for this, but Piazza Navona especially is one of the most beautiful public spaces in Rome.
It's home to Bernini's Fontana dei Quattro Fiumi, with its stunning statues representing the great rivers of the world. The entire oval-shaped piazza is lined with restaurants, gelaterias (ice cream parlors), shops, and the Museo di Roma. Pull up a chair at a sidewalk café and take it all in.
Nearby, you'll find Via della Pace, one of the city's most photogenic streets. Definitely add it to your Rome solo travel itinerary.
Do You Need Travel Insurance For Rome?
While Rome is modern and safe, travel insurance is still needed. I never leave home without it — no matter where I'm traveling. This is one of the most important solo travel tips to keep in mind when exploring alone.
It may seem like an unnecessary expense (and a boring topic to read about), but it provides a vital safety net when you're abroad. Illness and injury, canceled flights, damaged electronics, lost luggage, the death of a family member back home — these unexpected unfortunate events are all covered by travel insurance.
In fact, on one of my first trips traveling Italy solo, I ended up falling into the sea, which ruined my camera. Travel insurance reimbursed me for the cost.
In a nutshell, travel insurance is an all-purpose emergency safety net. It's the single most important thing you should get for your trip and something I strongly, strongly advise travelers to never leave home without.
I've seen it help so many people over the years — people who would have been out thousands of dollars otherwise.
Myself included.
I used it for a doctor in Argentina, when my eardrum popped in Thailand, and when my luggage was stolen in South Africa.
Each time, I was reimbursed for my expenses and was made whole again.
Super frugal travelers can get cheap plans from SafetyWing that cover all the basics (and they offer great travel insurance for digital nomads). Those wanting a more comprehensive plan can check out policies from World Nomads.
Frequently Asked Questions About Solo Travel In Solo
Q: Is Rome safe?
Rome is a very safe place to backpack and travel; however, petty theft can be a problem, so keep your valuables secure and out of sight. Pickpockets are very active around Rome's main attractions, such as the Colosseum and St. Peter's Square.
If you're worried about getting scammed, you can read about common travel scams to avoid here.
Q: Is solo female travel in Rome safe?
Rome is safe for solo female travelers. That said, the standard precautions and solo travel safety tips that apply in any city also apply here. This includes but is not limited to, not accepting drinks from strangers, keeping an eye on your drink at the bar, and never walking around alone at night intoxicated.
Q: Is Rome expensive?
Rome is one of the more expensive cities in Southern Europe. Expect to spend at least 55 EUR per day if you're a budget solo traveler. On a mid-range budget, you can see Rome for around 140 EUR per day.
Q: Can you drink the tap water in Rome?
The tap water is safe in Rome, so bring a reusable water bottle to save money and reduce your single-use plastic footprint. My go-to bottle is LifeStraw.
Q: When is the best time to visit Rome?
June to August are the most popular months; however, these are also the busiest. The city can be crowded (especially in July and August), and it's also very, very warm.
If possible, go during the shoulder season (April-May or September-October) to beat the crowds. The weather is still nice, and prices will be a little lower as well.
Q: Is English widely spoken in Rome?
The tourist areas of the city, English is widely spoken; though, if you get off the beaten path, you may want to learn a few Italian words and phrases, just in case. It's make it much easier to interact with and meet locals while traveling.
Q: What are the best neighborhoods to stay in in Rome?
If it's your first-time visiting Rome, stay in Trastevere. If you're looking to party and enjoy the famous nightlife, stay in Tridente. Monti and San Lorenzo are two of the best areas for budget travelers.
There are many great weekend and day trips from Rome, a few of which include Pompeii, Florence, and Naples.
Final Thoughts On Solo Travel In Rome, Italy
Boasting centuries of history, incredible cuisine, and a rich culture, it's well worth savoring.
Whether you're a foodie, history buff, night owl, or culture junkie, the Eternal City never disappoints. Brimming with activities, it's a perfect getaway for solo travelers and a destination I never get tired of.
What tips would you add to this Rome solo travel guide?
About The Author
Matt Kepnes runs the award-winning travel site nomadicmatt.com, which helps people travel the world on a budget. He's the author of the NYT best-seller How to Travel the World on $50 a Day and the travel memoir Ten Years a Nomad. His writings and advice have been featured in The New York Times, CNN, The Guardian, Lifehacker, Budget Travel, BBC, Time, and countless other publications. You can follow him everywhere at @nomadicmatt. When he's not on the road, he lives in Austin.
Enjoyed this guide on solo travel to Rome? Pin it for later!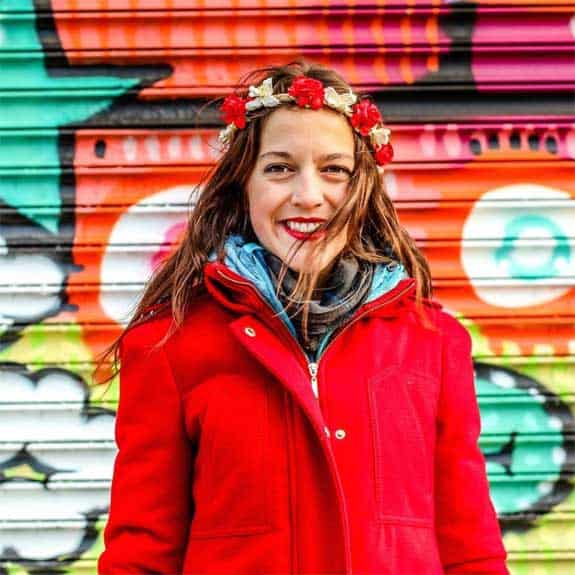 Hi, I'm Jessie on a journey!
I'm a conscious solo traveler on a mission to take you beyond the guidebook to inspire you to live your best life through travel. Come join me!
Want to live your best life through travel?
Subscribe for FREE access to my library of fun blogging worksheets and learn how to get paid to travel more!