The Ultimate Mt Marcy Hiking Guide (Highest Peak In New York)
This ultimate Mt Marcy hiking guide contains affiliate links to trusted partners I think you'll love!
5,344 feet.
That's the height of New York's highest peak, Mount Marcy, the very mountain my husband Andy and I would be summiting on this warm day in the stunning Adirondack Region.
While this may pale in comparison to other peaks around the world, when it comes to hiking in New York it's quite impressive.
Plus, this moderately challenging trek will leave you feeling rewarded, albeit slightly sore.
And along with beautiful landscapes that change as you trek, the 360-degree views of the Adirondack's famous high peaks from the summit are absolutely worthy of the often over-used term "breathtaking."
Fun fact:
Adirondack State Park is home to 46 mountains — with 43 of them stretching over 4,000 feet tall — and is the largest protected area in the contiguous United States. When you're here, you're truly in an outdoor adventure paradise.
There are many things to do when visiting Lake Placid and the Adirondacks of New York, and I highly recommend making climbing Mount Marcy one of them.
On that note, let's dive into this ultimate Mt Marcy hiking guide and learn exactly how to summit the highest peak in New York, as well as what the experience is really like.
Pro tip: Before going hiking, make sure to download the AllTrails app to have trail guides, maps, photos, and reviews right at your finger tips. You can also sign up for a free trial of AllTrails+ to download offline maps, get alerts for wrong turns, find trails by distance from you, and more!
What Is Your Hiking Persona (Free Quiz!)
Before we dive into this guide to hiking Mount Marcy, I want to invite you to take my free hiking personality quiz.
This short and fun quiz will help you discover what type of hiker you are, with results sharing suggested hikes to match.
On that note, let's explore some of New York's high peak wilderness!
How To Hike Mount Marcy FAQ
Before I tell you about our experience hiking Mount Marcy, here are some answers to frequently asked questions about this epic experience in the Adirondacks of Upstate New York:
Q: Can you hike Mt Marcy in one day?
Yes! It takes most people about seven-to-eight hours to hike Mount Marcy. It took my husband and me about 10 hours as we stopped a lot to take photos, eat, and enjoy the views.
Q: How long of a hike is Mount Marcy?
Mount Marcy is the highest peak in the Adirondacks and New York State, reaching 5,344 feet. The hike is 14.8 miles round-trip.
Q: Can you camp on Mount Marcy?
A popular camping option on the Mount Marcy trail is near Marcy Dam, which offers views of the high peaks and is only 2.3 miles from the Mount Marcy trailhead at Adirondak Loj at Heart Lake, part of the Adirondack Mountain Club. There is also a campsite between Marcy Dam and Indian Falls on the trail.
Q: How many Mount Marcy trails are there?
You can access the summit of Mount Marcy via four different trails, with the most popular and non-technical option being the route up from Adirondack Loj. If you'll be hiking on your own, one of my top solo hiking tips would be to do this route.
Q: How do you get to Mount Marcy from NYC?
The Adirondacks makes for a great road trip from NYC and it's also one of my favorite solo road trip ideas in the USA! It's recommended to have a car, which allows you to explore the region. From New York City, the drive is about five hours, mainly heading north on route I-87.
Renting a car?
I highly recommend using Discover Cars to quickly compare your options.
Q: Where does the name Mount Marcy come from?
Interestingly, the first white settlers called Mount Marcy "Tahawus" which means "Cloud Splitter."
Then in the 1830s, the governor at the time, Governor William Marcy, commissioned the first environmental survey of the area — which also helped lead to the first ascent of the mountain by Ebenezer Emmons — and the name of the mountain was changed.
Q: When is the best time to hike Mount Marcy?
The best time to hike Mount Marcy is between May and October. This is a challenging hike in winter when weather conditions are harsher. Therefore, hiking Mt Marcy November through April should only be done by experienced hikers with proper gear.
Q: How difficult is Mount Marcy?
Some may consider the Mount Marcy hiking trail difficult due to the length, it is not technically challenging and if you are in relatively good shape you can complete it.
Ultimate Mt Marcy Hiking Guide Video
Love traveling through video?
Watch above to join me for the stunning hike up Mount Marcy!
This is truly the best way to see what this adventurous high peak trail is like.
After watching, continue reading about the trek below.
Mount Marcy Trail Map & Trailhead
There are four trail options for reaching the top of Mount Marcy, though most people who base in Lake Placid opt to start at the Adirondack Loj. You won't be disappointed, as this trail introduces you to one of the top hikes in the world and certainly one of the best hikes in Upstate New York!
Actually, a large number of trails begin from here — just a short distance from the parking area — making it a true hiking destination in the Adirondacks.
You'll pay $15 to park, and can opt to pay $10 for a paper Mt Marcy trail map from the High Peaks Information Center.
Pro tip:
We bought the map not realizing there would be a large map sign right by the trailhead that we could take a photo of.
Here is a photo of that Mount Marcy hiking map:
My Adventure Hiking The Highest Peak In New York
An Easy Start Hiking Mt Marcy NY
After signing in at the Mount Marcy trailhead, Andy and I set off into the forest on a relatively flat trail.
"I don't want to jinx us but this hike seems pretty easy," I say.
Well, jinx!
Our Mount Marcy hike starts off leisurely, taking us over a flat dirt path shaded by trees.
We sometimes hike over wooden planks, up natural stairs, or up slight trail inclines, but over an hour goes by without much difficulty.
As we hike, the blue trail markers stay consistent, though they guide us over ever-changing terrain.
We walk over giant boulders, hop on stones to cross rivers and streams, and hike across bridges offering lovely water views.
Reaching Marcy Dam
One of my favorite early-hike views comes at Marcy Dam, about an hour-and-a-half into the hike.
This is where we get our first real glimpse of the Adirondack range enveloping lush forest and shrouded in fluffy clouds.
While I wasn't tired yet, if I had been, this vista certainly would have put some pep in my step.
As we continue on from Marcy Dam to Mount Marcy, we head over a lovely wooden bridge and then continue into the cover of the forest.
Again, rivers and bridges break up the walk.
In fact, here is the view from High Water Bridge:
At some point, there is a shift in climate, as dry earth becomes damp and mossy, the rain from the previous night also making parts of the trail quite muddy.
Luckily, there are wooden planks — at least in the beginning — to help us over the wet earth without completely soaking our socks.
Quick pro tip:
The weather can change quickly in the Keene Valley where Mount Marcy is located, so bring a rain jacket, rain pants, and waterproof shoes with good grip!
After the wooden planks, the Mount Marcy trail becomes noticeably more difficult, as we have to walk uphill over uneven terrain and slippery stones.
Deeper and deeper we go into the forest, pine trees providing cover, birch trees dripping paper, and moss supplying bright bursts of beautiful green.
Visiting Indian Falls On The Way To Mount Marcy
The trail flattens as we walk past bushes of berries, following a sign offering a stop-off at Indian Falls.
Trust me when I say, you don't want to miss spending some time enjoying the unobstructed high peak views from this waterfall!
In fact, from here you can see Wright, Algonquin, and Iroquois Peaks perfectly framed by pines and other Adirondack trees.
After some photos and a much-needed snack re-fuel, we head back on the trail to continue our journey to the top of Mount Marcy.
We hike over logs and boulders, and through mud that doesn't escape our shoes. Thank goodness I decided to wear waterproof sneakers. Wearing proper attire for hiking is very important!
Additionally, we see unique natural sightings like a baby tree growing out of the roots of a larger fallen tree, showing just how alive and connected the forest truly is.
After the waterfall is also where things get extremely challenging, as we have to walk up a steep incline of boulders.
I say a silent thank you to the universe that it isn't raining, as hiking over these in wet weather would require very careful maneuvering to not break an ankle.
Actually, we'd seen a sign before the ascent, warning us that the weather was subject to change at any moment and that it was important to have proper gear before continuing. This is something important to keep in mind when hiking up any high mountain.
After at least an hour of scrambling over boulders, we finally emerge from the forest absolutely exhausted…
…but also renewed, because we finally get a view of Mount Marcy's peak.
Looking at the distance we still have to go — almost all uphill — we know it won't be easy.
But at least now we can keep our eye on the prize.
A Stunning View Of The Adirondack High Peaks
About halfway up there is a place to stop and have a snack while enjoying a seriously stunning view of the Adirondack Mountains from above the treeline.
"It's hard to imagine there is a better view waiting for us at the top," I say to Andy, my camera shutter constantly clicking to capture every inch of it.
While I would never stop after all of the work we'd put in, especially with so little (yet so much!) to go, I was feeling the burn at this point from all of the uphill climbing.
For the final ascent, we truly needed to scramble and get on all fours at times to make our way up the steep rock face.
"I hope I can get down," I half-joke, struggling to not fall backward when standing up.
Reaching The Mount Marcy Summit
But then, after about 30-40 minutes of gasping for breath and clutching at sheer rock, we emerge at the top of Mount Marcy — the highest peak in all of New York State.
With shaky legs, we wander around the Mount Marcy summit, trying to take in every possible vista.
The truth is, from many spots at the top you can get a true 360-degree view of the High Peaks Region, a sight I'd never seen in my 33 years living in New York.
I spent much of my time on the summit spinning in circles like a child and taking it all in.
Suddenly, a black crow glides over the landscape, adding graceful movement to a stunning natural setting so different from what I am used to back home in New York City.
Sitting down to eat our lunch — delicious sandwiches from the Adirondack Corner Store Deli, which is open early — I feel immense gratitude to be experiencing such beauty.
I didn't mention this before, but this trip was actually our mini-honeymoon, a last-minute response to the 2020 pandemic postponing our planned honeymoon to Tanzania as well as the farmhouse wedding we'd been planning.
But that was okay because the day's adventure hiking up Mount Marcy was truly something unique and special that I would never forget.
The only reason I didn't stay up there all day was that we still needed to get back down the trail.
Spoiler:
This seemed to take longer than going up, mainly because it started to rain at one point, and sliding down the big rocks was a bit more frightening than bellying up over them.
A Delicious Lake Placid Dinner
When we finally do get back into Lake Placid, our home base for the trip, we quickly shower and then go out for a delicious al fresco dinner at the Upstairs Grill Steak & Seafood.
On the menu for the evening:
A scrumptious seafood pasta featuring shrimp, calamari, clams, mussels, and lobster, a seafood pizza, a loaf of hot Italian bread, and a rich slice of cheesecake, all paired with a bottle of wine.
Hey, we'd earned it.
By the time we'd reached the restaurant, we'd walked about 50,000 steps for the day, according to our pedometers.
I think it's safe to assume we slept in the next day.
Fun Adirondack Hiking Challenges
Once you start hiking in the Adirondacks, you'll be able to take part in a number of fun hiking challenges, a few of which include:
Join the Adirondack 46ers Club.
The Adirondack 46ers Club celebrates outdoor enthusiasts who have summited all 46 high peaks of the Adirondack Region.
Joining the official club also entails working to preserve the wilderness, as members collaborate directly with the New York State Department of Environmental Conservation.
Mount Marcy is one of them, so doing this hike is a great place to start!
Become A Lake Placid 9er.
Becoming a Lake Placid 9er is a less intense Adirondack hiking challenge, though it's definitely not easy.
The challenge entails hiking nine of the Adirondack's lower peaks, which in total includes 10,000 feet of elevation and over 30 miles of trail.
The nine peaks include:
Cobble Hill (2,332 feet; 2.2 miles round-trip)
Mount Jo (2,876 feet; 2.6 miles round-trip)
Baxter Mountain (2,440 feet; 2.4 miles round-trip)
Mt. Van Hoevenberg (2,940 feet; 4.4 miles round-trip)
Big Crow Mountain (2,815 feet; 1.4 miles round-trip)
Bear Den Mountain (2,650 feet; 4.5 miles round-trip)
Pitchoff Mountain (3,500 feet; 5.2 miles round-trip)
Catamount Mountain (3,169 feet; 3.6 miles round-trip)
Hurricane Mountain (3,678 feet; 6.8 miles round-trip)
The Cranberry Lake Challenge
This Adirondack hiking challenge involves circling the 50-mile loop around Cranberry Lake — the region's third-largest lake — over time.
You'll also get your name on this website!
Mount Marcy High Peak Additions
This isn't a club, per se, but if you want to make your hike up Mount Marcy even more challenging you can add on the high peaks of Mount Skylight and Mount Gray.
Renting A Car To Explore The Adirondacks
Want to save money on your car rental?
Use Discover Cars to quickly compare your car rental options.
Their comparison tool does the homework for you, so there's no need to have 10+ tabs open while trying to figure out which company is the most affordable.
Actually, you can save up to 70% using their tool!

Hotels In Lake Placid
Looking for accommodation in Lake Placid?
Click here for a full list of Lake Placid hotels!
Prefer self-contained stays?
Click here to check out unique local rentals!
You can also use this map to search for local stays:
Mount Marcy Travel Insurance
While you hope everything runs smoothly, sometimes travel just doesn't go according to plan.
This is why I recommend always purchasing travel insurance. The scary truth is it only takes one bad accident to lose everything — or be thankful you were covered.
Personally, I use SafetyWing, as they've got a large network, offer both short-term and long-term coverage (including limited coverage in your home country), are budget-friendly, and offer $250,000 worth of coverage with just one low overall deductible of $250.
Click here to price out travel insurance for your trip in just a few clicks.
Hiking Mount Marcy: Logistics

Mt Marcy Trailhead: For those based in Lake Placid, the trailhead for Mount Marcy begins at the Adirondak Loj & Heart Lake Program Center. This is the most popular Mt Marcy trail option as it's the least technical.

Here you'll also find the trailheads for numerous other hikes like Table Top Mountain, Phelps Mountain, the Avalanche Pass Trail (including Avalanche Lake), Mount Colden, and Mount Jo, among many others.

Another common Mount Marcy trailhead option is Johns Brook Lodge, which involves doing a 16.6 mile loop.

Cost: It costs $15 to park at the Adirondak Loj & Heart Lake Program Center.

Mount Marcy Elevation Gain: 3,170 feet.

Mount Marcy Hike Time: About seven-to-eight hours round-trip, not including stops to eat, take photos, or enjoy the views.

Hiking Season: May through October. While Mount Marcy can be hiked in winter, it should only be attempted by truly experienced hikers.

Adirondack High Peak Hikes: As stated above, there are 46 high peaks in the Adirondacks, with 43 on them reaching over 4,000 feet. A few great options include Mount Skylight, Big Slide Mountain, and Cascade Mountain, to name a few.

Adirondack Day Hikes: For a moderate day hike, I recommend the Mt. Van Hoevenberg trail, which offers incredible views of the region from the summit. Actually many people choose to hike Mount Marcy via the Van Hoevenberg trail.

Essential Mt Marcy Hiking Gear: Note: I highly recommend checking out Cotopaxi for your hiking and adventure needs, as they're passionate about selling sustainable gear for good causes.

2 liters of water per person
Raincoat (the weather can change unpredictably on the trail)
Hiking sneakers with ankle support (there is a lot of uphill climbing so personally I suggest a lightweight option)
A good quality hiking backpack, preferably one that is waterproof — or at least a waterproof cover for your pack

Additional New York Hiking Resources:

NYC Road Trip: Waterfall Hiking In Adirondack Park

Hiking Bull Hill In New York's Hudson Valley
What would you add to this Mt Marcy hiking guide?
Have you ever hiked up the highest peak in New York?
Enjoyed this Mt Marcy hiking guide? Pin it for later!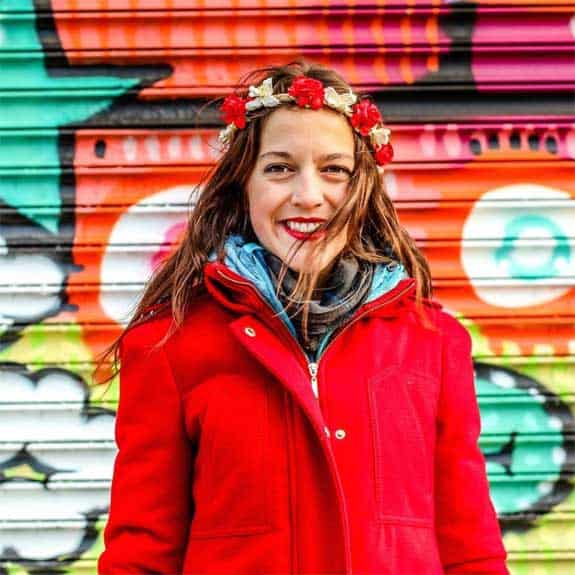 Hi, I'm Jessie on a journey!
I'm a conscious solo traveler on a mission to take you beyond the guidebook to inspire you to live your best life through travel. Come join me!
Want to live your best life through travel?
Subscribe for FREE access to my library of fun blogging worksheets and learn how to get paid to travel more!