How To Have An Amazing Solo Stay At Jade Mountain Resort In St. Lucia
By Jessie Festa. My solo getaway to the Jade Mountain Resort in St. Lucia was sponsored by Tully Luxury Travel, who offer one-of-a-kind experiences around the world.
Who among us hasn't reached that point of a near (or there!) nervous breakdown?
Our constantly connected world makes it harder than ever to really disconnect and relax, sometimes out of fear of losing our jobs or ruining our careers (been there).
The previous year had been a pretty stressful one for me at the end. I won't get into details, but essentially a little loss here, some medical bills there, and the pains of running your own business lit on fire.
You get the picture.
In short, I needed a break. A real break; which is why the opportunity to stay at the opulent Jade Mountain Resort in St. Lucia — a bucket list property for me for a long while — couldn't have come at a better time.
Romance Beyond Belief At Jade Mountain Resort In St. Lucia
I'd experienced Saint Lucia travel before, and I'm often asked, mainly by couples and honeymooners, where they should stay. Everyone, hear me now: THIS is where you should stay.
A private butler, your own infinity pool, unlimited bottles of wine, rose petals on white bedding, prime views of the Pitons and the Caribbean Sea from your open-air sanctuary, tropical birds flying in to say hello (and steal your sugar packets).
I literally laid in a pillow-filled canopy bed staring out over the jungle. I chilled in my chromatherapy Jacuzzi sipping sparkling wine and eating smoked salmon and crostini with a side of layer cake.
Actually, I'll stop there for now and let some of my photos do the talking.
Yes, it's a splurge; but if you're looking for that truly epic getaway where no request is too large and all the ambient touches are in place, this is where you should go.
A Luxury Hotel In St. Lucia With Truly Unique Architecture
Jade Mountain was actually excavated out of the hillside using no dynamite, but hand tools by local workers.
The organic design is bold, with individual bridges flanked by high rising columns leading to 29 enormous individually designed sanctuaries.
It took five years for this property — built upon the historic Anse Chastanet Resort, which shares the same owner — to take its full shape.
That shape included 15-foot high rooms without windows, glass or doors (aside for the front door), but instead a missing fourth wall looking out onto the Pitons and the Caribbean Sea.
Don't worry, yellow lights and citronella keep mosquitos at bay. You see, architect Nick Troubetzkoy was inspired by Saint Lucia's famous Piton Mountains, and he didn't just want people to see them, but to also feel a part of them.
Standing at the edge of my room, I honestly felt like I was floating above the trees.
And if you think the sound of rain is relaxing, just try falling asleep to it without walls to muffle the sound.
Jade Mountain also employs various sustainable practices. For example, the hardwood floors are crafted from individually picked trees, chosen by management who traveled to the rainforests of Guyana to ensure ethical practices.
Moreover, infinity pools feature recycled iridescent glass in a dizzying array of colors so unique that the creator destroyed the mold after Jade Mountain was built to ensure it was never copied.
And while you'll find designer furnishings in the room, there are also a number of locally handcrafted pieces mixed in.
Each room also has its own Wi-Fi (via Mi-Fi), so you'll have your own network if you're the type of person who can't completely unplug. However, I do urge you to try to disconnect from the world whilst you're there.
A Luxurious Solo Escape, Too
I know what you're thinking. "You stayed here… alone?"
Yes, I did. Though I hate the word alone; it sounds like "lonely." I prefer traveling "solo", which sounds more like an empowered choice. So let's go with that.
Hey, solo people like a good rain shower with six body sprays too, you know.
But really, life is stressful for all of us.
I get into this argument often with people who think I have the "easiest" or "best" life, but the truth is, running a travel blog means being a small business owner; it's risky, scary and sometimes you put in a ton of work with no reward. Sometimes your epic trip is spent mostly being holed up with your laptop in a cafe drinking too many espressos.
And while I always try to be honest with you — like the time I disliked hiking Pacaya in Guatemala or when I went to that unethical spice farm in Goa — keep in mind that you're mainly seeing my highlight reel. Unfortunately, I'm not sure how well a post on my medical debt would do on a travel site.
My point:
Everyone needs a getaway sometimes.
To unplug and remember what it was like before smartphones; to see a National Geographic photo come to life; to get pampered and feel your stress melting away like ice when the sun shines.
To drink wine all damn day in an infinity pool because, hey, why not.
While I would have loved to bring my boyfriend to Jade Mountain with me, his job as a teacher means our trips together are restricted mainly to summer.
And because I prescribe to the belief that you shouldn't wait around for someone to be ready to travel with you, I went solo.
My stay wasn't all clinking glasses (again, yes, with myself) and birds fluttering around my canopy bed like I was Snow White. I also partook in some of Jade Mountain's activity offerings, which only helped to further my belief that St. Lucia is one of the best Caribbean islands for solo travel.
Jungle Biking At Jade Mountain Resort
First up, jungle biking. Jade Mountain has its own excursion offerings on its 600 acres, like jungle biking, snorkeling, and a chocolate tour where you visit the farm where they grow the cacao (I actually jungle biked through it) and make your own chocolate in their chocolate lab.
The jungle biking consisted of a guided 40-minute ride where my guide, Tyson, showed me the available trails to go off on my own afterward.
While I loved the adventure — as well as the tasty tropical fruits on the trees — what also struck me was the history, as there are visible remnants of Saint Lucia's slave trade.
You'll see the "Stairway to Heaven" (a stairway with no end) as well as the "Stairway to Hell," a short staircase leading us into the ruins of the boiling room, where chocolate-making slaves would die from heat and exhaustion.
It's a dark time in the world's history, but one that's important to learn from (and never let happen again).
While I'm an avid cyclist in NYC and I've tried downhill mountain biking in Colorado, I still found the relatively flat trail challenging.
There were tons of sharps turns, rocks and roots, but I loved working up a sweat while trying something I rarely get to do.
And luckily, the 10-minute walk back to the beach is all coastline.
Meaning I obviously jumped in in my clothes.
Ahh. Refreshing. I spent the next hour swimming like a New York fish who hasn't tasted the Caribbean Sea in too long.
A Sumptuous Spa Experience At Jade Mountain Resort
Until my spa treatment. The general ambiance of the entire Jade Mountain property is relaxed, so I didn't necessarily need to de-stress; but somehow entering the spa with its gentle sounds and soft speaking therapists made my heart almost stop beating.
For the following hour, my masseuse worked her magic, removing all my knots — even working extra on my hands and forearms when I told her they give me trouble from typing so much.
Incredible. This must be one of the reasons why there are so many amazing Jade Mountain St Lucia reviews.
In the evening, after cocktails and canapés hour on the Club roof, it was time for dinner.
I'd enjoyed a delicious fresh catch lunch — paired with epic Piton views — in the Club, so I decided to enjoy my dinner in my room.
Hey, it's not every day this Brooklyn girl isn't living next door to a rock band, so I really wanted to savor the tranquility.
You can't tell from here, but the Pitons are actually two different sizes and three miles apart at their base. It's an illusion that they're attached. In fact, they're located in two different districts!
Tip:
Don't bring this up to locals, as it's a sore subject for some.
An Inspiring Solo Evening At Jade Mountain Saint Lucia
My butler brought me the evening's menu, and I settled on some grilled calamari to start, followed by a local kingfish with saffron-laced pilaf. To finish, a coconut panna cotta left me satisfied.
What's awesome is that Jade Mountain sources 90% of its ingredients locally, and you can even visit their farm to learn more about how they grow their own produce.
It wasn't only a delicious local meal, but also a genuine taste of the location.
When I got back to my room after dinner, I found a quote card on the bed. It read:
"To find the air and the water exhilarating; to be refreshed by a morning walk or an evening saunter; to be thrilled by the stars at night; to be elated over a bird's nest, or a wildflower in spring – these are some of the rewards of the simple life." – John Burroughs.
While Jade Mountain is anything but the simple life, I still feel like its natural immersion, whole-food meals and setting away from life's hustle have brought me back to an appreciation of the simple pleasures of life.
I haven't smiled as big as I did when a bird flew onto the edge of my coffee cup in a long time. I literally rolled in the flower petals on my bed, loving their scent and beauty.
The sound of flowing water drifting me to sleep is something so foreign to a girl typically lulled to sleep by the J Train's rumble.
Jade Mountain has a way of providing you with opulent amenities while also helping you slow down and literally smell the roses.
Have you ever stayed at Jade Mountain Resort in St. Lucia?
Bonus Saint Lucia Travel Resources
BodyHoliday: An Amazing St. Lucia Wellness Retreat For Solo Travelers
6 Secret Beaches To Visit In Saint Lucia
Adventurous Couple's Guide To Marisule, Castries & Rodney Bay In Saint Lucia
Adventurous Couple's Guide To Soufriere, Saint Lucia
3 Romantic Saint Lucia Hotels That Aren't Sandals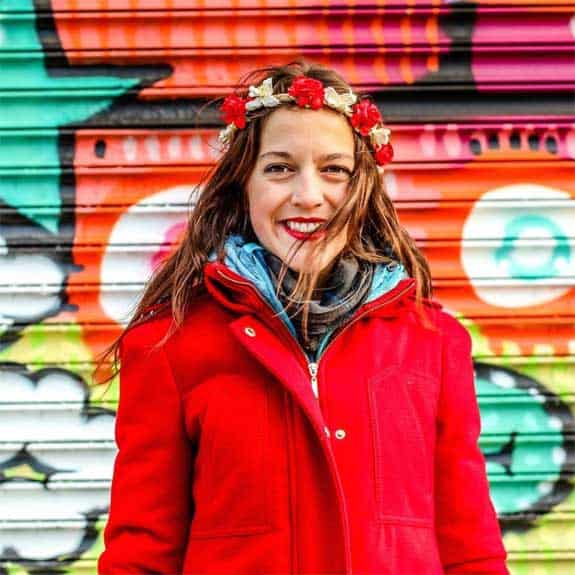 Hi, I'm Jessie on a journey!
I'm a conscious solo traveler on a mission to take you beyond the guidebook to inspire you to live your best life through travel. Come join me!
Want to live your best life through travel?
Subscribe for FREE access to my library of fun blogging worksheets and learn how to get paid to travel more!