This Is What Happens When You Take A Paintbrush Hiking In Vail
"Life begins at the end of your comfort zone." – Neale Donald Walsch
This is a quote I've lived by since I started traveling.
To me it doesn't just mean taking part in adrenaline rush activities like summitting active volcanoes and swimming with sharks, but also tasting foods you've never heard of, trying to make conversion in a foreign language and essentially just trying new things.
This quote was exactly what I was reciting in my mind when I signed up for a Hike & Paint at Piney Lake excursion in Vail, Colorado through the Sonnenalp Hotel, my immersive accommodation for the trip.
The German-inspired property is choc-full of activities, from onsite restaurants (don't miss the fondue at Swiss Chalet!) to an amenity-filled spa to exclusive tours one can only book through them.
In fact, they're the only accommodation in Vail that has a permit to guide in the national forest, meaning they can offer unique discounted hikes to guests.
Like the one I was about to embark on.
"Are you ready for your excursion?" greets Kara, the Sonnenalp's Guest Activities Coordinator and my guide for the day.
I'm pumped. I love hiking, though I don't have much art experience. As travel is all about trying new things — and getting out of your comfort zone — it seems like the perfect afternoon.
An Interesting Journey
We leave Vail Village and head northwest toward Piney River Ranch, a 40-acre Rocky Mountain retreat within the White River National Forest.
Despite being only 12 miles north of Vail Village, the ride takes 40 minutes due to the winding washboard roads and remote high altitude destination.
Within 15 minutes we're above Vail. The suburban hugs the mountain, and I look down at where I had been just moments ago.
As we turn onto the dirt forest service road I'm suddenly treated to a free "off-roading massage," bumping up and down over rocks and gravel like a bobblehead, red dust creating a cloud around the vehicle.
Lodgepole pines — once used by Native Americans to create their teepees — and aspen trees envelop the car, and from certain lookout points I can see most of Vail's ski runs, some of which still have snow at the top.
I'm told by Kara that sometimes locals who are between places or want to save money on rent camp in the national forest.
It's free to camp whether using tents or camper vans; you just need to re-locate every 14 days.
I imagine the experience would be quite freeing, both mentally and physically. Immersed in lush green, breathing in clean mountain air instead of taxi fumes, I picture myself re-emerging like a bear after a long winter hibernation.
Emerging Rejuvenated
The drive is long, but when we reach the ranch there's no question whether it was worth it or not.
Answer:
Absolutely!
I'm already feeling that rejuvenation just looking at the sparkling Piney Lake backed by Mount Powell and the rest of the Gore Mountain Range. Is it too early to call this one of the best day hikes in the world?
The Piney River Ranch and its horse stable, restaurant and general store sit in the foreground, as does a small dock on Piney Lake that people are kayaking and stand up paddle boarding off of. The Marugg Creek and Piney River flow into this gorgeous sparkling blue lake, all supplied by snow melt.
This fairytale scenery will be my reality for the next four hours as we hike the Upper Piney Falls trail, though instead of going all the way to the waterfalls we're heading to 9,720 feet above sea level for a mix of landscapes and views — and to get back to the ranch in time for cocktails and canvases.
While in past I've paired hiking with cycling, kayaking and beach lounging, today will be the first time I'm combining a trek with landscape painting, led by the talented Lauren Merrill, owner and director of the Alpine Arts Center.
Europe In America
The trek starts low, with myself, Kara and Lauren inside a big open meadow valley, the trees and snow-capped peaks swallowing us up. On the ground purple larkspur flowers and giant pre-historic looking lilies enhance the scenery, while warblers and meadowlarks sing.
If I were to sing with them, it would be "The Hills Are Alive," a Sound of Music soundtrack in a place most people who visit Vail never experience.
After a few days in Vail I'm pretty convinced it's the closest to Europe in America you can get, Austria to be specific.
Along with this alpine scenery, Vail itself was created as a ski resort by Pete Seibert and Earl Eaton in 1962, modeled after the fairytale ski resorts they saw in Europe during their time in the U.S. Army's 10th Mountain Division during World War II.
Vail Village and Lionshead — the two main hubs of Vail — feature whimsical wooden local shops showcasing pitched roofs, flower planter windows and painted shutters, with the alpine wilderness bringing it all together.
Facing My Fears
Soon Piney Lake is out of view and we're traversing the Gore Range. Pine trees envelop us in Mother Nature's perfume, and my camera shutter clicks rapidly at every turn of the switchback trail.
When we come to our first wooden bridge, a flat log over a gushing creek that looks precarious to walk on, I feel my palms sweat.
Once I'm on top, though, I realize my balance is trustier than I assumed. Another example of facing my fears making me stronger and more capable.
I not only learn about my strength, but also the nature surrounding me. At one point we are immersed in an aspen grove, which I discover is the earth's single largest living organism.
Amazingly, the entire grove is connected by the same root system.
Also interesting is seeing Kara rub the tree's bark on her arms and becoming coated in white powder.
"This is natural sunscreen," she explains, smoothing it onto her skin.
Climbing High
Though the incline of the hike is gradual, as we get closer to 10,000 feet above sea level it gets harder to breath.
"At 10,000 feet you have 1/3 less oxygen," Kara explains. "It doesn't matter how fit you are."
We drink water and hike without rushing, enjoying the scenery and trying to spot wildlife (we don't see any, though the path is full of bobcat dung!). Finally, after 1.8 miles and an elevation gain of 450 feet, it's time to head back to Piney Lake for lunch paired with painting.
Getting Artsy
Lauren had run back ahead of us to get everything ready for the art class. There are easels and paints set up — not to mention an antique tractor — on a hill overlooking Piney Lake.
Additionally, cooler bags from the Sonnenalp Hotel sit thankfully filled with a truly gourmet lunch:
Chips, a big peanut butter cookie, fresh fruit salad, tortellini salad, and a humongous turkey sandwich laced with fresh produce.
A woman from the Piney River Ranch comes out to say hello and to ask if I'd like an adult beverage.
I decline, as I want to be fully present for my painting (though I later realize a cocktail may have helped my non-existent art skills come out).
Still, if you'd like to imbibe starting prices are $6 for beer and $8 for wine and spirits-based drinks.
But back to the painting. I'm not artistic, which is why I chose to try this activity. The scenery and Lauren's playlist, a mix of country and Bob Marley, relaxes me. What really helps me, though, is the step-by-step instruction.
The scariest moment I find with painting is putting that initial brush stroke onto the blank canvas. What if I put it in the wrong place? What if my hand shakes? What if the color is wrong?
What if I get out of my own head and realize it's just paint, and mistakes can be turned into rocks?
Lauren helps me realize the painting is my personal interpretation of the landscape, though she's there to give me the necessary steps.
"There are no rules," she smiles. "As long as you're having fun you can paint the sky pink if you want."
That being said, she does demonstrate how to paint the landscape as it appears before us, letting us add in our own Dr. Seuss renditions along the way. I feel like a toddler taking my first steps into the world of art.
Instead of looking at the entire painting at once — which is super daunting — we look at it piece by piece, starting with the sky. Mixing blue and white, Lauren instructs how to use the edge of the paintbrush to streak the sky.
Next we move onto the mountains. Lauren notes the importance of changing the shade and texture depending how close or far away something is. With this in mind the back mountains are painted a darker shade of brown than the front ones, with more black and green added to the brown.
As our mountains dry we work on painting Piney Lake. Now, if I were to do this on my own without instruction, my interpretation would have been a perfect blue circle; however, under Lauren's guidance, I practice the art of shading.
Dark blue melds into a whiter hue, blending with the brown edges of the dirt. This is a theme throughout the painting, as I'm instructed to blend colors and lines into one another.
Hey, Mother Nature has no clear defining line.
My favorite section to paint is the foreground. It's like being a kid and just whacking your canvas with a paint brush. I rotate between adding blobs of greens, yellows and browns to my brush and "gently" (yea, right) tapping them to add a textured meadow.
It kind of feels like I'm breaking the rules, haphazardly throwing paint around, though what comes out is actually pretty good.
Channeling Pollock
Until the flies start arriving. Despite the fact I'd been eating a turkey sandwich at this table earlier, the annoying insects seem more interested in the acrylics, diving into the canvas and getting stuck in the paint.
I'm frustrated they might ruin my artwork, but let it go once Kara tells me about famed painter Jackson Pollock, whose pieces often had nails and cigarette butts stuck into the paint. He just went with it.
"Well then, I'd say I'm practically a famous artist on my first painting," I joke.
Okay, so I wasn't going to have my work in the MoMA anytime soon; I was, however, pretty damn proud of my landscape and I loved this Colorado travel activity!
I mean, I wasn't even expecting to have anything legible, let alone a work where you could make out the shapes. And as I wandered around Piney River Ranch letting my painting dry, the number of compliments I received made the afternoon extra special.
Try something new and you may discover a hidden talent you never knew you had; or at the very least, a relaxing activity in nature that introduces you to a new experience in a beautiful place.
Booking
My trip to Vail, Colorado was sponsored by the Sonnenalp Hotel, a boutique property in Vail Village home to numerous special experiences. Because they are the only Vail hotel to hold a permit to guide through the national forest they offer daily discounted hikes for $0 to $10, as well as hikes and other outdoor activities through their Wild Adventure Wednesday series. The Hike & Paint at Piney Lake excursion is $80 per person for guests of the Sonnenalp ($100 if you're staying at another property). This includes transportation, the guided hike, lunch, step-by-step painting instruction by a local artist and all art materials. The experience is offered exclusively through the property.
For more information on the Sonnenalp Hotel's hikes and activities email Kara at [email protected]. For more information on the Alpine Arts Center email Lauren at [email protected].
The Alpine Arts Center also offers an array of creative activities, from al fresco art classes like fly fishing + painting to a Painting + Pints brewery tour to group mural paintings. Fun stuff!
Bonus Vail Travel Resources:
Colorado Summer: 16 Things To Do In Vail Beyond Skiing
These Photos Will Make You Want To Hike Vail Mountain Right Now
11 Amazing Hotels In Colorado With Private Hot Tubs
Have you ever gone hiking in Vail, Colorado?
Essential Information:

Getting There: The easiest way to get to Vail is typically to fly into Denver and take the Colorado Mountain Express Shuttle to Vail. Door-to-door service is about $84, though you can save a bit by getting dropped off at the Vail Transportation Center for about $65.

Getting Around: Vail is extremely walkable and bikeable. They also have a free bus service, and the Sonnenalp Hotel provides free Volvo day rentals to guests.

Sonnenalp Hotel Starting Rates: $270 per night + resort fee + taxes. Highly recommended for those wanting unique boutique accommodation and an immersive experience.

Vail Summer Packing: The weather can be hot during the day on the ground and chilly at night and on the mountain. Layers will be key. Some essentials I recommend packing for this hike and other Vail summer activities include:

Further Reading: Check out the Packing Lists section of this site. I also recommend reading Best Easy Day Hikes Vail by Falcon Guides and Vail: The First 50 Years (Images of America) by Arcadia Publishing.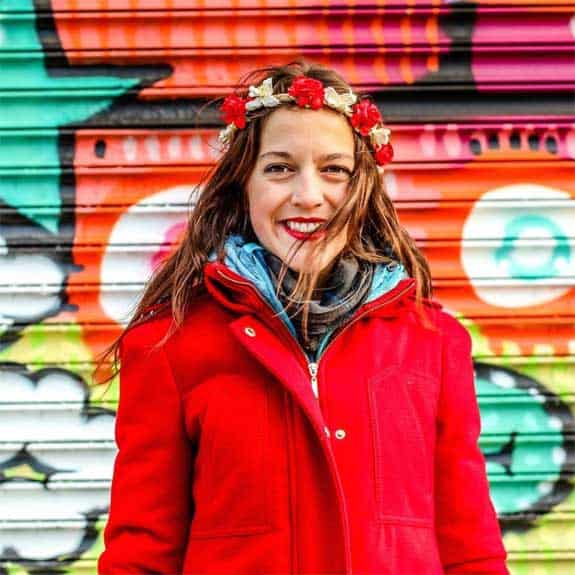 Hi, I'm Jessie on a journey!
I'm a conscious solo traveler on a mission to take you beyond the guidebook to inspire you to live your best life through travel. Come join me!
Want to live your best life through travel?
Subscribe for FREE access to my library of fun blogging worksheets and learn how to get paid to travel more!