Moving Experiences: Hiking Safaris In Australia
"Did I miss the turn?"
Rainer pulls out the map, confused. We've been driving passed meadows of sheep, cows and hills rolling like gentle ribbons of green. Driving the Great Ocean Road, we've taken a detour into the country, eager to spend some time in enjoying the beauty of the outdoors.
After re-reading the directions, we realize we need to reverse as we missed the turn. It's no wonder as our accommodation, Bothfeet, is meant to be off the beaten path. Owner/Director Gavin Ronan set up his operation not for people looking for overnight accommodation, but to immerse themselves in hiking culture. He's creating a community of travelers who come for a natural experience, and leave with refreshed outlook on life as well as new friends.
Self-contained, eco-friendly guestrooms litter the property, surrounded by vegetable gardens, foot spas and zen areas mimicking Japanese tea gardens. There are only 10 rooms, allowing for all visitors to become like family.
At 6:30pm, we all sit down with Gavin for the nightly communal dinner. Chef Ha Nguyen takes vegetables and herbs grown onsite and blends them with locally sourced meats, cheeses and fruits to create delicious and sustainable meals. Tonight, the menu consists of a salad topped with seared tuna; a filet with mushrooms, sautéed asparagus and heirloom potatoes; and a saffron-infused poached pear with vanilla ice cream. To accompany the meal, Australian wines from local cellar doors pair for a truly sustainable epicurious experience.
Across from me sits Beatrice — a woman originally from Germany who moved to New South Wales 15 years ago — while next to me is an English journalist named Steven. To my right sits a Korean couple who traveled to Bothfeet to accomplish their dream of hiking the Great Ocean Walk, while a New Zealand woman named Claire sits two seats down and is here here on holiday.
Despite all our different backgrounds our desire is the same: hiking in Australia's backcountry.
The group sips their wine and chats while Chef Nguyen takes our orders for the morning breakfast. Our choices are porridge with cinnamon and apple or eggs with smoked salmon. There are also organic fruits, all natural cereals and multi-grain toasts with a delicious spread of homemade jams and butters.
It sounds like a lot, but a hearty meal to begin the day is essential to complete the hiking ahead.
The idea at Bothfeet is for people to come stay for two or more nights and take part in long through hikes in a section-by-section fashion. For example, on Day 1 you may hike 10 miles (16 kilometers) from point A to point B, get picked up from Point B, then get dropped off there the next day to continue the next section. Today we're doing the end of The Great Ocean Walk to Gibson Steps for sweeping views of the jagged coastline and views of the 12 Apostles.
The trek starts at Gellibrand River, with Gavin leading the way. At the beginning we walk through bush — seeing interesting plants and flowers — until we reach the top of the first big hill.
Ahead of me, one of the other hikers gasps, "This is fantastic!"
I speed up my pace to reach the summit, almost falling to my knees when I see what the woman had been looking at. Translucent Ceylon water glimmers just beyond coastal tea trees. We're all alone — no tourists, no buses no businesses. It feels almost spiritual being able to clearly hear the ocean lapping against the shore, a cool breeze floating off of it.
"We're truly off the beaten path," explains Gavin. "Out here there's nothing but wildlife and the coastline."
We continue on, stopping for a quick tea break of artisanal trail mix, fresh fruit and homemade cookie bars with chocolate and dates before trekking ahead to the grand finale. As we walk I can't help but think back to how, at first, I had thought the idea of a hiking safari had sounded odd; however, people have retreats and safaris for everything: yoga, meditation, photography, hunting, weight loss. Why not hiking?
I remember this question when we reach the first lookout point of the 12 Apostles. Scrambling for my camera, I'm in awe of how the Earth has created something so imperfectly perfect. The jagged rocks were made naturally from the water's erosion of the natural coastline, and what's left is an organic work of art.
For the last third of the hike, we can see the magnificence of this natural wonder the whole way, giving us a visible goal to walk toward. While I thought the view couldn't get any better, I was wrong.
There's something about working to reach a goal that makes the reward that much sweeter, and right now I'm sucking on pure sugar. I can make out the fine details of the eroded rock, each layer crafted by Mother Nature. The moment becomes a top highlight of my trip to Australia.
The whole experience — from the lodge to the sustainable food to the hiking and natural wonders — has reaffirmed for me what many people know but forget. The Earth provides food, shelter, health and even entertainment in its most basic yet enthralling form.
People don't complete this hike just for the exercise, the peace or the views, but the way these things combine to move you in a way only being away from civilization can.
By the way, if you love exploring beautiful trails and plan to explore other parts of Australia, I highly recommend also checking out some of the best hikes in Queensland as well as some scenic Bruny Island hikes in Tasmania!
Have you ever taken part in a walking safari in Australia?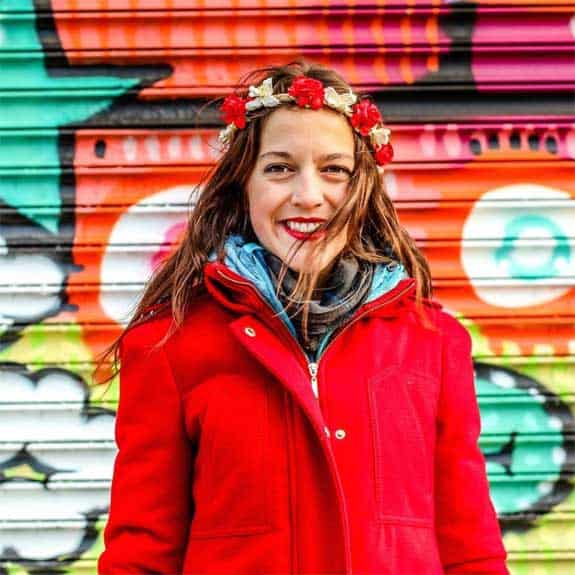 Hi, I'm Jessie on a journey!
I'm a conscious solo traveler on a mission to take you beyond the guidebook to inspire you to live your best life through travel. Come join me!
Want to live your best life through travel?
Subscribe for FREE access to my library of fun blogging worksheets and learn how to get paid to travel more!