Slovenia Travel: Local Ljubljana Experiences For Solo Travelers
Ljubljana, the capital of Slovenia, is full of guidebook recommended attractions: the Ljubljana Castle, the Triple and Dragon Bridges, the Cathedral of St. Nicholas, the many art and history museums.
When I travel, however, I like to wander aimlessly and make organic discoveries, as well as book immersive local activities for a more memorable trip than just snapping photos of "sights."
To help you plan an experiential trip, here are 11 must-have Ljubljana experiences that take you beyond the typical attractions.
1. Bike The City Beyond The Center
As most of you know, I try to do a bike tour in every city I visit.
Not only because I love biking, but because cycling guides are always awesome. Tevz of Watermelon Ljubljana Bike Tours was no different.
He was young, fun and his love of not only the city but the outdoors and adventure really shined through.
I also loved that along with seeing the sites of the city center — the Triple Bridge, Congress Square and Prešeren Square — we cycled beyond these pedestrian streets to see smaller towns, the church where France Prešeren, a historic local poet and the author of the national anthem, first saw his muse, and the remains of an ancient Roman Wall of Emona.
We ended with what I considered to be the highlight, the experimental arts area of Metelkova (but more on that below).
You're essentially seeing the city through Tevz's eyes, as he creates and leads the tours himself. Choose between a shorter 2-hour tour and a longer 3.5/4-hour tour, both limited to six people.
2. Eat Up The Little Guys
Well, not literally.
No matter where you're traveling, opting for small businesses and mom and pop venues will get you closer to local culture than the international brands and chains will. Iva Gruden of Ljubljananjam Foodwalks invites you to "eat like a local, with a local."
She'll introduce you to her favorite small business eateries, as you taste your way through Slovenia's capital, exploring culture from past to present through the palate.
Some bites and sips you might savor: local craft beer, a vegetable soup made from garden-grown produce, cold brew coffee, home-made gnocchi prepared with fresh artichokes, risotto with pine nuts and lemon zest, protected status Carniolan sausage with spicy mustard, a glass of wine of the riverfront and much more.
While it's very much about the food, it's also about meeting the purveyors, and understanding how Slovenia's history as a melting pot of cultures has helped shaped the diverse culinary scene you see today.
While you'll find pre-designed tours on the Ljubljananjam Foodwalks website, Iva is happy to customize walks based on your personal preferences.
3. Get Caffeinated
In Ljubljana, Slovenia, there's one purveyor taking coffee to the next level. Tine of Cafe Čokl (Dunajska cesta 63) actually buys, roasts and sells his own Fair Trade organic coffee.
The cafe is like a mad scientist lab, where Tine uses Chemex, cold brew, Aeropress and other techniques and adapts bean profiles to his liking.
It's here where I sampled my first cold brew coffee, served in a wine glass to better understand its terroir. The coffee becomes more complex with each sip, moving from buttery to fruity.
If you're like me, one coffee shop isn't enough.
Another to check out in Ljubljana is TOZD Bar, where they serve coffee, beer, wine and bites on the ambient Ljubljanica River.
Inside it's like an exhibition:
Local design products and photography are sold on the walls, fixie bikes dangle from the ceiling (and are for sale, as well) and a book exchange in the back offers a great activity to enjoy with a glass of local Pelicon beer or wine ($2!).
Free Wi-Fi is a plus, as are live music and DJ events.
4. Slow Down
As soon as you step into the city center you'll understand what I mean.
This area of Ljubljana is a pedestrian zone, with a beautiful river lined with cafés, bars, and restaurants.
On a sunny day, there's nothing better than wandering aimlessly and spending hours drinking coffee or Slovenian wine on the water, reading a book, hanging with friends or just don't absolutely nothing.
Don't feel lazy; it's part of the culture, and you'll be doing just as the locals do.
This aspect of the city combined with how safe it is makes it one of the best solo travel destinations in Europe.
5. Immerse Yourself In Incredible Nature
For those who don't want to leave the city limits, the 5 square-kilometer (1.9 square miles), Tivoli Park — open since 1813 — offers your typical urban park offerings — a playground, benches, jogging paths, picnic areas, bike rental stations, a fish pond, a pool and cultural attractions like the 17th-century Tivoli Mansion and the Museum of Modern History.
What I really love about it, though, is that there is actual wilderness if you venture up the hill.
Numerous woodland trails weave around Rožnik Hill, with two peaks — Šiška Hill (429 meters/1408 feet) and Cankar Peak (394 meters/1,293 feet) — at the top.
If you have a day to spare, sign up for a tour with SloTrips.
I had an amazing time trekking through gorges, to waterfalls and churches, and on historic routes with Miha, who customizes trips based on guest preference. In a full day you'll typically have five short hikes and a delicious local lunch.
It's a great way to experience the natural side of Slovenia with a local who knows the best spots for trekking.
Strolling Ljubljana without a plan, I stumbled across a true artisan gem: Oliviers & Co.
While they have products from Italy, France and other parts of Europe, a large section of their honeys, spreads, wines, marmalades, oils and more is dedicated solely to Slovenia.
Best of all, there are free samples. I savored a local honey tasting — orange blossom, oak and lavender — which was interesting because Slovenia is known for its EU-protected honey and advanced beekeeping culture.
It's great place for a budget-friendly cultural experience as well as to find a tasty souvenir.
7. Get Funky
In all of my travels, I've never seen an experimental arts community quite like Metelkova City in Ljubljana.
Located in former military barracks once used by the Yugoslav National Army, the city planned to demolish the buildings until squatters and concerned locals occupied the area and refused to let it be torn down.
Interestingly, you can see smashed windows and some crumbling areas where the demolition had begun.
The cultural and social center isn't huge — it looks like a very large parking lot with some extensions — but it's packed with personality:
Colorful graffiti in dark and fairytale themes, alternative galleries, clubs, bars, concert spaces, artist studios, tables adorned with rat drawings, grotesque ET-like creatures sprouting from building walls, eclectic tile mosaics, seemingly random embellishments, historic statues in crumbling wall holes and creativity literally bursting from every corner and detail.
8. Taste Ljubljana
Of course, you can simply go to a typical restaurant to savor Slovenian dishes, known for their diverse, fresh ingredients — having a garden is part of the culture — with Mediterranean, Alpine and Pannonian influences.
The city makes it easy for visitors to discern where they can eat traditional meals through their Taste Ljubljana program.
Participating restaurants feature a "Taste Ljubljana" sticker in the window, so there's no need to research (obviously you all know I appreciated that).
9. Immerse Yourself In Curative Culture
While not technically in Ljubljana, Herbal House in the small Slovenian village of Plave is an east trip either by carpool or train (Ljubliana-Jesenice-Plave) — and worth it to experience a true Slovenian countryside homestay.
Vesna and her parents are trained herb pickers, and after welcoming you into their beautiful home — all wood furniture is built by her father and herbal touches created by the family — will take you into the forest to pick herbs for cooking and making homemade body balms.
You'll not only learn to cook local dishes and enjoy wine with everyone, but will exchange stories and traditions as you bond with locals.
10. Stay In A Historic Hostel
Ljubljana has an interesting — and awesome — hostel scene.
One of its hostels is known around the world, Hostel Celica, a former prison where you can literally "spend the night behind bars" as they have transformed 20 prison cells into art-themed guest rooms.
There's also the hostel I stayed in and highly recommend, Hostel Tresor, a former bank-turned-hostel that still features a money theme with rooms named after global currencies, money-related quotes on the walls and certain original features in a modern space.
11. Test Your Skills In An Escape Room
This is the one thing on this list that I didn't actually do; however, I feel confident adding it as I was encouraged by almost every local I met to do this.
I'd never heard of an "escape room" before visiting Ljubljana, where apparently it is popular to allow yourself to be locked up in a room with the task of solving riddles and puzzles within one hour to free yourself. Click here for an example.
These are just a few of the many awesome things to do in Slovenia if you want to have fun while traveling solo.
Solo Travel Tips
New to solo travel?
Truth:
I made so many mistakes when planning my first trip solo — like booking out every second of my itinerary so that I had no room for adventure.
That's not what I want for you.
To help you plan a meaningful and memorable trip, I'm sharing my top tips for planning the perfect solo trip — with confidence!
Have you visited Ljubljana? What were your favorite experiences?
Visiting Lake Bled In Slovenia
A Slovenia Countryside Homestay
Slovenia Travel: Exploring Ljubljana On A Bike Tour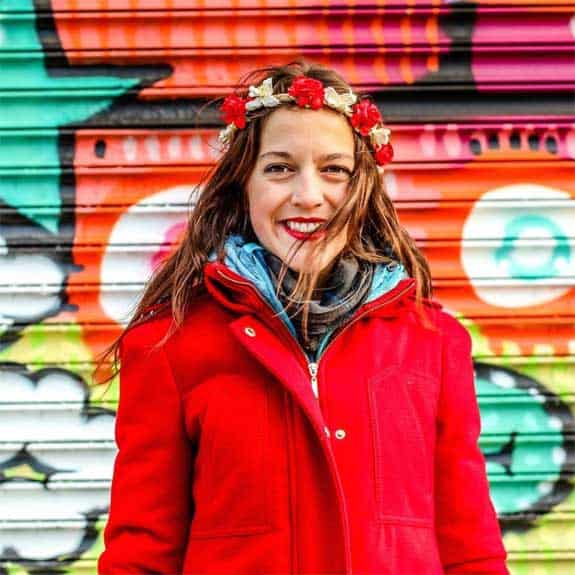 Hi, I'm Jessie on a journey!
I'm a conscious solo traveler on a mission to take you beyond the guidebook to inspire you to live your best life through travel. Come join me!
Want to live your best life through travel?
Subscribe for FREE access to my library of fun blogging worksheets and learn how to get paid to travel more!