Fascinating Slovenia: 6 Lessons Learned On A Ljubljana Bike Tour
One of my favorite ways to experience a city is through a bike tour, especially when being guided by a local, seeing the destination through their eyes.
While on a bus you view the outside world as if it were a caged animal, on a bike you're one with the place, feeling the beat of the city as purely as your own heart.
Before visiting Ljubljana — the capital of Slovenia — I wasn't quite sure what to expect.
Hell, I didn't even know how to properly say the name, which to my American eyes looked like a cat had walked across my keyboard every time I typed it.
I knew a bit about Slovenia's incorporation into Yugoslavia, but as for Ljubljana itself, I was at a loss.
A morning cycling with Tevz of Watermelon Ljubljana Bike Tours opened my eyes to what I did not understand (while also helping me burn off all that apple strudel that's so delicious over there).
The excursion — which quickly became one of the best bike tours I'd ever done — began in the City Center, a pedestrian-only zone filled with cobbled streets, historic churches, a castle, and a cafe-lined river, where I learned about Ljubljana's urban planning, the important individuals that helped shape the city and some of the Tevz' favorite drinking spots (lucky Europeans and their lack of open container laws).
What I loved even more than this was that Tevz took me outside of the Center, showing me places I never would have known to venture on my own.
From alternative cultural hubs to ancient ruins to small farming towns, there was a lot we uncovered in just two hours — although there is a longer 3.5-4 hour tour, for those who want more.
Basically, I learned a lot.
And while I won't divulge every single detail of the tour here — you'll have to take it for yourself — here are six of the most fascinating Ljubljana lessons I left the bike tour with:
1. France Prešeren Was An Important Poet With A Topless Muse
On the tour, I learned a lot about France Prešeren (1800-1949), one of Ljubljana's most famous romantic poets and the author of the National Anthem — although he didn't live to see this happen. In the main city square, called Prešeren Square, you'll see buskers, locals meeting up, the waterfront and the pink Franciscan Church of the Annunciation. Oh, and a very provocative statue — at least it was erected. Featuring Prešeren below a topless woman symbolizing a no name muse, it's said the trees in front of the church were put there to block worshipers' views of the figure's stone breasts.
Says Tevz, "The Slovenian national holiday-cultural day is February 8th, also called Prešeren's Day. It's funny that this date is the day he died and not his birthday. Prešeren's statue was placed on the main square in 1905, with many disputes — especially from the Catholic side of view."
Toward the end of the bike tour we learn even more about Prešeren's muses at St. John the Baptist Church (aka Trnovo Church) in the Trnovo District near Trnovo Bridge, with a plaque dedicated to the poet on the facade. It sits here as this is the very place Prešeren first saw his muse, Julija, from afar, never actually getting to know her but lusting after her nonetheless.
2. With Tragedy Sometimes Comes Renewal
While biking, it's hard to appreciate the layout and aesthetics of the city. Coming from Brooklyn where biking means buses are sometimes two centimeters from your body and open car doors can mean broken faces, I appreciate the wide open streets and squares, car-less City Center, and slower pace, with people seeming to walk in step with the gentle river.
"In terms of Ljubljana's urbanism, there was a crucial event in 1895: Big Easter Earthquake," says Tevz. "It reached as far as Vienna and had more than 100 aftershocks in the next days. Around 10% of the city's buildings were destroyed. In a way it made a blank canvas to rebuild Ljubljana into a more modern city, not looking like a big village anymore."
Tevz shows me the many squares of the Ljubljana, which interesting were historically used as parking lots until the recent mayor banned cars from the Center. Each has its own fascinating history and culture, like Congress Square (Kongresni trg) — where major city events take place — and its adjacent Star Park (Park Zvezda), the streets meeting the green space and fanning out to look like a star.
The most beautiful building in sight is undoubtedly the Ljubljana University Administration Building — when we came to it I'd actually asked Tevz if it was a palace — which stands on its own, as in Slovenia university classes and buildings are scattered around the city instead of on a campus. It's hard for me to picture what that would be like, coming from the State University of Albany in New York where the campus was like its own city, but I'd imagine it only adds to the social ambience of Ljubljana.
There's also New Square (Novi Trg) which, despite its name and title as the city's youngest square, is still pretty old at 500+ years. This was also once a parking lot, and today offers gorgeous river views to one side and a beautiful vista of the National University Library (known as NUK), which architect Jože Plečnik built using building materials from the previous building that had been destroyed in an earthquake. This tactic was both efficient and budget-friendly.
The building is hard not to miss, inspired by the Italian palazzo and featuring red brick and grey stone embeddings forming a contrasting pattern on the perfectly symmetrical building. Door handles showcase Pegasus heads, while a sculpture of Moses stands out front.
Plečnik is a name that comes up often on the tour, as he's had a lasting impact on the aesthetics of the city. He may have died in 1957, but his legacy is still felt — literally — by anyone who walks (or bikes) through the city.
3. It's Possible To Live In A Sauerkraut Barrel
While biking through Krakovo, a protected farming village that was once a fishermen's settlement less than five minutes by bike from the City Center, I I hear one of the most fascinating facts of all.
Explains Tevz, "The previously-mentioned earthquake made quite a few people homeless. The wealthier moved away, some to relatives, some stayed in tents in town parks and train wagons. One of successful sauerkraut producers from town also donated a big number of wooden sauerkraut barrels. They rolled them onto the field and they were a shelter for some of the locals."
I'm astounded by this, and also impressed by the resourcefulness of these past locals. I guess the old saying "Where there is a will, there is a way" is true, with human instinct driving them to do what it took to survive.
4. Ljubljana Is Home To Ancient Pyramids
Just outside the City Center, so close you can bike but just far enough you may not know it's there, we cycle through Emona, with structures older than medieval buildings in Ljubljana's Old Town around Mestni trg (City Square) and Gornji trg (Upper Square).
Explains Tevz, "At Mirje you can see the remains of the south wall of Emona, a settlement from Roman times, starting year 14 after Christ. A part of it is also a pyramid with a passage through it; however, it's not an old Roman or Egyptian pyramid. It was added in a renovation and designed by Plečnik in the early 1900s."
Okay, so maybe the pyramid itself wasn't ancient, but the site was, thought to have had 5,000 colonists and have played an important role in the Roman Empire's defense strategy. Interestingly, Tevz notes the pyramid steps are a popular place to have an al fresco lunch or beer.
5. You Don't Need To Be Rich To Start Your Own City
Tevz and I cycle across Fabiani Bridge — named after architect Max Fabiani, who helped rebuild Ljubljana after the earthquake — before stopping in "Museum Square," my personal nickname for it. Once military barracks, today the area featured an array of creative and interesting institutions: the Slovene Ethnographic Museum, the Museum of Contemporary Art, a section of the National Museum. While I loved the energy of the square, the ideas of rebirth and renewal clear, my favorite spot embodying these themes came next: Metelkova City. This, along with with the hilly hiking trails in Tivoli Park, quickly became my favorite city attractions
"Metelkova City, or Metelkova City Autonomous Cultural Center, was established on the site of former military barracks," says Tevz. "When Slovenia gained independence in 1991, the Yugoslav Army moved out, and the facilities were meant to be demolished. In 1993 a group of people occupied the place, squatted to prevent the demolition and then it slowly started to evolve into what it is now."
After explaining the premise of Metelkova, I run like a cheetah from building to building, wall to wall, window to window, trying to capture every detail of the place with my camera. If you'd left me there for a week I still don't think this would have been possible.
6. The Ljubljanica Is More Than Just A Cafe-Lined River, It's A Treasure Trove
While it's easy to wander the Ljubljanica in the pedestrian-friendly City Center, or sip coffee and local wines at the outdoor venues that line it, the bike tour takes me to different parts of the river that go beyond relaxation.
Says Tevz, "The Ljubljanica river is a rich archaeological site, especially in the part crossing Barje — a flat plain that used to be marshy, swampy ground, where the first permanent settlers lived. Vast selection of finds like weapons, tools, cutlery and jewelry from the Copper Age to New Age have been found. In the central part, the local diving club does a yearly 'research-cleaning' of the riverbed, presenting all 'finds' on the square, like bicycles and road signs."
For now, I'll stick to cycling around its beauty and drinking it in with waterside wines.
Essential Information:

Stay: I highly recommend Hostel Tresor as a homebase in Ljubljana. Ljubljana is a historical city, and this hostel is a historical accommodation, a former bank that still retains its money-centric theme through currency-related quotes scribed on the walls, rooms named after global currencies and original bank elements, although it still has a modern feel (especially with free Wi-Fi in all rooms!). Staff were great, and its central location attached to a grocery store, across from a budget-friendly coffee shop and within 1-minute walk of Prešeren Square, the Triple Bridge and the sites of the historic center make it a must.

Watermelon Ljubljana Bike Tours: +386 (0)40 552 572; [email protected]

Currency: Euro (As of March 2015, 1 Euro = $1.09 USD)

Bring: You won't need much on the bike tour besides water and a camera. If it's chilly out, I'd also recommend gloves, as riding with the wind blowing on your fingers can be uncomfortable.
Have you visited Ljubljana?
Visiting Lake Bled In Slovenia
A Slovenia Countryside Homestay
The Solo Traveler's Guide To Ljubljana, Slovenia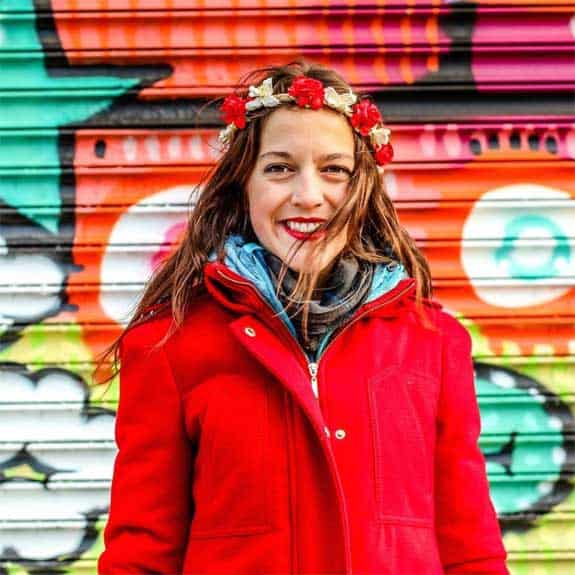 Hi, I'm Jessie on a journey!
I'm a conscious solo traveler on a mission to take you beyond the guidebook to inspire you to live your best life through travel. Come join me!
Want to live your best life through travel?
Subscribe for FREE access to my library of fun blogging worksheets and learn how to get paid to travel more!