The Epic Hike Every Solo Traveler To Iceland Must Do
"Unfortunately, your tour has been canceled due to inclement weather."
I was supposed to go ride Icelandic horses into a lava field, but unfortunately visiting Iceland in winter means a lot of my plans are getting ruined.
Well, I can't say ruined. In fact, the only reason I did the hike I'm about to tell you about is because of a canceled excursion.
And the hike was really, really awesome. So let's say my plans had been getting…severely altered.
Psst, don't forget to pin this post for later!
"Severe" is a great word to use when talking about Iceland in winter.
When I landed at the airport I was full of positivity, thinking about all the epic landscape photos I'd take, not to mention my red-eye literally flew through the Northern Lights. I knew it would be cold, but I never pictured how insanely windy it could get.
Until I exited the airport terminal and, whoosh!, a gust blew my coffee out of my hand. I was renting a vehicle from the hilariously named SADcars, and as the rep saw my horrified face he laughed, promising me not every day would be so crazy. "The weather in Iceland is unpredictable. It can change in a second."
"Is it safe to drive in this?!" I asked, wide-eyed.
"Yes, just hold the wheel tight. You'll be fine!"
And I was fine. In fact, I loved driving in Iceland. Cruising down wide open roads with endless views of snow-capped volcanos was an amazing way to spend an afternoon. It was like yoga or meditation or wine; it immediately made my serotonin levels rise.
One great thing about renting from SADcars is they send email notifications to let you know when driving might be an issue or roads would be closed.
On that particular day, there were no warnings of road closures in the south, so I decided instead of wasting the afternoon cooped up I would head out for an adventure.
And that is where this unique Iceland travel guide begins.
Beyond The Blue Lagoon
A bunch of people at the ODDSSON Ho(s)tel where I was staying were driving to Iceland's famed Blue Lagoon, an attraction I was desperate to avoid.
I always try to go beyond the major tourist sites, but there was also the factor that it's expensive (5400 Icelandic Kroner!) and I doubted I'd enjoy it solo.
If my boyfriend had been with me, maybe; but the equivalent of $50 USD was a lot to pay to sit awkwardly around couples, friends and families, especially when the ODDSSON had a terrace hot tub.
I'd heard about a few other Iceland hot springs experiences that weren't the Blue Lagoon.
With limited time on my hands, I chose Reykjadalur, which was only 45 minutes from Reykjavík.
Residing just outside Hveragerði — a small town built upon a hot spring field — and within the Hengill Geothermal Area, you'll experience a scenic hiking twist to the curative soak.
This meant it would be more fun than awkward for me as a solo traveler. Honestly, if you're wondering how to hike alone, this peaceful trail can help you build your confidence.
What Makes A Good Solo Travel Hike?
Over my years traveling solo I've learned what makes a great solo hike, at least for me.
For one, I want something that's off the beaten path enough to not be hugely touristy.
That being said, I also want it to be popular enough that if I slip and break my ankle someone will find me soon enough that I don't get eaten by pack animals.
I like something that challenges my fitness and rewards me with views, but isn't so technical I could get seriously injured without a partner.
The trail should also be well-marked enough that I'm not going to get lost and starve.
If you agree with the above, than Reykjadalur — meaning "Steamy Valley — is perfect. Plus, it's 100% free and offers the type of views that make you think "Yup, I'm in Iceland, the Land of Fire & Ice!"
Continue reading to see my photos that prove it.
Hot Cold & Steamy
I park the car in the small lot at the trailhead, where I notice a wooden cafe that's closed for the season.
Across from the cafe is a gate that opens easily, welcoming me to the almost 2-mile trail.
The entire drive into the valley had offered views of stream-cut valleys and ridges blurring with geothermal activity.
Now, I was surrounded by it, honey-colored grassland literally sending me smoke signals.
My camera shutter clicks rapidly as I try to take it all in, with a whimsical background of farmhouses and Icelandic horses.
One thing that makes it hard to concentrate:
It's very steep! By 20 minutes in my calves are burning, though the scenery makes it easy to work through the pain.
Friendly hikers pass from the other way, the smiles on their faces let me know it was worth the journey.
Every 20 minutes or so the scenery changes or features something new, a wooden bridge, a small waterfall, an aerial view of switchback trails, an icy gorge. I'm left breathless from both the uphills and the scenery.
Leveling Out
Luckily the trail levels out about 30 minutes in, and the uphills become interspersed with even more flat ground.
Make sure you're wearing sturdy waterproof shoes — traction is the name of the game here — as in winter the ground can get muddy. Moreover, at one point you'll need to walk over rocks to cross a small stream.
Even though it's shallow, you do NOT want to accidentally fall in during Iceland's freezing cold winter and have to hike with wet feet.
After about an hour I reach a sign welcoming me to the Reykjadalur Hot Springs.
I can see them peeking up behind the mountains, though I'll need to hike up again to meet them.
It starts to hail a little, but at this point, I'm determined and refuse to turn back.
Besides, anyone who chooses to go hiking in Iceland's winter needs to have thick skin for the weather.
I pull my BUFF Headband over my face and continue on. Trust me; you'll definitely want to know what to wear when going hiking for this trek.
Reaching The Iceland Hot Springs
Finally, the hot springs come clearly into view. To reach them I first have to walk down toward a small wooden bridge.
Once on the bridge, I'm completely enveloped in hot spring steam, its curative powers hopefully washing over me. This has truly been one of the most beautiful hiking trails I've ever done.
I'm tempted to continue on, but the steam creates such a thick fog on the trail I decide to turn back.
Right beyond this bridge is where people actually do bathe in the geothermal waters, though I was told by locals the water is actually chilly in winter as the snow melts into it.
Still, I'm sure it's a therapeutic, natural experience for those who don't mind. I'll be back on another solo travel adventure in the summer for that part of the hike.
In fact, if you visit in summer you'll really get a Blue Lagoon experience, albeit less touristy.
Hey, don't judge me. I went snorkeling in Iceland's winter! Now THAT was worth the chill.
The hike back to the car is much easier.
I switch from the fisheye lens I'd been using to a telephoto lens for a different perspective, taking my time and enjoying the views just as much the second time around.
Do yourself a favor:
If you're visiting Iceland make sure to rent a car and make one of your day trips this hike. It doesn't matter what season you visit in; it will be beautiful.
Logistics:

Stay: The ODDSSON Ho(s)tel. I absolutely loved this hostel and hotel, which caters to both budget backpackers and the older budget traveler. On the fourth floor you'll find a self-catering kitchen, free-to-use yoga room (with the occasional complimentary class), terrace lounge and outdoor hot tub. The first floor, on the other hand, has more of a hotel feel with a gorgeous restaurant, "yoga food" cafe, work areas with communal tables and plush couches, and free bike rentals. What's awesome is both my dorm and my hotel room had gorgeous views of Faxaflói Bay and the Esja, Akrafjall and Skarðsheiði Mountains. Rates: ~$33-$50 USD for a 12-bedroom dorm and ~$225-$385 USD for the private hotel room. Use code "JESSIEONAJOURNEY" for 10% off your stay!

Hike Price: Free!

Getting There: From Reykjavík take Route 1 heading Southeast. Drive on this for about 40 minutes — stopping at the various viewpoints to take photos — until you see a sign that you've reached Hveragerði. At the roundabout here you'll take the 3rd exit and go down the main street of Breioamork. You'll follow this street all the way down into the valley, passing Icelandic horses, wooden farmhouses and gorgeous smoking peaks. You'll pass a few small parking areas and trails along the way; don't stop until you reach a legitimate parking lot with people in it near a trail leading up a hill.

Essential Gear: For a winter hike, I recommend:

Difficult Level: Moderate. It's steep at times, but anyone in decent physical condition can complete this hike!
Enjoyed this post? Pin it for later!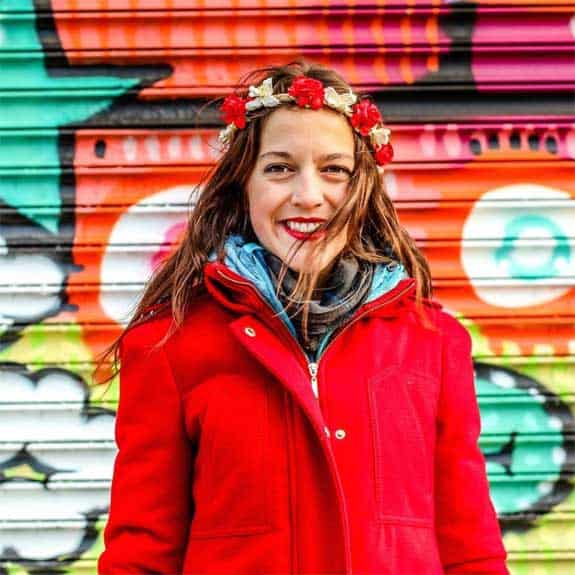 Hi, I'm Jessie on a journey!
I'm a conscious solo traveler on a mission to take you beyond the guidebook to inspire you to live your best life through travel. Come join me!
Want to live your best life through travel?
Subscribe for FREE access to my library of fun blogging worksheets and learn how to get paid to travel more!