This Is What Happens When You Visit Iceland In Winter (Solo)
I couldn't believe it. Thousands of people visit Iceland each year to see the Northern Lights, many to no avail; yet I'd just flown right through them on my flight from NYC. That flight — a cheap $300 round-trip direct red eye fare I found through Wow Air — was the reason I was going to Iceland.
And seeing the Northern Lights before even stepping foot in the country; well, let's just say I got more than I paid for.
Another gift was given to me before entering the country, in the form of a quick customs line with no forms needed.
The airport was gorgeous, too. Immaculately clean with lots of food and drink options—even at 5:30am! Despite the early hour I felt high on images of hiking trails, waterfalls, glaciers and the other natural attractions I'd see during my time exploring "The Land of Fire & Ice."
I grabbed a coffee in anticipation of my red eye crash, trying to give myself energy for the drive I'd planned to hike to Reykjadalur Hot Springs. In typical "beyond the guidebook" fashion, my goal was to visit a number of hot springs that were not the Blue Lagoon.
My visions were quickly halted as I stepped outside to get my SADcars' rental — and a fierce gust of wind mixed with rain sent me and my coffee spiraling backward.
"Don't be nervous about the weather," smiled the SADcars rep. "It changes drastically from day to day. Tomorrow might be clear and sunny."
I stood there shivering and stunned. Well, so much for a hike.
Visiting In Winter: Worth It?
Before getting to Iceland I was worried about traveling solo and driving the entire route of the Ring Road. In Iceland in winter, roads often close due to weather issues — not to mention high winds do turn cars over — so it felt like I might run into some issues. For this reason, I decided to rent a car with the hilariously-named SADcars for half my trip and book tours for the other half, basing the entire time in Reykjavik.
The city itself has a lot to offer. There's so much that's accessible, like driving the Golden Circle and snorkeling the crystalline fissure of Silfra.
But, is visiting in winter worth the reduced airfare?
Yes! Well, as long as you can go with the flow.
I was traveling solo through Iceland for a week. Days 1-3 were pretty harsh, and two of my tours were cancelled. Days 4-7 though were excellent, though "excellent" in winter does still mean heavy fogs and on-and-off rain and snow. As long as you bring some essential gear you'll be fine.
Packing
So what are these essentials exactly? I've recently started using a smart carry-on, a very spacious Barracuda Bag, which allows me to both charge my phone on the go and maximize carry-on space. You'll want space for Iceland in order to bring the necessary items to combat cold, rain, hail, snow and wind — sometimes all at once.
Along with your regular toiletries, camera, electronics, chargers and undergarments, I found it necessary to pack:
Warm waterproof boots
BUFF Headband (great as a scarf that turns into a face mask)
Scarf shawl (I wear the BUFF headband underneath)
Waterproof warm gloves (I recommend a ski gloves like these)
Hoodie
Winter coat
Inner coat shell (wear this under your larger coat for added warmth)
Waterproof backpack or waterproof bags for electronics (especially in winter)
Swimsuit for hot springs (I love Unique Vintage!)
Vigilant Personal Alarm (For safety; pull the pin on this small inexpensive device and it will blare as loud as a fire truck!)
Funny enough, the one thing I packed that I did not use once was an umbrella. It tends to get very windy in Iceland, so it made more sense to wear waterproof gear than to use an umbrella that would just break within 10 minutes.

Renting A Car: SADcars
Renting a car is a great way to experience Iceland's gorgeous landscapes at your own pace, and even in the rain and sleet once I got used to driving I felt way more comfortable than I expected on Iceland's roads. Keep in mind I'm a New Yorker who doesn't really drive, so if you drive regularly you'll likely have an even easier time.
One great website for checking road closures in Iceland is road.is, though when you rent with SADcars they also provide road updates via email. It is vital you read these emails and check for updates, as storm warnings are no joke in the country.
Speaking of SADcars, that's who I rented from in Iceland. When you arrive at the airport don't be alarmed if you don't see their rental booth in arrivals; you'll actually be met by a rep who will drive you to their nearby office. I'd heard a rumor that all cars are stick shift in Iceland, but to my delight I was given Group G Suzuki SX4 automatic AWD car. The cost: $76 USD per day as they offer a 15% off prepayment discount!
Oh, and if you're wondering about the name it's the owner's initials.
Stay: The Oddsson Ho(s)tel
I absolutely loved this hostel and hotel, which caters to both budget backpackers and the older budget traveler. On the fourth floor you'll find a self-catering kitchen, free-to-use yoga room (with the occasional complimentary class), terrace lounge and outdoor hot tub. The first floor, on the other hand, has more of a hotel feel with a gorgeous restaurant, "yoga food" cafe, work areas with communal tables and plush couches, and free bike rentals. What's awesome is both my dorm and my hotel room had gorgeous views of Faxaflói Bay and the Esja, Akrafjall and Skarðsheiði Mountains.
Rates: ~$33-$50 USD for a 12-bedroom dorm and ~$225-$385 USD for the private hotel room. Use code "JESSIEONAJOURNEY" for 10% off your stay!
Do:
So, what the heck is there to do in Iceland when the winter weather is unpredictable? Interestingly, tours still run daily, though if the roads are bad you may get a cancellation call that morning or the day after.
Even if it's "nasty" out, unless there are road dangers the tours will go. Here are some recommended experiences based on my winter trip, depending on what you're looking for:
1. For The Budget-Conscious: A Free Reykjavik Walking Tour
While CityWalk offers a number of awesome tours, the most popular is their classic free walking tour. The two-hour excursion focuses on history and culture, paired with advice on how to explore without going broke (#1: skip the bottled water!). In terms of style it's more like exploring with a local than the typical history tour. Bonus: you'll be laughing nonstop at the tour is laced with humor. Just make sure to tip your guide at the end, as this is how they earn money!
Tip: As a solo traveler this tour was great for meeting other nomads!
2. For Those Wanting To Warm Up In An Ambient Restaurant: Savor An Icelandic Feast At Tapas Barinn
This tapas restaurant takes the idea that small plates must be Spanish and flips it on its head. The chef at Tapas Barinn offers globally-inspired dishes, with a healthy dose of Icelandic influence. Think marinated Icelandic lamb in a licorice tub served on a rock, and panfried line caught blue ling with rich lobster sauce. All this was enjoyed after a culturally appropriate shot of traditional Brennivín Schnapps! It was delicious while traveling solo, though the romantic ambiance offers an uber romantic night out for couples, too.
Their feasts are about $67 USD, worth the price as you can try six different dishes, dessert and an aperitif. Needless to say I was full and happy after my meal.
3. For Those Wanting Something Completely Offbeat: Peruse The Penis Museum
Yes, you read that right.
Along with seeing Icelandic animals in the wild you can explore them through their penises at the Icelandic Phallological Museum. In fact, there's over 200 penises representing every single mammal in Iceland, including humans, and some foreign wildlife. Also check out their phallic art for some added culture before you go.
4. For The Adventurous: Snorkeling Between Tectonic Plates
While the Silfra snorkeling excursion itself isn't scary, per say, I felt terrified at the thought of going in 2-degree Celsius water in the middle of Iceland in winter. I mean, I was shivering with a coat on on land, let along underwater with rain and sleet coming down. Was I crazy?
Yes, but if you do one thing, make it this. I mean, where else will you be able to swim between divergent tectonic plates (of North America and Eurasia)?
Moreover, the drysuit keeps you dry and reasonably warm, and the glacial water is so crystalline it offers visibilities of over 100 meters.
The most beautiful section is known as The Cathedral, with sandstone creating underwater columns in a narrow passageway.
This leads you into a large lagoon that's simply breathtaking.
Tour Price: ~$153 USD with Adventure Vikings (without hotel pickup/dropoff) and ~$189 USD (with hotel pickup/dropoff)
5. For Those Wanting To Stay Inside: Meet The Natives With The Tin Can Factory
I always try to explore the local culture wherever I go. I've partaken in a number of experiences to learn more about the heritage of of the places I visit, though the Tin Can Factory is possibly the most special I've ever experienced.
It's a language and cultural school run by wife and husband team Gígja Svavarsdóttir and Egill Gunnarsson, situated in an actual former tin can factory. Their Meet The Natives offering is a three-hour class where you'll learn about Icelandic folklore (yes, including elves and trolls), language (I now know why Icelandic words are so long) and food (I even ate a sheep's eyeball).
While it is a class — you'll get a diploma with your Icelandic name at the end — it felt more like hanging out with locals drinking beer, snacking on Icelandic lamb soup and pancakes, and playing games to learn how Icelanders create new words.
Price: 12,900 ISK (~$114 USD)
6. For The Hungry: A Tasty Walking Tour
One truly special experience was an afternoon spent with Reykjavik Food Walk. My tour was led by an energetic Icelander named Gabriela who told us all about customs in Iceland, interesting cultural stories (like that locals once rioted against Parliament by throwing yogurt-like skyr at the building) and how food relates to history. Some eats included rye bread ice cream, traditional Icelandic lamb soup and a selection of local cheeses and meats (including horse if you want to try). The tour features six delicious stops, as well as a few surprise snacks thrown in.
Price: 13.900 Icelandic Kroner (~$129 USD) per tour, including tastings.
7. For The Partier: An Adult Pub Crawl
Traveling solo, it can be awkward to head out for a night on the town on your own. As I wanted to check out Reykjavik nightlife, I was happy to learn Reykjavik Food Walk had a sister company, Wake Up Reykjavik, that offered pub crawls. The word "pub crawl" made me nervous that it might be young college kids who couldn't handle their liquor, but actually everyone was 30+. I made a bunch of new friends as we sipped cocktails at a swanky lounge, local beer accompanied by fermented shark and Black Death shots at a pub, and Cocoa Puff-laced White Russians at a Lebowski-themed bar. The crawl ends at a dance club where you can cut the line, but not before indulging in some of Iceland's famous Baejarins Beztu Pylsur hot dogs.
Price: 14.900 Icelandic Kroner (~$138 USD).
8. For The Photographer: A Classic Golden Circle Tour
While I'm usually not a bus tour kind of lady, traveling solo in winter made me nervous to self-drive this long route. So, I booked a Classic Golden Circle Tour with Grayline, and was really glad I did. My guide, Jaakko, made learning about Icelandic history and geology comical, as he had our entire bus in stitches. The tour included Þingvellir National Park to see the gorgeous landscapes where Iceland's first parliament was formed and walk through Almannagjá fault, the 31-meter-high double Gullfoss Waterfall and the very active Geysir Hot Spring Area.
We had ample time in each spot to explore — which meant at Geysir I also discovered a tourist-free trail to get some aerial photographs of the area.
Yes, each stop is full of tourists, but the sites offer must-see views of Icelandic's natural landscapes. By the way, if you're wondering just how beautiful, one couple on my tour got engaged at Gullfoss, nicknamed the "Golden Waterfall."
Price: $103 USD.
9. For The Folklore Enthusiast: The South Coast Tour
For the same reasons I didn't drive on the Golden Circle Tour, I opted for a South Coast bus tour with GeoIceland. My guide Siggy was terrific, and at each beautiful stop related interesting historic and folkloric backstories. In Iceland, almost every natural attraction seems to have a story to pair, whether factual, possible or just plain fiction. Along with the lovely Skógafoss and Seljalandsfoss waterfalls, the famous Reynisfjara black sand beach and Solheimajokull Glacier (which you can choose to hike on), we also visited an elf dwelling. Called Drangurinn, the giant rock sits atop a complex of caves and is full of interesting elf folklore. In fact, it's said a man disappeared into the rock to live with the elves, potentially even marrying one.
By the way, if you're in Iceland on Christmas Eve you'll want to hope you get a piece of clothing as a present. Otherwise, Christmas Cat might come eat you!
Price: 13900 Icelandic Kroner (~$125 USD) without the glacier hike; 26500 Icelandic Kroner (~$239 USD) for the tour with glacier hike.
10. For Those Wanting To Go Beyond The Guidebook: Hike To Reykjadalur Hot Springs
While researching an alternative to the Blue Lagoon that would better suit a solo traveler, I found Reykjadalur. Unlike the commercial and expensive Blue Lagoon, Reykjadalur is an outdoor hot springs area that's free to enjoy — as long as you don't mind hiking there.
It's a gorgeous trek. Additionally, it's perfect for solo travelers as it's not crowded; but there are also enough people hiking that if there was an accident it's possible to get help. Just note it's steep going up. In fact, within 30 minutes I was sweating despite being around snow-capped peaks and icy slopes. You'll also see the ground steaming almost the entire way, creating an otherworldly aesthetic.
Price: $0!
11. For Those Wanting The Best View Of Reykjavik: Head To The Top Of Hallgrímskirkja
While I sadly didn't have time to do this, I was given this tip by my local Reykjavik Food Walk guide. At the top of the waterfall-shaped Hallgrímskirkja Lutheran Church you can take in an aerial view of Reykjavik from 73 meters (244 feet). It's free to enjoy, and there's an elevator for those who don't want to climb to the top. Afterward, head to the adjacent Cafe Loki for typical Icelandic dishes and beautiful a view of Hallgrímskirkja while you eat.
Price: Children 7-14 years old are 100 Icelandic Kroner (~$0.90 USD) and adults are 900 Icelandic Kroner (~$8 USD).
Solo Travel Tips
New to solo travel?
Truth:
I made so many mistakes when planning my first trip solo — like booking out every second of my itinerary so that I had no room for adventure.
That's not what I want for you.
To help you plan a meaningful and memorable trip, I'm sharing my top tips for planning the perfect solo trip — with confidence!
What's your way to enjoy winter in Iceland?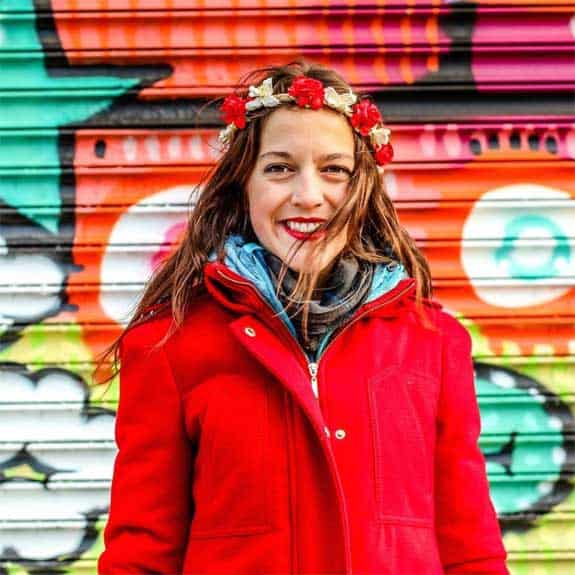 Hi, I'm Jessie on a journey!
I'm a conscious solo traveler on a mission to take you beyond the guidebook to inspire you to live your best life through travel. Come join me!
Want to live your best life through travel?
Subscribe for FREE access to my library of fun blogging worksheets and learn how to get paid to travel more!