An Organic Farmstay Experience In Kerala, India
By Jessie Festa. This post was originally published on Epicure & Culture.
"You are most welcome," says Sinta, an Indian woman dressed in a teal housecoat and saree , as she performs a traditional Indian welcoming ceremony.
As camphor burns in a coconut husk, she places a dab of sandalwood dust on my forehead. Another woman appears with a garland of jasmine and places it around my neck, before another offers me a glass of lemon water.
I'm currently at Dewalokam, which means "paradise," an organic farm and homestay property on the banks of Kannadipuzha in Kerala, India.
Sinta is one of the property managers along with her husband, Jose. From the grounds, I can clearly make out the peaks of the Western Ghats.
What's even more prominent, though, is the 12 acres (5 hectares) — although surrounded by jungle it feels like much more — of Ayurveda herbs, spices, fruits and vegetables.
History
The small farm was purchased in 1918 by Jose's family.
His great grandfather — a businessman engaged in the export of spices — lost everything, but was able to purchase the patch of land Dewalokam now sits on by selling his wife's gold ornaments.
Jose's father began working on the farm in 1922 at the age of eight. He farmed on the land until he was 88, passing the tradition down to his son, Jose, and wife, Sinta.
Located in the heart of Kerala's Spice Belt, fruits and spices naturally flourished on the property.
It wasn't until 2003 when Jose's eldest brother Fr. Paul Joseph began visiting often from Germany (where he was working at a hospital) with his friends that the idea to add on a guest house was born.
Going Organic
Dewalokam is an organic farm, growing hundreds of spices and everything one could ever need in their kitchen or medicine cabinet:
Cinnamon, clove, allspice, turmeric, cardamom, ginger, curry leaves, campha, cinconia, lemongrass, frankincense, wrightia inctoria, sandalwood, nutmeg, pepper, chili, drumstick plant, coffee, star fruit, mango, pineapple, eggplant, gooseberries, jackfruit, long bean, cashews, cocoa and even their own beehives to make honey, which is served with breakfast each morning, and farm animals to make buffalo mozzarella, cow's milk and farm fresh chicken eggs.
"We produce milk and honey, vegetables and fruits, and spices, fish and meat in the farm," explains Jose. "We try to be sustainable in our farm activities."
Along with not using chemical fertilizers and pesticides, they also forgo tilling the soil, as this can cause erosion.
Additionally, they keep cattle for dairy and, from the fermentation of the cow dung use the resulting methane for cooking gas. The slurry coming from the gas plant is used as manure in the farm.
From the kitchen, organic waste is fed to chickens and goats and also used for composting.
And to heat the water, solar energy is used.
This sustainable ideology is what allows them to have such a high-quality spice garden and farm operation that is also an incredible India travel experience. 
Hints of these spices are everywhere, even in your room, where you're greeted with a pitcher of sweet cardamom-spiced drinking water and the fresh scent of lemongrass from the natural cleaners.
A Fragrant Spice Walk
A spice garden tour led by Sinta makes it clear just how large and lush the property is. It takes an hour and half just to go over the main ingredients grown, and I learn a lot about how the plants are used.
While black pepper improves digestion and antibacterial effects, cinchona treats malaria.
Then there's allspice, which can essentially be used in place of any lacking spice. While ginger works to combat digestive issues and acts as an anti-inflammatory, cinnamon regulates blood sugar and is effective for menstrual cramps and infertility.
And for a powerful antioxidant and cancer-blocking agent. Not only are these natural ingredients curative, but they also enhance the spice-rich dishes India is known for.
Essentially, I'm walking through the world's most delicious and fragrant medicine cabinet.
"Here, taste this," Sinta says, cutting a piece of bark off a tree. I never knew you could eat bark before, but if she says so. "What is it?"
The taste seems familiar, although like many of the spices we've tasted today I can't quite place it. I know I've had it…it reminds me of Christmas…it's a little spicy…
"It's cinnamon," Sinta smiles, noticing my furrowed brow. "The thumb size branches of cinnamon trees are cut and the bark is peeled and dried. The bark rolls by itself when it is dried."
It's also interesting to see how white, black, green, yellow and red pepper all come from the same plant; it just depends what stage it's in, whether you peel the skin or if you sun dry it.
As my boyfriend is diabetic, the insulin leaves also grab my attention. Apparently, if you eat one leaf a day for a year you'll essentially be cured.
Cooking In Culture
A cooking demonstration further introduces me to Kerala culture and its delicious dishes.
Chef Sudhish starts out by showing the group how to make a Vegetable Makri, which contains about 10+ spices: clove, star anise, cinnamon, turmeric, chili, cumin as well as cashew nuts, green chilies, onion, and garlic.
He fries these in vegetable oil along with fresh produce from their onsite garden.
We're also shown how to make tandoori chicken, with bone-in chicken breasts coated in homemade buffalo yogurt, ginger, garlic paste, cumin, rock salt, and mustard oil before being placed on a giant skewer and stuck into the tandoor oven, set at 480 °C (900 °F).
Natural Immersion
Not only is Dewalokam rich in organically grown produce and aromatics, but also wildlife, namely birds.
A leisurely bamboo rafting trip up the Kaliyar River — enveloped by the Udiki Forest Reserve — immerses me in giant banana leaves and thick mangroves as well as the calls of the oriole, racket-tailed drongo, kingfisher, paradise flycatcher, and sunbird.
On this river, there are over 60 bird species, and it's not uncommon to spot 40 or more in one day.
That night, dinner is enjoyed outside under the stars, where the very sounds heard on the river can be enjoyed over a local meal.
It is a feast of Indian flavors: the tandoor-roasted chicken, the spice-rich maki, a refreshing mint chutney, thin roti, flavorful basmati rice, and homemade buffalo yogurt as a condiment.
For dessert, sticky-sweet syrup gowns my taste buds as I bite into a gulab jamun, which tastes like a cinnamon-flavored cake ball drench with maple syrup.
At breakfast, the farm-fresh spice-enhanced foods continue with a plate of garden-picked fruits — banana, papaya, pineapple, and watermelon — a spicy masala omelet, toast paired with onsite-harvested honey and homemade pineapple jam, and a tall glass of fresh-squeezed orange juice.
At this point, I feel so healthy and spice fed that I probably won't need to go to the doctor for at least a year.
Becoming Family
Seeing how your food is made with your own eyes really gives you an appreciation and understanding of it.
When you see how it's prepared and know where the ingredients come from, a dish like chicken tandoori goes from "Hey, this is tasty" to "Wow!
The locally grown cinnamon gives this a sweet yet spicy flavor while the buffalo yogurt from the very buffalo I pet this morning adds a certain creaminess to the texture."
The intimacy of Dewalokam — which has eight guest rooms in the main building and three in the main house — helps me make friends quickly (a definite India solo travel perk!). It's hard to think about saying goodbye, and I sip my OJ with a heavy heart.
Over morning yoga in the garden, rafting trips, dips in the river, waterfall hikes, and bird-watching excursions strangers become family.
And it's not just with the other guests, but also with Sinta and Jose, as well as their children Tara and Paul, who are always around helping out and making the guests laugh. D
ewalokam isn't a tourist attraction or a hotel, it's a sustainable, delicious, and interactive experience.
Have you ever stayed on an organic farm in India?
Bonus Kerala, India Travel Guides
10 Reasons Why Kerala Should Be Your Next Trip
India Travel: Houseboating Through Kerala's Backwaters
Cycling The "Scotland Of Asia" To An Organic Farm In India
Cycling India's Cardamom Trail In Kerala
Ascending High Peaks & Hiking Through The World's Highest Organic Tea Garden In Kerala, India
Why Kerala's Silent Valley Is One Of The World's Best National Parks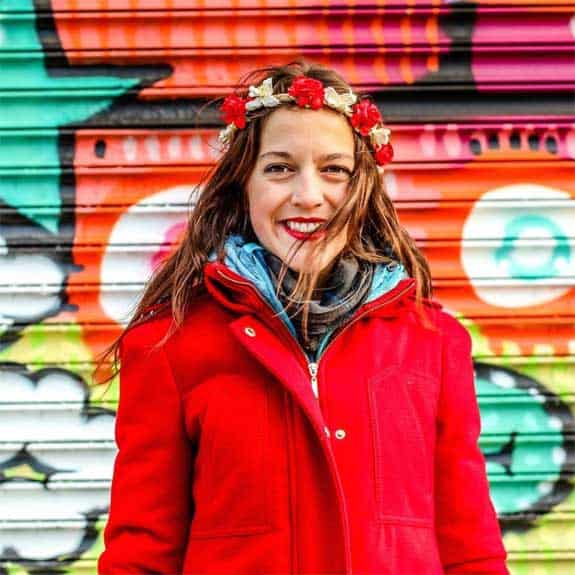 Hi, I'm Jessie on a journey!
I'm a conscious solo traveler on a mission to take you beyond the guidebook to inspire you to live your best life through travel. Come join me!
Want to live your best life through travel?
Subscribe for FREE access to my library of fun blogging worksheets and learn how to get paid to travel more!