25 Best Gifts For Hikers & Outdoor Enthusiasts
By Jessie on a Journey. Note: Some of the links below are affiliate links, meaning I make a commission if a purchase is made. I only recommend products I truly think you'll love! In fact, some of the items below were gifted to me to test to ensure they were a good fit for this gift guide.
Looking for the best gifts for hikers and outdoor enthusiasts?
I've rounded up some of my favorite hiking products to help you pick out the perfect present.
Even if you're done shopping for the holiday season, this guide makes for a great hiking packing list, whether you're hiking in Panama, trekking through Nepal, or hitting the paths near home.
From trail-ready subscription boxes to wearable portable coolers to apparel made with NASA-approved technology, here are some incredible gift ideas for hiking enthusiasts.
Psst, don't forget to pin this post for later!
Best Gifts For Hikers & Outdoor Enthusiasts
1. Go Sleeves Kinesiology Compression Sleeves
While aches and pains are a natural part of life, they shouldn't prohibit you from staying active and doing the things you love.
You also shouldn't have to push through debilitating pain to enjoy a hike, take part in outdoor adventure, or do your everyday tasks.
Which is where Go Sleeves comes to the rescue.
Go Sleeves makes sleeves for your knees and calves that feature a patent-pending technology combining compression and kinesiology.
Instead of simply squeezing the leg, their sleeves also have built-in strips that target specific muscles, ligaments, and tendons to better alleviate pain and speed up recovery.
Personally, along with hiking, I also love these for running. They're extremely comfortable, too!
2. ICEMULE Coolers
As a hiker and outdoor lover myself, I hate lugging around heavy hardshell coolers.
Actually, during a Governors Island day trip from NYC last summer my fiance and I almost missed the ferry because our cooler was so heavy and bulky we could barely carry it.
This is why I'm so excited to have discovered ICEMULE Coolers, a brand creating a variety of soft coolers that keep food cold for up to 24 hours.
These coolers are soft, light and portable, worn like a backpack or a sling bag — way more comfortable than the traditional carrying method for hard coolers.
They're waterproof, too. Instead of a zipper, you'll fold the bag over and clip it closed like a dry bag system.
I also love that they float, which is helpful if you're spending the day kayaking or canoeing. And if you're not using it to store food and ice you can even use it to keep your gadgets protected from the elements.
One unique feature of the coolers is the IMAirValve™ technology, which allows users to add air to enhance the insulation — as well as to remove air to make it the cooler easier to pack down and store.
Their coolers come in a variety of sizes and styles, too. The one I have is the ICEMULE Classic™ Small, which is great for picnics and day hikes, easily storing lunch, snacks, and beverages for a hiker and their partner.
It's also great for the beach when you want to bring your own 12-pack of beer with ice (as long as alcohol is allowed, of course).
3. Tarpestry Outdoor Blanket
Whether you'll be having an adventure on the beach, exploring in the snow, or heading into the woods, Tarpestry's weather-resistant outdoor blankets are up for the challenge.
Invented by a group of adventure travelers and festival-goers in Colorado, this USA-made blanket is comfortable and water-resistant, allowing it to play double-duty as a picnic blanket or a beach towel on a relaxing day as well as the perfect campsite addition for an adventure in the wilderness.
Depending on your active adventure, you can choose from a variety of styles, too, like the Classic which has bold and trippy designs or the Rugged which is waterproof on both sides.
No matter which style you choose, you'll get a Velcro pocket for easy storage.
Fun fact:
The name is a combination of the words "tarp" and "tapestry," the latter of which alludes to the beautiful and bold patterns of the blanket. In fact, the blankets can be hung up or staked down, meaning you can use them for an adventure or for art!
4. icebreaker Persist Pants
icebreaker is one of my favorite brands for moisture-wicking merino wool gear, and their Persist Pants do not disappoint.
First of all, they're stretchy like leggings but look smart like dark khakis.
They're also water-repellent and moisture-wicking, with ethically-sourced merino wool sitting on the skin to keep your body dry and temperate.
I also love the many pockets — particularly the zippered ones in the back.
No matter what adventure calls to you — whether it's exploring the hiking trails near Boone NC or going hiking in St. Thomas — make sure to pack these pants so you're ready for anything.
5. OOFOS Footwear
You know when you go on a long hike and you can't wait to take off your boots and throw on some comfortable sandals?
OOFOS are those sandals.
Now, these aren't your everyday slip-ons, but instead, are designed with recovery in mind. The company uses OOfoam technology, which absorbs 37% more impact than your average footwear.
It's also helpful that OOfoam repels moisture, so bacteria and smelly feet aren't a problem.
Personally, I love the higher curved arch for natural support.
Note that OOFOS sells a variety of different footwear, not just sandals, all featuring the OOfoam.
Love socially-conscious brands?
For every pair of shoes sold on their website, they donate 3% directly to breast cancer research.
Honestly, these would have come in really handy when I did Nepal's Mohare Danda Trek, as my regular flip flops just didn't cut it after those long days hiking.
6. Cavere Face Mask Cleanser
Looking for a practical stocking stuffer for your favorite hiker?
Cavere's Face Mask Cleanser is a plant-based spray meant to help keep dirt and oil from building up in your skin between laundry days — and on the trail when a washing machine may be miles away.
The active main ingredient is 70% ethyl alcohol (derivced from corn), similar to most hand sanitizers. The other 30% of ingredients are all from natural sources.
The spray is quick and easy to use and also eliminates odors and bacteria that can occur from reusing your mask.
Your giftee will definitely appreciate this breath of fresh air, literally!
7. R.E.D.D. Plant-Based Protein Bars
As an active traveler — and a tour guide in New York — I'm always searching for portable, healthy bars that are actually filling and give you an energy boost.
While many bars contain loads of chemicals, R.E.D.D.'s gluten-free, dairy-free, non-GMO bars showcase superfoods and nutritious ingredients like chia seeds, chocolate chips, maca root powder, oats, quinoa, and mushroom powder — most of which are organic.
There are tons of flavors to choose from, too, like chocolate, oatmeal, peanut butter, mint chocolate and, my personal favorite, salted caramel.
And while they're low in sugar and naturally sweetened with dates and monk fruit extract, the soft cookie dough texture makes them feel like a treat.
Click here to order the 18-bar variety pack and click here to order the 8-bar variety pack.
8. Cotopaxi Del Dia Backpack
Cotopaxi's Del Dia Backpack line may just be the most innovative bag line on the market.
First of all, they come in a beautiful variety of color combinations, meaning you'll never need to try to choose your bag out of a baggage claim line again.
Moreover, they're high-quality and functional, with loads of pockets for organization as well as features like adjustable chest and shoulder straps and breathable back and shoulder paneling for comfort.
Finally, they're sustainable. In fact, they're crafted from material scraps salvaged from big factories and reimagined into these beautiful bags.
They come in a variety of sizes and styles, from multi-day hiking backpacks to day packs to fanny backs and beyond!
9. Rheos Floating Sunglasses
I spend a lot of time outdoors, both at home and on the road, and the main issues I tend to have with sunglasses are that I'm still left squinting on bright days and that they leave me with a major headache after an hour.
Luckily, Rheos Floating Sunglasses solves these problems — and more!
Their polarized lenses offer 100% UV protection and are so lightweight you can wear them all day without pain.
They also float, which is perfect when enjoying watersports, and they have an anti-scratch coating, which is helpful for people like me whose sunglasses often end up looking like a bear played with them.
In terms of style, I have a pair of their Palmettos (Aviators) and love them, though definitely check out the many options on their website.
Each pair comes with a 30-day money-back guarantee as well as a lifetime warranty, so it's truly a worry-free purchase.
By the way, I love the origin story of Rheos.
The company was started by a husband and wife team — Jake and Becca — traveling around in a 1981 Airstream trailer. They realized the most expensive part of their trip was regularly replacing their lost sunglasses and, thus, Rheos was born.
Bonus:
Feel good about buying, as 1% from each purchase goes to environmental nonprofits protecting the globe's waterways.
10. Bushnell Powerview 2 Binoculars
There's nothing like taking in a beautiful view while enjoying the outdoors; well, aside from taking in that beautiful view up close!
Because it features an aluminum alloy chassis, the Bushnell Powerview 2 is a rugged yet lightweight pair of binoculars perfect for travelers on the go. In fact, they're designed for taking in crisp images during outdoor adventures, travel, and sports.
Going for an evening hike?
These binoculars allow you to see clearly even in low light thanks to their multi-coated optics.
Other noteworthy features include an ergonomic grip, a smooth focus wheel, a variety of configurations to choose from, a sleek modern look, and a lifetime warranty.
11. Backcountry Unita 3L Stretch Rain-Shell
After breaking my DSLR camera in a torrential rainstorm while traveling solo in Puerto Rico a few years back, I learned to never leave home without a raincoat.
But, not all raincoats are created equal, especially if you plan to travel or hike with it.
The Backcountry Unita 3L Stretch Rain-Shell, however, ticks all the important boxes:
Waterproof – Very important, of course.
Breathable – If not, your hike will be very uncomfortable. Bonus that there are armpit zippers if you need to release some heat.
Zipper Pockets – My last raincoat did not have pockets and it drove me nuts as I like having easy access to essentials like my phone and wallet.
Hood – Very necessary if you want to avoid catching a cold.
Folds small – I'm a carry-on only traveler, so I appreciate it when garments don't take up a lot of space.
In short, this is the perfect rain shell for anyone who may find themselves facing the elements.
Love fun colors?
It comes in a bright Citron and Rich Mauve.
12. High Camp Flasks
While I go camping for the nature, I'll admit I also look forward to evenings bonding with friends under the stars.
An experience made even better with great drinks.
And while it's common to bring beer and wine on a camping trip, High Camp Flasks will make you want to pack the whiskey next time.
That being said, you can totally keep any beverage of choice cold or hot for 24 hours in the insulated tumbler, which attaches to a vacuum-insulated flask.
High Camp didn't overlook a single detail when crafting these 100% stainless steel flasks, from 6-shooter barrel grooves on the tumbler for a firm grip on your glass to a drip-proof flask lid to a design that prevents condensation.
Check the "Cocktails" section of their website to inspire your inner mixologist.
Also, watch the short video above to get an idea of how this fun camping accessory works.
13. Bug Bite Thing
If you spend any time in the outdoors, you've probably experienced the agony of bug bites, and how a few itchy bumps can really sour a nature experience.
While creams and ointments are hit or miss depending on the person, Bug Bite Thing actually removes the reaction-causing saliva or venom from under the skin using a small suction device that's about the size of your pointer finger.
This chemical-free, reusable gadget works in a few simple steps — place the suction tool over the affected area, pull the handles up slightly until you feel the suction on your skin, hold it there for 10-20 seconds, and then push the handles down to release.
It's budget-friendly, too, and includes bonus features like a reversible cap with a smaller suction area to be used on fingers and toes as well as handles that double as a scraper to remove bee stingers stuck in the skin.
A keychain ring makes it easy to keep it on hand, and you can choose between two colors — black or white.
Important note:
This tool is not meant to be used on your face or sensitive skin areas, as it can leave a mark. Remember that the suction device is quite powerful, but as it's a manual tool you can experiment to determine what strength works for you.
14. Nite Ize RunOff Bag
Raise your hand if you've ever had a gadget break due to moisture or unexpected rain?
Me too. Numerous times.
This is where the Nite Ize RunOff Bag comes in handy.
You never know when it's going to rain, and this small yet powerful pouch ensures your valuables are protected from the elements.
In fact, you can even submerge the bag up to one meter, as shown above, thanks to its featured TRU Zip technology, which also means its dust- and sand-proof.
It's also the perfect size to use a TSA-friendly liquids bag when flying carry-on only.
When not in use, the pouch compresses very small, barely taking up any space at all.
15. Nite Ize Radiant 300 Rechargeable Headlamp
I cannot tell you how many times I've gone to use a headlamp, only to realize the battery was dead.
Not anymore.
The Nite Ize Radiant 300 Rechargeable Headlamp features a waterproof and drop-proof design as well as a rechargeable battery that lasts up to 36 hours.
Choose between three modes —light, spot, and flood — as well as up to 90 degrees of beam adjustment, so you can illuminate the landscape and not your buddy's eyes.
This gadget is great for camping as well as night hikes, with a beam distance of 239 feet meaning you're never in the dark.
16. TomTom Adventurer
This isn't the cheapest gadget, but for those into health and fitness, this is a fun splurge.
While your phone can calculate your steps, the accuracy and durability are less than ideal.
Enter TomTom Adventurer, created for those who enjoy rugged outdoor activities.
You wear this water-resistant device — which has a built-in barometer, compass and dedicated sports modes for trail running, hiking, skiing, and snowboarding — like a watch.
From there it detects and measures your descent/ascent, heart rate, distance, speed, slope data and more.
Additionally, you can store and listen to up to 500 songs (perfect for when you need that extra push on the trail) and track your GPS to save routes.
17. CEPCompression Socks
One thing that can quickly put a damper on a hike — literally — is cold, wet feet.
This is where CEPCompression Socks come in.
Crafted from merino wool and polyamide fibers, which reduce odors and respond to your natural body temperature, the socks can warm, cool and wick away sweat as needed.
Bonus:
Padding in the socks allows for a snug fit without rubbing and acts almost like a massage to relieve pressure.
18. Speakeasy Travel Supply Hidden-Pocket Scarves
Combining form and function, the Speakeasy Travel Supply Hidden-Pocket Scarves come in a variety of styles to fit every season.
The best part is these scarves feature hidden pockets, great for avoiding pickpockets and for storing items you would want easy access to, like a smartphone. This is especially handy for those hiking solo.
Each scarf is lovingly handmade in the USA by the nomadic couple behind the travel blog Beers and Beans.
19. Moji Pro Massage Bundle
Hiking and getting active in the outdoors is rewarding, though can lead to sore and tight muscles in need of loosening up.
This is where my absolute favorite at-home massage kit, the Moji Pro Massage Bundle, comes in.
I've been using this budget-friendly bundle for years both at home and on the road, and it works wonders. It's actually become part of my nightly routine.
The bundle features three portable massagers equipped with stainless steel rollers.
These include the:
Moji Foot Pro Massager. This one grips into the floor so you can roll out feet while watching TV in the hotel room or hanging in the hostel lounge.
Moji Mini Pro Massager. Place your hand in the strap to turn your palm into a magic massager.
Moji Curve Pro Massager. This item has an incredible grip to really roll out your IT band, hips, and other problem areas.
You can buy them as a bundle or individually.
Looking for quick recovery?
Put the massagers in the freezer for an ice massage — great for fast pain relief.
Feel good knowing this product is made 100% in the USA.
20. Leschi Lantern & Flashlight
A product of UCO, who have been making adventure gear since 1971, the Leschi Lantern & Flashlight is a unique collapsible lantern-meets-flashlight that is perfect for night hikes and camping.
It's lightweight at 1.6 ounces and features a shock cord that can be mounted to camping poles and trees for a hands-free, lit-up experience.
Bonus:
The gadget is water-resistant (no worries if it rains!) and despite being small in size, it can project up to 400 feet.
21. Global Rescue Membership
For those embarking on truly adrenaline-pumping hikes, it's worth ensuring safety beyond travel insurance — though everyone should get travel insurance, too.
The Global Rescue Membership team works with everyone, from everyday travelers to government officials, providing field rescue, medical advisory, and evacuation — as well as security extraction services.
Members have their choice of hospital to be transported to, and on the way they're looked after by critical care paramedics and former Special Operations personnel.
22. Vigilant Personal Alarm
I recommend the Vigilant Personal Alarm in almost every guide I write, and for good reason.
It's the smallest travel gadget I own, and I wear it as a bracelet both at home and on the road.
If danger approaches, you pull the pin easily out to sound an alarm as loud as a fire truck, scaring off bad guys, animals, and other potential attackers.
For instance, this would be a great item to have when hiking the Lakes Trails in Sequoia National Park, which has an abundance of black bears.
23. Scrubba Portable Laundry System Wash Bag
Doing laundry, paying for laundry and wasting time in a laundromat are all things I dislike — at home and while traveling.
That's where the Scrubba Portable Laundry System comes in.
Simply put your dirty clothes in the bag along with water and detergent, roll the bag down, and clip closed.
From there, press down and rub to clean clothes against the bag's internal washboard, then rinse and dry.
You can use a microfiber towel to roll clothes and squeeze out excess moisture.
Bonus:
There's an eco-twist, as the company estimates users use about 0.5-1.5 gallons of water less per load.
24. Cairn Monthly Trail Delivery
Love surprises?
Hikers will love the Cairn monthly delivery service, featuring 4-5 items for the trail relating to gear, apparel, emergency, skincare, and food/energy.
Each box is valued up to $50, with options like energy bars, lip balms, insect repellents, first aid kits, beanies and more!
Some brands that have been featured in past boxes include Brunton, ExOfficio, Bearded Brothers, Grand Trunk, and Honey Stinger.
25. RevoMax Twist-Free Water Bottle
When you get thirsty on your hikes, you want to drink fast without spillage.
The RevoMax stainless steel twist-free water bottle means trekkers can open and close their bottles with one hand.
Moreover, the bottle boasts the ability to keep beverages hot or cold for 15 hours!
What would you add to this list of best gifts for hikers & outdoor enthusiasts?
p.s. Still in need of gift ideas for your travel friends? Check out:
Enjoyed this post? Pin it for later!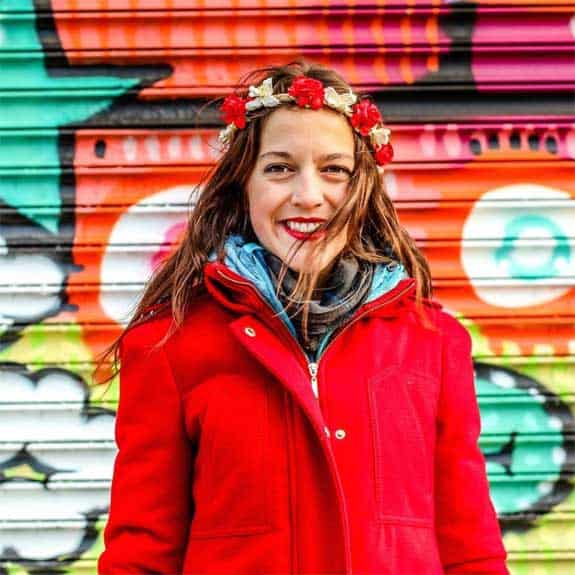 Hi, I'm Jessie on a journey!
I'm a conscious solo traveler on a mission to take you beyond the guidebook to inspire you to live your best life through travel. Come join me!
Want to live your best life through travel?
Subscribe for FREE access to my library of fun blogging worksheets and learn how to get paid to travel more!