This Is What Happens When You Travel Solo To Puerto Rico
*A big thanks to Marriott for sponsoring my trip!
"You're traveling alone?"
The man at the El Yunque National Forest Visitor Center puts down his coconut lunch, furrowing his brow.
His expression makes my heart stop, the typical words of warning from loved ones playing through my mind.
"You're going to Puerto Rico alone?! That doesn't sound safe…"
Suddenly, his brows unfurl and his mouth turns into a warm smile. "No worries! It's perfectly safe. You just need to worry about the crazy monkeys. Luckily I'm holding them under my desk." With that, he laughs manically, hands me a map and explains how I can trek to the top of the rainforest.
I have the feeling this guy — not the "desk monkeys" — might be the one who is a bit crazy, but in an adorable kind of way. Regardless, I'm ready for the adventure.
And I don't just mean the adventure of hiking (more on that below!), but also traveling Puerto Rico solo.
Let's be honest. Puerto Rico isn't exactly the first place people think to take a trip by themselves, whether because they worry if it's safe to explore on their own or because they think it's a place reserved for couples and families.
In reality, there's plenty on the island to enjoy solo.
One quick tip before we dive into the experience:
Grab my free Ultimate Travel Planning Kit — which also includes a Google Map of this Puerto Rico itinerary.
Add the map to your phone to have it ready to go for your trip!
Psst! Don't forget to pin this post for later:
No Filter
The catalyst for the trip was an invitation from La Concha Renaissance Marriott San Juan to take part in their #PuertoRicoNoFilter Instagram campaign.
This means that the photos I share in this Puerto Rico travel guide aren't altered with filters or Lightroom presets. Instead, the goal is to give people a look into the real "unedited" Puerto Rico.
If you're looking for luxury on a budget, this is your place.
The beachfront property is located in the upscale Condado neighborhood and features two towers — one with amenities geared toward families and one for adults-only (so my Infinity pool dip is baby cry-free).
My room is an Ocean View Suite, featuring a huge balcony overlooking the beach, deep Jacuzzi with Aveda bath products, sumptuous robes and a separate room with kitchenette (and strong coffee, thank you!).
One focus of the hotel is mixology, so I get to experience numerous Bar Rituals where guests get a free mini mixology class — including a free drink.
Don't miss their "Lavender Scents" showcasing Bombay gin, St Germain, fresh lemon juice and house-made lavender syrup. The lavender-garnished drink is the perfect poolside sip or after-hot-tub refreshment.
Speaking of house-made, while they have seven bars and restaurants on-site, I have dinner in the local-focused Delicias.
So. Good.
They take traditional Puerto Rican dishes and give them a modern twist, with all ingredients sourced locally and everything made fresh in-house.
This includes their avocado hot sauce — aka my two life loves combined — which is heavenly on my succulent Angus tenderloin paired with lemon oil smashed fingerling potatoes as well as the roasted pork shoulder on risotto.
Oh, and they do boozy weekend brunch AND make their margaritas with salt foam. This is so certain people (okay, maybe me) don't lick the rim off before even taking a sip. Genius.
Starting rates: $199+ per night + taxes and fees.
A Note On Budget
I wouldn't call Puerto Rico cheap as a whole — "affordable" might be a better word. That being said, there are a few things so cheap I almost can't believe it:
My Enterprise Rent-A-Car rental. I literally wake up, decide I want to drive to El Yunque National Forest, and book a car on the spot for $24.99 for the day. You can also use a tool like Discover Cars to quickly compare your car rental options and save up to 70%!
El Yunque National Forest. Have I lived in NYC for too long? I nearly faint when I arrive at the site and am told I only owe $4 to enter. By the way, there are some great Puerto Rico fun facts surrounding this attraction!
Drinking water within El Yunque. I always expect when I go to a ticketed attraction I'm going to pay $3+ for water. It's only $1.35 per bottle. Note: you

can

drink the tap water in Puerto Rico! I just want extra bottles for my hike.
Safety
So the big question the other solo travelers are probably curious about:
"Do you feel safe exploring Puerto Rico on your own?"
Look, I'm not going to say the entire island is oh so safe. But in touristic areas like San Juan and El Yunque you should be fine if you use common sense.
A local advised I avoid walking alone through Old San Juan at night, so I heed his words. To be honest, when I'm on a solo Caribbean vacation I'd rather spend my nights sipping a glass of wine on the balcony listening to the waves than roaming the streets to party.
I also always — whether I'm in Puerto Rico or elsewhere — carry a personal alarm and pickpocket-proof garments for safety. Both suggestions are inexpensive, so there's really no reason not to protect yourself.
Staying in the Condado neighborhood feels very safe to me, and in this and other neighborhoods I feel safe asking locals for help with directions and suggestions on where to eat. The responses I receive are welcoming and helpful.
Case in point: I notice while driving I'm almost on empty, so I pull into a gas station to fuel up. I park near the fueling station, put in my credit card and then…realize I'm from New York and never pump gas.
How the heck do I operate this machine?!?
As I debate whether it's more embarrassing to admit this to the attendant or just break down on the highway and push the car back, a man comes over with a smile to help.
Then, while trying to find a restroom at the same gas station, I accidentally break into the owner's office.
He laughs.
Then I run away in shame.
It's funny though.
Another time I'm taking a taxi back from Old San Juan to La Concha in Condado, when I meet possibly the world's nicest cab driver.
I learn all about his family in New York — by the way, more than half of the locals I meet are originally born in the Bronx — and we even have a spirited debate about baseball.
In reality, I've been to one-quarter of a Yankee game one time, but I like to show my state pride.
Okay, so the people are nice! But what do you actually do on your own?!
I'm so glad you asked.
Morning Yoga
"If there's one thing I want you to take away from your yoga mat, it's the bandha."
First thing in the morning I find myself on La Concha's rooftop, following my instructor Virna's soothing instruction as we move into Three-Legged Dog pose.
There's no music, just waves gently crashing on the beach, the faraway giggles of sandcastle builders and my own breathing.
"Inhale…exhale…now, contract the belly and hold, but continue breathing. It's like a 911 signal to the body to release. Once you start feeling the healing properties of the bandha you'll start doing it everywhere you go."
Because I'm on vacation, Virna's goal is to challenge yet relax me; to make me feel strong yet rejuvenated. Through every Cat-Cow, Warrior 2 and Downward Dog, we practice the bandha to do this.
And enjoy the view.
Seriously. Just one look at the azure waters puts me instantly at ease. Which must curb my anxieties, because suddenly I find myself accomplishing not only the bandha, but Crow Pose.
!!!
This has been a goal of mine for a while. Sure, I only stay up for about two seconds, but it feels so good. Virna is patient, slowly guiding me into the correct positioning for the pose.
While previously I'd awkwardly tried to sit on my own arms, when I nail the pose I feel more like I'm leaning on myself for support.
At the end of the session Virna places a drop of neroli oil on each of my palms.
From there, she instructs me to rub my hands together until they feel hot.
"Cup your hands near your face and breath the oils in with your nose and out with your mouth. Scent is powerful for memory. Hopefully when you smell neroli again you'll remember this view and what you've accomplished."
Old San Juan Discoveries
With energy running through my veins, I'm on to my next adventure: exploring Old San Juan beyond the famous Castillos of San Felipe del Morro and San Cristobal.
Sure, these sites are very important and absolutely worth a visit if you're a history enthusiast, but Old San Juan is also the perfect place to wander without a plan.
A bit about the area:
Old San Juan dates back to 1509 with the arrival of the Spanish settlers, established by Juan Ponce de León.
What's unique is this history can still be felt and seen today; not only through the slew of historic attractions and museums but also the cobbled streets and pastel-colored Spanish Colonial architecture.
Additionally, a modern twist means there are loads of shops, bars, nightclubs, and restaurants — both traditional and contemporary — to discover.
While I spend most of my time just admiring the buildings, I do indeed step inside a few. Highlights:
Panting in my sweat-soaked tank top, the cheerful lime green walls and wooden bar lined with straw-poked coconuts beckons me in.
As Latin music fills the room, the waitress tells me in half Spanish, half English what's being served that day (because there's no paper menu).
Everything sounds simple and delicious — pork chops, fried chicken, pasteles.
I order the grilled grouper fish with beans and potatoes, buttery rice, and a small bowl of fried plantains (tostones).
The entire meal — which comes to $16 — is accompanied by house-made sauces.
This hip bar is filled with locals and visitors sipping craft Puerto Rican brews — there are about seven breweries on the island — when I pop in around 1pm.
There's a chalkboard wall listing the bartender's picks, though I personally recommend trying one of their quirky beer cocktails.
The "Perla Punch" features tropical fruit juices, lemon and coconut rums, and wild sour ale.
Savor Señor Paleta In The Squares
Old San Juan reminds me of the island version of Savannah, with tons of parks and squares breaking up the streets.
I never visit a new city without trying the local ice cream.
In Old San Juan this equals Señor Paleta (or Ben & Jerry's, which I love, though isn't exactly Puerto Rican).
Savoring a strawberry cheesecake ice cream pop is the perfect way to cool down.
Tip:
Get napkins because it melts FAST.
If you want a trendy coffee shop packed with java culture, Cuatro Sombras Cafe features a wooden bar with baristas working their magic.
There's also a Coffee Lab, rustic indoor space with tables, and an outdoor courtyard with beer bottle vases, communal tables, and sprawling vines.
I pop in here to cool off with the air conditioning while fueling up with a latte!
So freaking whimsical!
It's literally a winding hallway with multiple adventures to choose from.
Go left and you'll find yourself in a cafe featuring Puerto Rican coffee and chalkboard poetry.
Turn right, and there's a room where almost every space of wall and shelving showcases poetry on ceramics.
In the back is a chill performance nook with comfy mismatched furniture where open mic nights take place Tuesdays at 7pm.
Try An Inventive Cocktail At La Factoria
If you love cocktails but aren't interested in the myriad restaurants offering sugary 2-for-1 mimosas and sangrias, La Factoria does mixology right.
In this old brick building with no sign you'll need to find the hidden entrance.
Once inside, Spiced Old Fashioneds and Lavender Mules complement the multi-room dance party, salsa music, and chill unpretentious vibe.
The best part:
Cocktails I usually spend $15 on in NYC are just $8-$9.
This store has everything you could want for a unique souvenir:
Red wine soap, brandy-flavored coffee, handmade jewelry, pineapple lotion, colorful artwork — all made by Puerto Rican artisans.
It's a big bright store — with plenty of free product samples — that gives you a glimpse into the local culture.
It's super affordable, too. I buy two bags of coffee for $12.
Bike The Murals
While I'd typically be exhausted after a day of walking in the heat, my morning yoga session has put me in the right mindset.
Grabbing one of La Concha's free bike rentals, I set off to explore what I'm told is San Juan's street art haven: Sancturce.
Most of the murals are on and around Calle Cerra, though Calle Loiza is considered the main drag full of indie culture like street art, conscious cafes, yoga studios, and even mural-clad food truck parks (I love Lote23!).
Spearheading the movement is Santurce es Ley (SEL), a group committed to turning Santurce into a contemporary arts hub since its inception in 2010.
While once dangerous — and still gritty — it's a place you can feel safe walking or biking solo, at least during the day.
Awkward: Despite being only 15 minutes away I somehow get lost, though luckily US phones work in Puerto Rico (because it's still the US!).
Eventually, though, I find myself seeing enormous mural after enormous mural.
El Yunque National Forest
The next morning I wake up oddly energized, despite such active exploring the day before. This is the beauty of visiting somewhere new.
Your sense of curiosity constantly propels you forward, making you forget you're tired.
I'm told the hiking trails in the forest are clear, and decide not to hire a guide.
But because El Yunque National Forest is 35 minutes away by car, I also don't want to pay for a cab. I decide to have La Concha call the nearest car rental agency for me to check what the damage to my wallet would be.
"So the total for a one day rental would be…"
My heart quickens as I prepare for the worst.
"…$24.99."
I stare at her dumbfounded. That's less than the cost of two drinks back in NYC!
Even better, when I pick up the car the attendant asks me if my name is Scott.
"No," I laugh.
He smiles, "Well, since Scott's not here you're getting a free upgrade."
Despite that I can't tell the difference between a Civic and Maserati, I'm really excited about this. No matter what kind of car it is, it's better than the original one I booked. Score!
Happily, I drive to the National Forest without issue.
This is unlike when I went to the South of France and full-on parked on a highway because I got frazzled. Not surprisingly, my boyfriend banned me from ever driving with him in the car again.
I actually find Puerto Rico to be relatively calm to drive in.
You know what's not calm?
The rainforest.
Let me explain.
El Yunque National Forest — located in the Luquillo Mountains — is the country's only National Forest to include rainforest.
You'll pay just $4 to be immersed in its lush beauty. There's no dangerous animals like bears, mainly just 200 native tree species, lots of frogs, butterflies, and colorful birds (like the endangered Puerto Rican parrots!).
The indoor-outdoor visitor center offers an awesome free exhibit, as well as trail maps depicting the many hike options and lookout points along the winding road climbing up through the site.
Coca Falls is probably the most popular attraction within the Forest, though I don't even stop to take a photo.
Too many people climbing it and taking selfies. Instead, I head to the Baño Grande Trail, sitting at 2,000 feet elevation.
This trail intersects with the El Yunque Trail, which leads to the top of El Yunque Peak for a view from 3,496 feet.
I'm pumped!
Now, when it comes to solo hiking there are a few factors I take into consideration.
I like few enough people that I can get in touch with my own thoughts in nature…
…but enough people that if I break my ankle a human will find me before I get eaten by bears (or in El Yunque's case, butterflies and frogs).
The El Yunque Trail is perfect, allowing me to be the only one wrapped in a blanket of rainforest beauty for long stretches at a time. Some parts are steep, but for the most part I don't feel all that exasperated.
I guess it helps when you're surrounded by waterfalls, streams and lizards.
No, the real struggle comes when it starts to rain.
You're probably thinking, "Well, duh, Jessie. It is the RAINforest after all."
Maybe I missed the memo. Or maybe I'm just so drunk on sun I forgot.
Regardless, I'm not prepared to protect my gadgets. My not-so-waterproof backpack holds my iPhone, while I cradle my DSLR like a baby under my raincoat (though neglect to put my hood on).
I still have about 45 minutes to the top and don't want to turn back, though it's actually an even farther way to return to the car.
I tread carefully up rock path and thick orange mud, through the cloud forest and thousand-year-old trees. Despite how thick the forest is there isn't much cover, and the rain is coming down so hard it's like taking a shower.
My DSLR is no match for the fight. When I finally get to the top, I hope to pull her out for a quick shot.
But it's too late. She's gone.
Dramatics aside, I still enjoy the hike (and luckily I insure all of my gear, so now I can get a better model).
Despite not really being able to take in the view due to the fog, I reflect that there wasn't a single moment of the hike where I wasn't in awe of its beauty. Even the rain would have been awesome if I weren't body blocking my camera from the weather like a protective mother.
I didn't need an iPod at all either; the sounds of tropical forest were my soundtrack.
Tip:
I really love driving to the Yokahu Observation Tower, within the Forest.
Constructed in 1963, the Tower sits at 1,575 feet high and you can climb its 98 steps to take in the surrounding peaks, Luquillo Beach and the northeast coast.
Breathtaking.
Luckily, the rain stops and I'm able to take some iPhone photos.
Drive The Panoramic Route
After El Yunque, I decide to make use of my inexpensive car rental and spend time driving. At Enterprise the staff had told me about a panoramic section along Route 3.
I enter "Punta Santiago" as my Google Maps destination, and it doesn't disappoint.
Along the highway I pass cities like Luquillo and Fajardo, both offering restaurants, coffee shops, and other places of interest; however, I just want scenery.
I continue on until I come to a sign welcoming me to Humacao.
Suddenly, busy road transforms into a quiet dirt stretch with few cars.
Beautiful beach backed by windmills makes the perfect setting to park and just let time slowly drift by.
An Inventive Meal
That night, I treat myself to a delicious dinner at Cocina Abierta in the Condado neighborhood, about a five minute walk from the hotel. I'm told by a local that its "very creative" cuisine.
They were not kidding. I would seriously go back to San Juan just to eat here again.
The restaurant features a giant yard with lots of tables.
Inside, you'll find an industrial chic feel with bold metal chandeliers, wood accents and an open kitchen.
Now, you can make this an inexpensive or expensive evening, as dishes are on the smaller side — 4-6 ounces each.
Not tiny, but you'll probably still be hungry if you just have one. Also, every item is so creative you just want to try everything.
The menu is separated into five "Acts" — starters, seafood, white meats, structured dishes and desserts. Here's how my evening goes.
Cocktail: "Don Guanapena" ($13) featuring Tequila Don Julio Blanco, Don Q Rum Anejo, guanabana juice, lime, house-made agave-jalapeno syrup and Elemakule tiki bitters, garnished with flowers so beautiful I feel bad drinking it.
Course 1: Tuna tatake atop ripe plantain brûlée. The dish is laced with avocado, shiitake mushrooms and scallions, and has the most pronounced sweet and salty flavor. Amazing.
Course 2: Pacific salmon stuffed with mushrooms duxelle on top of corn and beet-laced risotto. And how pretty is that plate below?!
Course 3: Thai fried chicken with coconut-green aioli and lychee-baby cucumber salad. A sprinkling of cashews adds a delicious finish.
The dessert menu features uber inventive combinations.
Like the "Chocolate," featuring chocolate pot de creme with hazelnut biscotti, chocolate whipped cream, espresso agar, chocolate sponge cake, nutella fuid, white chocolate bark and….dried kalamata olives.
Say wha?!?
The meal is a delicious trip around the world, exploring cultures at their craziest through the palate.
A Beach-Filled Goodbye
My final day is spent doing what no island trip is complete without:
Soaking up the sun and splashing around.
I switch from walks on Condado Beach to warming up in the hot tub to cooling off with a swim in the pool.
Or should I say pools. It's so relaxing, and the perfect sendoff back to NYC where I won't see a pool for a while.
Sometimes traveling solo makes you more self-conscious.
Other times it makes you feel like you can do anything and nobody will care.
So, I decide to do a cartwheel right there on the beach. Sure, not the most daring move in the world. But it feels good, like being a kid again.
From there I plop down right at the edge of the water, laying back in the sand. Granules stick to my skin and my hair knots with Atlantic Ocean waves.
But I don't care. Because I'm happy.
I — and you — don't need travel companions to enjoy Puerto Rico's pleasures.
Would I love to take my boyfriend here or head back with friends?
Absolutely.
But I'll also happily return for a solo trip in paradise.
In Condado
A few other things I love around the Condado neighborhood:
Breakfast at Pinky's
Across from La Concha is an amazing all-day breakfast spot with hearty omelets and sandwiches (including vegetarian options) and batidas.
The latter are fruit smoothies laced with brown sugar, milk, vitamin boosters, oatmeal, and other tasty enhancements.
I love having breakfast on their sidewalk, though note it gets very busy here so it's best to arrive before 10am.
Prices
Expect to pay around $5.50-$10 for a large omelet or sandwich. Pinky's boasts not changing their prices in 13+ years!
Tacos at Kabanas
This parked food truck has communal picnic tables and possibly the best tacos I've ever had.
Not only is the meat juicy and tender, the tortillas are thick and crispy, yet oh-so-flaky. They're also full of flavor.
It's a chill spot to listen to current hit songs and dine on dishes like avocado-topped burgers, fresh catch, oven-baked chicken breast, and nachos showcasing anything you can imagine (including hummus and falafel).
Prices:
Most tacos are $3.85 each, with main dishes being around $7.50-$15.95 (for steak!).
Paddleboarding The Condado Lagoon
About a 15-minute walk from La Concha is the large Laguna del Condado, reaching depths of 36 feet.
Here it's possible to stand up paddleboard (SUP).
The water is typically calm, so don't worry if you haven't tried SUP before. If you're lucky, you may also see manatees, dolphins, and stingrays!
Prices
You can book at VIP Adventures right near the lagoon for $20/hour or $30/2 hours.
Puerto Rico Packing List:
2 sundresses
2 pairs of shorts (1 for sleeping; 1 for hiking)
yoga pants (my pick: Manduka)
3 tees or tanks
2 light sweaters
1 pair of light pants
lightweight rain jacket (my pick: EMS Thunderhead Jacket)
waterproof backpack (my gear shop pick: Eastern Mountain Sports)
swimsuit (my pick: Unique Vintage)
makeup (optional; my pick: Stowaway Cosmetics for travelers)
toiletries
medications
Vitamin C serum (my pick: Mad Hippie; amazing for sun-damaged skin)
sunscreen
bug spray (my pick: Aromaflage natural bug spray & perfume in one)
GoPro + charger
Sneakers / Sandals / Socks
undergarments
Puerto Rico Car Rental
The best way to explore all that Puerto Rico has to offer is by car, as many attractions aren't within walking distance.
My recommendation:
Use Discover Cars to quickly compare your car rental options.
Their comparison tool does the homework for you, so there's no need to have up 10+ tabs trying to figure out which company is the most affordable. Actually, you can save up to 70% using their tool!

Puerto Rico Travel Insurance
When visiting Puerto Rico — or anywhere else in the world — make sure to get travel insurance.
In my opinion, the best travel medical insurance for travelers is SafetyWing as they've got a large network and offer both short-term and long-term coverage — including coverage if you're traveling for months as well as limited coverage in your home country).
Additionally, SafetyWing is budget-friendly and offers $250,000 worth of coverage with just one low overall deductible of $250.
Click my referral link here to price out travel insurance for your trip in just a few clicks.
What are your favorite things to do in Puerto Rico?
Logistics:

Getting There: When visiting the San Juan area of Puerto Rico, you'll typically fly into Luis Muñoz Marín International Airport. From there, you can grab a taxi to your hotel. There are also buses in terminals A and D.

Language: Spanish & English. I found that almost everyone spoke English, at least in the San Juan and El Yunque areas.

Currency: US Dollar

Plugs: US citizens won't need an adapter/converter when traveling to Puerto Rico. Here is full voltage info with photos.

Safety Essentials:

Getting Around: The local bus in San Juan is efficient (here are fares and maps). Otherwise, cabs are prevalent and easy to hail. It cost $19 each way to and from the airport to the Condado neighborhood. When going to and from Condado to Old San Juan it cost $14.
Enjoyed this post? Pin it for later!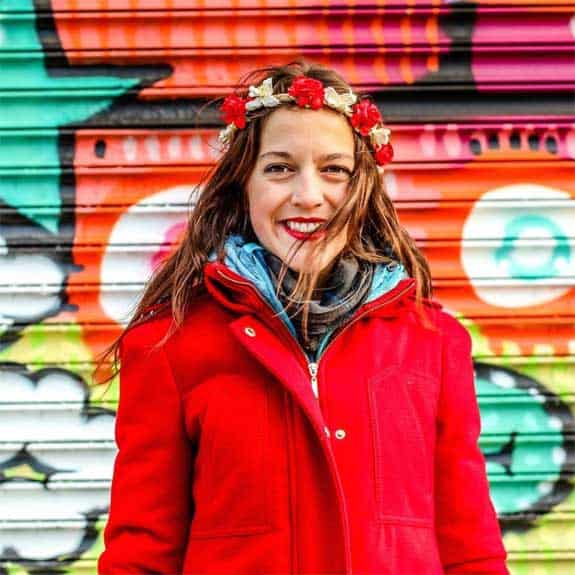 Hi, I'm Jessie on a journey!
I'm a conscious solo traveler on a mission to take you beyond the guidebook to inspire you to live your best life through travel. Come join me!
Want to live your best life through travel?
Subscribe for FREE access to my library of fun blogging worksheets and learn how to get paid to travel more!