12 Best Flower Baths In Bali (Ultimate Guide)
By Mal Hellyer. This guide to the best flower baths in Bali contains affiliate links!
Looking to do a Bali flower bath? Then you're in the right place!
If you're travelling to Bali, you must experience a flower petal bath at least once during your vacation!
Taking a flower bath in Bali is, among other activities such as a Balinese cooking class and having a floating breakfast, a once-in-a-lifetime experience that you should not miss!
Picture yourself in a stone bathtub filled with fragrant water and fresh flower petals with stunning views over an expansive rice terrace. A flower bath is not only a perfect way to relax, but also one of the best ways to immerse yourself in Balinese culture and spa traditions.
If you like this vision, keep reading, as this ultimate flower baths Bali guide will reveal the top places where you can get the best flower baths on the island. As someone who calls Bali home, I can't wait to share these magical places with you!
Quick tips: Along with visiting a Bali flower bath spa, make sure to also enjoy a few other local experiences. Here is a list of top-rated cultural tours, and you can find a full list of Bali tours here.

A few not-to-miss include the Best Of Ubud with Monkey Forest, Rice Terrace, Temple, Waterfall and the Bali Night Market Street Food Tour. You can also book one of the numerous yoga and surf retreats in Bali, many of which include spa experiences.
What Is A Bali Flower Bath?
A Bali flower bath normally takes place at a spa or hotel. It's a truly unforgettable wellness travel experience.
The staff fills a bathtub or a pool with flower petals, rose petals, essential oils and sometimes coconut milk and other herbs.
Flower baths in Bali have a long tradition and are an important part of Balinese spa culture. In the past, bathing in blossoms was a spiritual ceremony meant to rejuvenate and heal the body, ground you, and make your life flourish.
Even today, flower baths are believed to have spiritual benefits and are often referred to as a celebration of flowers.
What Are Bali Flower Baths For?
Today, flower baths in Bali, Indonesia are a part of the spa experience. Treating yourself to a beautiful flower bath is a fantastic way of expressing self-love and practicing mindfulness. Depending on the ingredients, flower baths can also have various beneficial effects.
For example:
a citrus bath will rejuvenate and refresh the body
a rose and coconut milk bath hydrates the skin
lavender flowers calm the body and mind and relieve stress
a hibiscus bath is rich in antioxidants and has fantastic anti-aging properties
Flower baths in Bali are not only used in spas, either. Often hotels will prepare a flower bath for their guests to help them celebrate a special life event.
For example, if you're staying in a boutique hotel, you can ask the staff to fill your private pool with a flower arrangement to celebrate a birthday, anniversary, or even engagement.
Best Flower Baths In Bali
On that note, let's dive into our Bali flower bath guide. If you're looking for a relaxing experience in a beautiful and tranquil setting and to maybe even enjoy the best massage of your life, these spas won't disappoint!
The best part? Whether you plan your trip during the best or worst time to travel to Bali, you can enjoy a flower bath. Opt for an outdoor tub if it's sunny, or sink into an indoor petal bath for some rainy-day relaxation.
Best Bali Flower Baths In Ubud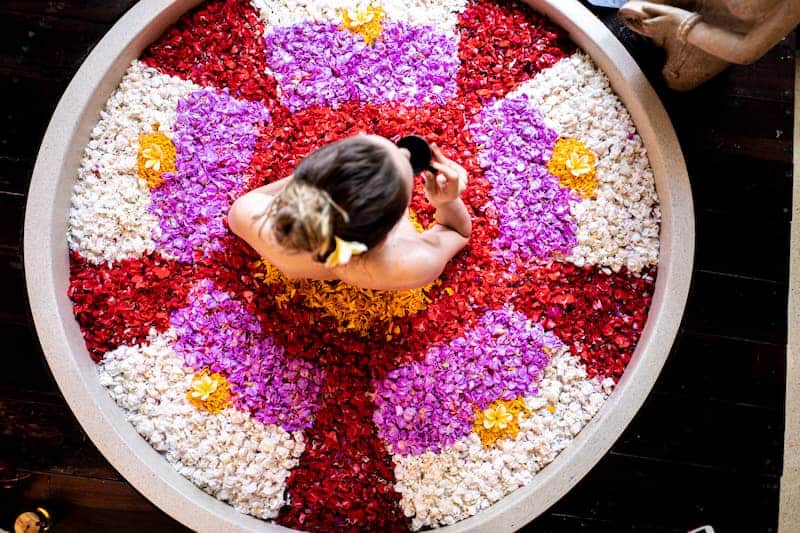 1) Kaveri Spa at The Udaya
For the best flower bath in Bali, stay at the gorgeous Udaya Resort, which offers the most beautifully presented flower bath in Ubud. Whether you're on the island for a short time, are planning a 7 day Bali itinerary, or are exploring Bali for 2 weeks or longer, this will certainly be a trip highlight.
The on-site Kaveri Spa does two different types of signature baths:
Their signature Celebration Of Flowers bath consists of beautifully arranged flowers, giving you the feeling of royalty and an opportunity to take some Instagram-worthy photos. You can choose between different colorful flower designs to suit your preferences.
The second type of bath — a refreshing Citrus Bath containing milk, lemon, orange essence, and orange leaves — will rejuvenate and soften your skin.
Couples treatments are available at the spa, and you can create your own package that starts with an aromatic body scrub and a good massage, followed by a romantic soak.
For the ultimate indulging getaway, book a room at the Udaya Resort. During your stay, a spa flower bath can be purchased separately at their on-site spa.
Bonus:
The resort is only 15 minutes from Bali's famous Monkey Forest and Tegallalang Rice Terrace, as well as many other local attractions like Ubud waterfalls for a truly unforgettable trip!
2) Karsa Spa
Another excellent place to get an indulging flower bath in Bali in Ubud is the Karsa Spa. The spa offers four different spa packages boasting various beauty or medicinal properties.
Every package starts with a traditional Balinese massage, followed by a body scrub, an herbal wrap, and either a flower or herbal bath.
One popular option is the spicy Balinese boreh — which is good for improving circulation, relaxing sore muscles, and reducing bone pain.
Other options include a soothing cucumber and aloe treatment, a moisturizing package featuring a clay body mask and traditional Indonesian Lulur exfoliation scrub, and a coffee scrub with yogurt wrap and sea salt lavender bath.
You can also design your own package and enjoy the flower bath at the end in a large outdoor tub.
Whether you're planning a 3 day Ubud itinerary or something longer, this spa is a must-visit.
3) Dewi Gangga Spa at Puri Gangga Resort
Dewi Gannga Spa is part of the Puri Gannga Resort and is an incredible flower bath spa in Bali that offers nourishing treatments and beautiful flower ceremonies.
If you're looking for an Ubud flower bath experience, Dewi Gannga is an excellent choice, and you don't have to be their resort guest to enjoy the spa.
The spa offers two types of baths:
Their citrus bath is packed with Vitamin C and contains organic lemons, oranges, limes, and tangerines. The citrus fruits help shrink the pores, promote blood circulation, and rejuvenate the skin to leave you feeling refreshed.
There is also a flower bath consisting of an intricate flower arrangement that will soothe your body and mind while making you feel special.
Both options are extremely photogenic and make for incredible travel pictures, with the resort offering one of the best flower bath experiences you can find!
4) Skaijoglo
Another option for the best flower bath in Ubud, is spending a night at Skaijoglo and having it at your private outdoor plunge pool!
Skaijoglo is a boutique, Airbnb-style accommodation in the heart of Ubud. The hosts are incredibly good at preparing the most beautiful flower baths in Bali!
You can ask for any design, but a colorful rainbow is one of the best compositions you can have.
Each Skaijoglo house comes with a large terrace overlooking the jungle and a small pool perfect for a flower bath or a floating breakfast.
Note that his property is currently being renovated, and the owners are in the process of opening additional properties, too.
You can contact the owners at [email protected] or through Facebook or Instagram @Skaijoglo to inquire about booking.
5) Villa Cella Bella
Last but certainly not least is a small hotel called Villa Cella Bella. The property is located in Ubud and boasts incredible views over the jungle and the river valley.
Villa Cella Bella showcases a range of accommodation — from double rooms to private pool villas, and offers various experiences. This includes a flower bath that you can enjoy either in the privacy of your room or villa or outdoors with panoramic views.
The staff at the hotel are very experienced at arranging flower patterns and can accommodate any request, whether you want your initials, a special message, or something else.
They can even make a flower arrangement in their large pool to help you celebrate something special!
Udub Hotels: Click here for a list of top-rated local hotels
Ubud Tours: Click here for a list of top-rated local tours
Best Bali Flower Baths In Seminyak
6) Prana Spa
If you're staying in Seminyak and want to experience a Bali flower bath, Prana Spa is a great option.
Located onsite at Impiana Private Villas Seminyak, Prana is one of the biggest spas in Bali and offers an incredibly diverse range of treatments and pamper packages for solo travelers, couples, and groups.
What's unique about this spa is its architecture and decor, which the designers describe as "Indian Palatial complexity with Moroccan rustic simplicity." You'll truly feel like a queen or king as you get pampered in this luxurious space.
Book one of their spa packages with a flower bath prepared in one of their gorgeous bathtubs ornated with mosaic tiles — which will make you feel like Princess Jasmine!
7) eqUILIBRIA SEMINYAK
For travelers looking for romantic experiences in Bali, eqUILIBRIA in Seminyak offers luxury private villas perfect for couples or solo travelers who want to treat themselves.
Each villa comes with outdoor space and a large bathroom with a bathtub.
The property also can organize special services such as a rose petals on the bed, floating breakfast, candle-lit dinner, and massage for two — followed by a flower bath that you can enjoy in your villa.
The flower baths offered include a citrus bath packed with Vitamin C and antioxidants, an extremely fragrant frangipani bath, and a mixed flower petals bath. eqUILIBRIA also boasts an onsite spa for even more pampering.
Seminyak Hotels: Click here for a list of top-rated local hotels
Seminyak Tours: Click here for a list of top-rated local tours
Best Bali Flower Baths In Uluwatu
8) The Elementum Bali
Another excellent option for a Bali spa flower bath is The Elementum — which is also located near one of the best beaches in Uluwatu, Bingin Beach.
You can either stay in their lovely hotel, or simply book a treatment or package at their spa.
A traditional Balinese Massage soothes aching muscles and incorporates essential oils, while a Traditional Coconut Massage infuses coconut massage oil.
For the ultimate indulgence, choose the Honeymoon Package that includes a relaxing foot wash, an invigorating Balinese massage, and a green tea scrub. This is followed by a relaxing and soothing milk flower bath and a glass of bubbly.
You can also design your own package and ask for a customized flower bath design with a heart or the name of your other half or friend.
9) La Cabane Bali
Another place in Uluwatu where you can get a Bali flower bath is La Cabane.
This boutique Instagram-perfect hotel is located near Balangan Beach, which is famous for its gorgeous clifftop viewpoint.
La Cabane rooms feature an outdoor bathroom with a large, circular bath surrounded by lush greenery.
For an additional charge, the staff can provide you with colorful flower petals so that you can make your own DIY Bali flower bath and enjoy it in your room.
They can also organize baths and floating breakfasts covered in rose petals for added romance.
Uluwatu Hotels: Click here for a list of top-rated local hotels
Uluwatu Tours: Click here for a list of top-rated local tours
Best Bali Flower Baths In Sidemen
10) Wapa Di Ume Sidemen
Wapa Di Ume is a luxury resort in an off-the-beaten path area of Bali called Sidemen, which offers the perfect blend of nature and modern luxury.
If you're looking for a unique but luxurious stay in Bali, this is the ideal place.
Wapa Di Ume boasts excellent on-site facilities — including Kapha Spa, which features gorgeous treatment rooms that can be enjoyed solo or as a couple.
The room includes a large stone bathtub overlooking lush greenery, where you can have the beautiful flower soak of your choice.
They can also do any flower design you wish to help you celebrate something special.
11) Camaya
If you're a nature lover, you must stay in a bamboo house at least once during your trip to Bali, and the Netflix-famous Camaya — located in the picturesque Sidemen countryside — is a perfect choice.
Fun fact:
Camaya was featured in an episode of The World's Most Amazing Vacation Rentals on Netflix, so staying here is extra special.
At Camaya, you can really immerse yourself in nature as their houses are typically open and overlook rice paddies.
At your request, the staff can fill the outdoor paddle pool with colorful flower petals — a perfect way to relax and take some epic shots for social media!
12) Hideout
Another incredible place for a flower bath in Bali is Hideout, also located in Sidemen.
Hideout also features unique bamboo houses that are perfect for disconnecting from the world and for some serious relaxation time.
The property's houses come with an aesthetically pleasing outdoor space and traditional stone tubs where you can have your romantic flower bath experience.
This is a popular stay for people doing the Mount Batur and/or Mount Agung hike, and a flower bath is a great way to soothe your muscles after.
Sidemen Hotels: Click here for a list of top-rated local hotels
Sidemen Tours: Click here for a list of top-rated local tours
Best Flower Baths In Bali Map
To help give you a visual of where the above-mentioned flower baths in Bali are located, I've plotted them onto a Google Map:
You can also click here for the interactive version to save it on your phone.
Things To Know Before Doing A Flower Bath In Bali
Q: Should you tip for a flower bath in Bali?
Tipping in Bali is optional, and spas usually have a tip box at the counter where you can leave some spare change as gratitude for exceptional service.
If a staff member went over and beyond to make your Bali flower bath experience special and customized it to your desire, then a 10% to 20% tip is appropriate.
Q: Do you need to make reservations for a Balinese flower bath?
It is also a good idea to book your spa treatment — including the flower bath — in advance, especially during the high season months of July and August.
Flower baths in Bali are made of fresh flower petals, and booking ahead of time will give staff the time to purchase flowers and organize other ingredients. It is also a good practice to give advance notice in case of any changes or cancellations.
Q: What should you wear during a Balinese flower bath?
Some spas will provide you with single-use underwear to wear in your Balinese flower bath. Alternatively, you can wear your own bikini or a one-piece swimsuit.
Avoid wearing white or bright colors, which can get stained by wet flowers.
Q: What is the average Bali flower bath price?
The cost of a flower bath at a spa typically ranges from about $30 to $120 USD. Confirm the price with your hotel or spa before booking to be sure.
Flower Baths Bali: Final Thoughts
As you can see, when it comes to flower baths in Bali, you have a wide range of choices.
Whether you're looking to book a sumptuous treatment, visit a more affordable spa, or even create your own refreshing bath in your hotel room, you can find it.
As you plan your trip, one thing to note is that while flower baths are common across the Indonesian province, not everywhere can do intricate designs like the Bali flower bath spas mentioned above.
This will likely be a highlight of your Bali vacation, so consider planning your itinerary to stop at one of these incredible places!
Getting Bali Travel Insurance
When visiting Bali — or anywhere else in the world — it's wise to get travel insurance.
One of the best travel medical insurance for travelers is SafetyWing as they've got a large network and offer both short-term and long-term coverage — including coverage if you're traveling for months as well as limited coverage in your home country.
Additionally, SafetyWing is budget-friendly and offers $250,000 worth of coverage with just one low overall deductible of $250.
Click here to price out travel insurance for your trip in just a few clicks.
What is your favorite Bali flower bath? Any tips you'd add for visiting the flower baths in Bali?
Enjoyed this flower baths Bali guide? Pin it for later!
About The Author
Mal Hellyer is a travel writer, photographer, and expat living in Bali. You can read her tips for exploring this unforgettable Indonesian province on her blog, Where To Stay Bali.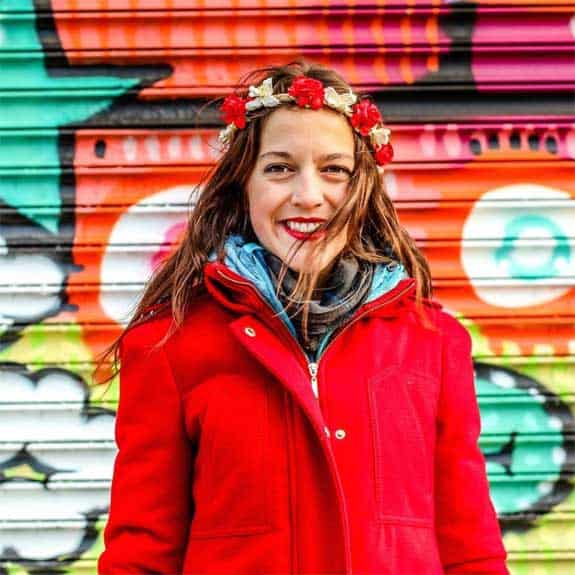 Hi, I'm Jessie on a journey!
I'm a conscious solo traveler on a mission to take you beyond the guidebook to inspire you to live your best life through travel. Come join me!
Want to live your best life through travel?
Subscribe for FREE access to my library of fun blogging worksheets and learn how to get paid to travel more!