Active Exploring In Taiwan's Taroko National Park
places to visit in Taiwan
? Encompassing 920 km² (355 square miles),
Taroko National Park
is one of Taiwan's eight national parks. It spans Taichung City, Nantou County and Hualien County, and includes an array of recreational activities, attractions and beautiful landscapes. It's also a great place to visit whether you're enjoying
Taiwan solo travel
or are exploring in a group. One highlight of visiting the national park is its magnificent Taroko Gorge — the natural attraction the park is named after — which you can explore by strolling along the 0.5-kilometer (0.3-mile) Swallow Grotto Trail, one of the
best hiking trails in Taiwan
! It's a paved trail along a driveable road, which takes you into a tunnel featuring rugged black cement ceilings and views of the gorge's naturally-carved marble walls featuring colorful patterns painted by Mother Nature Herself. Another worthwhile trek that takes you into the gorge is the park's waterfall-littered Baiyang Trail. The moderate hike takes about 90 minutes total to reach the Water Curtain and go back. You'll traverse canyon ledges while taking in views of overlapping peaks covered in lush green and sloping crevices. Moreover, a mix of slender waterfalls gently sliding down jagged rock face and powerful cascades gushing down the mountainside make for a postcard-worthy excursion. There are two highlights to the experience. One is walking over the shaky suspension bridge, which adds a bit of excitement to the journey and allows you to see some of Taroko National Park's biggest waterfalls up close. The other is the Water Curtain, a natural colorful marble tunnel that features a crystal clear river with beautiful smooth stones as well as a walkway with streams of water pouring down from the ceiling. After hiking through Taiwan's notoriously hot, humid climate, it's a refreshing attraction. Note: You'll need a flashlight for this hike as you'll be traversing numerous dark tunnels.
Accommodation
Located at the edge of the Taroko Gorge,
Silks Place Taroko
is a 5-star hotel located right in Taroko National Park. The property exudes tranquility, with a candlelit lobby, dimly lit hallways, private sauna, yoga and fitness room, a scenic rooftop, restaurants offering dishes with natural and fresh ingredients, and a curative spa with treatments like Oriental bodywork, seaweed skin polishing, a ginseng hair and scalp treatment and a volcanic clay body wrap. Rent a bike for about 100 NTD (about $3 USD) per hour and explore the nearby waterfalls, mountains and monasteries, or head to their rooftop for an Aboriginal show. Additionally, their 160 rooms feature a mix of standards and suites offering either garden or gorge views.
Native Meal
At Leader Village Taroko in Taroko National Park you can enjoy an authentic Aboriginal meal while immersed in native Truku culture. Their specialty is a fatty, oily pork that is full of flavor and has been a traditional food for the tribe for thousands of years. While you eat, admire the handicrafts and artwork that litter the buildings as well as the indigenous architecture of the hotel's raised wooden cabins laid out in a village style. This experience is especially interesting as only 2% of Taiwan's population today is Aboriginal. After you're done eating, take a hike on their leisurely bamboo grove trail.
Atop Wuling, Taroko's Highest Accessible Point By Bike
For those who enjoy cycling, it's possible to explore Taroko National Park by bicycle. If you start at the the Cisingan Scenic Area in Hualien City it goes for about 100 kilometers (62 miles) along paved road to a height of 3,275 meters (10,745 feet). You'll go passed tea terraces, native villages, cafes selling local and traditional foods, a mix of luxury and budget eco-accommodations and some of the most beautiful rugged mountain and vibrant green valley landscape you've ever seen. Once you cycle through Taroko National Park, there will be no question as to why Taiwan is often called the Emerald Isle.
Bonus Adventure: 
If you love outdoor thrills, don't miss
river tracing in Taiwan
, as well!
More Images From The Baiyang Trail In Taroko National Park
Note: I unfortunately do not have photos of the tunnel-enclosed water curtain section because it's extremely wet in there and my camera is not waterproof. Just picture walking along a sidewalk in a tunnel with marble rock wall to your one side and a literal curtain of water as well as a clear stream on your other. 

Looking for incredible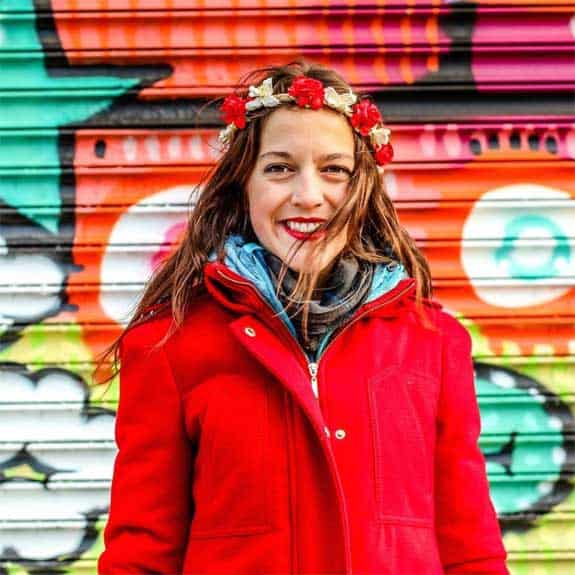 Hi, I'm Jessie on a journey!
I'm a conscious solo traveler on a mission to take you beyond the guidebook to inspire you to live your best life through travel. Come join me!
Want to live your best life through travel?
Subscribe for FREE access to my library of fun blogging worksheets and learn how to get paid to travel more!