Your Ultimate Guide To San Francisco Beyond The Guidebook
Looking to explore San Francisco?
This California travel guide shares everything you need to know about this eclectic city, which is great on its own or can be added to a fun California road trip itinerary!
Food & Drink
Savor A Burrito
According to Lee Abbamonte, the youngest American to visit every country in the world, the burrito was born in San Francisco and they still have the best in the world. Top recommendation: Pancho Villa.
San Francisco also has a sweet tooth — seven days of it — according to Rease Kirchner of Indecisive Traveler. Personally, I'm digging the "Magnolia Stout Secret Breakfast" ice cream with cornflakes and bourbon. Quirky!
Need a java boost? Arnette of Round The World Girl certainly found a slew of great coffee shops in San Francisco, from no frills cafes to fancier roasts to caffeine paired with sweets. The photography alone is a worth a peek.
For a unique sip of San Fran, Carole Terwilliger Meyers of Weekend Adventures Update recommends a Union Square Cocktail Tour, which takes you back in time to the golden era of cocktails (the 1860s to 1920s). If you like it hot — and you all know I love spicy cocktails — try a "Pequito Picante" from the Burritt Room in the Mystic Hotel. Fun fact: Did you know that it was in San Francisco that women first began sitting next to men in a bar?
For your ultimate guide to what to eat in San Francisco, Anne Lowrey of Part Time Traveler has you covered with everything from the best bahn mi outside of Vietnam at Saigon Sandwich to amazing margaritas at Tony's Pizza Napoletana. Yum!
For those who love to eat local, San Francisco has some not-to-miss stops, documented thoroughly by Jan Ross of Wanderlust Wonder. Tip: For a guided experience, opt for an excursion with Local Tastes of the City Tours.
15 Things To Eat In San Francisco
How could something called "The Best Damn Cheeseburger" not be amazing? The food porn in this post will have you drooling all over your laptop.
I'm a big fan of going local when I travel, which platforms like EatWith and Feastly are amazing for, as they allow you to have a themed meal in a local home. Some San Francisco options include Holistic Cleanse Cooking, a Spanish Sherry Feast and a Pasta-Making Class.
Stuffed corn cakes for $2.50? Northern Thai Sausage for $8.95? Hanoi-style pho ga for $6.75? Deliciousness that doesn't break the bank.
Great recommendations by Untapped Cities. I'd personally love to try out Corkage for some local sake!
Offbeat
A Guide To San Francisco Penises
The Bold Italic is my absolute favorite blog. This is an example of why.
Jessie on a Journey readers love getting off the beaten path. Victoria Brooks' of Greatest Escapes tells us some of the awesome offbeat things to do in San Francisco.
Stay Away From The Tourist Zone
Anne Lowrey of Part-Time Traveler gives a slew of great recommendations for those looking to experience the offbeat side of San Fran. For one, stay out of the touristy areas like Union Square, Chinatown, Fisherman's Wharf and instead venture out to iconic neighborhoods such as The Mission, The Haight (home of the hippie movement) and the Castro (one of the nation's first and most lively gay neighborhoods). According to Anne, there's plenty to see and do in those areas that is uniquely San Francisco.
Visit The Pirate Store
Anne Lowrey also suggests visiting 826 Valencia, aka "The Pirate Store." Here, you'll find pirate-themed items and gifts in a place that is actually the storefront for a writing non-profit for children run by Dave Eggers. The building was zoned as commercial, so they constructed this creative shop that sells everything from books to peg legs. She also adds that the local favorite Smuggler's Cove is another kitschy pirate spot with the city's best cocktails and a collection of over 200 types of rum.
Explore The Street Art
You may have heard of the famous streets of San Francisco, like Lombard and Castro Streets. Well, did you some of them are covered in inspiring street art?
According to Anne Lowrey, visitors should seek out the city's street art, with one recommendation being Clarion Alley Mural Project between Mission and Valencia Streets and 17th and 18th Streets.  It artfully displays some of the contemporary social and cultural issues facing the city today.
Some awesome recommendations in this list from Travel Photo Discovery. I especially love the food truck festival on Friday nights from 5-10pm in Fort Mason.
Jason McDonald presents a nice list of offbeat things to do in San Fran, like 16th Avenue Tiled Steps, the Cartoon Art Museum and eating the impressive Gordo's Burrito.
Not really a travel guide, but a listicle of fun facts from Mental Floss. Did you know the fortune cookie was invented in San Fran? Or that when Al Capone was held at Alcatraz he was in a band and played the banjo on Sundays?
Culture
Carole Terwilliger Meyers of Weekend Adventures Update suggests art lovers peruse the three permanent collection at The Presidio by English artist Andrew Goldsworthy. What's interesting about these pieces is the weave nature into the art, with two of the exhibits being in the beautiful outdoors.
Interested in seeing the best of the city? Jan Ross of Wanderlust Wonder tells of her time exploring San Fran, making stops at attractions like the Japanese Tea Garden in Golden Gate Park, the affluent Nob Hill neighborhood, Muir Woods wilderness area and Fisherman's Wharf, a great spot to hear awesome street musicians.
Mike and Luci of 1000 Places To Fight Before You Die thoroughly enjoyed their Victorian Home Walk excursion in San Francisco, exploring the beautiful architecture of the Pacific Heights area and celebrity mansions overlooking the Golden Gate Bridge.
Adventure & Outdoors
Waking Up Wild teaches us how to spy elephant seals, colonial nesting birds and more!
Amazing Views
If Jaillan Yehia of Savoir There had to provide one tip to anyone spending time in the Bay Area, it would be "to take the Golden Gate Ferry (which has been voted the #1 ferry trip in the US) over to Sausalito and check out the panoramic view of the bustling city from this quaint village. From this vantage point you have all the sights of San Fran strung out across the bay like a chain of fairy lights in front of you – from downtown San Francisco's skyscrapers, the Bay Bridge and the legendary island of Alcatraz to Berkeley and Oakland, with the endless view bookended by Belvedere at one edge and the Golden Gate, hidden by hills, at the other."
SFBayWildlife.info put together a great list of wildlife-related activities for visitors, from taking a guided walk at the Hayward Shoreline Interpretive Center to going on a whale watching excursion.
The PlanetD fills us in on some awesome hikes near San Fran (hint: the Land's End Golden Gate National Recreation Area is a must-see).
7 Best Waterfall Hikes Near San Francisco
The Bold Italic is one of the best blogs out there for those interested in San Fran (and who want to pee their pants from laughing so hard). Check out this post on awesome waterfall hikes. Other great outdoorsy guides you'll find on their site include 10 Best SF Sledding Spots, Best Camping Within Two Hours Of San Francisco and Great SF Bike Spots (or just click here to see the entire section).
Relax in SF and its surrounds, with this post by 7×7 as your guide. You may also want to Find Tranquility on the SF Bay Trail in Oyster Point.
Day Trips
Cassie Kifer of Ever In Transit has a ton of great posts about day trips from San Francisco (and San Francisco in general). Here are a few recommended reads from her blog:
Discovering Livermore Valley Wine Country
Oenophiles should consider taking a day trip to Livermore Valley Wine Country, about an hour from San Francisco. One great time to go is spring, when the valley hosts their annual Barrel Tasting Weekend, with winemakers showing off their latest creations. The region's wine history dates back to the 1760s, and interestingly about 80% of the chardonnay grapes from in California can trace their roots back here.
Hunting Mushrooms on the California Coast (and Living to Tell the Tale)
Italy isn't the only place one can forage for delicious edible mushrooms. Read about Cassie's experience exploring the Sonoma woodlands, searching for the tasty food, learning how to avoid poisonous mushrooms, rediscovering a forgotten food system — and living to talk about it. The mushroom photography is awesome, as well!
Oakland and its surrounds are home to a burgeoning craft beer scene worth exploring. Luckily, it's a do-able day trip from San Fran.
A Marin County Cheese, Oyster & Beer Tour
Want some cheese and oysters with your beer? Cassie regales readers with her experience hopping around Marin County and sampling 10+ types of cheese, tasty oysters and craft beer. Delicious!
My 5 Favorite Things To Do In Palo Alto
Palo Alto is only about 40 minutes from San Francisco, and is full of interesting things to do. I don't want to give away Cassie's whole article, but I will say that those who love being active and healthy will definitely enjoy this city.
An Epic Big Sur Road Trip Itinerary
Keep in mind, too, that San Francisco is a great addition to a scenic Big Sur road trip itinerary! Big Sur is full of scenic vista points, hiking trails, beaches, wildlife, and more! It's also a top spot for solo female travel in California.
Have any San Francisco travel tips to add?
Other California Travel Guides:
10 Best Places For Solo Female Travel In California
Driving Big Sur: Best Big Sur Road Trip Itinerary (Top Views + Stops!)
An Unforgettable Itinerary For Yosemite National Park (1, 2 & 3 Days)
One Day In Sequoia National Park: The Perfect Itinerary (Epic!)
How To Hike Vernal & Nevada Falls via The Mist Trail in Yosemite National Park
Hiking The Hidden Valley Trail in Joshua Tree National Park
Weekend In Paso Robles: What To Do In Paso Robles With 3 Days (Epic!)
Solvang Itinerary: How To Have The Perfect Weekend In Solvang, California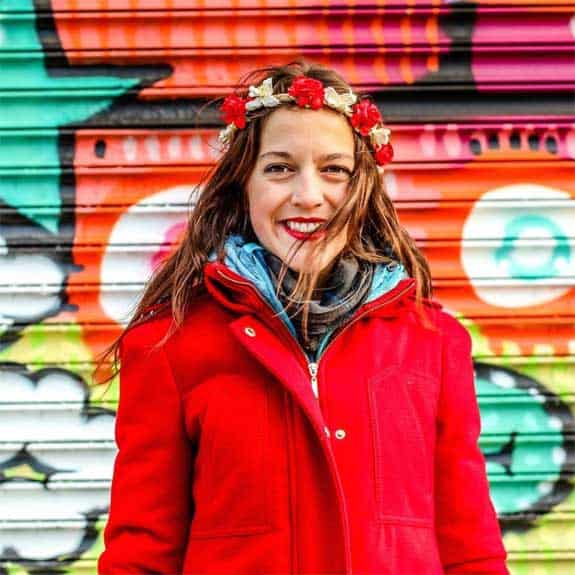 Hi, I'm Jessie on a journey!
I'm a conscious solo traveler on a mission to take you beyond the guidebook to inspire you to live your best life through travel. Come join me!
Want to live your best life through travel?
Subscribe for FREE access to my library of fun blogging worksheets and learn how to get paid to travel more!