Solvang Itinerary: How To Have The Perfect Weekend In Solvang, California
By Jessie Festa. This guide on things to do in Solvang includes affiliate links to trusted partners!
Looking to spend a weekend in Solvang, California?
I recently had the pleasure of visiting this unique city, which transports you to Denmark through Danish architecture (complete with windmills and thatched roofs!), food, and culture.
You'll also find loads of shops selling Danish products and unique gifts around Solvang, not to mention you're only a short drive from vineyards, beaches, hiking, and more.
And in my opinion, it's a worthwhile destination whether you're planning a California road trip or just looking for somewhere that is totally different from other cities in the state.
This is exactly why I created the below guide. By the end, you'll have an epic Solvang itinerary mapped out — no planning required.
Quick tip: One thing Solvang is known for is its incredible wine country location. Make sure to book at least one of these fun local wine tours during your weekend stay!
Free Ultimate Travel Planning Kit
But, first, before we dive into the top things to do in Solvang this weekend, I want to invite you to grab my free Ultimate Travel Planning Kit — which also includes a downloadable Google Map of my full Solvang itinerary.
Simply add the map to your phone to have it ready to go for your trip.
Bonus: The kit comes with 40+ other travel resources — from printables to quizzes to itineraries — all meant to help you explore the world beyond the guidebook!
History Of Solvang
Let's kick off this guide to things to do in Solvang this weekend with a little history lesson.
According to the welcome booklet at the King Frederik Inn, Solvang — which means "sunny field" in Danish — was founded by Danish immigrants in 1911 on 9,000 acres.
It was important to these immigrants to preserve their native culture, so they built a Danish folk school and a church — which was located at what is now the Bit O'Denmark Restaurant — and, in 1914, Atterdag College, which is now where you'll find Solvang Lutheran Home.
In 1936, Solvang had two very important visitors, the future Danish king and queen, which got people more and more interested in the local colony.
Interestingly, it wasn't until 1946, after WWII had ended, that plans to create an authentic Danish village were brought to life.
Today, you can walk around this village — which boasts numerous restaurants, wineries, shops, and hotels — and feel like you're traveling Europe even though you're actually still visiting California.
How To Get To Solvang CA
Driving To Solvang
My husband Andy and I visited Solvang as part of a longer California road trip. More specifically, it was our next stop after driving Big Sur and then exploring the many things to do in Paso Robles. Another nearby highlight is exploring the many opportunities for hiking in Pismo Beach, a popular California city to visit.
The closest airports are:
Santa Barbara (21 miles)
Burbank (106.3 miles)
Los Angeles (109.2 miles)
Most travelers to Solvang take Highway US 101 to Buellton. From there, take exit 140A for CA-246 toward Lompoc/Solvang. Then you'll drive on CA-246 E for about three miles to Solvang.
A major driving perk:
Parking is free everywhere in the Solvang Danish Village!
If you need to rent a car, I recommend using Discover Cars to quickly compare your rental options.
Getting To Solvang via Public Transportation
There are also a few public transportation options for getting to Solvang.
First of all, you can take an Amtrak Thruway Bus to Solvang from Santa Barbara or Los Angeles.
Moreover, Santa Ynez Valley Transit (SYVT) offers transit bus options between Solvang, Buellton, Santa Ynez, and Los Olivos. You can click here to see their routes.
There is also the Breeze Bus, which services Santa Maria, Vandenberg AFB, Lompoc, Los Alamos, Buellton, and Solvang.
Getting Around Solvang CA
You'll likely spend most of your time in Solvang exploring its Danish village, aka Little Denmark, which is extremely walkable. This feature also helps to make Solvang one of the best places to travel alone in California.
Alternatively, you can get around Solvang and its surrounding areas by car, tour, the Santa Ynez Valley Transit (SYVT), and Breeze Bus.
Map Of Solvang
To help give you a lay of the land, here is a map of Solvang:
You can also click here to grab access to my free Ultimate Travel Planning Kit, which includes a Google Map of the Solvang itinerary shared below!
When To Visit Solvang
While Solvang is a year-round destination, the best time to visit is typically April until November. This is when you'll find the best weather in Solvang as well as the most going on in terms of events and things to do.
In the winter, Solvang weather is chillier and wetter than other seasons.
Where To Stay In Solvang
One hotel in Solvang I can personally recommend is the King Frederik Inn, a budget-friendly boutique hotel with friendly service and a great location right in the heart of the Solvang Danish Village.
A few onsite amenities include an outdoor pool and hot tub, free WiFi, and complimentary breakfast from the famous Olsen's Danish Village Bakery — one of the most famous Danish bakeries in Solvang. More on them below!
Other highly-rated local hotels right in Solvang village include The Landsby, The Mirabelle Inn, Kronborg Inn, and Wine Valley Inn & Cottages.
Still need other suggestions for places to stay in Solvang CA?
Click here for a full list of hotels in Solvang!
Prefer self-contained stays?
Click here for a full list of local rentals!
You can also check out the map below:
Top Restaurants In Solvang
There are many great restaurants in Solvang serving everything from typical Danish fare to global cuisine and beyond.
One important note is that restaurants in Solvang tend to close early, so if you typically eat around 8pm or later you'll want to plan to eat around 6pm instead.
Dinner In Solvang
Solvang Brewing Company
This being said, there are a handful of restaurants open a bit later — like the Solvang Brewing Company, which not only serves delicious craft beer but tasty pizzas, Black Angus burgers, sandwiches, and soups until midnight (or 1am on weekends).
I ordered a delicious Fresh Veggie Pizza topped with mozzarella, red sauce, tomatoes, cremini mushrooms, roasted red pepper, red onions, fresh arugula, crumbled goat cheese, and a balsamic-soy drizzle.
Bonus: Their outdoor patio is adorable as you dine and sip under a giant windmill!
Mad & Vin
Located in the stylish Landsby Hotel, Mad & Vin transports you to wine country with farm-to-fork dishes and delicious glasses of local vino served in a modern rustic space.
Expect lots of seasonal ingredients from California's central coast with dishes like a Santa Ynez Burger made with Wagyu beef and served with duck fat fries and a Cioppino featuring wild red shrimp, clams, local fish, calamari, and crab in a Calabrian pepper-tomato broth seasoned with basil.
While Mad & Vin is listed in the dinner section, they also serve a great breakfast and lunch — and even a delectable weekend brunch between 7:30am and 2pm complete with Bloody Marys, mimosas, and more.
SY Kitchen
While not directly in the walkable village of Solvang, it's worth the short less-than-10-minute drive to dine at this ambient Santa Ynez restaurant.
Enjoy Italian cuisine in a beautiful farmhouse or out on the patio under whimsical strings of bare bulb lights.
Start with some house made bread or the Wagyu meatballs before moving on to one of the homemade pastas or woodfire oven pizzas. For your main course, choose from options like King salmon in puttanesca sauce, oak-grilled half jidori chicken with spicy Calabrian chili, and t-bone sliders in truffle cheese. Yum!
Lunch in Solvang
Solvang Restaurant (with aebleskiver for dessert!)
If you're looking for a typical Danish lunch, look no further than Solvang Restaurant, which has a friendly diner feel and serves omelettes, Belgian waffles, and sandwiches alongside classic Danish eats.
When visiting, we ordered a plate of Danish-style meatballs with red cabbage as well as a plate of Danish smørrebrød — open-faced sandwiches on pumpernickel bread topped with ham, Danish cheese, roast beef, or meatball and served with potato salad.
Of course, you can't eat at Solvang Restaurant without trying their famous aebleskiver — a Dutch pancake topped with jam and powdered sugar (though depending where you get it the recipe can vary).
According to the restaurant menu, one theory as to how aebleskiver came to be is that after a particularly hard battle, a group of Vikings were hungry for pancakes. As they didn't have cooking supplies, they used their dented shields to cook on and thus aebleskiver was born.
Whatever the real history of the dish is, there is no denying it is delicious!
Copenhagen Sausage Garden
This lively outdoor garden features loads of picnic tables and serves a variety of beer and sausages. Order a sausage trio, a large pretzel, and a Belgian beer for the perfect afternoon meal.
Succulent Cafe
Craving some made-from-scratch comfort food? Head to Succulent Cafe, a Solvang restaurant known for its local wines, craft cocktails, homemade charcuterie, and satisfying breakfast and lunch plates.
Some standout dishes include the Succulent Biscuit showcasing cinnamon and cumin pulled pork, bacon gravy, and fresh pineapple chutney on a homemade biscuit, and the Grilled Vegetable Sandwich featuring fresh vegetables drizzled with balsamic vinaigrette on ciabatta.
Breakfast In Solvang / Solvang Cafes
Olsen's Danish Village Bakery
You can't visit Solvang without popping into this famous old world bakery where you can enjoy European cookies, Danish pastries, and sweets.
One treat you absolutely must try is the "kringle" — a buttery pretzel-shaped coffee cake filled with almond.
Good Seed Coffee Boutique
Calling all coffee snobs: you absolutely must pop in for a cup of Good Seed Coffee Boutique's in-house roasted coffee.
Compared to Olsen's, this spot has more of a hipster vibe, with menu items like superfood lattes, single origin espressos, scones made with seasonal ingredients, and other organic baked goods.
They also have a delicious selection of house-made breads as well as a breakfast bowl with egg and hash browns if you'd like a heartier menu item.
Paula's Pancake House
Trying Danish pancakes is a must when visiting Solvang, and Paula's is the perfect place to dig in.
Danish pancakes tend to be round, crispy, and thin, and at Paula's you can have them with a variety of toppings — like warm cinnamon apples, blueberries, or strawberries. Or, if you're feeling extra hungry, you can get them topped and stuffed with Danish sausage or diced ham.
Prefer buttermilk pancakes? They have those, too, along with other breakfast favorites!
Best Things To Do In Solvang
Now that you know what to eat, let's talk about what to do in Solvang, like:
Visit The Elverhøj Museum of History & Art
Located in a Scandinavian-inspired house, the Elverhøj Museum of History & Art is an excellent place to start your trip if you'd like to get a good sense of what Solvang is all about.
Here you can peruse exhibits about Danish culture as well as Solvang's history, looking at displays on how early settlers lived, handmade furniture, toys (the Danish doll house is really neat!), paintings, photographs, a film allowing you to "meet" local Solvang residents, and more — not mention a gift shop selling unique items.
Ongoing exhibits include Elverhøj Around Town and Viking Exhibit, and then there are rotating exhibits, as well.
Pro tip:
Even if you don't have time to stop in the museum, it's worth walking by to admire the Scandinavian-inspired house that the museum is located in. Interestingly, it was the former home of one of the city's most artistic families, Viggo Brandt-Erichsen — an internationally recognized painter and sculptor — and his wife, Martha Mott, a talented painter and art teacher.
They dreamed up the house, which includes stunning ornamental wrought ironwork and a carved redwood main entry door — to name a few of the many notable features.
Admission to the museum is free, though donations are appreciated.
Find Solvang's First Settlement Sites
Now, if you'd like to see some of the early settlements mentioned above and others, the Solvang Visitor Center actually offers maps that can help you do a self-guided walking tour.
Their address is 1637-1639 Copenhagen Drive.
Explore The Hans Christian Andersen Museum
If you're a literary lover, this Solvang attraction is for you!
Hans Christian Andersen was a world-renowned author who wrote plays, poetry, novels, travel books, and, possibly his greatest contribution to the world, fairy tales.
I mean, I think most of us know "The Little Mermaid", "The Princess & The Pea", and "The Ugly Duckling", to name just a few of his many stories.
The Hans Christian Andersen Museum in Solvang may be small, but they do a great job celebrating the author by showcasing his books, exhibits on his life, and a collection of his paper scene cuttings — another one of his talents.
There is even a section dedicated to "The Little Mermaid" with photos of the famous mermaid statue in Denmark.
And if you're in the market for a new novel, the museum is located on the upstairs level of The Book Loft book shop.
Admission to the museum is free, though donations are appreciated.
Shop "Little Denmark" & Admire The Architecture
One of the best things you can do in Solvang is simply wander the walkable Danish village, which is full of shops and local businesses just waiting to be discovered. Just a few of the many unique stores in the village include:
The Copenhagen House. This ultra modern shop delivers contemporary Danish design through jewelry, housewares, furniture, unique gifts, and more. Walking around the store truly feels like you're in the hip city of Copenhagen.
A Piece Of The Past Antique & Vintage Mall. Solvang has a number of antique shops, and this is considered one of the best, especially as there are 28 different dealers inside selling antiques, vintage furniture, and collectibles.
Hanson's Clock Shop Jewelers. Open since 1969, this family-run shop sells clocks, jewelry, and watches, with one of their specialties being Black Forest Cuckoo Clocks.
Jule Hus. If you love visiting European Christmas markets then you'll definitely want to pop into this Christmas-themed store. "Jule Hus" actually means "Christmas House", and inside you'll find Old European Christmas ornaments with Scandinavian scenes, German wood Nutcrackers, European collectibles (like Wendt & Kuhn angel and Santa figures), and more!
These are just a few of the many stores in Solvang worth browsing!
Pro tip:
Make sure to admire the architecture while you're exploring. One of the most charming features of Solvang is the Danish architecture, and you'll see windmills and building features like thatched roofs, half-timbered facades, and hand painted panels.
There is even a clock tower that plays seasonal music!
Step Back In Time At The Old Mission Santa Ines
If you're looking for Solvang things to do this weekend, consider visiting this popular and important attraction.
The Old Mission Santa Ines is a former Spanish mission named after St. Agnes of Rome. It was the first European settlement in the Santa Ynez Valley, started in 1804 to help alleviate issues of overcrowding at the nearby Mission Santa Barbara and Mission La Purísima Concepción.
Today, the mission serves as a museum and parish — and is also considered a National Historic Landmark, largely thanks to the fact that it is one of California's most well-preserved missions.
You can peruse the small museum with its exhibits, artifacts, and works of early European and Native American art as well as wander the beautiful well-maintained gardens.
During Sunday Mass, the service is broadcast outside and listening to the hymns while wandering is a lovely experience.
Pro tip:
The Old Mission Santa Ines exudes peace, so arrive early to have the place all to yourself and really take in the tranquility.
Go Hiking At Figueroa Mountain
If you love seeking out the world's best hiking trails, you'll find some great options near Solvang CA.
One of these is Figueroa Mountain, a 4,534-foot mountain in the San Rafael Mountains within the Los Padres National Forest.
Summiting the mountain is possible via a moderate 3.9-mile out-and-back trail offering beautiful views the entire way up. Along the way, you'll see the surrounding mountains and hills as well as nearby Lake Cachuma.
Around the mountain, you'll also find other trails, like Figueroa Castle Rock (moderate) and Grass Mountain (hard). Here is more information as well as a PDF map. Additionally, here is a Google Map of the area showing the local hiking trails.
After hiking, grab a beer at the Figueroa Mountain Brewing Company!
Explore Lakes & Waterfalls
If you're enchanted by beautiful water features, you can find plenty of them near Solvang.
First of all, just 10 minutes from Solvang is Nojoqui Falls County Park, home to Nojoqui Falls, which you can reach via short 0.8-mile canyon trail. Just note that the waterfall can be pretty dry in late summer, so it's best to visit in spring.
There is also Lake Cachuma, which is only 15 minutes from Solvang. This beautiful 4.9-square-mile lake is a great spot for photography, camping, fishing, swimming, picnicking, and bird-watching, as there are 275 species of birds. You may also see wildlife like bobcats and deer.
Visit The Best Wineries In Solvang CA
Solvang is located in California's Central Coast Santa Barbara County wine country — which is home to over 120 wineries — so you have many opportunities to sample delicious local vino.
There are even spots right in the walkable village of Solvang, which has the added benefit of nobody needing to be the designated driver. A few of these spots include:
Lion's Peak Winery Tasting Room. While pricey at $20 per glass, the service is excellent, the wine is delicious, and you can sit outside and enjoy the ambience of Solvang. My favorite wine was a unique rose made with Cabernet grapes! They also do guided tastings that take you through five wines.
Toccata Tasting Room. If you'd like to take a trip to Italy, head here for a Tuscan ambiance and wine made with Italian grapes — which you can enjoy in their courtyard on tables made of barrels.
If you'd like to continue tasting your way through Europe, head across the street to Lucas & Lewellen, their sister tasting room offering wines made with French grapes.
Royal Oaks Winery – Solvang Tasting Room. If you like fruit wine, this should be your go-to spot as they've got a huge selection — with unique options like marionberry, golden pineapple, and tropical nectar. Plus, they've got white, rose, and red, too. Sip a glass on their outdoor patio and watch the world go by.
Visit The Best Vineyards In Solvang CA
If you don't mind getting in your car or booking a wine tour (like this one), you can also visit some incredible local vineyards — many of which offer beautiful properties and stunning views, like:
Kalyra Winery. This chill surf-themed winery has a beautiful patio as well as a yard with Adirondack chairs overlooking the Santa Ynez Valley and its rolling hills and endless rows of grapes.
They make wine with varietals from around the world — including Australia, Portugal, France, Spain, and Italy — which you can try through a glass or one of the many flight options. On a hot day, I absolutely loved a glass of the Grenache Rose!
Make sure to head into their tasting room to peruse the shop of locally-made jewelry and bath products.
Sunstone Winery. For something with more of an upscale luxury vibe, this stunning organic vineyard, winery, and villa transports you to Europe — particularly through the architecture. In fact, the onsite members-only villa features limestone sourced from a small French village as well as wood beams and roof tiles reclaimed from a 19th century lavender factory once owned by Queen Victoria.
Even if you're not a member, having a glass of Estate Cabernet Franc or crisp Fume Blanc in their Provençal French courtyard is a beautiful experience. You can even bring lunch and picnic on the property.
Or if you're feeling fancy, make a reservation for one of their intimate private tastings for groups of six or more. There are a range of options to choose from — from tasting in a wine cave to the old world villa mentioned above.
If you're looking for Solvang activities this weekend, definitely check out the above spots!
Go fruit picking
Delicious wine isn't the only crop the Santa Ynez Valley is known for. In fact, there are numerous opportunities to pick seasonal fruits.
Between July and October you can pick your own fresh raspberries and blackberries. Morrell Nut & Berry Farm is a fun spot for this, as it's a turn-of-the-century property that transports you back in time.
Visiting in winter? In October and November, the farm grows uber tasty sun-dried walnuts — a must-try when spending time in the Valley.
From August through October, go apple picking! You can pluck juicy Gala, Fuji, Winesap, and other apple varieties at one of the many orchards, like Summerset Farm, who also grow raspberries and blackberries, among other fruits.
Explore The Vintage Motorcycle Museum
In between sipping wine and eating Danish food, stop into the Vintage Motorcycle Museum to see Virgil Elings impressive collection of vintage and rare motorcycles and European race bikes.
The focus is on racing bikes, and the bikes in the collection date back to 1910. If you're a returning visitor, they rotate certain bikes to keep things interesting!
See A Show At The Solvang Festival Theater
There isn't a bad seat in the house at Solvang Festival Theater, a 700-seat outdoor concert space and playhouse.
Picnic on the grass before seeing shows like Million Dollar Quartet and Gentleman's Guide To Murder — though there is a concession stand for during the show, too.
Go Horseback Riding At Vino Vaqueros
If you've ever dreamed about horseback riding through rolling hills of wine grapes, you should book an experience with Vino Vaqueros Horseback Riding.
Horseback ride on the stunning property of Estelle Vineyards in Santa Ynez. You can choose to book just a ride — perfect if you're looking for things to do in Solvang with family — or end your ride with a glass of vino made from the very grapes you horseback rode through!
Take A Day Trip To Santa Barbara
Located just 33 miles from Solvang is California's famous Santa Barbara, known for its great restaurants, beautiful beaches, and Pacific Ocean views. A few of its most unique not-to-miss experiences include:
Stearns Wharf. Dating back to 1872, Stearns Wharf is home to restaurants, souvenir stores, ice cream shops, and more. Order some delicious seafood while enjoying beautiful views.
Ganna Walska Lotusland. Love flowers? This non-profit showcases over 3,000 plants from around the world! Here, you can explore 37 acres of stunning gardens and ask on-hand docents any questions that arise.
Arroyo Burro Beach. Of course, you can't visit Santa Barbara without spending time at the beach. Arroyo Burro Beach — sometimes called Hendry's Beach — is the perfect place to surf, swim, and stroll the shore.
Shoreline Park. Additionally, don't miss the incredible views of Santa Barbara city, the coastline, and the Santa Ynez Mountains from Shoreline Park.
Click here for some other top Santa Barbara experiences.
Tours To Add To Your Solvang Itinerary
If you enjoy guided tours, there are a number to choose from in Solvang, like:
Click here for a full list of tours in Solvang CA.
A Fun Weekend In Solvang Itinerary
Now that we've gone over some of the many fun things to do in Solvang, let's lay out a suggested itinerary. Follow the below for the perfect Solvang weekend getaway or tweak it to fit your interests!
Friday
Breakfast at Olsen's Danish Village Bakery (or get pastries free from the King Frederik Inn if you're a guest)
Visit The Elverhøj Museum of History & Art
Visit some of the early settlement sites
Lunch at Solvang Restaurant
Explore the local shops and admire the Danish architecture
Visit a few of the tasting rooms within the village
Dinner at Solvang Brewing Company
Enjoy the pool and hot tub at the hotel
Saturday
Breakfast at Paula's Pancake House
Visit the Old Mission Santa Ines
Lunch at the Copenhagen Sausage Garden
Spend the afternoon exploring the local wineries (or book a wine tour)
Dinner at SY Kitchen
Enjoy the pool and hot tub at the hotel
Sunday
Check out of hotel
Breakfast at Succulent Cafe or Good Seed Coffee Boutique
Visit the Hans Christian Andersen Museum
Go hiking at Figueroa Mountain
Head home
Annual Events In Solvang
I do recommend adjusting your Solvang itinerary if you happen to visit during one of the city's festive annual events, a few of which include:
Solvang Danish Days. This exciting cultural festival showcases Danish heritage through parades, Danish folk dances, music performances, and traditional foods. Attending is one of the top free things to do in Solvang all year!
Solvang Julefest. This fun Holiday Solvang festival includes a Santa's village, parade, tree lighting ceremony, candlelight tours, and a hunt for the Solvang Nisse — a friendly goblin from Scandinavian folklore related to the Winter Solstice and the Christmas season.
Garagiste Festival Southern Exposure. Love wine? Then you won't want to miss this annual Solvang event, which gives you the chance to meet small under-the-radar winemakers and taste the fruits of their labor — literally.
Renting A Car In Solvang
As stated above, you'll want a car for your trip to Solvang. And if you need to rent a car, I highly recommend using Discover Cars to quickly compare your rental options.
Their comparison tool does the homework for you, so there's no need to have up 10+ tabs trying to figure out which company is the most affordable. Actually, you can save up to 70% using their tool!

Travel Insurance For Solvang
When visiting Solvang — or anywhere else in the world — it's wise to get travel insurance.
One of the best travel medical insurance for travelers is SafetyWing as they've got a large network and offer both short-term and long-term coverage — including coverage if you're traveling for months as well as limited coverage in your home country.
Additionally, SafetyWing is budget-friendly and offers $250,000 worth of coverage with just one low overall deductible of $250.
Click here to price out travel insurance for your trip in just a few clicks.
What would you add to this weekend in Solvang itinerary?
Enjoyed this Solvang weekend getaway guide? Pin it for later!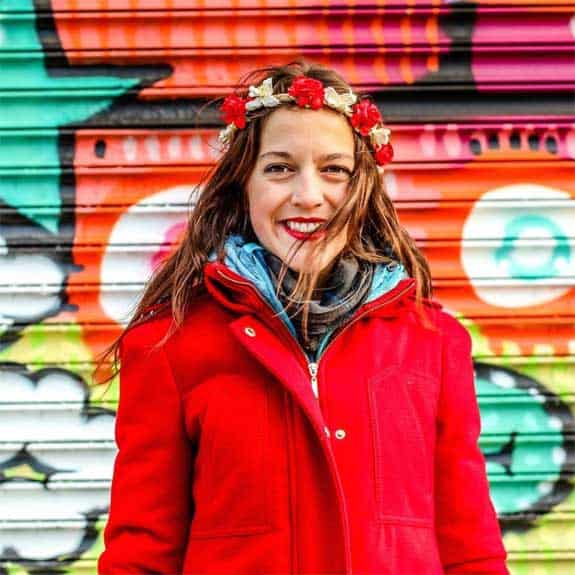 Hi, I'm Jessie on a journey!
I'm a conscious solo traveler on a mission to take you beyond the guidebook to inspire you to live your best life through travel. Come join me!
Want to live your best life through travel?
Subscribe for FREE access to my library of fun blogging worksheets and learn how to get paid to travel more!