Solo Female Travel Iran: 11 Tips For Traveling To Iran As A Woman Alone
By Agnes Simigh. This solo female travel Iran guide contains affiliate links to trusted partners!
Considering traveling to Iran as a woman alone?
It's great that you've decided to travel to Iran, despite it being a country with one of the worst reputations in the media.
Likely, you've had some serious discussions with your family before the trip to convince them that everything will be fine.
Because here's the truth about Iran tourism:
Iran is safe and is also one of the most rewarding travel destinations.
Moreover, Iran is a country where you feel special as a solo female traveler because you'll receive so much kindness from locals who want to ensure you return home with pleasant memories.
But when you enter the Islamic Republic, you'll want to weigh the pros and cons of solo travel. There are some important considerations to keep in mind as a woman if you want to avoid inconveniences or even punishments.
Free Solo Female Travel E-Course
Now, before we dive into our solo female travel Iran guide, I invite you to grab a seat in the free Savvy Solo Traveler E-Course.
The six-day e-course is designed to help you feel confident about booking your first solo trip and exploring the world alone.
Lessons include:
Common solo travel fears and how to overcome them
How to choose your perfect solo trip
How to tell loved ones you're hitting the road solo
Mentally preparing for your solo journey without losing your mind
Essential steps for staying safe on a solo trip
How to take amazing solo selfies
Once you've grabbed your seat, keep reading to learn some important things to know before visiting Iran — one of the top places for solo travel in the Middle East!
11 Tips For Traveling To Iran As A Woman Alone
Living in Iran as a woman — or even a man — comes with some very specific rules.
And while these rules are sometimes laxer for visitors, this is not always the case. Plus, as a visitor to another country, it is also smart to do as the locals do and follow the local laws. This is very important to understand if you want to travel solo successfully.
1. You must follow the compulsory dress code as a solo female traveler
You may have been to other countries in the Middle East and saw local women wearing chador or hijab while foreigners were still moving around freely in their Western clothes.
This is not the case in Iran.
Foreign women must follow the rules as soon as they land in Iran. The only place you can remove your headscarf is in your hotel room.
But it is a misbelief that women must wear a black full-body chador. You will see that Iranian women like colors. Only those from conservative, religious families cover themselves in black chador from head to toe, but it is not the norm.
According to Islamic law, women must cover their whole body except:
• The wrists to the fingertips,
• The ankles to the toes and,
• The face.
But this is not exactly how most Iranian women dress up.
In practice, they do not fully comply with the Islamic dress code. They wear trousers and manteau (tunic) that let their ankles and wrists be seen.
The rules have not changed, but the control is less severe today.
It seems complicated at first to understand what you can wear as a solo female traveler in Iran. Officially, women should not wear any tight dresses that reveal their shapes.
Still, young Iranian ladies wear skinny jeans with a manteau of mid-thigh length. Mid-thigh is very important. If the shirt only covers your bottom, it is not enough. The shirt must have long sleeves or end just a little bit above the wrist.
Additionally, your shoes can be open, and you can wear sandals.
Women must cover their hair with a scarf; however, in practice, women let their hair be well seen under the scarf. The point is to cover some parts of the hair.
But there is no rule about the color of the dress and scarf. Many Iranian ladies wear pink, red, blue, and yellow outfits and want to look pretty. As a female foreign traveler, you can easily feel underdressed next to them.
If you hesitate to wear make-up in a rigorous Islamic country, then you may be surprised that Iranian women hardly leave their homes without it. Since they must cover most of their body, for many women this is the way to express their femininity.
Guidance Patrol — also known as the Morality Police or the Fashion Police — randomly turns up at public places to check if women comply with the dressing rules. Most of the time, they are less strict with foreigners, but it is better to follow the rules.
Those who ignore the dressing rules can quickly end up at the police station or even be imprisoned if it is not their first offense.
One more thing:
Even if you think you are alone, please do not remove your scarf. Controls can happen anywhere, even if you are hiking in the mountains.
2. What to pack for your trip as a solo female traveler to Iran
As mentioned before, packing appropriate clothes is the most important issue for a solo female traveler in Iran.
Recommendation:
– Bring a few pairs of trousers as you cannot wear skirts in Iran. If you travel during summer, try to take summer trousers made with light material because the temperature can exceed 40°C (104°F) in the desert areas. Skinny jeans are absolutely fine if you wear a long shirt or "manteau" that reaches your mid-thigh.
– Bring long blouses, shirts, or cardigans. You can wear a regular small T-shirt with a long cardigan on the top.
– The manteau is very practical but not something a Western female traveler typically has in her wardrobe. Do not make a big deal of the cloth. It is also okay to have just one for the first few days and then head to some shopping mall or bazaar to buy more. A thicker manteaux is practical in the wintertime, but a shirt with a cardigan is more comfortable during summer.
– Have a couple of scarves with you. If you want to look pretty, bring scarves that match the color of your dress. These can be any color.
– The rest depends on when and which part of Iran you visit. It gets scorching hot between April and October in the center and south of the country.
3. Tips about safety in Iran as a solo female traveler
Iran is a safe country and there are many reasons to visit Iran. In fact, you will likely feel as secure walking around at night as you do in many other European cities.
Of course, as with anywhere, take care of your belongings and know how to avoid pickpockets.
This being said, crimes committed against foreign travelers are rare.
In fact, you'll often see women and children traveling on long-distance night buses, which can help you feel at ease.
Moreover, bus drivers typically offer female foreign travelers to sit in front. If there is no free seat there, they have you sit next to another female passenger.
Basically, they do their best to make you feel completely safe during the journey.
4. You can smoke but cannot drink alcohol or dance
Men and women who are 18 years or older can smoke publicly.
You'll see a few women smoking in cafés and on the streets, but many of them smoke secretly. Shisha has also become popular in recent years among young men and women.
Alcohol is strictly forbidden in Iran. If you were thinking about bringing some with you in your suitcase, forget it because they check your luggage upon arrival.
Additionally, there is not much nightlife in Iran as bars and discos were closed after the Islamic Revolution in 1979. Plus, women are forbidden to dance in public in front of men as this may raise their sexual interest.
This all being said, young Iranians often break the rules and participate in mixed-gender private parties where they consume alcohol. If you make locals friends, they may invite you, but you should know that it is illegal.
5. Do not photograph government buildings or sensitive areas
Taking photos of popular tourist attractions in Iran like the Milad Tower or the Golestan Palace — both located in Tehran — is not a problem; however, it is strictly forbidden to take photos of local government buildings.
This is something to be taken extremely seriously, as possible punishments include lashings or imprisonment.
Also, do not take pictures near border areas or nuclear stations. The problem is that many times you cannot be aware that it is a sensitive area. Especially around the borders, it is better not to take any photos.
6. Use a VPN to get access to social media and websites
You cannot use Viber, Twitter, Facebook, YouTube, Snapchat, Tiktok, or Tinder in Iran.
Additionally, the Iranian government blocks many popular websites like BBC, Fox News, CBS News, CNN, and NBC.
But there is a way to get around it, as most Iranians do. You need to download the VPN (Virtual Private Network) like ZenMate to access anything blocked by the regime.
The main problem for foreign tourists is when the host country restricts access to social networks and sites for users located in Iran.
For instance, PayPal and Tinder — as well as some online stores like Amazon — are blocked through the IP address of Iran. A VPN does not help you in this case.
7. Do not drive a car in Iran, but instead use public transport
Women have long been allowed to drive a car, and there is nothing unusual about that.
But even if in other countries it works well, I would not recommend it due to the crazy traffic in Iran.
Iranians are lovely and friendly, but turn crazy when they get behind the wheel.
Women have a particular place to sit at the back of local buses, and the Tehran metro has women-only compartments. You can even take a taxi with a female driver. It means you can completely feel safe in Iran.
Taxis usually depart when they are full unless you pay for the missing persons or for the whole taxi. Then, you do not need to wait. If you want to have a private ride, just say darbast.
There are frequent bus connections between the big cities in Iran at any time of the day. Buses are cheap, and you even have the option to take a VIP bus for a slightly higher price. VIP buses with their huge armchairs are incredibly comfortable.
If you want to travel by car to be more flexible than rent one with a driver.
8. Know what to do if you get invited into a local home
Iranian hospitality is unparalleled, and the locals are some of the friendliest people on earth.
As a solo female traveler, you attract even more attention and care from the locals, and they'll very likely invite you into their homes.
There is nothing to be worried about here, and accepting the invitation will likely lead to a great opportunity to see the Iranian way of life.
But you should know about Iranian ritual politeness — aka the taarof.
As a stranger, you cannot possibly understand how it truly works because what they say is not what they mean.
But it is the local etiquette. For instance:
If they invite you for dinner, it may be just out of politeness, but you should not say yes. But if they insist that the offer is genuine and there is no reason to be worried, you can accept it.
Another common situation is when the taxi driver refuses to take money from you at the end of your ride. But do not make the mistake of not paying him. It is just taroof!
9. Bring enough cash and change money at the official money exchanger
Unfortunately, you have to walk around with a lot of cash in Iran as international credit cards do not work here due to the international sanctions. Only a few shops accept credit cards from people who have dual citizenship.
Luckily, it is no problem to exchange Euros, US Dollars, British Pounds, and other types of currency. Note that people will approach you in the street and offer to change your money, but it is safer to go to an official money exchange.
The Iranian currency, the Rial, has lost a lot in value lately due to international sanctions, which means that Iran is very cheap to travel to at the moment.
10. How to behave with local men
In Iran, there are strict rules about relations between men and women. Officially, women can only kiss and shake hands with their father, brother, uncle, grandfather, husband, newphew, and father-in-law. Any other physical contact between men and women is prohibited.
But, things have changed a bit in the last decades. Now women also shake hands sometimes with men, so you can too.
Locals are also more lenient with foreigners.
Some unmarried couples walk hand in hand, but they are still not allowed to hug and kiss each other.
Sexual relationships outside marriage are punishable.
11. Do not give a thumbs up in Iran
You should avoid giving a thumbs up in Iran, as it has another meaning here. You may automatically want to express that something was great by giving a thumbs up, but in Iran, it means the same as giving the middle finger in the West.
The same goes for hitchhiking; the correct way is to shake your hand for the passing cars.
Despite some restrictions, Iran is one of the best places to travel because it has so much to offer.
From the desert to snow-covered mountains and coastline, it has stunning landscapes.
Moreover, you can stroll around in bazaars, visit royal palaces, and spend time at jaw-dropping blue-tiled mosques, as well.
And if you keep the above tips in mind as a solo female traveler, you will have a wonderful time.
Traveling To Iran As An American
Can an American travel to Iran?
At the time of writing, it is legal for Americans to travel to Iran.
Note that by law Americans do need to have a private guide with them throughout their Iran trip or book a group tour. You can view some Intrepid Travel tour options here as well as the company's Women's Expeditions here, which are geared toward women and may be appealing for female travelers.
You can visit the U.S. Department Of State website for the most up-to-date inforamtion here.
What tips would you add to this guide on traveling to Iran as a woman alone?
About Agnes Simigh
Agnes Simigh is a passionate tour guide and travel writer who is curious to discover places that seldom catch the attention of the media or that are misrepresented. Her goal is to inspire you to choose off-the-beaten-track destinations by sharing objective and detailed information. She believes that it is mainly the lack of "intel" that keeps us away from incredible places, and that just shouldn't be the case. You can read her stories on her travel blog, Voices of Guides.
Featured solo female travel in Iran image via Tima Miroshnichenko/Pexels
Enjoyed this post on traveling to Iran as a woman solo? Pin it for later!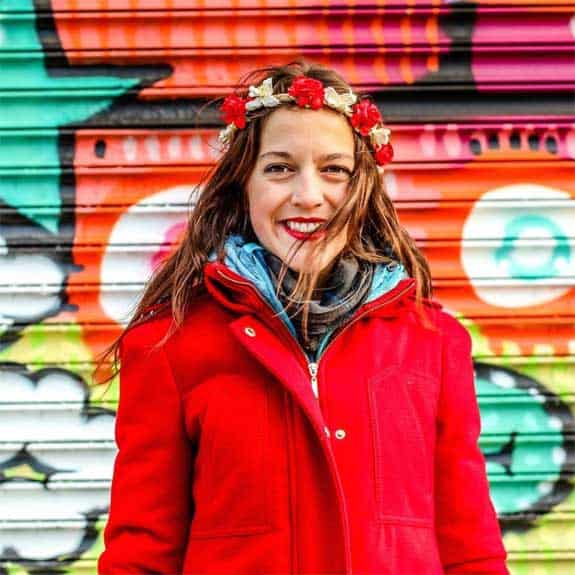 Hi, I'm Jessie on a journey!
I'm a conscious solo traveler on a mission to take you beyond the guidebook to inspire you to live your best life through travel. Come join me!
Want to live your best life through travel?
Subscribe for FREE access to my library of fun blogging worksheets and learn how to get paid to travel more!