Charco Prieto Waterfall: Hiking To Puerto Rico's Secret Waterfall
By Jessie Festa. This guide to hiking to Charco Prieto Waterfall contains affiliate links to trusted partners!
Winding roads take us higher and higher, twisting and turning above the island.
While Puerto Rico is known for its famous El Yunque rainforest, today I'm getting off the beaten path and visiting a place tourists rarely go: Charco Prieto, located in the northern coastal valley in Bayamón.
The goal is to hike to Charco Prieto Waterfall, a 130-foot waterfall that is known as one of the best waterfalls in Puerto Rico. This trail was actually created by Jerry of Jerry's Adventures, the company guiding me on today's experience.
Along the way, our guide Manuel entertains the group with trivia related to Puerto Rican history and culture.
For instance, did you know the original name of the island used by the Indigenous Taíno people was Borikén (or Boriquén), meaning "the great land of the brave and noble lord"?
This is just one of the many fun facts Manuel delights us with — complete with sound effects and Who Wants To Be A Millionaire-style dramatizations.
As we get closer to the trailhead, bustling city turns to peaceful nature and the views along the road get better and more lush.
Eventually, we pull over to take a quick photo, with El Yunque Peak to the right and small dotted cityscape to the left.
Shortly after, we pull to the side of a slender road. A river crosses below, and a concrete sign reads "Charco Prieto".
We've arrived.
Hiking To Charco Prieto Waterfall
The trail begins on a skinny dirt path lush with tall plants that brush against our legs. Bright Birds of Paradise flowers and ripening mangos and bananas line the jungle trail.
Pretty soon though, dirt forest trail turns to rocky river crossings.
They start off easy — but that doesn't last long. You see, the reason this trail is rated as challenging isn't because it's steep or involves a ton of inclines.
It's because you'll need to maneuver over slippery stones, uneven roots, and rock ledges and scrambles. I'd be lying if I said I didn't stumble a few many times.
Pretty soon, the group is in full American Ninja Warrior mode — crawling, jumping, and sliding our way closer to the waterfall.
Hiking the Charco Prieto Waterfalls in nothern Puerto Rico
While it's tough, the beauty of the trail keeps us going. Along with lush rainforest, there are smaller waterfalls and crystal pools along the way, and we stop to cool down frequently.
I feel like Tarzan as we approach a steep and narrow path that we must use a rope to climb. When a giant fallen tree trunk appears, the group divides between belly climbing over it and crawling under it.
After about an hour, the giant Charco Prieto Waterfall comes into view. We've made it!
I grab my cameras — because yes, I have multiple — and begin frantically snapping, trying to get the perfect shot before people begin swimming.
"This view has nothing on what we'll see a little further up," says Manuel.
"Further up" meaning just beyond a natural rock wall that partially blocks the view of the upper falls of Charco Prieto — which actually ends up being the hardest part, at least for me.
This short but challenging section involves traversing a jagged ledge that hovers over a smaller waterfall. To get around it, there isn't necessarily a path. Instead, I cling to a snaggy boulder with sweaty palms.
Luckily, Manuel directs us where to put our feet as the group also assists in helping each other cross safely.
Side note: as a solo female traveler, this is one of my favorite aspects of the trip, as this sort of teamwork element helps the group become close very quickly. By the time we reach the main waterfall, I really feel like I've known everyone for years.
Gazing up at the crystal cascades plunging down jagged rock into a natural swimming pool — while butterflies and dragonflies flutter about — is truly a magical experience.⁠
We spend about an hour at the waterfall, relaxing, swimming, and climbing up to sit on the rock shelves underneath the waterfall streams.
I take tons of photos, wanting to memorialize this beautiful moment deep in nature and away from the noise of the city. Mother Nature truly is an artist.
Once we're done, we hike, shimmy, and scramble our way back to the van, with one more stop to the make along the way: Mimi's BBQ for a delicious Puerto Rican lunch.
"Barbecue doesn't really mean barbecue in Puerto Rico. Instead, it means you're going to get typical Puerto Rican food," explains Manuel.
For $11, we get heaping plates of yuca, fries, tostones, rice, beans, boiled green banana, sweet potato, grilled meat, and a soft drink. It's one of the best meals I've had in Puerto Rico.
Afterward, Manuel has one last treat in store for us: car karaoke!
And I don't just mean singing along to the radio. I mean he's come prepared with instrumental music and a screen that scrolls song lyrics as you belt them into a headset microphone.
Getting in touch with our inner Beyonce, we pass the mic around, picking our favorite tunes and singing them in harmony — or at least trying to.
Between the epic hike, the beautiful water, the delicious local food, and the live entertainment, the tour easily becomes a major highlight of my trip to Puerto Rico.
If you're looking for waterfall hikes in Puerto Rico, definitely get this one on your radar!
Charco Prieto Waterfall Hike: Essential Information
Trail Difficulty: Moderate-Challenging. What ultimately makes this Puerto Rico hike somewhat difficult is the slippery rocks and uneven terrain.
Length: 1 mile out and back trail
Time: About 45-90 minutes each way
Trailhead: The trailhead is located in Barrio Nuevo, Bayamón. You will see a concrete slab on the side of the road reading "Charco Prieto" in big letters. You can park near here. The trail begins a little past the sign on the right, behind an abandoned house.
Trail Map: Click here for a Charco Prieto Waterfall trail map, which also includes detailed Charco Prieto directions.
Do I need a guide? While you don't need a guide, I highly recommend booking with Jerry's Adventures. The tour is budget-friendly, and booking with them also means you won't get lost or need to rent a car to reach the hike. Plus, it's a lot of fun!
Charco Prieto Waterfall Hiking Tips
As this hike is relatively challenging, there are a few important tips to keep in mind:
Wear hiking shoes with good grip. This Puerto Rico hike is very slippery, so make sure your shoes have treads. Hiking sandals are okay as long as you're used to them. Personally, I wouldn't wear my nice hiking boots on this trail as it's extremely wet. Instead, opt for something like Tevas, Chacos, or even water shoes with good grip, like ALEADER brand shoes.
Wear your bathing suit. There are many opportunities to take a dip along the way, so come prepared in a bathing suit. This is also helpful because there aren't changing rooms near the trailhead or waterfall.
Consider going with a guide. While you can do this Puerto Rico hiking trail on your own, it would be difficult, especially as it's unmarked. I highly recommend Jerrys Adventures, especially if you're traveling solo in Puerto Rico. There were definitely times where I needed some help. Plus, the group hiking tour was a great way to meet other travelers.
Bring a waterproof camera or case. There are so numerous opportunities to take fun waterfall photos, though for many you'll get wet. You can protect your phone with an underwater case, like this one, or bring a waterproof camera like a GoPro.
Bring plenty of drinking water. It was a pretty hot summer day when our group went, and I drank two 16.9-ounce bottles of water. I'd recommend bringing three though just in case!
Frequently Asked Questions About Charco Prieto Waterfall
Q) What are the best waterfall tours in Puerto Rico?
I highly recommend the Hidden Waterfall Hike from San Juan with Jerrys Adventures. It's a lot of fun and you'll be well taken care on this San Juan waterfall tour.
Q) What is the largest waterfall in Puerto Rico?
La Niebla Waterfall is said to be the largest Puerto Rico waterfall at 300 feet. If you'd like to hike it, click here for a trail map.
Q) Where can I find a Puerto Rico waterfalls map?
Click here for a map of Puerto Rico's best waterfalls with trail maps.
Q) What are the closest waterfalls to San Juan?
If you're looking for San Juan Puerto Rico waterfalls, a few to check out include Charco Prieto and the waterfalls (including La Coca Waterfall) along the Vereda La Coca Trail in El Yunque National Forest.
Q) What famous waterfall is in the Parque Nacional El Yunque?
The 85-foot La Coca Falls is one of the most well-known waterfalls in El Yunque as it's easy to access. You can reach the waterfall via the Vereda La Coca Trail.
Renting A Car In Puerto Rico
Prefer to rent a car in Puerto Rico and do the waterfall trail on your own? Check out Discover Cars to quickly compare your rental options.
Their comparison tool does the homework for you, so there's no need to have up 10+ tabs trying to figure out which company is the most affordable. Actually, you can save up to 70% using their tool!

Puerto Rico Hotels
Looking for a place to stay in Puerto Rico? Some of the most popular places to book a hotel in San Juan include Old San Juan, Condado, and Santurce.
Click here for a list of top-rated San Juan hotels!
Prefer self-contained stays?
Click here to check out unique local rentals!
You can also use this map to search for local stays. It's set to Old San Juan, but you can easily change the specific location to fit where you'd like to base:
Puerto Rico Adventure Tours
Want to continue exploring the island's local adventures? Here are a few top-rated adventure tours in Puerto Rico:
Click here for a full list of local Puerto Rico tours.
Puerto Rico Travel Insurance
When visiting Puerto Rico — or anywhere else in the world — it's wise to get travel insurance.
One of the best travel medical insurance for travelers is SafetyWing as they've got a large network and offer both short-term and long-term coverage — including coverage if you're traveling for months as well as limited coverage in your home country.
Additionally, SafetyWing is budget-friendly and offers $250,000 worth of coverage with just one low overall deductible of $250.
Click here to price out travel insurance for your trip in just a few clicks.
Have you hiked to Charco Prieto Waterfall?
Enjoyed this Charco Prieto waterfalls guide? Pin it for later!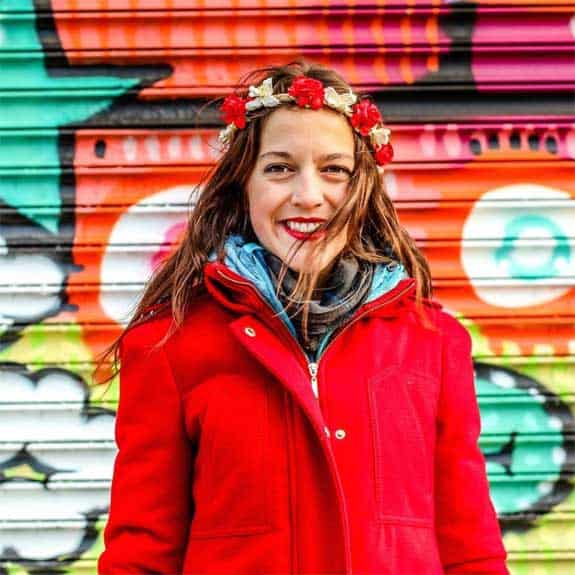 Hi, I'm Jessie on a journey!
I'm a conscious solo traveler on a mission to take you beyond the guidebook to inspire you to live your best life through travel. Come join me!
Want to live your best life through travel?
Subscribe for FREE access to my library of fun blogging worksheets and learn how to get paid to travel more!