Solo Travel In Vienna: How To Have An Amazing Trip Traveling Alone
By Nina Ahmedow. This solo travel Vienna post contains affiliate links to trusted partners!
Curious about how to safely enjoy solo travel in Vienna and have an incredible trip?
Then you're in the right place!
Vienna has a reputation for being an extremely beautiful city, putting it high on many travelers' lists of dream destinations. But what if you have nobody to go to the Austrian capital with?
Don't worry, it's super easy to have a great time in the City of Music — even when traveling on your own!
In fact, there are so many things to see and do in Vienna that going with another person might be overwhelming. After all, trying to coordinate which sights to see, where to eat, and deciding on a budget can be quite stressful.
But when you travel alone you don't have to worry about any of that because you set all the rules yourself.
If you're still concerned about what to do in Austria's capital, here's your ultimate solo travel guide to Vienna.
Vienna Solo Travel Top Picks:

Save Money: Save money during your solo trip to Vienna by getting a Vienna PASS, which includes access to 60 attractions as well as a hop on, hop off bus ticket!

Experiences: A few top-rated tours in Vienna include:
–Hidden Gems in Vienna Inner City Private Walking Tour
–Wachau Valley Small-Group Tour and Wine Tasting
–Vienna City Bike Tour
Click here for a full list of Vienna tours.

Accommodation: This accommodation map showcases hotels and vacation rentals with prices in District 2 – one of the best areas to stay in Vienna. You can easily adjust the map to fit your location preferences.

Safety: While Vienna is safe for solo travel, it's still smart to pack travel safety essentials. One top pick is the She's Birdie Personal Safety Alarm, which is TSA-approved and can help scare away potential attackers. Other recommendations include Clever Travel Companion Pickpocket-Proof Garments and Speakeasy Travel Supply Hidden Pocket Scarves.
Enjoy Solo Travel In Vienna With Confidence [Free Course]
But first, before we dive into this guide to solo female travel in Vienna, I want to invite you to grab access to the free Savvy Solo Traveler ecourse, which can help you successfully plan your first solo travel experience!
The six-day ecourse is designed to help you feel confident about booking your solo trip and exploring the world alone. Lessons include:
Common solo travel fears and how to overcome them
How to choose your perfect solo trip
How to tell loved ones you're hitting the road solo
Mentally preparing for your solo journey without losing your mind
Essential steps for staying safe on a solo trip
How to travel by yourself and take amazing solo selfies
Grab your seat in the course here!
Then keep reading to learn everything you need to know about how to travel in Vienna solo.
Where Is Vienna Located?
Let's kick things off by giving you a lay of the land.
Vienna is located in northeastern Austria, which is one of the most popular European destinations.
But, where is Austria?
The country itself is located in Central Europe and shares borders with the Czech Republic and Germany to the north, Slovakia, and Hungary to the east, Slovenia and Italy to the south, and Switzerland and Liechtenstein to the west.
Here is a Vienna map to help give you a visual:
Click here for an interactive version of the above map.
Why Vienna Is A Great Destination For Solo Travelers
If you're looking for an amazing solo travel Europe experience, Vienna should definitely be on your list.
Now, one thing you may be wondering about is safety in Vienna. First of all, Vienna's crime rate is consistently ranked as one of the lowest in the world, which helps to make it a safe and enjoyable place for solo travel.
Moreover, Vienna has been ranked the world's most livable city in the Mercer Quality of Living Survey continuously since 2009! So if a city is the most livable in the world it sure must be safe for solo travelers, as well.
Moreover, 30% of the Viennese population is single. If the city is safe enough for single women to live in then you don't have to worry about spending a few days alone.
But aside from these statistics, Vienna has a great public transport system with which you can get pretty much anywhere and well-lit streets so you don't have to worry about being out after dark.
On top of that, Vienna is home to a multicultural population — meaning that if you ever do need help you'll probably find someone who can assist you in your native language.
And although German is the only official language in Austria, everyone learns English in school.
Even when it comes to things to see and do in Vienna you'll have an advantage as a solo traveler. The many museums, churches, and architectural sights can easily be visited without a second person. You definitely won't get bored when traveling solo in Vienna!
Because Vienna is a very popular tourist destination there is also a lot of information available in English. Whether you're thinking about joining a walking tour or simply want to walk through the museums with an audio tour, the city's tourism sites are well-prepared for international visitors.
As the capital of Austria, Vienna is an absolute must-visit city, and there's no reason to skip it just because you're traveling solo. In fact, it might be one of the best cities in Europe to explore alone.
On that note, here is more information about what you need to know when visiting Vienna on your own.
Arriving Into Vienna
Vienna has an international airport just outside of the city. It connects to downtown Vienna via the public transport system so all you have to do is take the S7 metro and you'll be in central Vienna in less than 30 minutes.
The ticket costs €4.20 and is valid for further transportation in Vienna as well. There are also other trains and buses from the airport to Vienna, but the S7 is the most convenient as well as the cheapest option.
You might also arrive into Vienna from Bratislava which is just an hour away by train. In that case, you'll pay €13 for a return ticket which takes you from Bratislava's central station to Vienna's central station.
People often arrive from Bratislava because they're visiting both cities. But it's also common to fly into Bratislava with one of the cheaper airlines and go to Vienna directly.
To get to Vienna from Bratislava airport you simply get on one of the shuttle buses which leave about once per hour. A ticket costs between €10 and €15 and the ride usually takes about 60 to 90 minutes.
Getting Around In Vienna
Public transport in Vienna is excellent. There are five underground lines (U1-4, U6) and ten fast trains (S1-4, S7, S40, S45, S50, S60, S80). Additionally, there are 29 tram lines and numerous bus lines, including several night buses.
The tickets for all public transport in Vienna are essentially the same — with a few exceptions such as airport shuttle buses. This means that if you change from tram to metro to bus you won't have to buy a new ticket.
You can get tickets at metro stations and on trams and buses; however, the machines on trams and buses only have single tickets.
Note that while you don't have to validate your tickets or show them to the driver, it's possible for ticket inspectors to approach you and ask to see your ticket.
The underground lines run between 5am and 12:30am. Additionally, on Friday and Saturday nights as well as the nights before public holidays they run all night.
During the day you won't have to wait more than six minutes at most for a train, and even on weekend nights they still run every 15 minutes.
The fast trains in the city centre run as often as the underground, but some of the ones that serve the suburbs are far less frequent. As a tourist, you will most likely stay in the city center though so you'll never have to wait long for a train.
Note that not all buses and trams run until 12:30 am. Night buses are available between 12:45am and 5am. During the week they run every 30 minutes — and more frequently on weekends.
If you prefer being a bit more active it's entirely possible to get around Vienna by bike. This is an excellent way to remain flexible and independent.
You can also take your bike onto the metro for free, but not onto buses or trams. Note that bikes are only allowed on the metro from Monday to Friday between 9am and 3pm and after 6:30pm, as well as Saturdays from 9am and all day on Sundays.
You can also take your bike onto the fast trains, but you have to purchase an extra bike ticket. In any case, this is a great option if you want to explore some of the suburbs by bike.
Of course, you can also get around on foot. Many of the important sites are actually located in the city centre within walking distance from each other.
In fact, this is probably the best way to get around as a tourist because you'll often stumble upon beautiful buildings and gorgeous views. Just make sure to wear a comfortable pair of shoes.
Finally, taxis are an option as well, but be aware that if the taxi takes you out of the city borders you have to pay for its fare back as taxis from Vienna are not allowed to pick up passengers outside of the city.
Where To Eat When Traveling Solo In Vienna
Vienna is famous for a variety of dishes such as Wiener Schnitzel and especially desserts like Sachertorte and Kaiserschmarrn.
Nowadays, most restaurants offer vegetarian dishes and there are numerous vegan restaurants in Vienna as well. There's really something to eat for everyone in the city.
But first let's do away with the common misconception that eating alone is somehow weird.
It can be very difficult to get used to eating alone when you travel solo, but I promise that over time you will get used to it and won't think twice about the possibility that people might look at you funny. Bringing a book, a journal, or another quiet activity to enjoy while you eat can help ease any awkwardness you feel.
A must-visit on your trip to Vienna is a typical Viennese coffee house. These don't only serve coffee but also traditional Viennese dishes. They are an important part of Viennese history, and Viennese Coffee House Culture is even listed by UNESCO as an intangible cultural heritage.
Similarly, Wirtshäuser are places where you can get typical Viennese dishes and experience traditional Viennese hospitality.
However, keep in mind that Vienna is a multicultural city and locals don't usually stick to eating Viennese food. Rather, there's a variety of international restaurants whether you're craving Italian, Chinese, or Japanese cuisine.
Where To Stay In Vienna
Because Vienna has such a great public transport system you really don't have to worry too much about where you stay.
While the Old Town is a lovely area it's also quite expensive in terms of accommodation. In general, you will have to plan a higher trip budget for accommodation in Vienna than in some other cities in the region.
Another thing to keep in mind is that many Viennese hotels are housed in historic buildings. And while these hotels may be very beautiful to look at, they're not always as spacious as you may expect from a hotel room.
Furthermore, keep in mind that air conditioning is not as common in Austria as in North America and some other regions — so if you travel to Vienna in the summer you may want to specifically look for places with air conditioning.
Districts 2 to 9 are probably your best bet for finding a reasonably priced and well-connected place to stay.
Whether you're looking for a luxury hotel, an apartment, or a hostel, all those options are available in the center of Vienna.
Click here for a list of Vienna hotels!
Prefer self-contained stays?
Click here to check out unique local rentals, or use the map below to search for local stays. It's currently set to District 2, but you can easily change it to your preferred base:
11 Things To Do As A Solo Traveler In Vienna
Now that you know how to get to Vienna, how to get around, where to stay, and where to eat it's time to take a look at all the incredible experiences to be had. Here are a few things to do in Vienna.
Remember, one of the biggest solo travel benefits is having ultimate freedom over your schedule, so feel free to adapt the below suggestions to suit your itinerary. Whether you're visiting for a weekend, a month, or simply have 4 days in Vienna, don't miss:
1. Visit The Museums – A Highlight Of Vienna Travel
Is it fun to travel alone? Well, if you love museums, Vienna is an absolute paradise.
From the Museum of Fine Arts to the Museum of Natural History to the Albertina to the different museums in the Museumsquartier you could probably spend weeks in Vienna only visiting its museums.
The best thing to do is to have a look at all the different museums and create a list of the ones that interest you the most. There are museums for any kind of interest, such as a Freud museum, a Jewish museum, a music museum, and even an anatomy museum.
Even if you're not usually the biggest fan of museums you should visit one or two of them to learn about Vienna and its history.
2. Marvel At Viennese Architecture
Walk through the Old Town and be stunned by the beautiful historic buildings in the city.
The Ring Road is a circular road that surrounds the Old Town and showcases some extraordinary buildings from the second half of the 19th century.
As an alternative to walking the Ring Road, you can take Tram 1 or 2 to have a look at the typical Ring Road architecture.
3. Explore Vienna's Castles
As the capital of the Austro-Hungarian Empire, Vienna doesn't only have one castle, of course. The Hofburg and the Belvedere make quite an impression and also house important museum collections now.
Neugebäude Palace was the main imperial palace until the completion of Schönbrunn Palace. While it's no longer as glorious as it once used to be it's still worth a visit if you like palaces.
Unless you have a lot of time in Vienna you probably won't be able to visit all the palaces and their museums. The best thing you can do is read a bit about each one of them to decide where to go.
In any case, you're sure to be wowed by the marvelous architecture of the Habsburg dynasty. Don't forget to take your camera for some amazing photos of the castles and their gardens.
4. Visit The Beautiful Schönbrunn Palace
This baroque castle made it onto the list of UNESCO World Heritage sites for a reason.
A stroll through the extensive gardens of Schönbrunn Palace provides a feel of what it must have been like to be a member of the Habsburg monarchs, who once use this as their summer residence.
There are guided tours that tell you more about life at Austria's biggest palace — like this private tour, this small-group tour, and this skip-the-line tour.
As one of Austria's most visited sights the palace can get quite busy, so if possible try to avoid the weekends.
5. Attend A Classical Music Concert
Vienna is often known as the City of Music thanks to the city's important role in the rise of classical music.
But don't worry, you don't have to get expensive tickets for the Vienna Hofburg Orchestra. It's actually possible to see a classical concert in Vienna for no more than €5.
How, you may ask?
Well, there is a contingent of tickets for the standing room at both the Musikverein and the Vienna State Opera House.
While it's not as comfortable a seat as the Hofburg Orchestra it's a great budget-friendly option for those wanting to hear some of the music Vienna is famous for.
Just note that there are far fewer performances in the summer months.
And if you're into the organ repertoire St. Peter's Church has free concerts every day.
6. Take A Look At The Hundertwasserhaus
Vienna isn't only about its historic buildings. Sometimes its modern architecture has even more of a magical feel than the palaces of the past.
The Hundertwasserhaus — designed by Friedensreich Hundertwasser and built by Josef Krawina — is an apartment building meant for both humans as well as trees.
Its rooftop has been turned into a park by planting hundreds of bushes and trees. When taking photos of the building keep in mind that these are regular apartments that people live in so try not to be intrusive.
7. Go On A Tour Of Vienna
There are various city tours whether you want to explore Vienna on bike, on foot, or by bus.
There are both general tours that give you an overview of the city's main sights as well as tours that focus on specific topics or areas, such as Sigmund Freud tours or Jewish tours.
Guided tours can be an excellent way to get a feel for a city and figure out which sights you want to go back and visit again. But guided tours are also one of the best ways to meet fellow tourists as a solo traveler, so it's a win-win situation.
Both free as well as paid tours are available in Vienna in English so you don't need to worry about your lack of German skills.
Here is a quick list of some highly-rated tours & experiences in Vienna:
Click here for a full list of Vienna tours!
You can also get a Flexi Vienna PASS to save money on attractions and experiences.
8. Go On A Music Walk
Many classical composers lived and worked in Vienna, and there are statues all over the city honoring them. In fact, you can also visit the former homes of musicians like Mozart, Beethoven, and Strauss.
There are many interesting tours that allow you to explore this, like a Mozart Private Guided Tour with Classical Music Concert or Music in Vienna Tour.
Moreover, the Vienna Central Cemetery is one of the largest cemeteries in the world and a nice spot for a walk. This is where you will find the graves of people like Beethoven, Brahms, Schubert, and Schönberg. Explore on your own or a book a tour like this one for a deeper understanding of this place.
9. Visit St. Stephen's Cathedral
St. Stephen's Cathedral is Vienna's most popular landmark and is well worth a visit for the incredible views you get from the spire.
Additionally, they host concerts which you can attend. Tickets can be found here. It's truly magical to hear classical music concerts in such a unique venue.
Bonus: From St. Stephen's you're about a 20-minute walk from the stunning Vienna City Hall, a magnificent building built between 1872 to 1883 and showcasing a Neo-Gothic style.
10. Check Out The Street Art In Vienna
As in any modern city, you can find plenty of very beautiful graffiti in Vienna.
Along the Danube Canal beneath a few bridges, there are officially approved areas for graffiti artists. They're a great example of how street art can enhance the look of a city.
Street Art Passage is another collection of colorful art in a tunnel that leads up to the MuseumsQuartier. It's quite the contrast to the exhibitions inside the museums.
If you're a really big street art fan you'll be thrilled to find out that Vienna even has an annual street art festival called Calle Libre which takes place at the beginning of August.
There are also street art tours, like this one, that can help you find and understand these local urban masterpieces.
With all the historic sights you visit in Vienna, keeping your eyes open for some modern street art can be a welcome break. Because while we travel to learn more about a place's history we also want to see what life is like there in the present.
11. Explore Vienna Beyond The Main Sites
Vienna has so many top attractions that you can easily spend a few days or even weeks visiting them all. But there are also plenty of things that are less popular and still worth a visit.
First of all, you can book a hyper-focused tour — like a Queer Vienna Tour or a Vienna Secrets Walking Tour to Backyards and Mysterious Locations Tour — to learn about places and stories left out of many traditional Vienna tourism experiences.
Additionally, simply strolling through the side streets or perhaps getting off the bus one stop early and walking the rest of the way could possibly make you stumble upon a lively market or a square that is a local secret. There are also a ton of parks where you can relax or maybe even have your lunch if you take it to go.
Here are a few suggestions of neighborhoods that don't usually make it onto Vienna guides:
Spittelberg used to be an independent village and the remarkable buildings from the middle of the 19th century are in pretty good condition.
Ottakring is a multicultural Vienna neighborhood where about one-fourth of the population does not hold Austrian citizenship.
Karmeliterviertel has a strong Orthodox Jewish influence.
Walking through any of these areas gives you a feel for Vienna that cannot be portrayed in museums.
For some not-so-pleasant background information on some of the beautiful streets in Vienna, you should know that there are sadly still several streets with racist names or names honoring known anti-Semites.
Solo Travel Tips For Vienna
As you can see, Vienna is truly one of the world's top solo female travel destinations. Now that we've discussed things to do when visiting Vienna solo, let's go over some important tips for staying safe and making the most of your trip.
Opening hours might differ from what you are used to. Most shops open between 8am and 9am and close between 6pm and 7pm, except Sunday when all shops and even many restaurants are closed.
The Viennese climate has a shorter spring and fall and longer summers and winters. While the summers can get quite hot you should also be prepared for the possibility of rainy days, but more so in spring and fall. Winters don't get as cold as one might expect in Austria, but they can still be quite uncomfortable due to the humidity. Make sure to check the weather forecast before your trip so you can pack accordingly.
Don't expect the friendliest service at restaurants and bars. The Viennese are notorious for being quite reserved and can even be perceived as rude or arrogant. Try to simply enjoy the fact that you will be left alone while eating your meal.
The tap water in Vienna is of exceptionally high quality so there's no need to buy bottled water. The water comes from the Alps not far from the city so whether you're at a restaurant, Airbnb, or in your hotel you can simply drink tap water. There are also fountains in the city center and in many parks if you're out and about and get thirsty.
The currency in Austria is the Euro. You can often pay by debit or credit card, but you should always have some cash on you, just in case.
You can get free WiFi at most restaurants, cafés, and bars as well as at your accommodation. The entire MuseumsQuartier also has free WiFi available and there are numerous WiFi hotspots throughout the city. If you leave the city itself you may need to purchase an Austrian SIM card to be able to stay connected.
If you're looking for souvenirs make sure to leave the typical tourist shops. Museum shops are more likely to sell authentic local products as are smaller boutiques or specialty shops.
There is no need to worry about getting completely lost in Vienna. Any street sign first displays a number which is the number of the district you are in. The tourist information center and the City of Vienna have free city maps available so that even if you lose internet connection you will be able to find your way around. But of course, you can always ask locals for help.
Solo Travel to Vienna FAQs
Still have some concerns about Vienna solo female travel? Hopefully, these FAQs can help!
Q) What are the best things to do alone in Vienna?
Wondering what to do alone in Vienna? The options are truly unlimited! The museums in Vienna are perfect for exploring alone, as are the castles, and there are countless tours you can join. Plus just wandering the historic streets can be fun!
Q) Is Vienna safe to travel alone?
Yes, Vienna is a safe city for solo travel. It has a pretty well-traversed tourism network and great public transportation. As long as you take the regular precautions that you would at home, you should encounter no issues in Vienna.
Q) Is Vienna good for solo travel?
Yes, Vienna is a great city for solo travelers. There are so many things to do in Vienna alone plus the city has excellent public transportation and many food options.
Vienna Travel Insurance
When visiting Vienna — or anywhere else in the world — make sure to get travel insurance.
One of the best travel medical insurance for travelers is SafetyWing as they've got a large network and offer both short-term and long-term coverage — including coverage if you're traveling for months as well as limited coverage in your home country.
Additionally, SafetyWing is budget-friendly and offers $250,000 worth of coverage with just one low overall deductible of $250.
Click here to price out travel insurance for your trip in just a few clicks.
What tips for solo travel in Vienna would you add?
About The Author
Nina Ahmedow is a travel content creator who was born and raised in Germany, has lived in Canada, currently lives in Greece, and loves traveling to Austria. She is the voice behind Lemons and Luggage, a travel blog dedicated to vegan and responsible travel.
Enjoyed this guide on how to travel in Vienna solo? Pin it for later!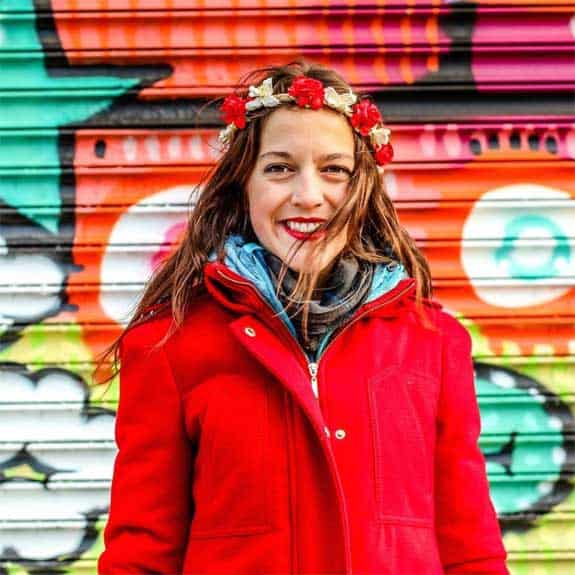 Hi, I'm Jessie on a journey!
I'm a conscious solo traveler on a mission to take you beyond the guidebook to inspire you to live your best life through travel. Come join me!
Want to live your best life through travel?
Subscribe for FREE access to my library of fun blogging worksheets and learn how to get paid to travel more!