Solo Travel In Greece: Ultimate Guide (With Map!)
By Haley Blackall. This guide to traveling alone in Greece contains affiliate links to trusted partners!
Are you interested in learning about solo travel in Greece? Want to have a safe and fun trip exploring on your own?
Then you're in the right place!
Greece, the land of turquoise water, white-washed buildings, and a culinary scene that'll make you say "Opa!" more times than you can count, is the perfect place for a solo holiday.
If you're contemplating solo travel in Greece, you're in for an unforgettable journey. I spent two months on a Greece solo travel itinerary navigating from the bustling streets of Athens to the serene beaches of Milos. And let me tell you, Greece is a paradise for solo travelers, especially women.
Whether you're looking for the best islands in Greece for solo travelers or are wondering about the logistics of Greece solo travel, this guide has got you covered.
Now, let's delve into everything you need to know about solo female travel to Greece, from safety and costs to the must-visit spots.
⏳Short on time? Here are some quick tips for traveling alone in Greece:

✈️ Athens Airport Transfer: Book that here

☔ Safety: While Greece is safe for solo travel, it's still smart to pack travel safety essentials. One top pick is the She's Birdie Personal Safety Alarm, which is TSA-approved and can help scare away potential attackers. Other recommendations include Clever Travel Companion Pickpocket-Proof Garments and Speakeasy Travel Supply Hidden Pocket Scarves.

🚗 Renting A Car: Discover Cars (save up to 70% using their comparison tool!)

🚅 Public Transportation: Omio

🏨 Accommodation: This map can help you pinpoint top-rated and budget-friendly accommodation in the Greek cities you're visiting solo. It's currently set to the Syntagma Square in Athens, but you can easily change it to your intended destination in Greece.

🎉 Experiences: Viator (tours), GetYourGuide (tours), and EatWith (cooking classes & dining in local homes)

🏥 Travel Insurance: SafetyWing

📞 Staying Connected: Airalo eSIM
Confidently Travel Solo In Greece [Free Course]
But first, before we get into our solo travel Greece guide, I invite you to grab a seat in Jessie's free Savvy Solo Traveler E-Course.
The 6-day course is designed to help you feel confident about booking your first solo trip and exploring the world alone.
Lessons include:
Common solo travel fears and how to overcome them
How to choose your perfect solo trip
How to tell loved ones you're hitting the road solo
Mentally preparing for your solo journey without losing your mind
Essential steps for staying safe on a solo trip
How to take amazing solo selfies
Once you've grabbed your seat, read on to learn everything you need to know to plan a safe and fun solo trip to Greece.
Is Solo Travel In Greece Worth It?
The short answer is yes, and here's why: The country offers a vivid mix of experiences that are easily accessible and ideal for solo travel to Greece.
Public transport is efficient, especially between the popular islands and main cities. The locals are generally hospitable and often go out of their way to help tourists.
Cultural sites like the Acropolis in Athens and the ancient ruins in Delphi are not just awe-inspiring but also well-organized, making it easy for those traveling Greece solo to explore.
Plus, the café culture is vibrant — ideal for those who want to people-watch or strike up a conversation with a local.
Is Greece Safe For Solo Female Travelers?
Safety is often a top concern for solo female travelers, and rightfully so. In my two months traveling solo in Greece, I found it to be a generally safe country.
According to the Global Peace Index, Greece has a high state of peace. Additionally, Travel Safe-Abroad considers Greece to be a safe country, and the chances of tourists being the victim of a crime are low.
Petty crimes like pickpocketing can occur in crowded tourist spots, especially in Athens, but violent crime is rare. Personally, I always felt secure walking around, even at night, although I did stick to well-lit areas and avoided sketchy neighborhoods.
Public transport, like the KTEL buses and underground subway, is reliable and generally safe. Just make sure to keep an eye on your belongings during busy hours.
Taxis are also a popular mode of transport for a solo female trip to Greece, but always ensure they're licensed. If you're using a ride-sharing app like Beat or FreeNow, the usual safety rules apply. Check the driver's rating and share your trip details with someone you trust.
Overall, solo female travel in Greece is amongst the safest in Europe.
Where Is Greece?
Greece is located in southeastern Europe, at the crossroads of Europe, Asia, and Africa. It shares land borders with Albania, North Macedonia, Bulgaria, and Turkey.
The country is famous for its extensive coastline, which is peppered with islands (approximately 6,000 of them!) though only about 227 are inhabited.
Greece is divided into several regions, each with its own unique charm. The mainland offers rugged mountains, ancient ruins, and vibrant cities like Athens. Then you have the islands, which are categorized into groups like the Cyclades, Ionian, Dodecanese, and more.
Each island group has its own distinct vibe, making it a diverse destination for any solo traveler. Personally, I'd recommend adding a Cyclades island hopping adventure to your itinerary; more on that below!
Getting To Greece
Getting to Greece is relatively straightforward, with most solo trips to Greece starting in Athens.
Athens International Airport (ATH) serves as the main hub for international flights, with several airlines offering direct flights from major cities worldwide.
Once you land in Athens Airport, domestic flights to other cities and islands are frequent and usually affordable, especially if booked in advance.
If you are heading straight into Athens proper, board the underground subway (M3) and take the 40-minute trip to the city center (Syntagma Square) to start your solo travel in Athens.
Best Time To Take A Solo Greece Trip
When it comes to the best time for solo travel to Greece, it really depends on what you're looking for. The high season, from June to September, offers the best weather but also comes with crowds and higher prices.
I visited in mid-October just after the rush, and it was perfect; warm enough for solo beach days but not too crowded.
Shoulder Seasons
If you're into cultural immersion and don't mind cooler weather, consider going during the shoulder seasons in April-May or September-October. The temperatures are milder, and you'll have more opportunities to interact with locals.
Plus, prices for flights and accommodations are generally lower, making a solo holiday in Greece that much more affordable.
Winter in Greece
For those who prefer avoiding crowds altogether, winter offers a different kind of beauty. Imagine exploring ancient ruins without the tourist rush or enjoying a more authentic experience in Athens.
However, note that many of the best Greek islands for solo travel shut down for the winter, so your options might be limited.
Getting Around Greece As A Solo Traveler
Navigating the country and islands is relatively easy, even for Greece solo female travel.
Public transportation in Greece
The public transport system in cities like Athens is efficient, with metros, buses, and trams connecting key points.
For intercity travel, KTEL buses are reliable and cover most of the country. The KTEL website can be tough to navigate, though you can use an English language platform like Omio to research and book transportation around Greece.
Getting around Greece by ferry
Ferries are another popular option for getting around, particularly if you're planning to explore the islands. I found the ferry system to be efficient and well-organized, making island-hopping a breeze.
I booked my tickets in advance through Ferry Hopper, and it made traveling the Greek islands solo just that much easier. You can also use Omio to book ferry tickets.
Depending on your budget, you can choose from cheaper and slower ferry rides to fast and more expensive ones.
Book an organized Greek island sailing tour
I also tried out one of the solo sailing holidays in Greece for a few days, which was an incredible way to see the lesser-known islands at my own pace. Just make sure to plan your Greece solo itinerary carefully if you opt for sailing, as the winds can be unpredictable.
⛵ Click here for a list of top-rated Greece sailing tours!
Best Places For Solo Travel In Greece
Now that we've gone over some logistics of female solo travel in Greece, let's talk about where to go, including:
Athens
Athens is the pulsating heart of Greece where antiquity mingles with edgy urban grit. It's often the first stop for solo travelers to Greece, and it sets the tone for what the country has to offer.
Located on mainland Greece, the city is a sprawling metropolis, but its center is quite compact and walkable, making it ideal for those traveling alone — especially when you don't have other people to split taxi fares with.
The Acropolis is the crown jewel, and it's worth getting up early to beat the crowds. Standing alone in front of the Parthenon is a surreal experience. Don't forget to visit the lookout for panoramic views over Athens' mingled past and present.
After descending from this historical high, I'd recommend losing yourself in the labyrinthine streets of Plaka, a neighborhood that invites aimless wandering. Here, cobblestone alleys are flanked by pastel-hued buildings and family-run tavernas where the moussaka is as authentic as it gets.
If you are a foodie like me, I recommend partaking in an organized food tour of the city to start off your solo female travel in Athens. It's a great way to introduce yourself to the country's cuisine and culture when traveling solo in Greece. A few top-rated options include:
For evening socializing, the neighborhoods of Psiri and Monastiraki offer an eclectic mix of artsy cafes and bars for meeting new friends and fellow travelers.
Monastiraki also offers many flea markets and street food stalls, so also make an afternoon stop here to see the contrast from day to night, especially around Athens' main Monastiraki Square.
For a change of pace, Syntagma Square offers a slice of modern Athenian life. You can watch the ceremonial changing of the guard here too, a daily ritual for the city.
Before leaving Athens, do yourself a favor and hike up Mount Lycabettus. There and back only takes 45 minutes and you'll be greeted with epic views of the capital, especially if you make the trek at sunset.
Looking for somewhere to stay on a budget? Here are some of the best hostels in Athens!
🏨 Athens Hotels: Click here for a full list of hotels in Athens.
📸 Athens Tours: Click here for a full list of fun tours in Athens.
Santorini
Next on your epic solo Greece trip is the bucket list destination of Santorini — one of the most popular Greek islands. The stuff of postcards, those iconic white-washed buildings with blue domes are even more breathtaking in person.
But beyond the Instagrammable vistas, Santorini offers a rich experience for the solo female traveler.
I arrived by ferry, and the first glimpse of the caldera — a volcanic crater now filled with the deep blue Aegean Sea — was incredible. I kind of had to pinch myself. In my book, it wins the award for best Greek island for solo travel.
From the ferry port, grab a bus ticket. The bus will take you up the side of the caldera to the main tourist hubs of Fira and Oia, both of which are perched on the edge of this caldera.
While they're known for their sunset views, I found the early mornings to be magical. The streets are quiet, and you can wander through narrow pathways without jostling through crowds.
One of my favorite experiences was hiking from Fira to Oia. The trail takes you along the edge of the caldera, offering stunning views at every turn. It's a solitary experience that allows you to connect with the island's dramatic geography. Make sure to avoid doing this trek during the heat of midday.
If beautiful beaches are more your scene, the island's beaches are a geological wonder, thanks to their volcanic origins. Red Beach, with its towering red cliffs, is a must-visit, as is Kamari Beach, known for its unique black sand.
🏨 Santorini Hotels: Click here for a full list of hotels in Santorini.
📸 Santorini Tours: Click here for a full list of fun tours in Santorini.
Mykonos
Continue Greek island hopping on Mykonos. It's often dubbed the "party island," but there's so much more to it than its vibrant nightlife.
My first stop was Mykonos Town, also known as Chora. The area is a labyrinth of whitewashed houses accented by bursts of vibrant pink and red bougainvillea vines.
It's easy to spend hours here, wandering aimlessly and discovering hidden gems like Little Venice, where buildings practically kiss the sea.
That being said, Mykonos also offers some of the best beaches in Greece. I particularly loved Psarou Beach for its crystal-clear waters and laid-back vibe. It's a great place to relax and perhaps strike up a conversation with a fellow traveler.
If you're into history, don't miss the nearby island of Delos, a UNESCO World Heritage site. A short boat ride from Mykonos, Delos offers ancient ruins that rival those in Athens. It's a perfect day trip and a way to balance the hedonistic pleasures of Mykonos with a dose of Greek culture.
🏨 Mykonos Hotels: Click here for a full list of hotels in Mykonos.
📸 Mykonos Tours: Click here for a full list of fun tours in Mykonos.
Paros
Paros struck me as the Goldilocks of the Greek Islands: not too big, not too small, but just right for a solo traveler.
The island offers a balanced mix of beach relaxation, nightlife, and cultural exploration, making it a perfect destination for those who want a bit of everything.
Naoussa, the island's main town, is a picturesque port filled with fishing boats and framed by tavernas. It's one of the best places to travel in Greece alone.
I spent a few days here solo, dining on a mix of traditionally freshly caught octopus and trendy avocado toast and meeting up with fellow travelers for a bit of nightlife fun.
What I love about visiting Paros, and especially the town of Naoussa, is that it offers a similar vibe to Mykonos's Old Town, but at a more affordable price.
For beach lovers, Golden Beach is a must-visit. It's one of the longest beaches in the Cyclades and offers excellent conditions for windsurfing. I took a beginner's lesson and had a blast, even if I spent more time in the water than on the board.
Paros also offers great accessibility to other neighboring Cycladic islands. I took a day trip to Antiparos, a smaller island just a 10-minute ferry ride away. It was a peaceful escape, with crystal-clear waters and fewer tourists, making it a perfect solo adventure.
🏨 Paros Hotels: Click here for a full list of hotels in Paros.
📸 Paros Tours: Click here for a full list of fun tours in Paros.
Naxos
Naxos is the largest of the Cyclades islands but is often overshadowed by its more famous neighbors. What I love about Naxos is its relaxed vibe.
The main town, also called Naxos, is a blend of Venetian and Cycladic architecture. The Portara (The Temple of Apollo), a marble doorway that's all that remains of an ancient temple, is the town's defining landmark.
I walked out onto the peninsula during midmorning and found it to be a serene spot to reflect on my travels. That being said, the ideal time to visit the Portara is sunset, so make sure to get there about an hour before to grab a good spot.
To explore the inland villages of Halki (sometimes called Chalki or Chalkio) and Filoti I recommend renting a car for the day. Pass through arid landscapes dotted with Byzantine churches and serene olive groves. It felt worlds away from the beachside hustle and offered a glimpse into traditional Greek life.
If you love a good hike, trek to the peak of Mount Zas for epic views of the island. A round trip should take about 2.5-3 hours at a leisurely pace.
Naxos offers a beautiful coastline in its southwestern region, with long stretches of golden sand beaches, perfect for a lazy day.
The most popular beaches are Agios Prokopios, where you can find more cafes and restaurants, as well as Plaka Beach for something quieter and more remote. These beautiful beaches can either be reached by rental car or through the island's public bus (line 1).
Oh, and if you're looking for the cheapest Greek island to visit during your solo female travel adventure, Naxos is one of the more budget-friendly options.
🏨 Naxos Hotels: Click here for a full list of hotels in Naxos.
📸 Naxos Tours: Click here for a full list of fun tours in Naxos.
Milos
Milos was the sleeper hit of my solo trip to Greece. Known for its otherworldly landscapes and unique rock formations, it's an island that invites exploration.
Base yourself in the port town of Adamas, one of the best and most convenient areas to stay in Milos for first-time visitors.
I rented a car to explore the island, and it was one of the best decisions I made. The roads are well-maintained, and the island is small enough to navigate easily but diverse enough to keep you captivated.
One of the highlights was Sarakiniko Beach, where the white volcanic rock formations create a moonscape that's unlike any other beach I've visited. It's a must-see, and going early helps you avoid the crowds — although there is nothing like sunning on the rocks at midday.
Another standout was the fishing village of Klima, with its colorful boathouses known as "syrmata." I spent a peaceful afternoon here, just watching the fishermen mend their nets and the world go by. It felt like stepping back in time, offering a glimpse into a slower, more traditional way of life that's hard to find on the more touristy islands.
Milos offers a unique blend of natural beauty and authentic experiences, making it a perfect finale to any solo trip to Greece.
🏨 Milos Hotels: Click here for a full list of hotels in Milos.
📸 Milos Tours: Click here for a full list of fun tours in Milos.
Greece Solo Travel Map
To help give you a lay of the land, here is a solo travel in Greece map. It has all of the places mentioned in this guide pre-plotted:
Click here for the interactive version of this map.
Tips For Taking A Solo Trip To Greece
Now that we've gone over where to go while traveling alone in Greece, let's go over some important tips for having a safe and fun trip.
1. Keep solo travel safety in mind. While solo female travel in Greece is generally safe, it's still wise to take precautions.
Always keep an eye on your belongings, especially in crowded tourist spots like Monastiraki Square in Athens and on the subway. You might even opt for a crossbody bag that sits in front of you or pickpocket-proof clothing or a money belt.
Also, use licensed taxis and share your itinerary with loved ones. Additionally, trust your instincts. If something feels off, it probably is.
2. Get a local SIM card. Staying connected is crucial, especially when you're navigating unfamiliar places while alone in Greece.
A local SIM card gives you the freedom to use maps, translate phrases, and keep in touch with new friends or call emergency services. Some emergency numbers in Greece include:
112 (emergency services)
166 (ambulance)
199 (fire department)
100 (police)
There are travel safety apps that make calling for help easy while abroad, like TripWhistle Global SOS.
I recommend purchasing a Cosmote or Vodafone SIM Card. Or, if your phone uses an eSIM, you can install an Airalo eSIM before you arrive in Greece.
3. Make bookings in advance. Greece is a popular destination, and things can book up quickly, especially during high season between June and September. Book your accommodations and ferry tickets in advance to avoid last-minute stress.
4. Learn basic Greek phrases. While many Greeks speak English, knowing a few basic phrases can go a long way in making connections and navigating smaller, less touristy areas like the Greek islands.
5. Embrace "Greek Time". The pace of life in Greece is slower than what you might be used to. Whether it's waiting for a ferry or getting your meal at a taverna, patience is key. It's all part of the experience, so embrace it. This will help you successfully travel solo in Greece.
Top Greece Tours For Solo Travelers
One of the best ways to gain a deeper understanding of the places you visit while meeting locals and making new friends during solo travel in Greece is to book a guided tour. A few top-rated tours in Greece include:
➡️ Click here for a full list of Greece tours.
Costs Of Solo Travel To Greece
Greece can be both affordable and luxurious, depending on your travel style. Here's a breakdown (in USD) to give you an idea of what to expect financially when planning your solo trip to Greece:
Accommodation. Hostels range from $20-$40 per night, depending on the location and time of year. Mid-range hotels can cost between $60-$120 per night, while luxury options start at $150 and go up from there.
This map can help you research accommodation in Greece. It's currently set to Syntagma Square in Athens, but you can easily change it to your preferred solo travel destination in Greece:
Food. An important part of most solo holidays in Greece is the food. A meal at a local taverna will set you back around $10-$15. Street food like gyros or souvlaki costs around $3-$5. Dining in a more upscale, western-style restaurant can cost $20-$30 per meal.
This will also vary by destination. Mykonos Old Town will be more expensive than a remote village in Milos, for example, so keep this in mind when planning your solo trip budget.
Transport. Ferry tickets between islands vary but expect to pay around $20-$50 for shorter routes and up to $100 for longer ones.
This also depends on whether you want to take the slow or fast ferries. Public transport within cities like Athens is affordable, with tickets costing around $1.50 for a single journey. If you're considering renting a car, prices start at around $30 per day.
Activities. Many historical sites have an entrance fee, ranging from $5-$20. Guided tours can start at $50 and go up depending on the length and exclusivity. If you're into sailing, a day trip can cost around $100-$150.
Miscellaneous. Don't forget to budget for things like SIM cards, which can cost around $10-$20 for a month's worth of data, and travel insurance, which varies but averages around $50 for basic coverage.
By planning ahead and prioritizing your spending, you can have an enriching solo trip to Greece without breaking the bank.
Do You Need Travel Insurance For Greece?
When visiting Greece solo, it's wise to get travel insurance.
One of the best travel medical insurance for travelers is SafetyWing as they've got a large network and offer both short-term and long-term coverage — including coverage if you're traveling for months as well as limited coverage in your home country.
Additionally, SafetyWing is budget-friendly and offers $250,000 worth of coverage with just one low overall deductible of $250.
Click here to price out travel insurance for your trip in just a few clicks.
Traveling To Greece Alone: FAQ
Q) Is Greece safe to travel alone?
Yes, Greece is generally considered safe for solo travelers, including women; however, it's always advisable to take standard safety precautions, such as avoiding poorly lit areas at night and keeping an eye on your belongings.
Q) Is Santorini safe for solo female travelers?
Santorini is a safer Greek island and popular among solo female travelers. Just exercise common sense, especially in crowded tourist spots, to ensure a hassle-free trip.
Q) What are the best Greek islands for solo travelers?
The best islands for solo travelers include Santorini for its stunning views, Mykonos for socializing, Paros for a balanced experience, Naxos for pristine beaches, and Milos for off-the-beaten-path exploration. If you're looking for the most affordable island, Naxos is a great option.
Q) Can you get around the Greek islands without a car?
Yes, you can. The Greek islands have a well-connected public transport system, including buses and ferries, making it easy to get around without a car.
Final Thoughts On Solo Travel In Greece
Embarking on a solo trip to Greece is more than just a vacation. It's an enriching experience that offers a blend of history, culture, and natural beauty. From the vibey alleyways of Mykonos's Little Venice to the expansive beaches of Naxos, Greece provides a diverse backdrop for all kinds of solo travelers.
Whether you're a solo female traveler seeking a safe and welcoming destination or someone looking to explore the best islands in Greece for solo travelers, this country has something for everyone.
Navigating through Greece solo offers a unique sense of freedom and adventure, making it a must-visit for anyone looking to travel alone. So, if you're contemplating Greece solo travel, don't hesitate. Your perfect solo adventure awaits in this Mediterranean paradise.
What tips would you add to this guide on solo travel in Greece?
Enjoyed this guide to planning solo holidays to Greece? Pin it for later!
About The Author
Haley is the founder of the global travel blog, Haley Blackall Travel. You'll find in-depth destination guides, especially on Greek travel, amongst detailed itineraries and travel tips on many countries around the world. Follow her travels on Instagram.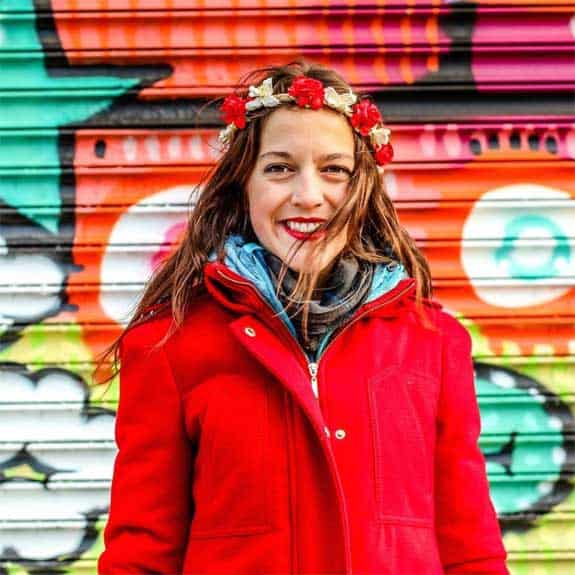 Hi, I'm Jessie on a journey!
I'm a conscious solo traveler on a mission to take you beyond the guidebook to inspire you to live your best life through travel. Come join me!
Want to live your best life through travel?
Subscribe for FREE access to my library of fun blogging worksheets and learn how to get paid to travel more!