Solo Travel In Brazil: The Ultimate Guide (With Map!)
By Christen Thomas. This guide to traveling alone in Brazil contains affiliate links to trusted partners!
Are you interested in solo travel in Brazil, but need some help with the planning?
Then you're in the right place!
If you are dreaming of dancing to the rhythm of samba, hiking through lush rainforests, or immersing yourself in a vibrant culture, Brazil should be at the top of your list.
Traveling solo in Brazil offers plenty of opportunities for self-discovery and connection with friendly locals.
There is also a lot to do and see, from the iconic beaches of Rio de Janeiro to the massive city sprawl in São Paulo and beyond.
Personally, it's one of my all-time favorite countries. In fact, I traveled there solo and returned within less than a year because of how much I loved my time there!
Keep reading to discover the best places to visit in the country, how to experience authentic Brazilian culture, and important tips for traveling alone in Brazil.
Quick tip: While solo travel in Brazil is relatively safe, it's still smart to pack travel safety essentials. One top pick is the She's Birdie Personal Safety Alarm, which is TSA-approved and can help scare away potential attackers. Other recommendations include Clever Travel Companion Pickpocket-Proof Garments and Speakeasy Travel Supply Hidden Pocket Scarves.
Enjoy The Benefits Of Solo Travel [Free Course]
But first, before we get into our solo travel Brazil guide, I invite you to grab a seat in Jessie's free Savvy Solo Traveler E-Course.
The 6-day course is designed to help you feel confident about booking your first solo trip and exploring the world alone.
Lessons include:
Common solo travel fears and how to overcome them
How to choose your perfect solo trip
How to tell loved ones you're hitting the road solo
Mentally preparing for your solo journey without losing your mind
Essential steps for staying safe when you travel solo
How to take amazing solo selfies
Once you've grabbed your seat, read on for the full solo female travel Brazil guide.
Is Brazil Safe For Solo Female Travelers?
Whether you're spending 10 days in Brazil or just a weekend, the main concern typically on a solo traveler's mind is how to stay safe.
The good news is most visitors travel to Brazil without incident; however, as with any country, Brazil does require you to keep safety considerations in mind as you explore.
According to Travel Safe-Abroad, your overall risk is medium, and certain areas have higher crime rates. Additionally, pickpocketing is pretty common, so you'll want to take steps to avoid pickpockets.
Make sure to also exercise the appropriate level of caution and common sense while traveling solo in Brazil. Here are a few travel safety tips I like to keep in mind:
Research local safety concerns. Safety levels differ from city to city and from region to region. Tourist areas and smaller towns generally have the lowest crime rates. Do your research on the places you'd like to visit in advance of your travels so that you can plan appropriately.
Take personal safety precautions. Most of the crime encountered by tourists is petty theft and pickpocketing. To avoid unwanted attention, do not wear valuables openly and avoid walking alone at night in unfamiliar areas.
Additionally, consider wearing pickpocket-proof clothing, hidden-pocket scarves, or a cross-body bag in front of your body so you can always see your belongings.
Learn a few essential Portuguese phrases. English is not very widely spoken, even in larger cities like Rio and São Paulo. Because of this, it is best to learn some essential Portuguese phrases and to practice listening to spoken Brazilian Portuguese before your trip.
Luckily, there are many tools for learning a language online, like Babbel, which offers online classes as well as an app for practicing on the go. Italki is another good option.
If you can speak Portuguese, even just a little, it will help you better connect with locals and also navigate situations like getting lost with a bit more ease.
The Google Translate app is a useful resource here too.
There are certainly safe places to visit in Brazil, just as there are places that are less safe as well. As a solo female traveler, you can travel the country without any issues by using the tips mentioned above.
In my experience, Brazil is wonderful, so please don't let any over-sensationalized media coverage discourage you from going to this amazing country.
Where Is Brazil?
Brazil is the largest country in South America, occupying half of the continent's landmass and facing the Atlantic Ocean along 4600 miles of coastline.
From a global perspective, the country is the fifth largest in the world by square miles and actually has a greater land area than the contiguous United States.
Brazil offers miles and miles of beaches, which is where most of the population lives. In contrast, the interior of the country is where most of the Amazon River basin is located, featuring the world's largest river basin as well as the lush Brazilian Amazon Rainforest.
Getting To Brazil
When traveling solo to Brazil, you'll most likely be starting your trip with an international flight to Rio de Janeiro or São Paulo – the primary entry points into the country.
There are direct flights to these destinations from major cities in North America, Europe, and other countries in Latin America.
Once in the country, you can easily get to other cities through Brazil's well-connected network of domestic flights.
A less common way to get into the country is via cruise ship. With this option, you are most likely to start your journey in a nearby country, such as Argentina.
Personally, for solo travel to Brazil, I think flying is the best and most affordable option for entering the country.
Getting Around Brazil As A Solo Traveler
​Intercity travel in Brazil
As mentioned above, Brazil is a country that is well connected by domestic flights, particularly as it relates to larger cities.
Outside of flying, you can also connect to many cities by public bus. You'll find this option to be the most cost-efficient, but travel durations can be long given the sheer size of Brazil.
When considering solo female travel in Brazil, flying is often the best way to get around. You'll enjoy solo travel more when you aren't wasting a ton of time on long bus rides.
Local transport in Brazil
The public transportation network in major cities is well-developed, consisting of local public buses and the subway. In fact, I found the subway in São Paulo to be one of the most efficient that I have ever used worldwide.
When considering travel in Brazil as a woman, Uber is one of the safest options that you can take to get around. It is also quite affordable, especially compared to prices in the US.
Brazil Solo Travel Map
To help give you a lay of the land, here is a map for visiting Brazil solo. It includes most of the main points and activities mentioned below pre-plotted:
Click here for an interactive version of the Brazil travel map.
Popular Solo Travel Destinations In Brazil
On that note, let's go over some of the top places to go during solo travel in Brazil, including:
Rio De Janeiro
Rio de Janeiro, commonly known as Rio, is the most popular destination in Brazil and the second largest city in the country. It is a bustling and vibrant city that captures the essence of Brazil's captivating culture.
Nestled between lush mountains and breathtaking beaches, Rio offers a stunning backdrop for travelers seeking a mix of natural beauty, lively festivities, and iconic landmarks.
The city is renowned for its vibrant street life, samba rhythms, and friendly locals known as "Cariocas." If you can only visit one city in Brazil, this city should be at the top of your list.
Solo travelers should add the following sites to their itinerary when visiting Rio:
Christ the Redeemer (Cristo Redentor). Sitting on top of Corcovado Mountain, this is one of the New 7 Wonders of the World and one of the city's most iconic symbols. This Art Deco-style statue also offers sweeping views of the city – especially when you go inside and climb to the top. You should aim to visit early in the day before the crowds arrive for the best experience.
Copacabana and Ipanema Beaches. These city beaches are nearly synonymous with Rio. Copacabana Beach offers an energetic vibe and beach sports, while Ipanema Beach feels more upscale and trendy. Both offer beautiful golden sand and stunning views.
Sugarloaf Mountain (Pão de Açucar). This mountain provides awe-inspiring views of Rio. To reach the top you can either hike the Pão de Açúcar e Morro da Urca trail or take two different cable cars – but the view makes it so worth it. Consider visiting around golden hour or in the evening to make the view even more magical.
Historic City Centre (Centro). See the historical heart of Rio in the Centro neighborhood. While here, visit the nearby Lapa and Santa Teresa neighborhoods. Both are well known for their bohemian charm, lively nightlife, and colonial architecture.
Tijuca National Park. As one of the world's largest urban forests, this park provides a serene escape from the city's hustle and bustle. Hike through lush trails, see beautiful waterfalls, and enjoy more of those stunning viewpoints that Rio is best known for.
There are also many tours that explore Tijuca National Park, from Jeep excursions to waterfall treks and beyond.
Solo travel in Rio de Janeiro offers a rewarding experience for anyone who makes the trip to this breathtakingly beautiful city.
Rio de Janeiro Hotels: Click here for a full list of hotels in Rio de Janeiro.
Rio de Janeiro Tours: Click here for a full list of fun tours in Rio de Janeiro.
Salvador
Salvador de Bahia, known most commonly as Salvador, is located on the northeastern coast of Brazil. Known for its rich Afro-Brazilian culture, vibrant music and dance, and well-preserved colonial architecture, it provides a very different view of Brazil when compared to Rio.
One of the most popular destinations in Salvador is Pelourinho, the historic center of the city and a UNESCO World Heritage Site.
Its colorful streets are lined with grand churches, charming colonial buildings, and lively squares. In this area, there are also plenty of art galleries, museums, and artisan shops to explore and get immersed in the local culture.
Another must-visit site in Salvador is the Mercado Modelo, a bustling market in the Lower City. In addition to browsing a vast array of local crafts, artwork, and clothing, you can sample local Bahian cuisine here.
Looking for the best beach destinations in Brazil? Salvador's beaches are likely the best in the whole country – even beating out those in Rio.
Porto da Barra Beach and Farol da Barra Beach are some of the top choices in the area. This is evidenced by the fact that you will find lots of locals at both beaches at any time.
Finally, don't forget to try out the samba while you are in Salvador! For a truly local experience, visit Clube do Samba in Pelourinho – the music and the dance are sure to sway you to move your feet.
Salvador's rich Afro-Brazilian history and stunning coastline allow this city to provide an experience like no other in Brazil.
Salvador Hotels: Click here for a full list of hotels in Salvador.
Salvador Tours: Click here for a full list of fun tours in Salvador.
Praia Do Forte
Praia do Forte in Bahia, Brazil, is a charming beach town renowned for its natural beauty and relaxed atmosphere.
The pristine beaches with their clear waters and golden sands are perfect for sunbathing and aquatic activities like snorkeling and diving.
You'll also find loads of natural "pools" offering cool and shallow areas where you can leisurely relax during your time here.
The town is also home to the Tamar Project, a sea turtle conservation initiative where visitors can learn about and interact with these fascinating creatures.
The village of Praia do Forte offers a delightful mix of boutique shops, handicraft markets, and restaurants serving delicious Bahian cuisine.
Nature enthusiasts can explore the nearby Sapiranga Reserve, with its hiking trails, waterfalls, and diverse flora and fauna. Fitting with the local vibe, you will find plenty of eco-lodges too.
Whether you are seeking relaxation on the beach, immersion in nature, or a glimpse into local culture, Praia do Forte provides a serene coastal escape.
Praia do Forte Hotels: Click here for a full list of hotels in Praia do Forte.
Praia do Forte Tours: Click here for a full list of fun tours in Praia do Forte.
São Paulo
Is São Paulo worth visiting? In my opinion, a visit to this bustling metropolis will certainly enhance your solo itinerary!
A cultural hub of Brazil, São Paulo offers a vibrant and diverse experience for tourists. With a population of 22 million, it is the largest city in South America and is a melting pot of cultures, art, and gastronomy.
The city boasts an impressive array of attractions – including fascinating museums, walkable neighborhoods, entertaining theaters, beautiful churches, and delicious restaurants.
For a taste of Brazil's cultural heritage, visitors can explore the historic district of Centro with its iconic landmarks like the São Paulo Cathedral and the Municipal Market, where you can indulge in local flavors and fresh produce.
Speaking of great food, São Paulo is renowned for its gastronomy, offering a diverse culinary scene that caters to all tastes and travel budgets whether you like street food or sit-down restaurants. From traditional Brazilian dishes to international flavors, the city is a must for foodies.
Neighborhoods like Vila Madalena and Pinheiros are known for their trendy bars, restaurants, and lively nightlife.
For those seeking retail therapy, São Paulo is a shopper's paradise – with upscale boutiques, giant malls, and street markets offering a wide range of products. Avenida Paulista, the city's main thoroughfare, is lined with luxury stores, art galleries, and cultural institutions.
To escape the urban bustle, São Paulo showcases beautiful green spaces like Ibirapuera Park, an oasis in the heart of the city. The park is the perfect place for leisurely walks, picnics, and visiting world-class museums like the São Paulo Museum of Art (MASP), which houses an extensive collection of European and Brazilian masterpieces.
The diversity that São Paulo offers makes it a must-visit destination for tourists looking to immerse themselves in Brazil's urban culture.
São Paulo Hotels: Click here for a full list of hotels in São Paulo.
São Paulo Tours: Click here for a full list of fun tours in São Paulo.
Santos
Santos, a historic city located on the coast of Brazil's São Paulo state, offers a delightful experience for solo travelers.
Its main attraction is the beautiful beachfront that showcases a 7-kilometer (4.3-mile) stretch of fine sand, calm waters, and palm-lined promenades. Visitors can relax on the beach, enjoy water sports, and savor fresh seafood at beachside bars and restaurants.
Santos' maritime heritage is showcased at the Museu do Porto, which provides insights into the city's important port and maritime history.
Another highlight is the Coffee Museum (Museu do Café), housed in a stunning historic building where visitors can learn about Brazil's coffee industry and enjoy freshly brewed coffee.
In terms of beautiful neighborhoods, Santos boasts a charming historic center featuring well-preserved colonial architecture, picturesque squares, and historic churches to create a nostalgic atmosphere.
Love nature? Make sure to visit the Jardim Botânico, a serene botanical garden with lush greenery and walking trails.
Santos offers a perfect blend of sun, sand, culture, and maritime charm for an enjoyable Brazil solo travel experience.
Santos Hotels: Click here for a full list of hotels in Santos.
Santos Tours: Click here for a full list of fun tours in Santos.
Top-Rated Brazil Tours For Solo Travelers
Booking a guided tour makes it easy to meet people while solo traveling in Brazil. A few top-rated tour options include:
Click here for a full list of bus & walking tours in Brazil.
Tips For Taking A Solo Trip To Brazil
When you travel solo to Brazil, here are a few tips to keep in mind:
1- Research & choose safe accommodation. Prioritize your safety by researching and selecting reputable accommodations in safe areas, particularly ones popular with tourists. Consider factors like security measures, reviews from previous guests, and proximity to public transportation and amenities. This will help you travel solo successfully.
2- Explore local cuisine safely. Brazilian cuisine is diverse and delicious, offering a wide range of flavors. When dining alone, choose busy and reputable establishments that are popular with locals and tourists. This helps ensure food quality and provides a safer environment. Consider trying traditional dishes like feijoada (black bean and pork stew), acarajé (crispy bean and onion cakes), or churrasco (grilled beef) for an authentic culinary experience.
3- Stay vigilant & follow safety precautions. Avoid flashing valuables, keep an eye on your belongings, and be aware of your surroundings. Use reliable transportation options like registered taxis or ride-hailing services like Uber, especially at night. Stay informed about local safety guidelines and follow the advice of locals or trusted authorities.
4- Connect with other travelers. When thinking about the pros and cons of solo travel, a common worry is meeting other people. Brazil solo travel doesn't mean you have to be alone throughout your trip. Connect with fellow travelers in hostels, via online travel communities like Facebook groups, or through organized group activities.
Participating in group tours allows you to meet like-minded people, enhance safety through numbers, and share memorable experiences together. You can also find local meetups and activities through platforms like CouchSurfing and Meetup.com.
5- Embrace cultural experiences safely. Brazil is rich in cultural experiences – from vibrant festivals to dance performances and local markets. When attending events or exploring crowded areas, be cautious of your belongings and avoid attracting unnecessary attention. Respect local customs and traditions, and be open to immersing yourself in the diverse culture while maintaining personal safety.
Remember, these tips are general guidelines, and it's essential to adapt them to your specific destination and circumstances. Stay informed about current travel advisories, consult local resources, and trust your instincts.
With careful planning, awareness, and an open mind, Brazil solo female travel can be both safe and fulfilling.
What Does Solo Travel To Brazil Cost?
Travel to Brazil is moderately priced, and costs can vary a good deal depending on how you like to eat and your hotel preferences. Here are some approximate breakdowns to give you an idea of what to expect when traveling to Brazil alone as a female:
Accommodation: $15-$30 for a night in a hostel, $50-$200 for a night in a mid-range hotel.
This map can help you compare your options. It's set to show hotels and rentals in the Santa Teresa neighborhood of Rio de Janeiro, but you can easily change this based on where you're staying:
Food: Budget about $10-$15 for a quick service meal or $20-$30 for a sit-down meal in a mid-range restaurant.
Transport: You can expect to pay about $1 for a one-way trip on the subway or city bus or an average of about $5 for a 20-minute Uber ride.
Activities: There are many cheap and free things to do in Brazil – like relaxing at the beach or exploring cool neighborhoods. Most major attractions will have an entry fee; however, costs are typically low.
For example, entry to the Christ the Redeemer statue is about $5 during high season. The cost for tours will run around $20-$100, depending on the duration of the tour and extra inclusions like meals.
Brazil Travel Insurance
When visiting Brazil — or anywhere else in the world — it's wise to get travel insurance.
One of the best travel medical insurance for travelers is SafetyWing as they've got a large network and offer both short-term and long-term coverage — including coverage if you're traveling for months as well as limited coverage in your home country.
Additionally, SafetyWing is budget-friendly and offers $250,000 worth of coverage with just one low overall deductible of $250.
Click here to price out travel insurance for your trip in just a few clicks.
Frequently Asked Questions About Solo Travel In Brazil
Now that we've gone over where to go and important tips when traveling Brazil solo, I want to answer some frequently asked questions:
Q) Is Brazil good for solo travel?
Brazil is an excellent destination for solo travel thanks to its welcoming atmosphere, vibrant culture, rich history, and variety of things to do and see. From beautiful Brazilian beaches to samba music to delicious food, it's easy to have an unforgettable trip.
Q) Is Brazil safe to travel alone?
Yes, Brazil is safe to travel alone, particularly if you choose popular tourist destinations. Just make sure to exercise common sense safety practices when preparing for your trip and throughout your journey.
Q) What is the best time to visit Brazil?
The best time to visit Brazil will depend on what part of the country you'll be in. If you plan to visit Southern Brazil, such as São Paulo or Iguazu Falls, the warmest months are summer (December to March). In Northeast Brazil and Rio, you will find warm weather all year, but the weather is driest from September to November.
Q) Is Rio de Janeiro safe for solo female tourists?
As a major tourist destination in Brazil, traveling to Rio de Janeiro alone is safe for female travelers who exercise appropriate caution. This means not wearing flashy clothing or jewelry, using ride-shares at night, and joining guided tours when possible.
Q) Is São Paulo safe for solo female tourists?
Solo travel in São Paulo is generally safe for female tourists. It's recommended to research hotels in safe areas, use reliable public transportation methods, and stay aware of your surroundings.
Q) Can you drink tap water in Brazil?
It is generally recommended to avoid drinking tap water in Brazil, especially outside of major cities like Rio and Salvador. The safest route is to either buy bottled water or filter your own water.
Q) Are credit cards accepted in Brazil?
While it's wise to carry some cash with you, credit and debit cards are widely accepted around Brazil, particularly in tourist areas.
Q) What is the currency in Brazil?
The local currency is the Brazilian real (R$).
Final Thoughts On Brazil Solo Travel
Traveling to Brazil alone can be an unforgettable experience that allows you to explore the country on your own terms – which is one of the biggest benefits of solo travel.
As you read above, there are many incredible places to visit on a solo trip to Brazil and a wide variety of experiences to be had.
Don't be afraid to customize the suggested Brazil itinerary to your personal liking and needs. Do as much or as little as possible, even if it means spending a few hours wandering without a plan or relaxing in a local park. Just enjoy the beauty of Brazil!
What tips would you add to this guide to solo travel in Brazil?
Enjoyed this solo travel Brazil guide? Pin it for later!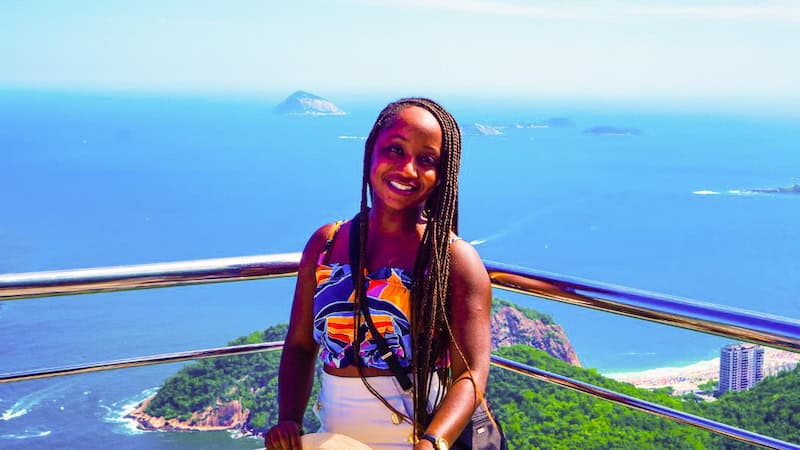 About The Author
Christen is a Washington DC-based travel blogger and travel advisor. Her blog, TravelWanderGrow, provides detailed travel guides that focus on city history and culture. As a frequent traveler, she also shares in-depth travel tips. In addition to her blog, you can follow her travels on Instagram and Facebook.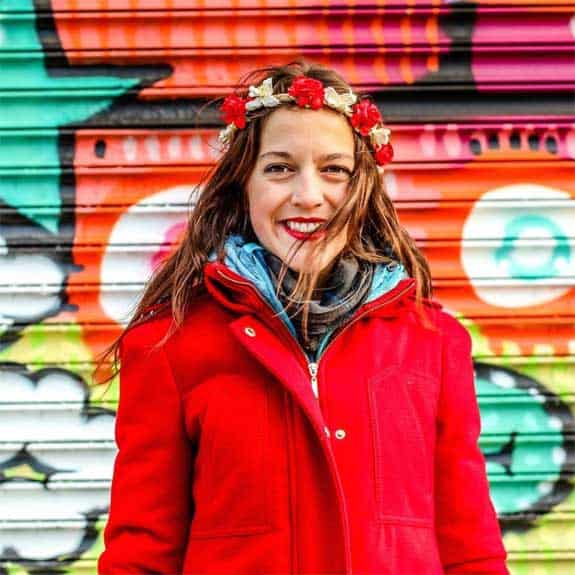 Hi, I'm Jessie on a journey!
I'm a conscious solo traveler on a mission to take you beyond the guidebook to inspire you to live your best life through travel. Come join me!
Want to live your best life through travel?
Subscribe for FREE access to my library of fun blogging worksheets and learn how to get paid to travel more!