Unusual Excursions: Traveler's Guide To Quirky Taiwan
things to do in Taiwan
.
Explore The Local Seafood Market
The seafood markets in Taiwan are nothing like you're used to at home (unless, of course, you're from Taiwan). For one, the seafood isn't kept in tanks but open baskets where they climb and crawl around the shop. Moreover, the sea creatures themselves are nothing short of unusual looking, and seem to be much bigger and colorful than western fare. Instead of king crab you'll find humungous blue flowered crabs with yellow floral patterns on the shell. Instead of red lobsters, you'll find rainbow lobsters featuring a sky blue and purple body with neon orange dots, a green tail with black tiger stripes and black legs with ostentatious yellow polka dots (shown above). Instead of simple clams in a grey shell they have elephant clams which also feature giant trunks. Other typical finds in a Taiwanese seafood market include muletfish penis, horseshoe crabs, sea cucumbers, tank lobsters, papaya snails, fish intestines, fish skin and more. To see some of these crazy creatures for yourself, check out my
photo essay on visiting a seafood market in Taiwan
.
Visit A Secret Cafe In Tainan — If You Fit Through The Door
Located across from the Confucius Temple Park on Nanman Road, you'll probably pass by the Narrow Door Cafe without even noticing it. Keep your eyes out for an extremely narrow door — hence the name Narrow Door Cafe — that you'll need to shimmy sideways to get into. Once you're in the door, however, you'll be able to move freely in a charming and comfortable cafe. After ascending the cement stairs, adorned with old wheelbarrow wheels, dangling plants and garden ornaments, you'll enter a space reminiscent of a whimsical barn and the days of Ernest Hemingway with chipped painted walls, old fashioned tablecloths, antiques, handmade pottery and bookshelves with interesting titles. Not only is the decor interesting, but the tea offerings are, as well. Have a "Spicy Girl," made with apple, lemon and Vitamin C, or the "Sexy Legs" made with rosemary, lemongrass and Stevia. Other interesting flavors include "Opulent Woman," "Soft Surrender" and the "Pink Lady." Sip your cocktail-esque tea while people watching from the upstairs windows.
See A House That's Been Overtaken By Tree Limbs
The Anping Tree House was once a warehouse for Tait & Co. that became abandoned after WWII and overtaken by banyan trees. And when I say overtaken, I mean the trees are growing in the house and have wrapped around the walls, in and out of the windows and out of the roof. This combined with soil, red brick and concrete walls creates an unusual spectacle.
Dine Or Stay At The Ostentatiously-Decorated Full House Resort Hotel
Full House Resort Hotel, located in the Riyue Village in Nantou on Sun Moon Lake, is one of the quirkiest hotels and restaurants you'll ever see. Some typical decorations include a tiered centerpiece of apples, trees decorated with Christmas ornaments next to a pumpkin display, a moose head, banshee statues, random antiques, dramatic family portrait paintings and decorations in every color, texture and size you can imagine. In the rooms, beds are covered in gold and purple ruffled satin bedspreads for a pimped-out feel.
Eat In a 40's Themed Taiwanese Restaurant Moviehouse Museum
Located in Kaohsiung, New Taiwanese Original is one of the quirkiest restaurants in Taiwan. Walk into the main floor restaurant and you'll think you've been transported back to the 1940s, as the decor features an old time general store, seating booths that replicate an old train station waiting area, historical black and white photos, antiques rickshaws and more. Upstairs you'll find a seating area that makes you think you've walked outside, with a row of storefronts with banquette tables outside. In reality, you're still in New Taiwanese Original and this is all part of the fun illusion they create. Another area of the restaurant houses a Cinema Museum, with artifacts, old equipment, black and white movie posters, memorabilia and old movies playing in the background. Best of all, the restaurant serves traditional dishes like sauteed pork with sugarcane roots, Chinese cabbage, fried oysters with salt and pepper, sauteed boar with green chili and more.
Sleep In A Hello Kitty Themed Room
At the 5-star Grand Hi-Lai Hotel in Kaohsiung — amidst their 540 guest rooms, giant swimming pool, relaxing sauna, 14 separate restaurants and well-equipped gym — you'll find the "World's Dreamiest Hello Kitty Room." The room will immerse you in a world of pink, with a Hello Kitty bedspread, Hello Kitty shaped headboard, Hello Kitty curtains and upholstery, Hello Kitty memorabilia, a heart-shaped alarm clock, a Hello Kitty radio that plays Hello Kitty music, pink couches and more. Other Hello Kitty room experiences include riding around town in a pink Hello Kitty car, cycling on a Hello Kitty bike, having breakfast with Hello Kitty while enjoying aerial harbor views and receiving a complimentary limited edition Hello Kitty doll. For more on this, check out this photo essay on my
Quirky Stay in Hi-Lai Plaza Hotel's Hello Kitty Room
Eat At The World's First Barbie-Themed Restaurant
Located at 2F, 128, Section 4, Zhongxiao East Road in Taipei, Barbie Cafe will immerse you in a world of princesses, tutus, glitter and cupcakes. Sit at a Barbie-themed table, complete with Barbie logo tablecloth, bustier-reminiscent chairs with lace-up backs and tutus, and teapot-contoured chandeliers, while being served by waitresses wearing tutus and tiaras and waiters dressed like Ken. Step into a life-sized Barbie box to feel like the iconic toy herself, order off a healthy menu designed by nutritionists to help you keep slender like Barbie, check out the impressive display of Barbie dolls and grab a drink at a stiletto-shaped bar. Moreover, while you dine on dishes like salmon salad, macaroons served in martini glasses, smoked salmon fish rolls, filet mignon spinach salad, sweet fried duck breast and super-sweet cocktails, you'll hear girly tunes like Aqua's "Barbie Girl" and Madonna's "Material Girl."
Dine At The Toilet Restaurant
Have you ever wanted to eat out of a bathroom toilet? Probably not. But
if
you do you'll be able to in Taiwan. Called Marton Theme Restaurant in Kaohsiung, patrons will receive their meals in dishes shaped like western johns, squat toilets and urinals, plated in a way to appear like diarrhea and other shocking bathroom references, with dishes like curries dripping suggestively down a toilet side and shaved ice flavors like "diarrhea with dried droppings" (chocolate) and "green dysentery" (kiwi). Patrons sit on toilets (with lids down, phew!) at glass tables with sinks underneath under feces-shaped lights. The restaurant is all in good fun, and the food is actually really tasty once you get past the fact you're eating out of a toilet. Bonus: Your urinal drink cup is a gift for you to keep!
See Buddha's Tooth
Whether you're enjoying some
solo travel in Taiwan
or are exploring in a group, this is a must-visit! At Buddha Memorial Centre in Kaohsiung there are many interesting rooms, shrines, stupas, pagodas, towers, buildings and statues to see. That being said, there is one truly prized relic this Buddhist monastery has that not many others in the world do: A tooth from Lord Buddha. Smuggled out of Tibet during China's Cultural Revolution, the tooth is a very sacred object housed in the Jade Buddha Shrine; however, if seeing an old tooth doesn't interest you the Buddha Memorial Centre is also home to an enormous seated metal Amitabha Buddha 108 meters (354 feet) high.
Eat In A Life-Sized Day Dream
At this point you've probably gathered Taiwan has a slew of wacky restaurants. Well, here's another. At the Five Dime Driftwood Restaurant in Taipei, you'll be eating traditional Taiwanese dishes and Asian fusion cuisine while immersed in the fantasy world of Hsieh Li-shiang. Outside the restaurant the first thing you'll notice is the two enormous female sculptures — standing taller than the building — frozen as they perform a welcoming dance for guests. Around the restaurant you'll find the myriad found objects from Hsieh's searches, as the space is transformed into an immersive art gallery. I don't mean there are a few paintings on the walls. I mean from floor to ceiling you'll be steeped in bold and unusual textures, patterns and curves. Everywhere you turn you'll see tribal sculptures, fertility statues, oil paintings dedicated to the female form, walkways reminiscent of Antonio Gaudi's fantastical Parc Guell and design elements that bring landscapes indoors, like enormous jungle trees and an indoor pond with a fishing boat and live fish. Furnishings are crafted from driftwood, fallen tree-trunks and oyster shells, housewares showcase handmade ceramics and chairs are crafted from rail ties. For more on this, check out my photo essay on
Dining In A Life-Sized Day Dream In Taipei
.
Have A Drink…If You Can Figure Out How To Get In
At Ounce in Taipei, you'll be introduced to true western speakeasy culture. Don't be confused when your taxi driver drops you off in front of Relax Coffee Shop, or when the barista points to a bare wall when you ask how to get into Ounce. If you're like me, you'll look everywhere to try to figure out how to "open the wall" — under floor boards, behind chairs, in the bathroom — pulling to try to find a hidden floor board. Hint: The answer is in the artwork (although even when you realize this you still have a bit of detective work to do). It's worth the effort, as once you're inside you'll be able to enjoy an intimate speakeasy atmosphere, friendly (and gorgeous) staff and handcrafted cocktails made based on your specific tastes.
Cycle Up Taiwan's Highest Road
Taroko National Park not only features some of the
best hikes in Taiwan
and marble gorge views, it's also home to the Taiwan's highest road. If you cycle to the top, called Wuling, you'll reach 3,275 meters (10,745 feet). Because of the high altitude it's recommended to bike with someone else, in case your body doesn't handle it well. If you want to cycle the same course as Taiwan's most iconic race, the King of Mountain Race, start at the Cisingtan Scenic Area in Quixingtan and ride to Wuling, which is about 100 kilometers (62 miles) total.
Hike Through Unworldly Geological Areas
Near Taipei, you'll have the chance to explore one of Taiwan's most unusual landscapes. Yehliu Geopark, located in Taiwan's Guanyinshuan National Scenic Area, is known as being the country's most dramatic geological areas. The atmosphere is reminiscent of a surreal Salvador Dali painting meets the fantastical world of Dr. Seuss. Unusual rock formations have been carved by wind and waves, and you'll see mushroom rocks, sea-eroded troughs, candlestick rocks, honeycombed configurations and bean curd rocks with curvy pathways for exploring. Look for the Queen's Head, a protrusion of sediment that looks just like the head of an Egyptian queen, and the Fairy Slipper, a smooth bump of earth that mimics that shape of a sandal. For more on this check out my photo essay on

Hiking In Taiwan's Dramatic Yehliu Geopark

. *

My trip to Taiwan was sponsored by the Taiwan Tourism Board. I was not required to write this post nor was I compensated in any way. All opinions are my own.

For those looking for an unusual travel experience, Taiwan is full of them. As you wander the streets of the various cities and villages keep your eyes open, as you can easily find something bizarre on every corner (honestly, it was difficult for me to narrow down this list to just 12). After touring the country for two weeks, here are my top picks for quirky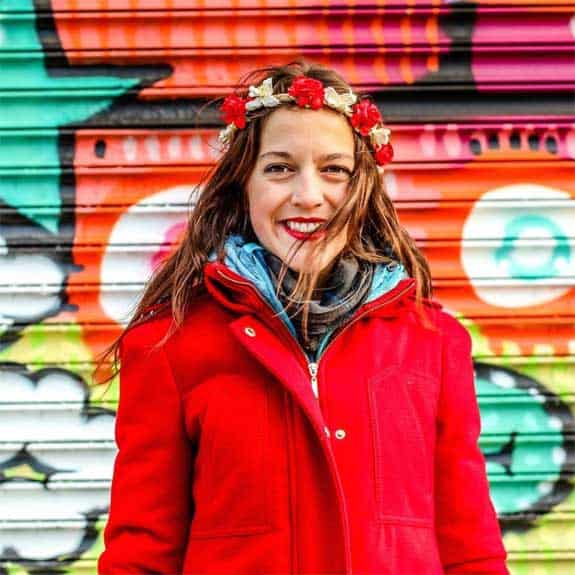 Hi, I'm Jessie on a journey!
I'm a conscious solo traveler on a mission to take you beyond the guidebook to inspire you to live your best life through travel. Come join me!
Want to live your best life through travel?
Subscribe for FREE access to my library of fun blogging worksheets and learn how to get paid to travel more!